Blouse neck designs have always been subjected to innovation. While we may find ourselves limited in space towards the front, the blouse's back designs don't pose such an issue. However, both front and back designs are equally popular. They are crafted, stitched, and embroidered in a number of unique ways making them elevate our saree look. So here are 10 blouse back designs that are trending nowadays. These are from Nyshka's bridal collections.
Check out these blouses back design photos to get some styling inspiration-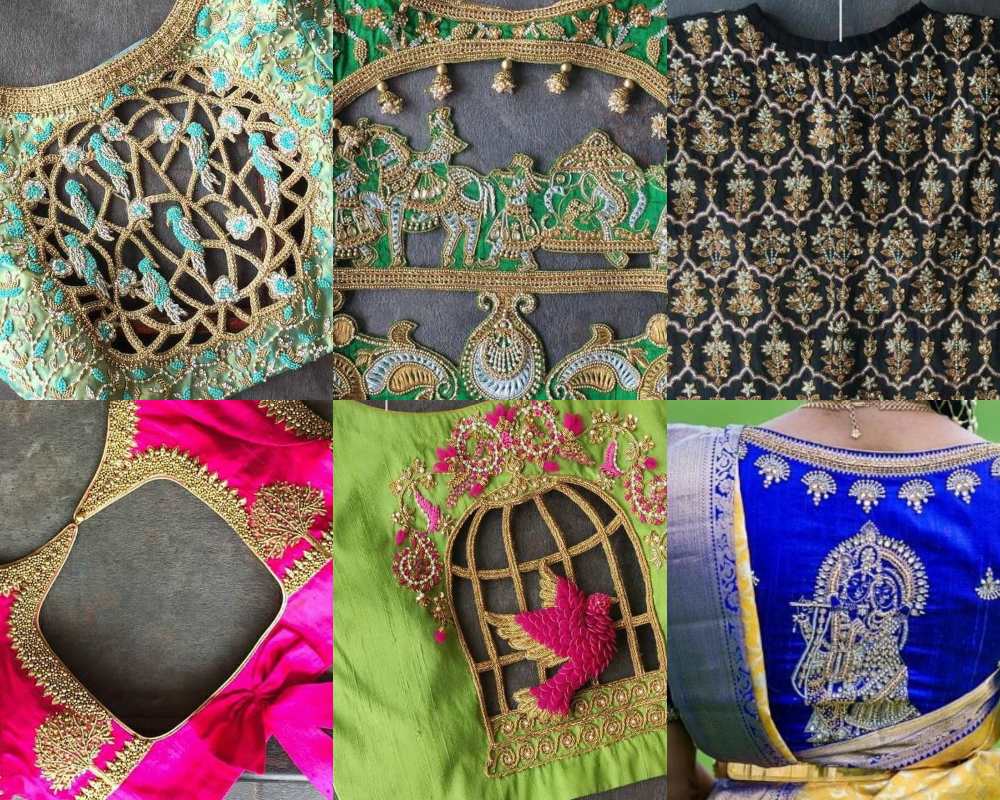 Skyblue blouse-
Adorned with latticework and embroidered with parrot motifs, this latest blouse design is sure to turn some heads.
2. Pink blouse-
This cut-out back neck blouse with a faux bow is definitely a stunner and finds its place among the blouse neck designs that are the latest.
3. Green blouse-
Popular among the bridal blouse designs, the palanquin bearers embellishment just adds elegance to the look.
4. Beige blouse-
One of the simpler blouse back neck designs, this one features tassels on its deep cut out back making it perfect party wear.
5. Mint green blouse-
This side paisley cut out back neck design is left plain and favours the minimalistic side.
6. Lilac blouse-
In an inverted heart shape, the cut out blouse is beautified with hand embroidery towards its hem.
7. Light green blouse-
Worked with hand-embroidered bird motifs inside a cage, the blouse harbours some magnificent maggam work.
8. Royal blue blouse-
This simple wedding blouse design showcases Radha-Krishna woven in sequins and thread.
9. Magenta blouse-
While it has contrasting sky blue embroidery on its sides, the simple pink blouse resembles a house design on its back.
10. Black blouse-
The cropped blouse back neck design has embroidery on its back studded with stones and crystals, unlike the usual style.
Loved these?
Visit Nyshka to buy these latest blouse designs online!