There's hardly anyone who doesn't love sarees, especially Kanjeevaram sarees. And the only way to look good in a saree is to look for the latest designer blouse which is not an easy feat in itself. The internet is filled with blouse design photos which often leaves us confused. However, we are making it easy for you with the below list of hand embroidery blouse designs that are perfect to go with the saree no matter what the occasion is.
Check out the list of 12 designer blouses for sarees from Shaanvi Designer Boutique that range from simple hand embroidery designs to sophisticated ones.
Magenta blouse-
This blouse embroidery work is showcased on its sleeves and body in floral motifs,
2. Velvet violet blouse-
Velvet blouse designs never go out of style and this one with white hand embroidery just confirms it.
3. Pastel Pink blouse-
This pink blouse design features extensive hand embroidery on its sleeves and opens back.
4. Red-brown silk blouse-
One of the popular hand embroidery designs for blouses in 2022, this red one with velvet sleeves looks just what the bride ordered!
5. Dark green blouse-
The green colour pattu blouse designs are extremely popular and this one is proof why they are.
6. Royal blue blouse-
A simple blue blouse design is all that you are looking for and more. So this is sure to capture your hearts.
7. Ivory blouse-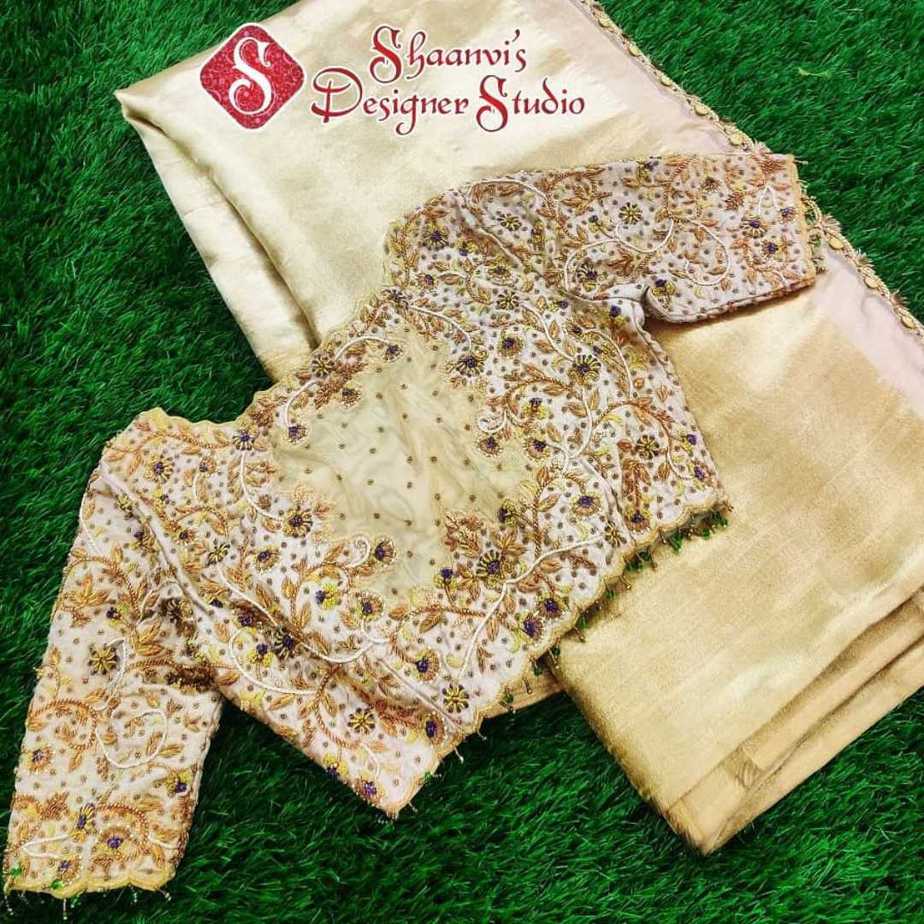 The list would be incomplete without some aari work blouse designs and this one with intricate buttis just makes it even better.
8. Yellow blouse-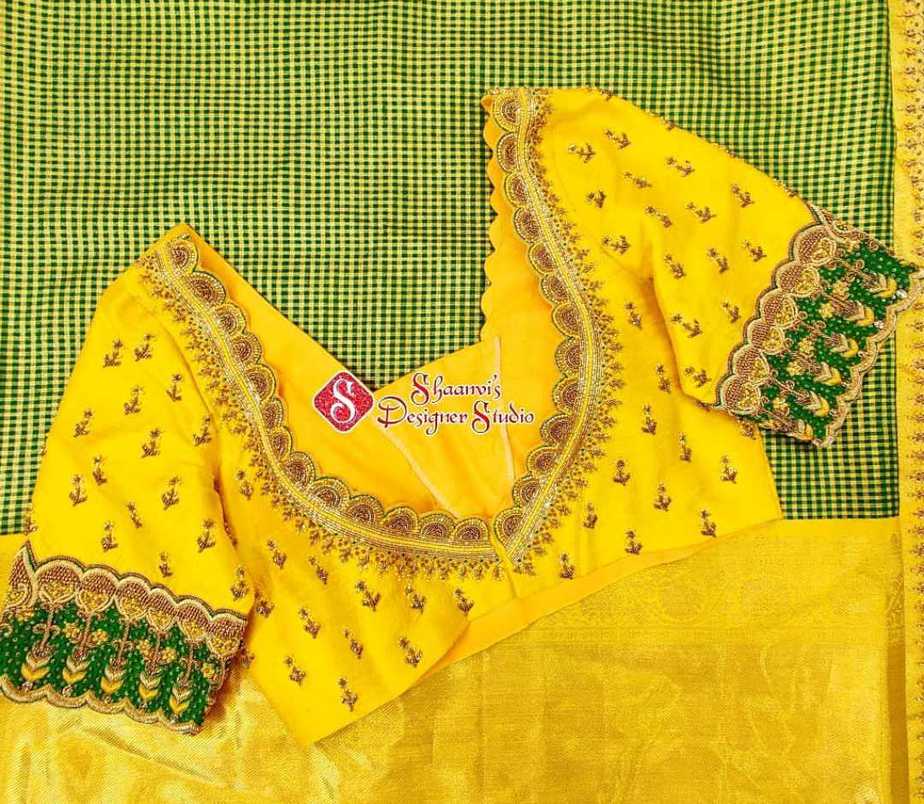 With green hand embroidery on the sleeves, the scalloped neck blouse just shines among the rest.
9. Rose pink blouse-
The kanjeevaram blouse design is perfected with cutwork on its sleeves and a cutout neck.
10. Red-pink blouse-
The puff sleeve blouse pattern is always known to have been loved by everyone. So is this double-coloured one with navy blue buttis.
11. Purple blouse-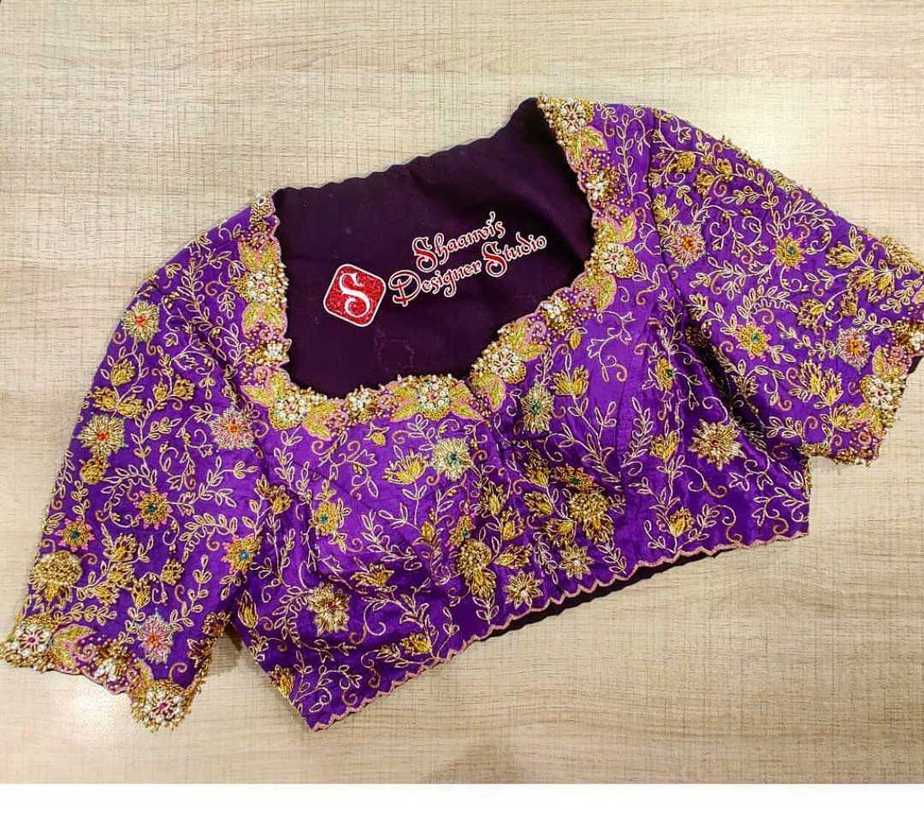 Amp up your festive looks with this aari work blouse design in purple.
12. Sky blue blouse-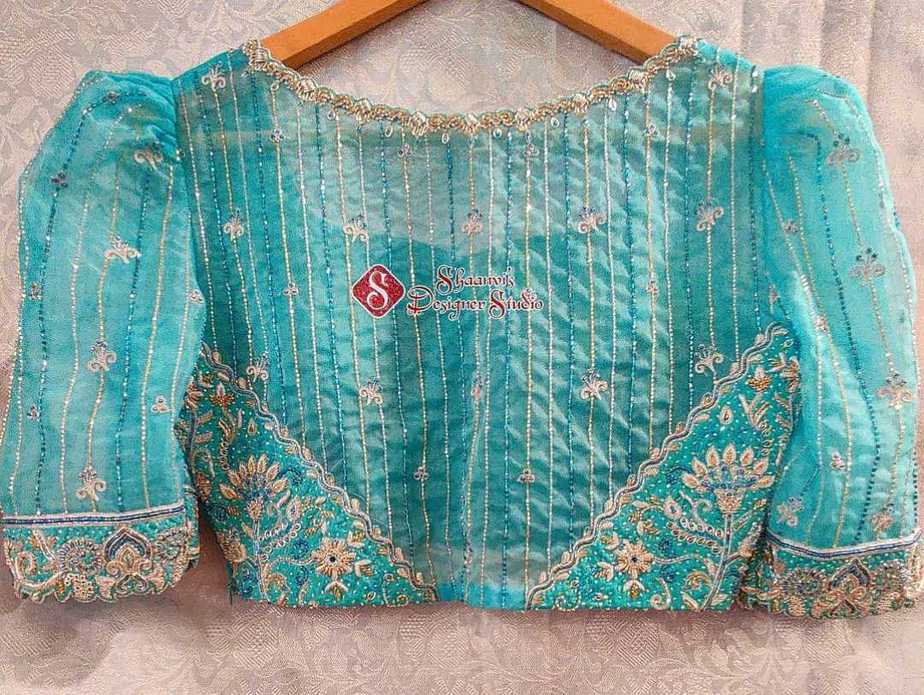 Sky blue blouse designs have grown immensely famous and if you love them, here's the one that we recommend.
To buy these hand embroidery blouses online, visit Shaanvi!