Silk sarees are the epitome of beauty, elegance, and grace. The rich fabric proves to be perfect for any occasion from parties to weddings. Indian weddings are dominated by silk sarees from brides to guests. Traditionally, blouse served as an accessory to the saree but times have changed now. In recent years, the blouse has become an integral part of the outfit with never-seen-before designs available. To take your blouse game up a notch, here are 20 bridal pattu saree blouse designs from Mahitha Prasad that you can consider for your next wedding function:
Bridal Pattu Saree Blouse Designs 2020
1. Golden Heavy Zardosi Work Blouse
Gold is the trending color among bridal pattu saree blouse designs. This stunning golden blouse comes with heavy zardozi work all over the sleeves and cut-out back. The color palette reminds us of Miheeka's wedding outfit. When paired with a golden pattu saree, this one is surely going to be an attention-grabber.
2. Fuchsia Pink Puff Sleeves Blouse
If you are in search of a pink blouse, you can stop right there. This fuchsia pink puff sleeves blouse with a silver border and zardozi work on sleeves is perfect to pair with a wedding silk saree. It has stone embellishments around the neck and cut-out back. We love the bow detailing on the back.
3. Bottle Green Wedding Blouse
A simple blouse can be amped up with some embroidery work. This bottle green bridal pattu saree blouse design can be paired with a contrast colored saree. Stone embroidery with cutout work on sleeves will surely add some flair to the outfit.
4. Classic Cream and Maroon Embroidered Blouse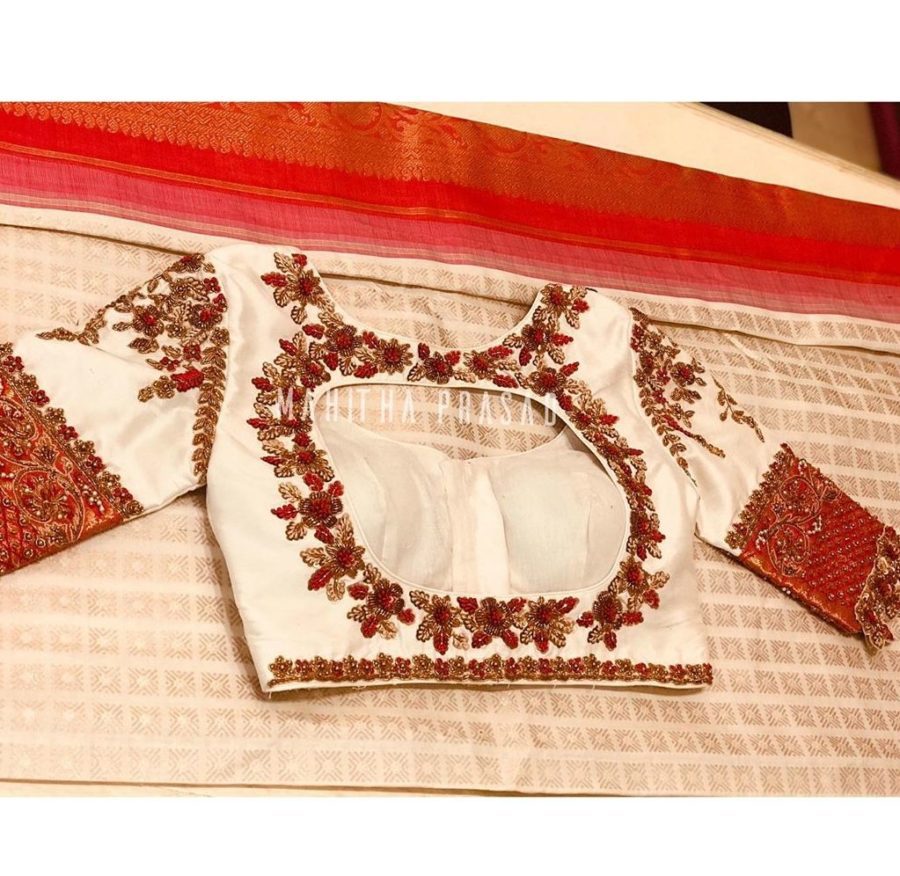 One can never go wrong with the classics. A classic cream silk blouse with maroon and golden embroidery is a sight to behold. This can be paired with a matching cream kanjeevaram saree or a contrast maroon saree.  The light-colored fabric allows the bright embroidery to stand out.
5. Simple Red Zardozi Embroidered Blouse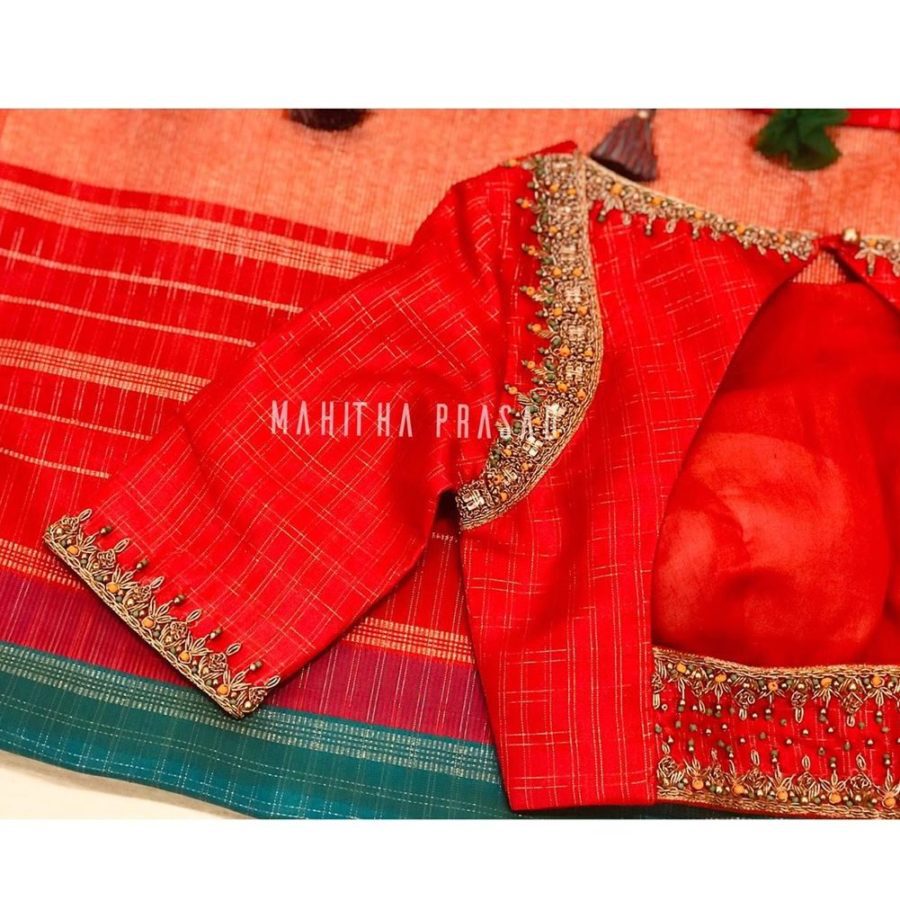 Red is an all-time favorite color for the wedding season. This red blouse with subtle zardosi embroidery is perfect for the brides who wish to keep it simple. The deep cutout detail at the back adds a modern twist.
6. Purple Kundan Work Blouse With Matching Belt
There's nothing like going over the top when it comes to weddings. This Purple silk blouse has heavy peacock and mango kundan embroidery along the neckline and waistline and is paired with a matching Kamarbandh.
7. Green Heavy Zardosi Work Blouse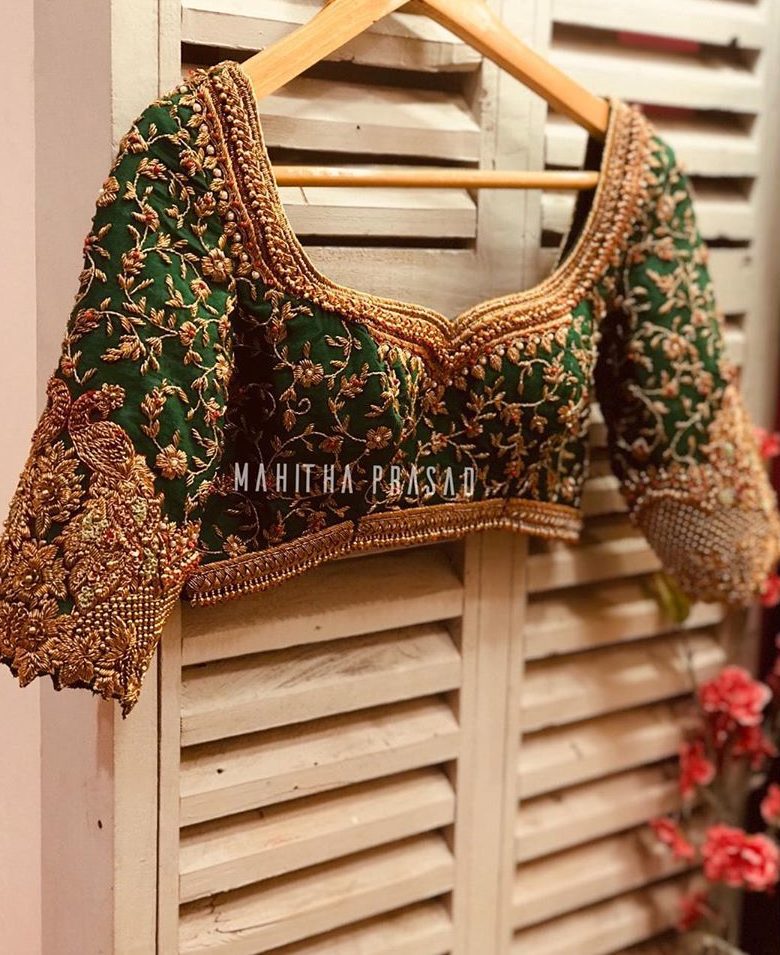 This is the classic example of letting your blouse do the talking. There can be nothing better than a dark green silk blouse with heavy zardosi embroidery. Apart from loving the shades of green, we are also stunned by the peacock embroidery on the sleeves.
8. Doli Embroidered Blouse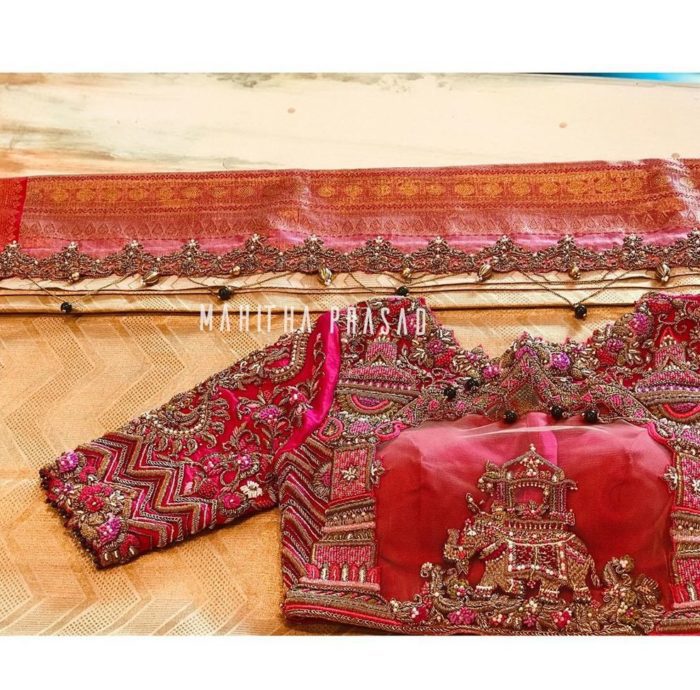 How about adding a unique embroidery twist? The hand-embroidered doli design is a head-turner. Set in pink-hued stones on a bright pink silhouette. Paired with a beige saree, this blouse looks like the perfect fit for a modern bride.
9. Yellow Peacock Embroidered Blouse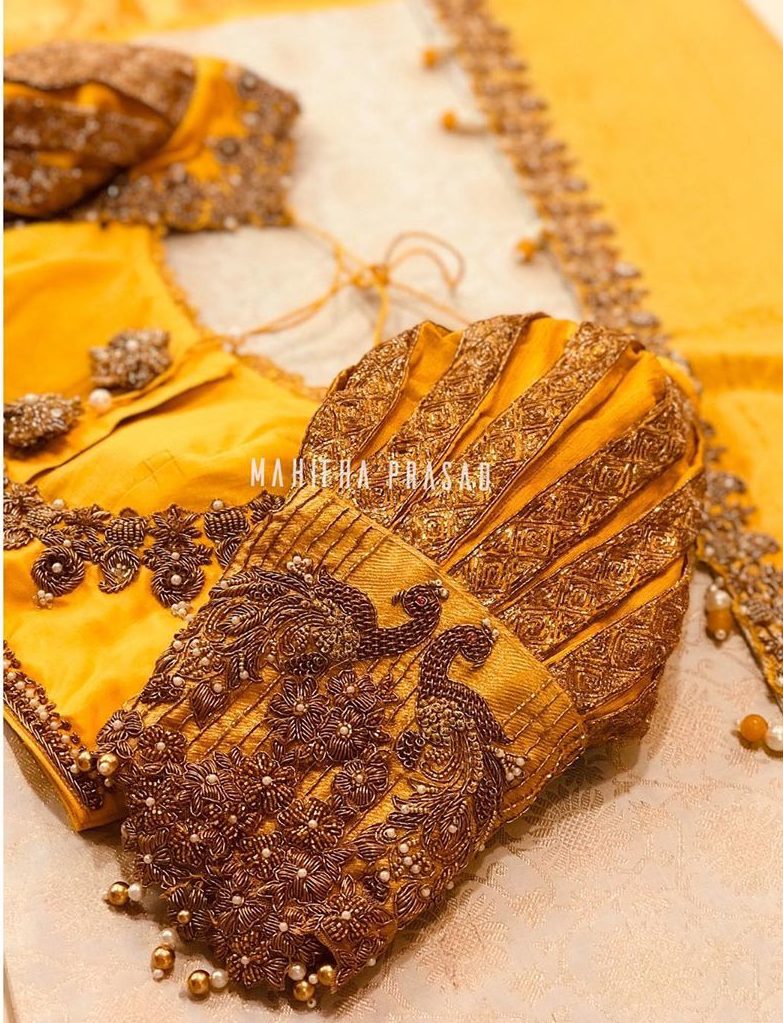 A bright yellow silk blouse with peacock zardosi embroidery on the sleeves is a perfect pick for any wedding function. While the yellow will quickly grab all the eyeballs, the intricate peacocks will leave them in awe.
10. Grey Silk Blouse
Let's try a little unconventional color for a change. While grey might not be everyone's go-to color but it surely makes for a great trousseau addition. This lustrous silk blouse with stone studded embroidery gives a regal vibe when paired with a silver kanjeevaram saree.
11.  Radha Krishna Blouse
You can never go overboard when it comes to weddings. For instance, this green zardozi blouse with Radha Krishna patch would be perfect for the wedding day or the reception.
12. Parrot Green Embellished Blouse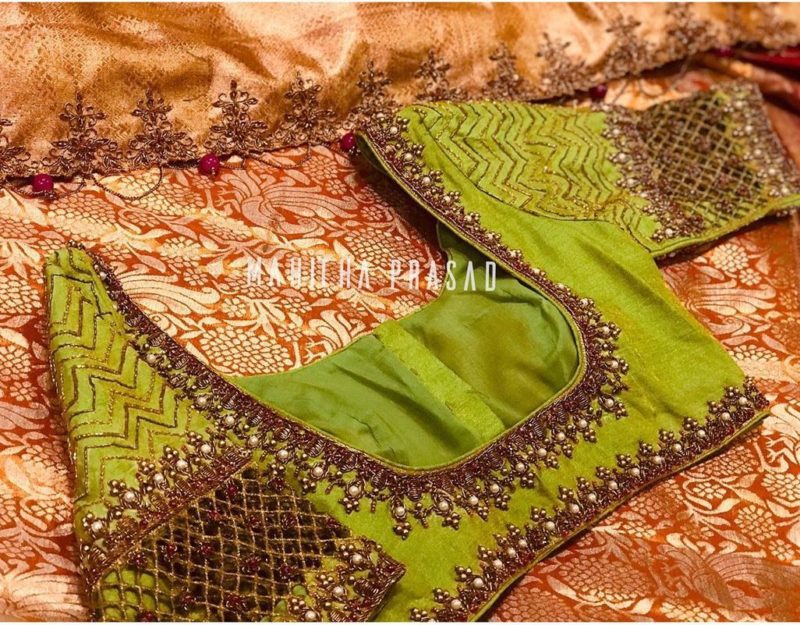 Vibrant colors for the vibrant brides. This parrot green embellished blouse looks beautiful when paired with a contrast pink saree. While the cutwork on the sleeves is beautiful, the neck embroidery with pearls looks stunning too.
13. Embroidered Brocade Blouse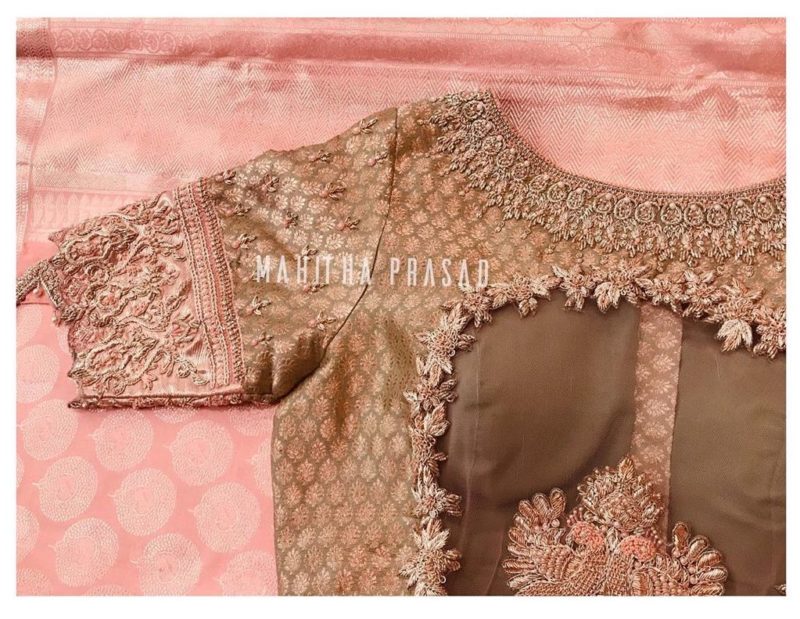 Subtle colors with beautiful embroidery make a great combination. This olive green blouse with silver and pink zardosi embroidery and cut-out mesh back with peacock motifs is so beautiful.
14. Pure Silk Blouse with Brocade Sleeves
You can never go wrong with silk and brocade combination. The embroidered beads on a dark brown base and patch on the sleeves look simple but elegant. Pair it up with a cream silk saree for an incredible look.
15. Raw Silk Teal Blouse with Embellished Patches
Bright colored blouse paired with champagne hues make for a great pairing. This teal blue raw silk blouse looks great with a beige saree. It features embellishments along the neckline, sleeves, and the Kamar bandh.
16. Zardosi Jaal Blouse
Zardosi embroidery on a white background makes anything look regal. This white silk blouse features zardozi embroidery all over the back and peacock motifs on the sleeves.
17. Balloon Sleeved Blouse with Embellishments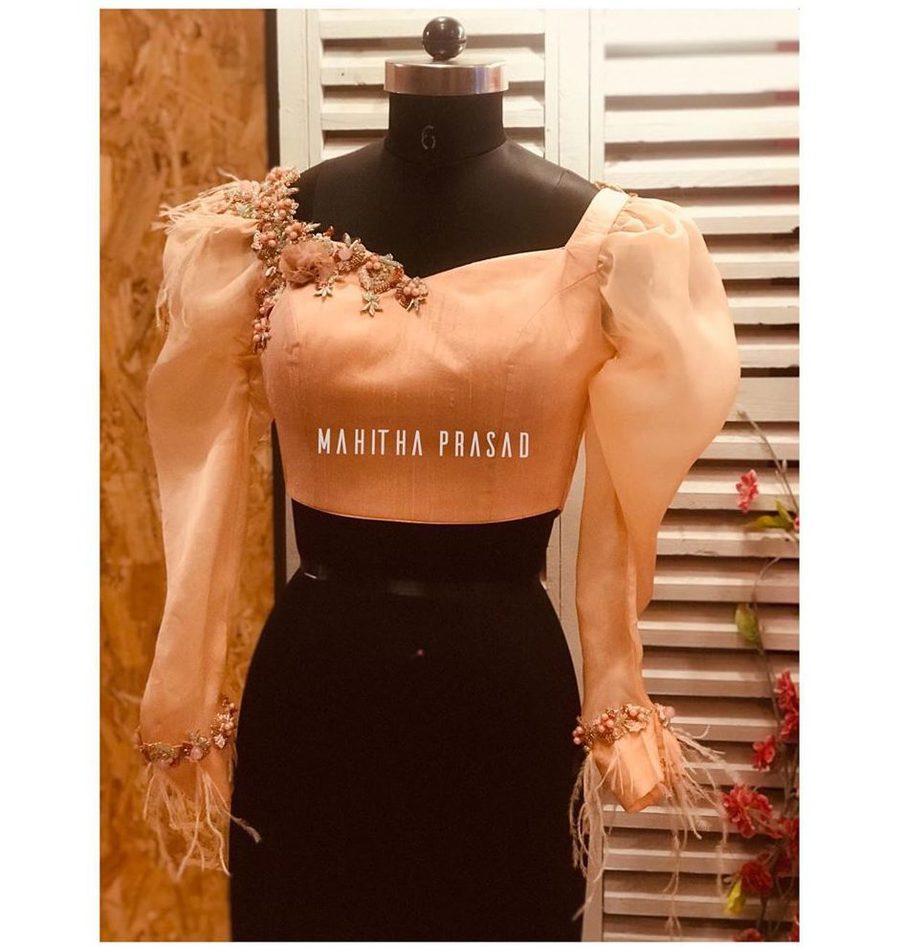 Let's take a modern approach for the millennial brides. Peach hued silk blouse with organza balloon sleeves screams nothing but confidence. 3D embroidery with peach beads around the neck and sleeves add a dramatic effect. This one looks perfect for any pre-wedding functions.
18. Silk Blouse with 3D Flowers
It is time to introduce 3D effects in blouses too! This beautifully designed silk blouse with 3D flowers is jaw-dropping. This is the perfect amalgamation of thread embroidery with foam 3D cut-outs. You need to make space for this exclusive modern blouse in your trousseau.
19. Raw Silk Blouse with Sequined Sleeves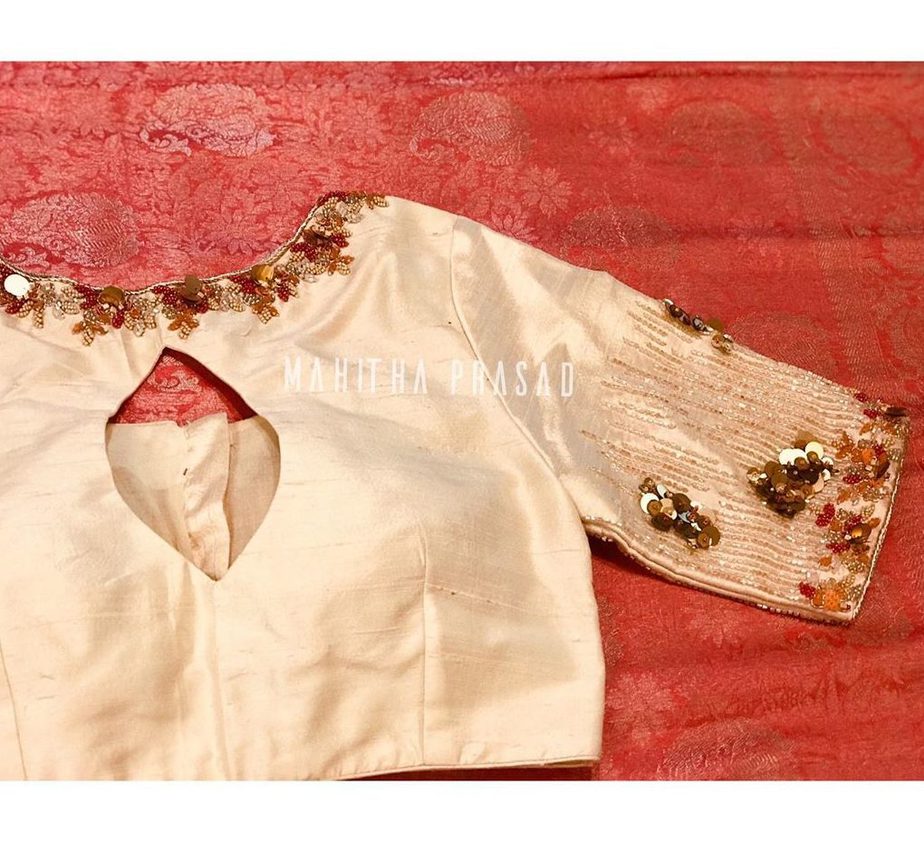 Simplicity at its best. The raw silk blouse with sequin details over the neck and sleeves will do wonders for the minimalist bride.
20. Grey and Maroon Blouse with Thread Embroidery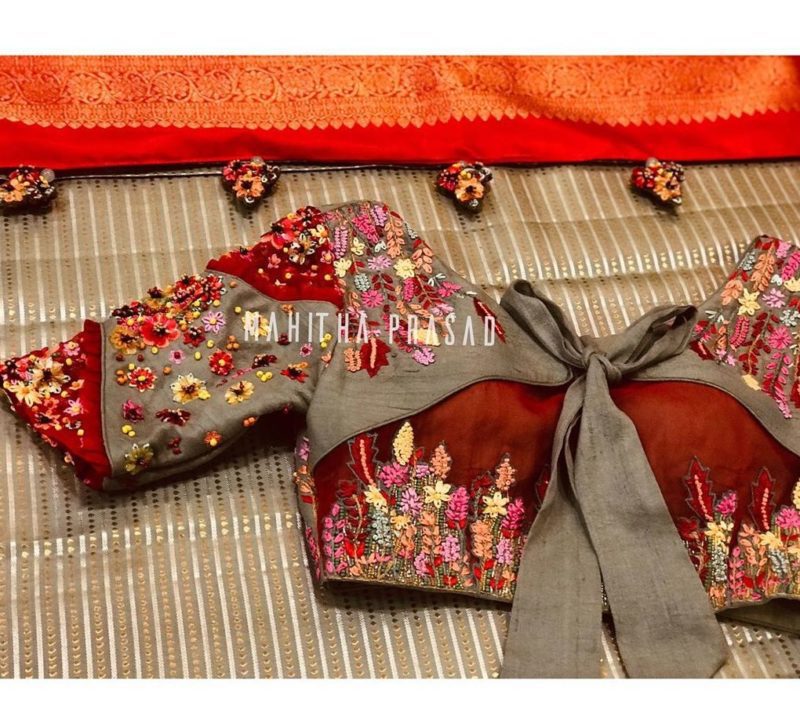 Unconventional combinations make the best team. Who would have thought pastel colors would look this good on a grey and maroon background? We love the thread embroidery in all the possible pastel colors with that cute little bow in the middle. This blouse is the best example of a chic yet traditional saree look.
If you liked any of these blouses, feel free to visit the designer's social media accounts.
Instagram: blousehousebymahithaprasad
Facebook Page: Blouse House by Mahitha Prasad