No matter how many different types of dressing styles we get, saree will remain our forever favorite. Whether it's a party or a puja, saree has managed to make its way into all occasions in all these years. This 6-yard fabric epitomizes grace and elegance like no other style. Not just the saree, time and again designer blouses have proved to play an equal role in bringing out the best in you.
While a lot of designers have been leaving us speechless in terms of blouse designs, here we are with one and only Sayanti Ghosh's timeless nature-inspired blouse designs. Dig in to get all ideas for new blouse design 2020 latest images.
1. 3D Butterfly Blouse
Looks like we have come quite far in 2020 in terms of blouse designs. The grey blouse looks like a canvas with butterflies sitting on leaves and stems. The 3D butterflies attached to the blouse adding various colours on the grey background making it look almost real. This one will surely make others have a second look in awe.
2. Hand Embroidered Blouse
Vibrant colours set against a beautiful sky blue background looks like a scene stolen from nature. The flower and humming bird hand embroidered on pure silk chanderi blouse in decorative style. The mini red roses on the blouse complementing peach colored pure silk saree.
3. Strappy Butterfly Embroidered Blouse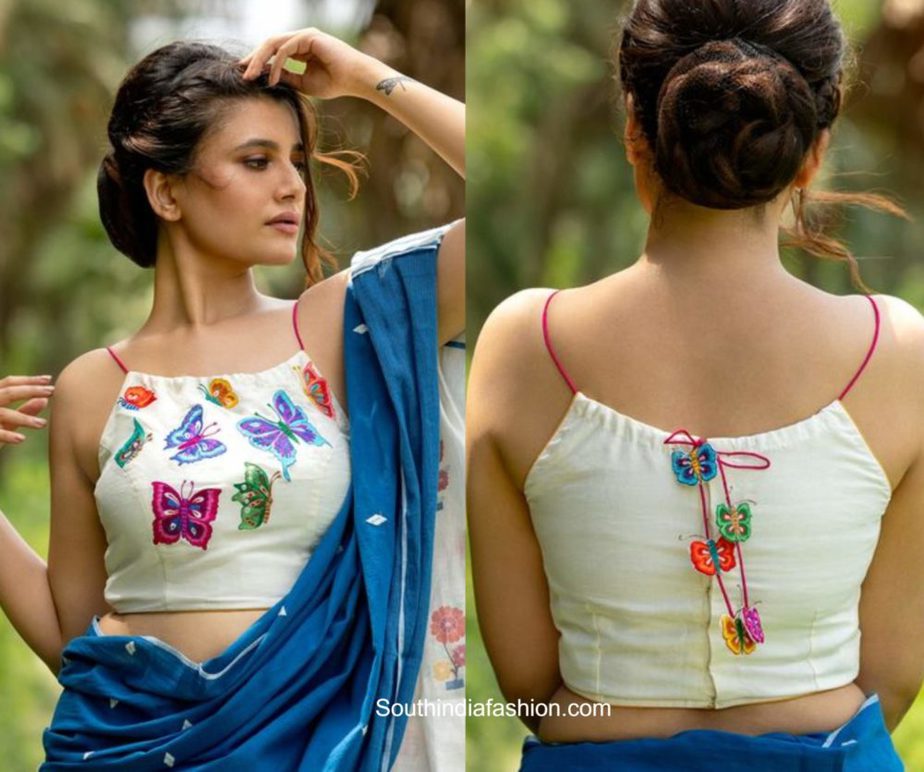 The noodle strapped blouse is perfect for you if you want to add a flare of modernity to your saree. While the hand-embroidered butterflies on front are classy, the ones hanging at the back are chic. Why just pair it with a saree? You can also wear this one as a crop top!
4.  Blouse Back Neck Designs 2020
We all love deep back neck designs. They simply make the whole look sumptuous instantly. You can never go wrong with a classic black blouse with zardosi golden hand embroidery. Styled with tissue silk saree, this look is ideal for any function.
5. White and Gold Zardosi Work blouse
White and Gold happens to be a royal combination whether its any type of clothing. The minute detailing in zardosi golden embroidered blouse is stunning. Paired with a golden silver tissue silk saree, this outfit screams nothing but elegance and happens to be a must-have in every girl's wardrobe.
6. Elephant and peacock embroidered blouse
This marvelous looking brocade silk hand embroidered blouse is a must have. The vibrant coloured bird and animal embroidery on arms, back and front is simply breathtaking. This can be carried with an elegant kanchivaram saree making it perfect for any occasion.
7. 3D Floral embroidered blouse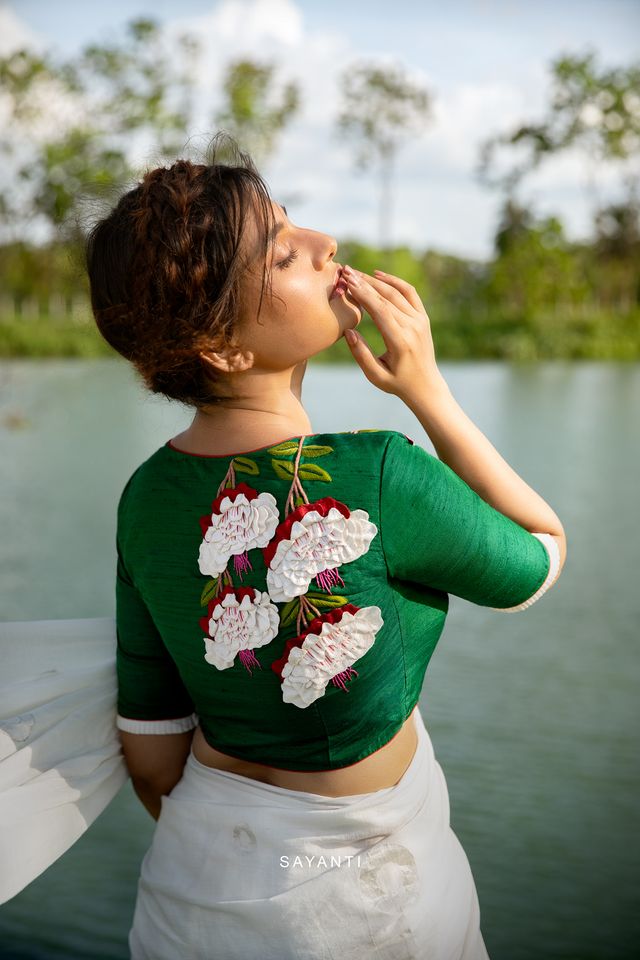 Why not just let your back do the talking? The 3D hand embroidered fuschia flowers on bottle green pure raw silk will make you look bold and confident while sticking to tradition.
8. Blouse designs with bird embroidery
The designer can be clearly seen reminiscing bird embroidery. Whether it is embroidered parrots or kiwi art on organza, the black blouses look beautiful styled with grey silk saree.
9. Mustard and White Thread Embroidery Blouse Design
While portraying a delicate piece of nature, the blouse showcases hand embroidered white owl sitting on a branch. The mustard colored blouse effortlessly styled with a purple saree with embroidered flower bunches.
10. Full Work Designer Blouse 2020
As per the designer, the beautiful blue and white blouse has been inspired by the detailed scaling on the Taj Mahal. The beautiful lotus motifs created in a decorative art form made out of white organza are then laid onto pure silk chanderi navy blue material. This very insightful blouse is paired with a jamdani white saree.
11. Lotus and Bird Embroidered Designer Blouse 2020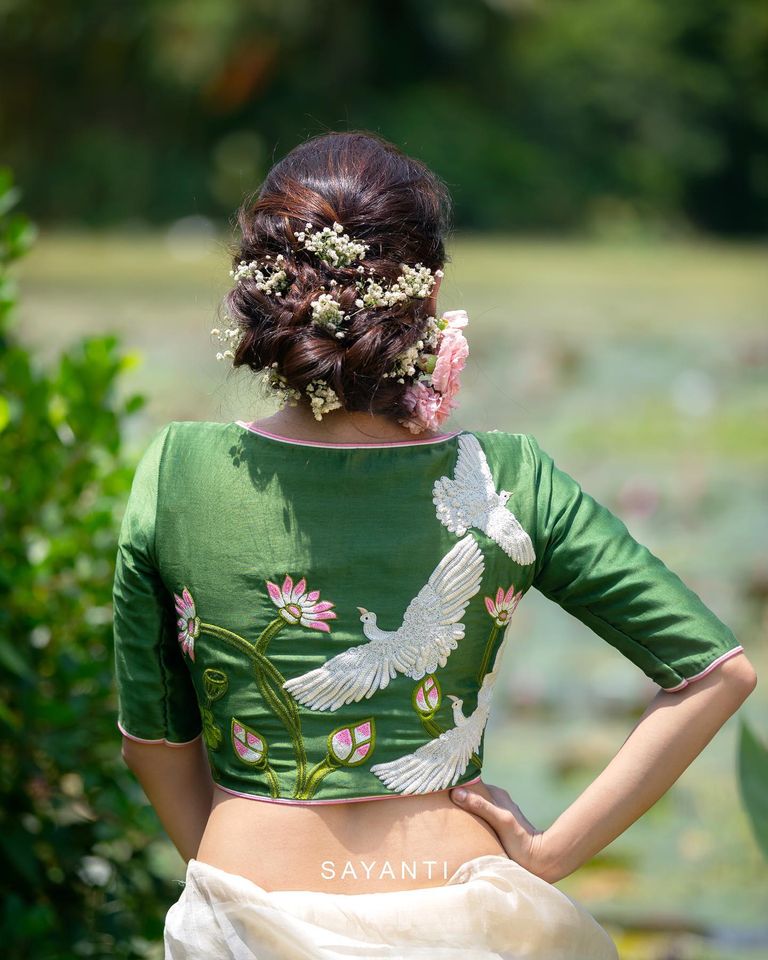 The blouse neck designs 2020 are going to be dominated by hand embroidered natural scenes. Inspired from bengal scenery, the premium hand embroidered egret with lotus blouse is styled with a hand woven tussar silk saree.
12. Designer Blouse with Birds and Tree Branches
Ever wondered if we could get to see a forest scenic beauty in a blouse? This mint green pure silk designer blouse 2020 with hand embroidered birds sitting on tree branches is here to make your dreams come true. Styled with hand woven Nature jamdani saree with intricate work on Bangalore pure silk.
13. Deep Plunging Neck Designer Blouse
The hand embroidery 2020 collection would be incomplete without a plunging neckline design. Embroidered rongona flowers with birds on silk on the mustard background give a very Chinese vintage vibes. Styled with contrast peach saree, this is our personal favorite.
14. Nature-inspired designer blouse 2020
This swan in swamps embroidery is one of its kinds and happens to be a part of embroidery blouse designs 2020 for wedding collection. Premium hand embroidered egret with shapla on raw silk silhouette is a total bliss of eye. To create a subtle natural look, the blouse has been styled with a hand woven tussar silk saree.
15. 3d Honeycomb Designer Blouse 2020
The never seen before honeycomb structure in a saree fits perfectly in the designer's close to nature collection. The hexagonal honeycomb cells skillfully embroidered with cut out works. In order to get the proper depth of honeycomb, little pores have been added. Three-dimensional bees placed strategically to give the feel of real texture. The sleeveless blouse has been styled with a cotton jamdani saree.
16. The Ajrakh Flower Blouse
Yet another piece curated keeping nature in mind, this Ajrakh flower tank top blouse styled with a red and white matka silk saree. While the sheer adds a glam touch to it, white embroidery balances out the traditional aspect.
17. The Pichwai Painting Blouse
Inspired from an art form called Pichwai painting, hailing from a holy town of Rajasthan, this overall blouse and saree spread positive vibes. This floral painted blouse has Lord Krishna motif on the back.
18. Embroidered Durga Blouse
In an attempt to portray one of the five days of Durga Puja, the designer crafted this beautiful design inspired by the goddess Durga. Sashti hand-embroidered Durga blouse styled with Maheshwari saree with zari accents on the border look majestic. You can add this one to your wish list for the upcoming Durga Puja.
For inquiries contact:
Facebook: Sayanti Ghosh Designer Studio
Phone: +91 98040 10349