Saree has been a part of our tradition for centuries and it is here to stay for a lot more.  This 6-yard piece of clothing is what defines beauty and grace for us Indian women. No matter what age, we all love to drape sarees be it for farewells or wedding functions. Keeping in mind the younger saree loving audience, here we are with some chic and contemporary blouses by Vrinda Design Couture for all the young girls out there!
Must-Have Contemporary Blouses
 Orchid Print Blouse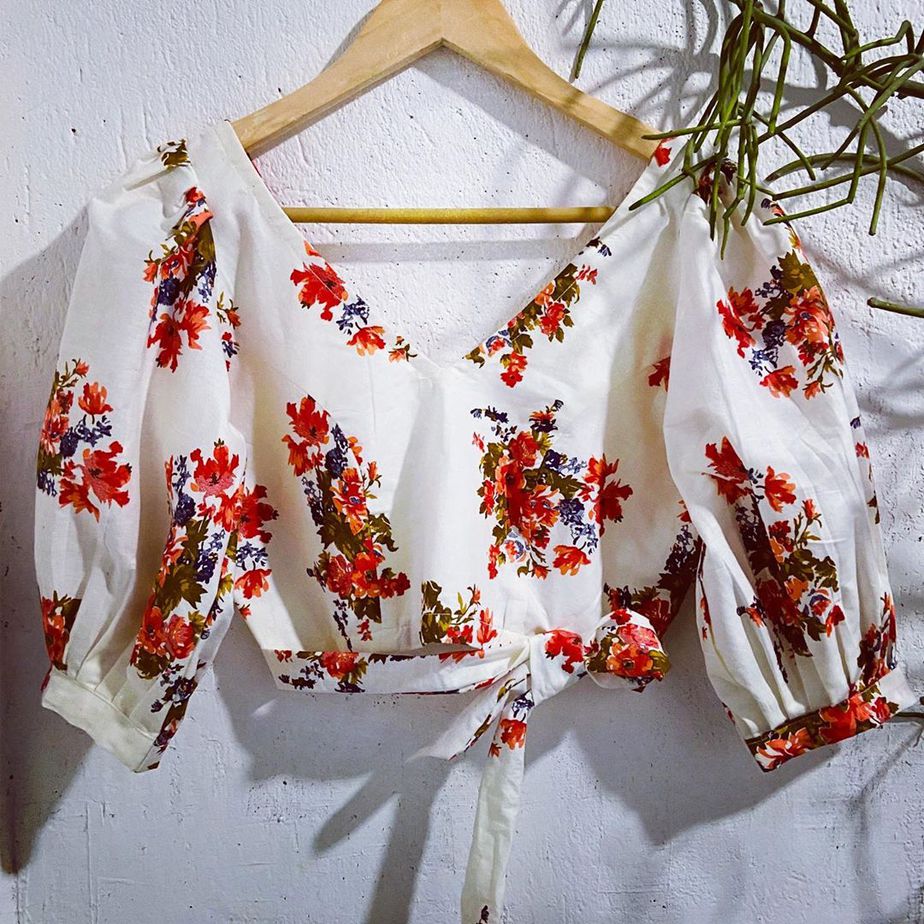 How about adding some florals to your wardrobe of blouses? The white blouse has orchid flower print all over it and is a part of the new blouse designs. This v neck blouse has puff sleeves giving you that chic look. The tie-up knot at the waist gives you that modern look.
Block-print Blouse with tie-ups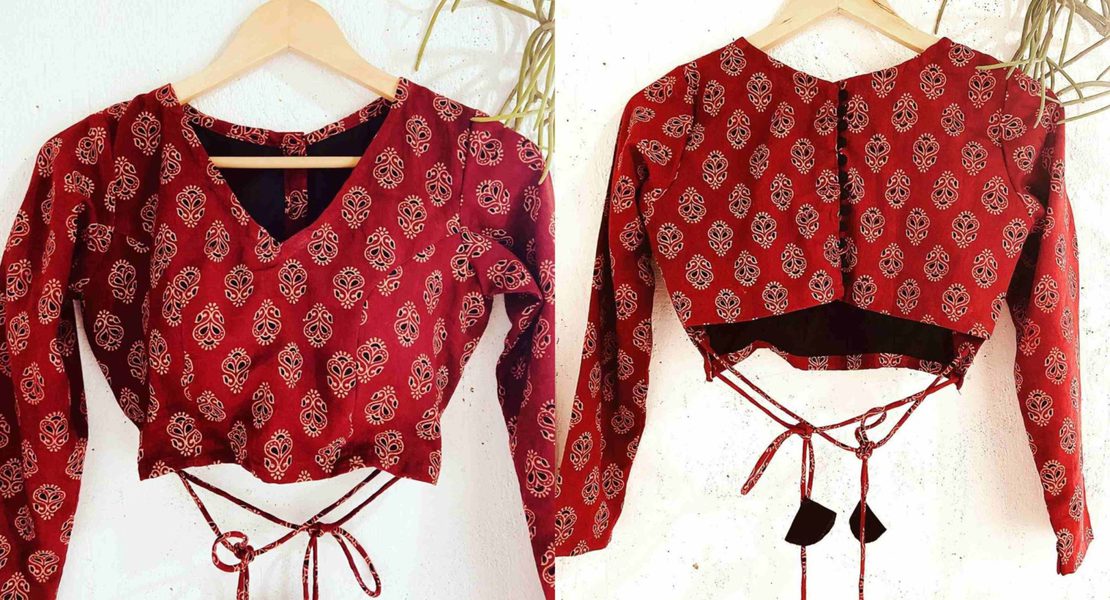 Let's talk about hand block printing. This timeless hand-block print blouse made of soft organic fabric is perfect for spring to autumn. It has potli buttons at the back and that sexy dori is all you need to stay traditional yet chic. It's made with pure cotton fabric and comes with cotton lining. Wear it with a plain black or white saree winning hearts everywhere you go!
V-Neck White Blouse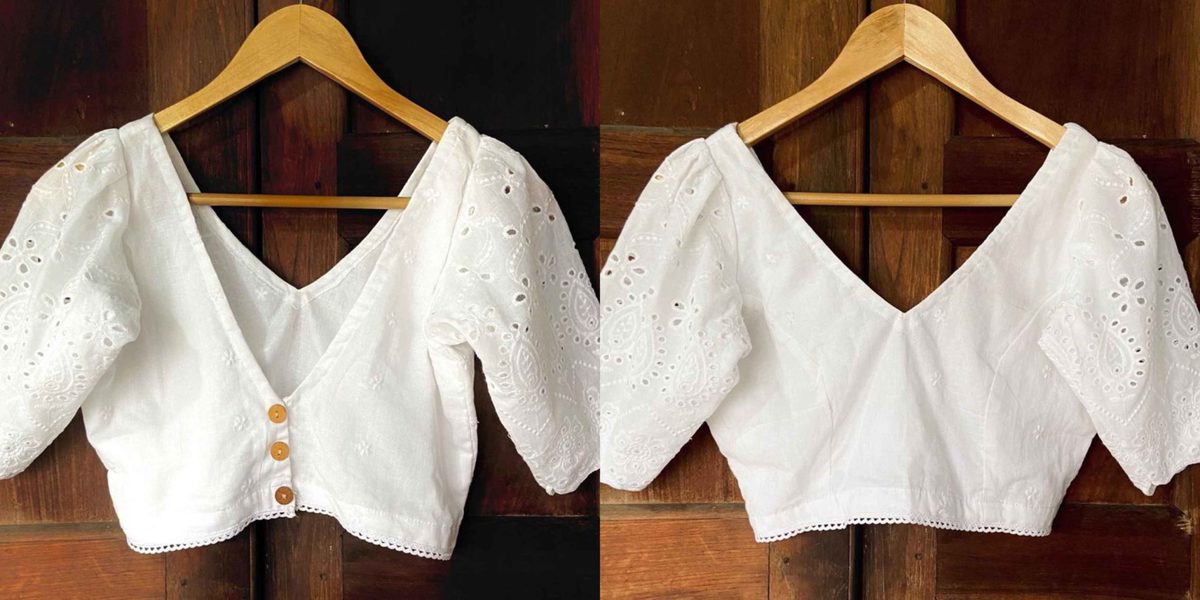 Classic, elegant, and chic. This white blouse with cutwork on arms looks like a perfect choice for a cotton or khadi saree. Why just stick to saree when you can wear it as a crop top too? This blouse comes in pure cotton fabric with cotton lining making it a staple for the summer season.
Khadi Cotton Blouse
With vocal for local going trending, why not go for a pure Indian khadi blouse? This khadi cotton blouse screams comfort making it suitable for any season. The lovely thread embroidery in green and pink is simply to die for. It is one classic Indian piece of clothing that every young girl must have in her closet making it a daily wear blouse.
The Victorian Blouse
Why not add a little English touch to your desi blouse? This victorian neck blouse looks like the best choice. While the Victorian neck adds the English touch, the beautiful floral hand embroidery on khadi cotton balances out the traditional part. The bright maroon blouse has a perfect combination of blue, green, and golden embroidery.
The Ajrakh and Kalamkari Blouse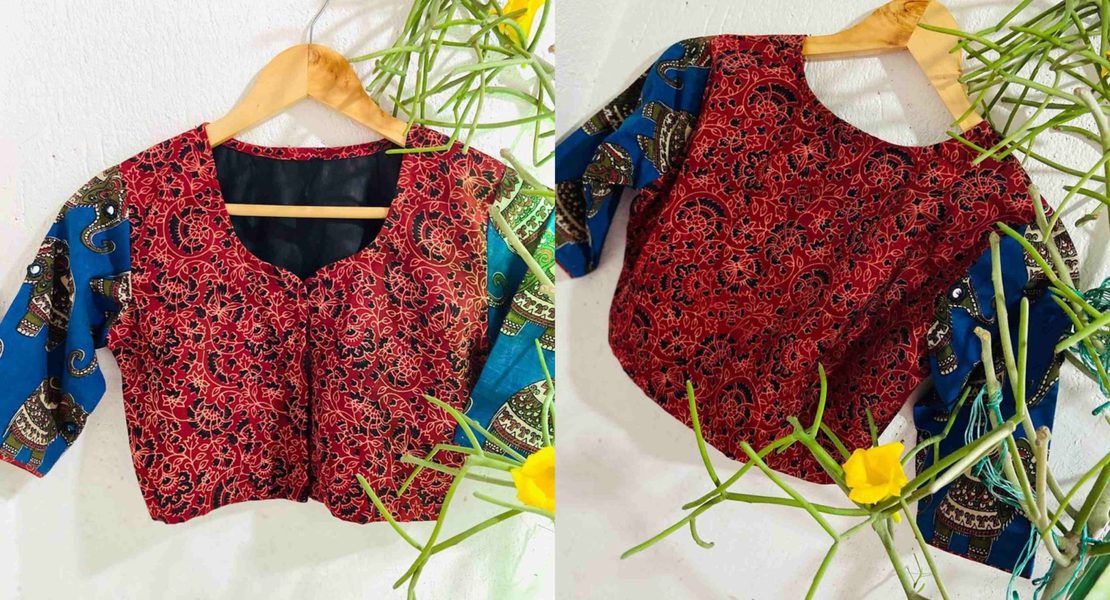 What's better than one? Two! Looks like ajrakh and kalamkari are made for each other. The madder printed ajrakh looks perfect with blue kalamkari print in this blouse. Made with pure cotton and cotton lining, it is a staple to your ethnic wear moods.
Floral Jaal Blouse
Let's take a walk in Rajasthani hub of textile prints i.e. Sanganer. The yellow floral jaal blouse is inspired by the famous city Sanganer known for its craftsmanship and hand-block prints. This buttoned-down blouse is available in a boat neck style with simple blouse design patterns making it perfect for your everyday needs.
The Senorita Blouse
Let the senorita in you out and tap to the beats of salsa music. This is a square neck blouse with puff sleeves giving it the modern touch. We love the beautiful pink flowers printed all over. This traditional yet foreign blouse looks like a staple for every 21st-century girl!
The Classic Brocade Blouse
How can we talk about sarees and not offer you something for the wedding season? This classic brocade blouse needs no explanation. The rich-looking traditional brocade has been a part of our tradition for ages and will stay for ages. So, just grab one and pair it up with any saree and you will never go wrong!
 Paisley Print Blouse
Well, the list had to be incomplete without a paisley print. This hand block printed ajrak blouse has to be a part of your wardrobe. Made out of pure cotton, the indigo paisley blouse is perfect for your contemporary sarees.
Jamdani Blouse
Girls, this is the time for you to add a jamdani blouse to your closet if you have not already. The beautiful hand-woven jamdani pure cotton blouses come in two shades i.e. black and mustard. While black is quite convenient for daily use, why not try something different with mustard one too? We simply love the subtle printed hints though.
Feel free to go ahead and grab your favorites. You can place your orders from Vrinda Design Couture's Instagram page HERE!
Phone: 6291047707