Planning to own a couple of stylish and designer saree blouses that can be easily paired with any plain saree? If yes, then you have landed on the right article! We have 10 pretty designer saree blouses that are stunning. A fabulous designer store – Anu Designs & Fashions have a wide range of embellished designer saree blouses that are worth checking out!
We are sure you are to fall in love with some of them. Check them out –
Lush White Designer Blouse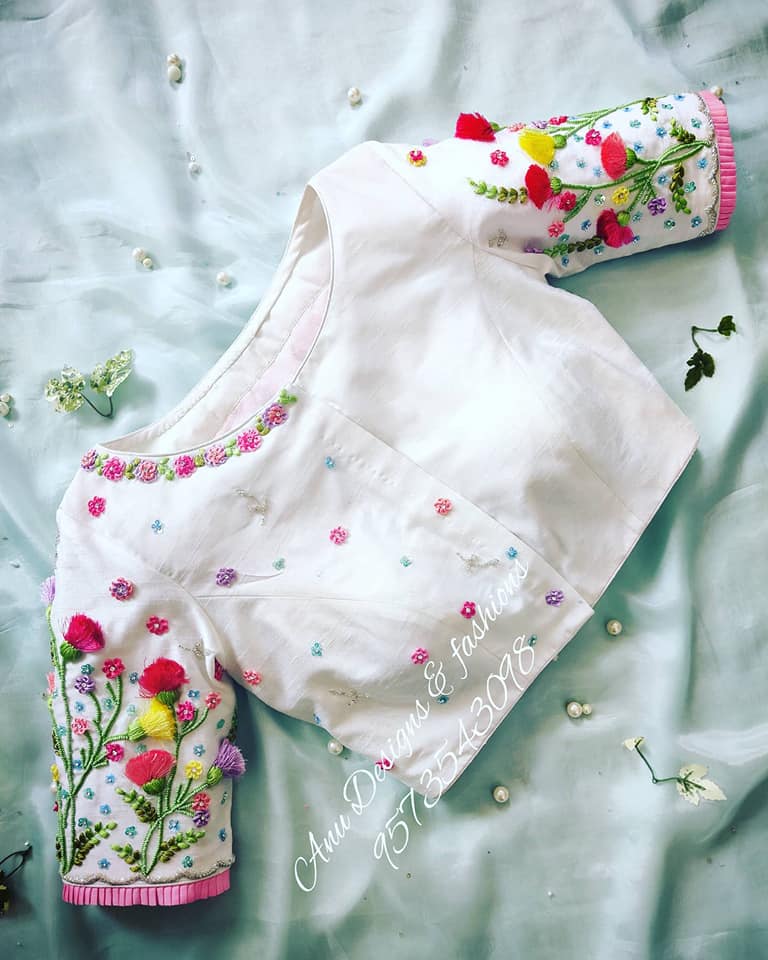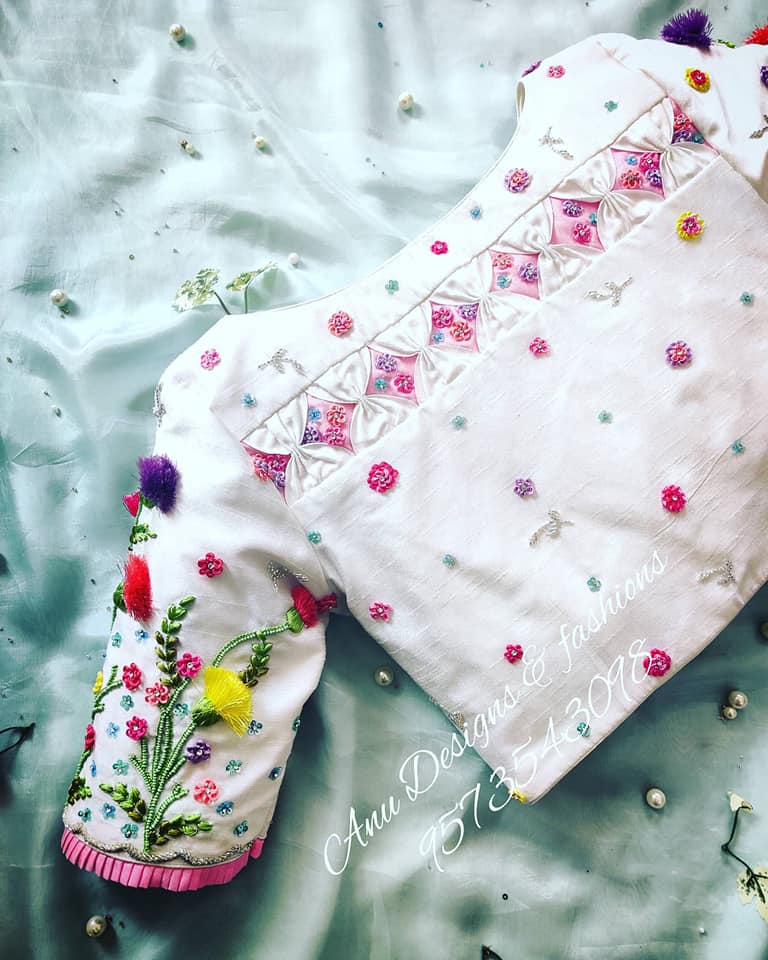 This designer blouse has a boat neck pattern with elbow length sleeves. Embroidery is done along the edge of its neckline and one side of the blouse adds charm and grace. The sleeves have tasseled embroidery while tiny floral embroidery covers the entire back neck.
Icy-Blue designer saree blouse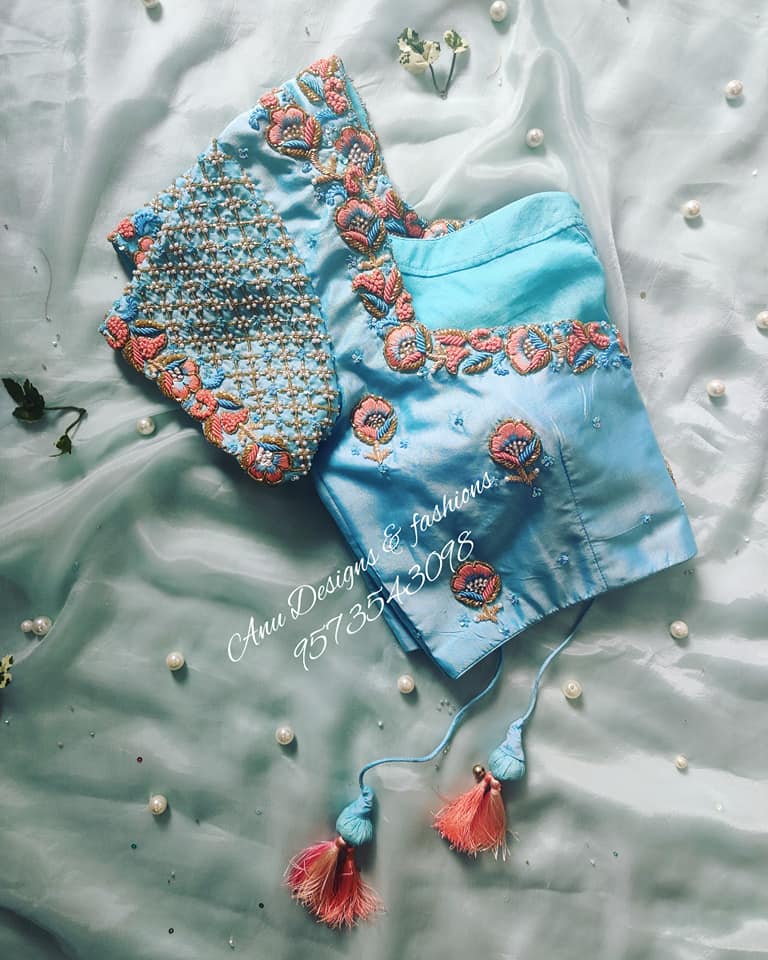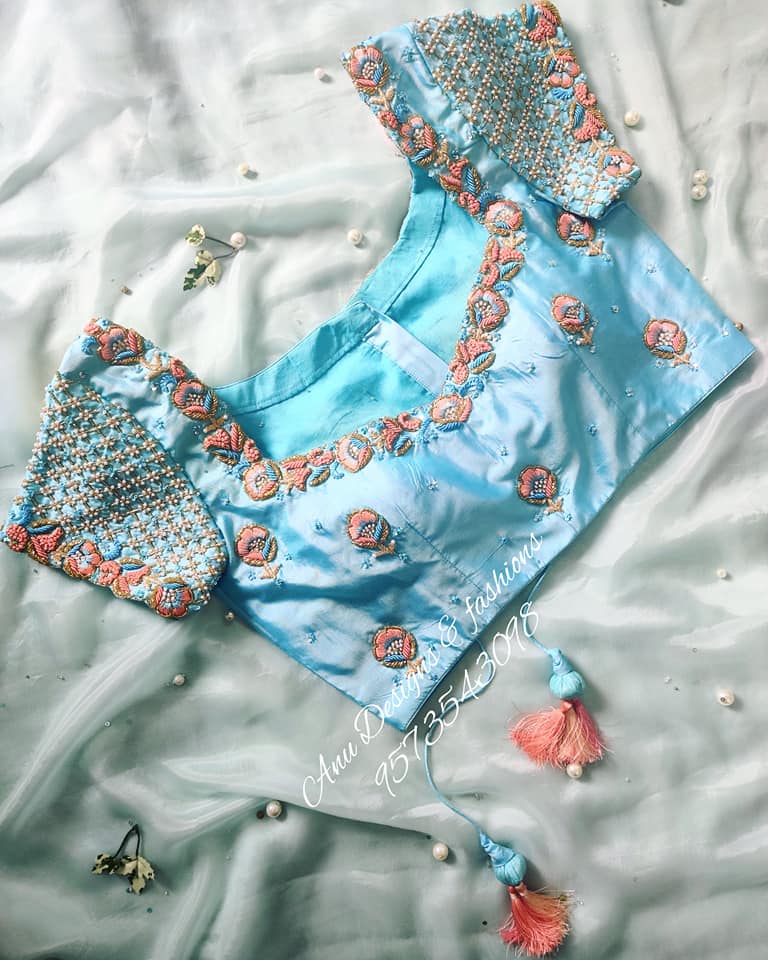 The icy-blue and peach combination is unique and eye-soothing. The peach floral zardosi work enhances the rich blue silk fabric. With the criss-cross embroidery pattern, this designer saree blouse is all hearts! With peach and blue tassels, it's worth owning it.
Peter Pan Neckline Blouse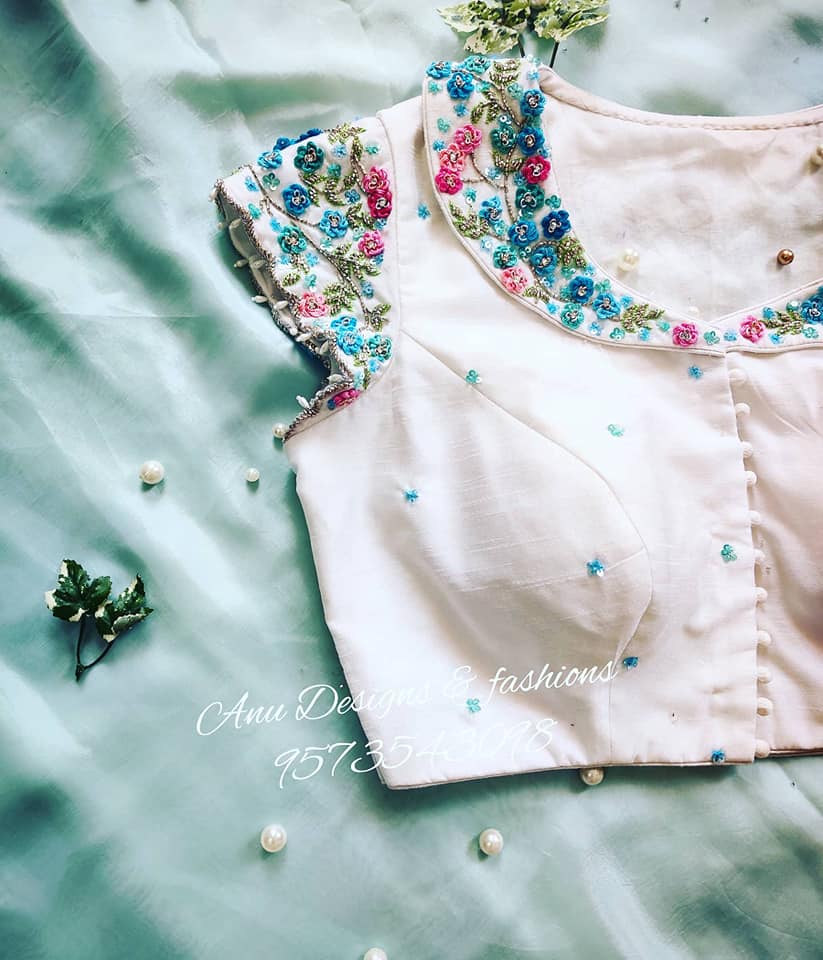 Peter Pan neckline adds elegance and grace. But with gorgeous floral embroidery all-over the neckline and cap-sleeves – the blouse is ultra-glam! Pair it with a plain saree to create magic!
Floral Embroidered Blouse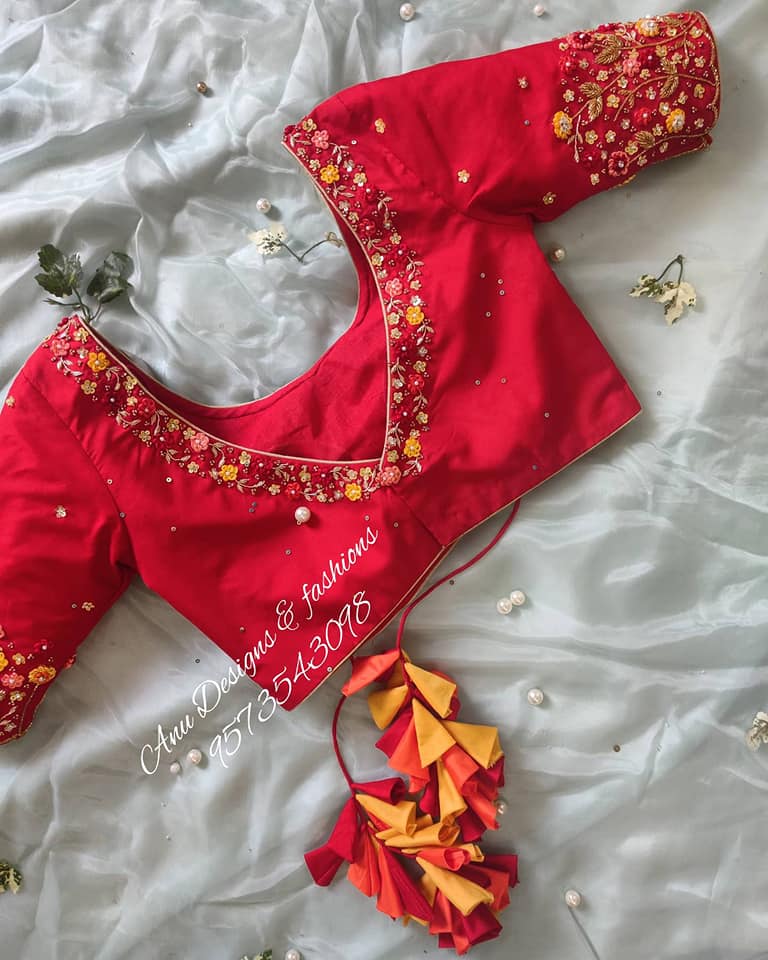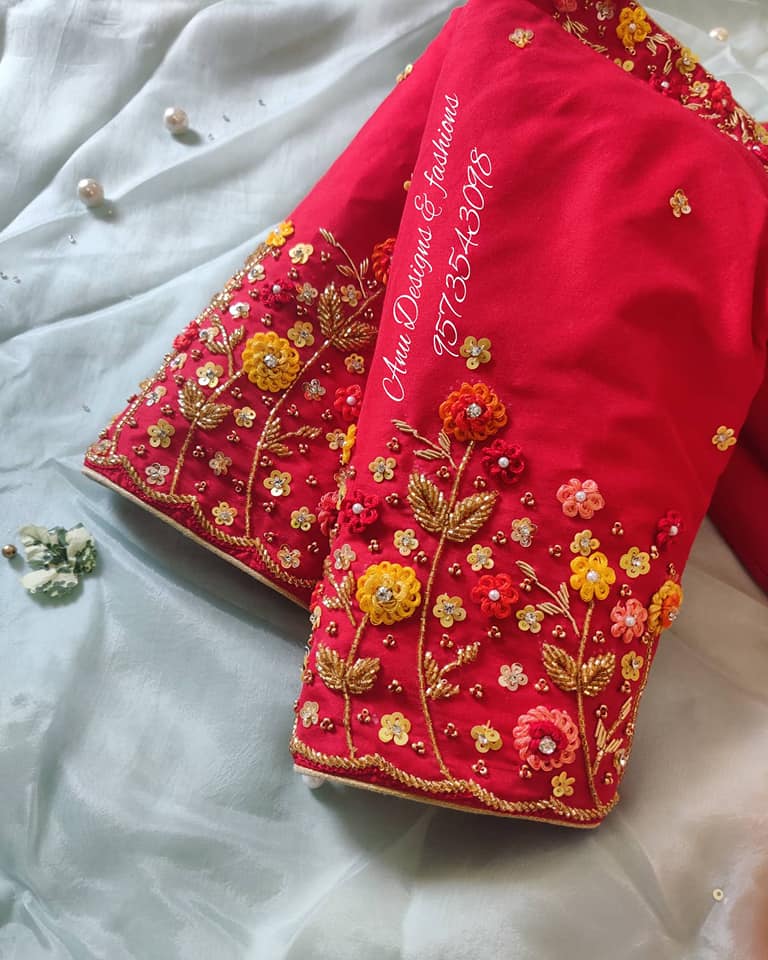 What are designer saree blouses without some tassel-drama? This stunning cherry red blouse has contrast colored embroidery that adds an instant oomph factor! And the multi-colored tassels take it all up a notch.
Yellow + Green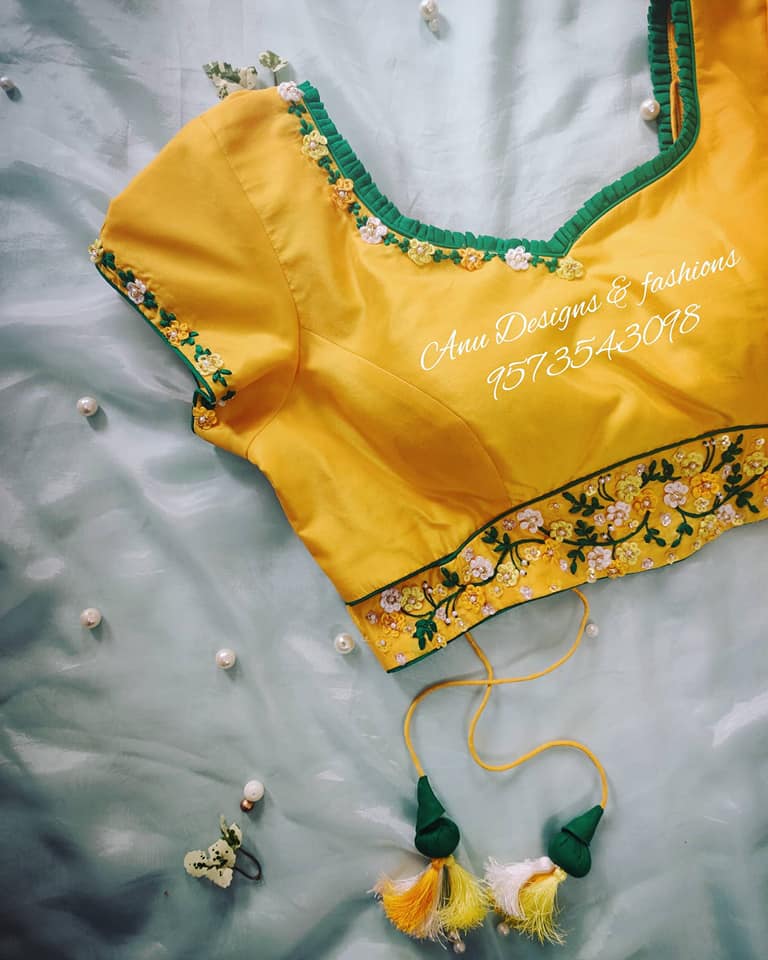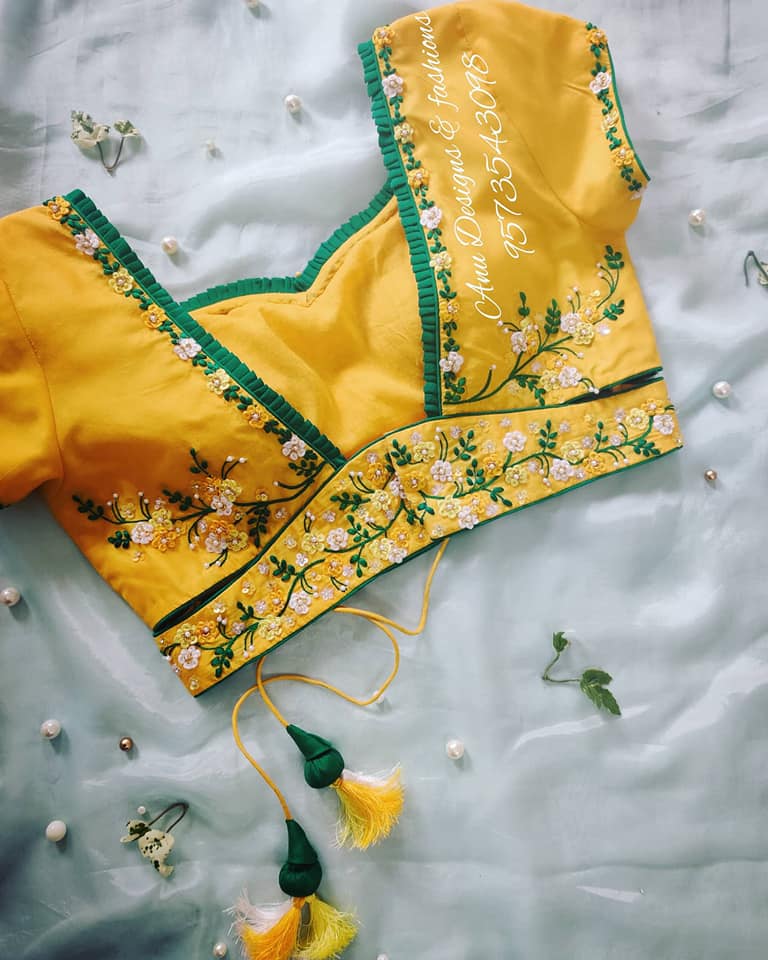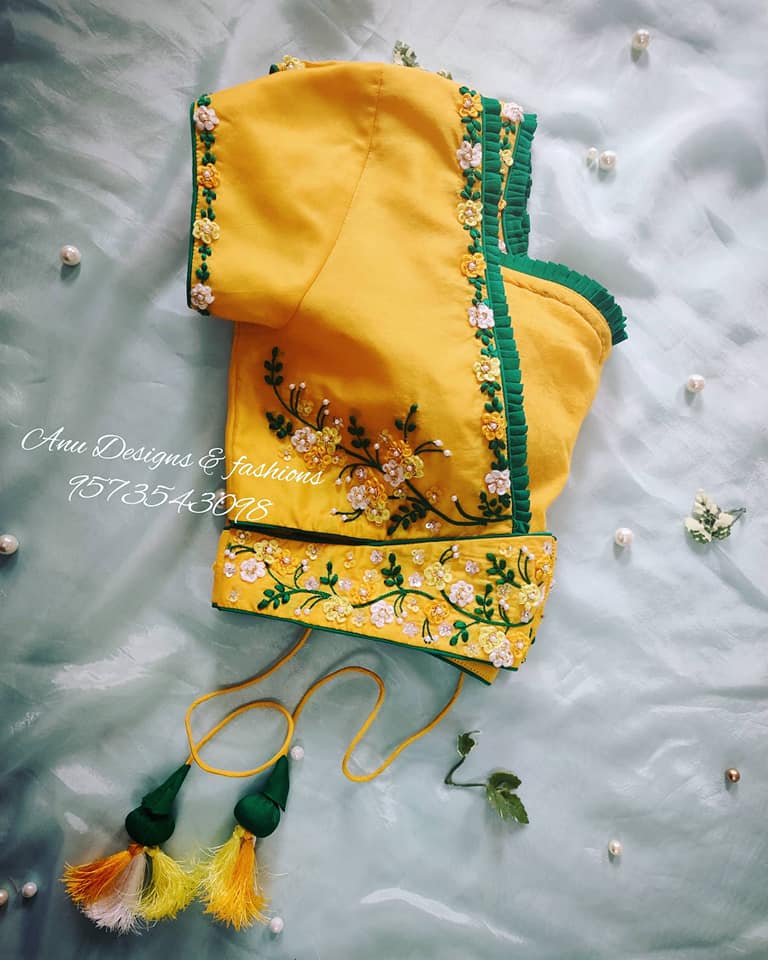 Yellow and green being a traditional combination makes this perfect for pattu sarees. But the gorgeous neckline, creeper, and climber embroidery add a twist of freshness to the blouse. The simple neck detailing gives it a stylish touch without over-powering the embroidery.
Netted Pink Blouse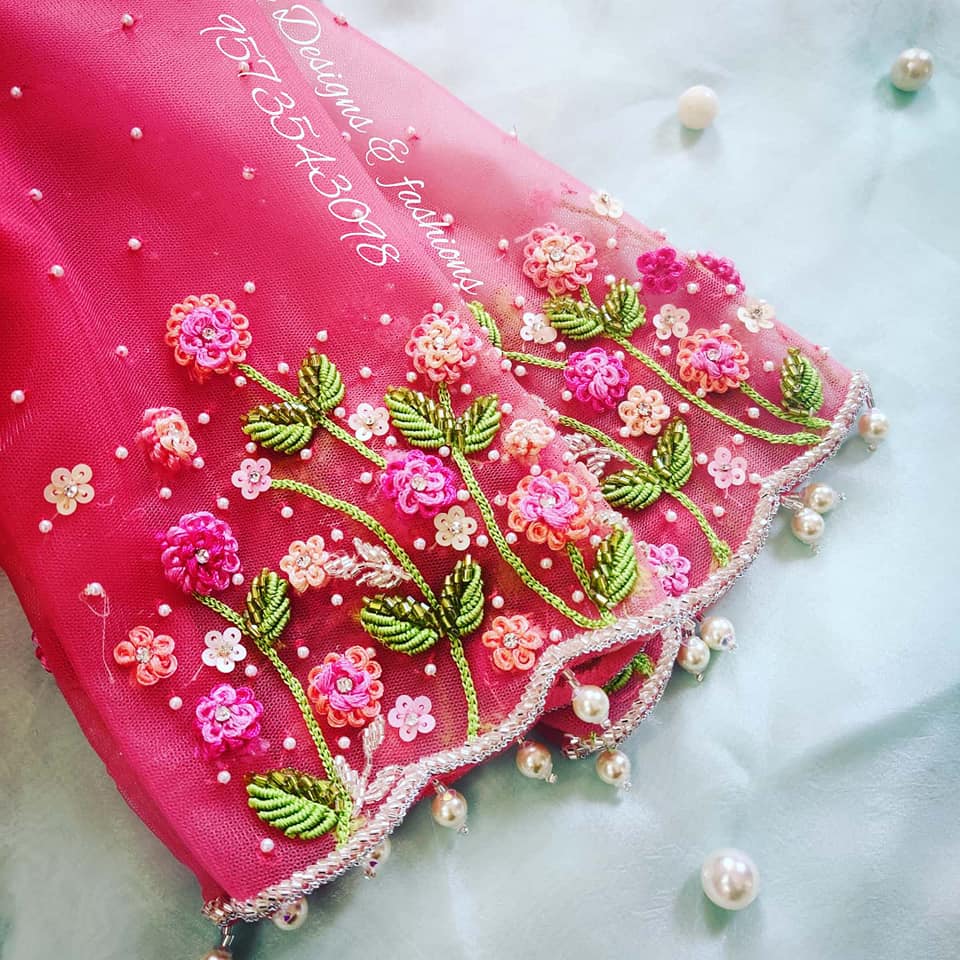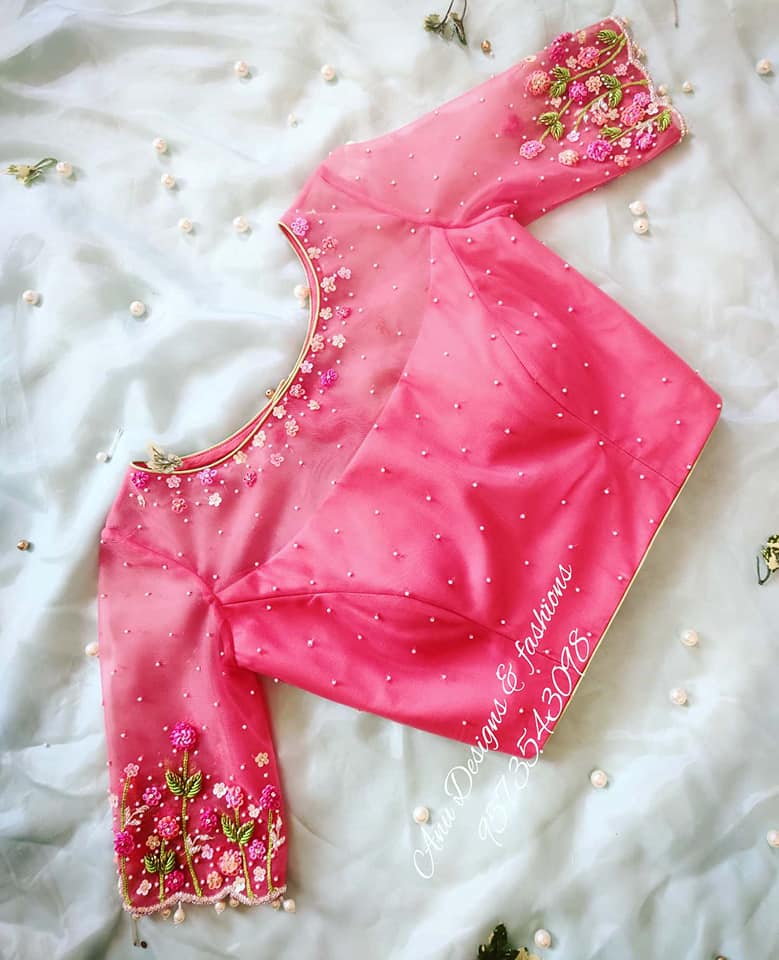 The netted corset blouse with a boat neck is feminine and beautiful. With pearls all over the blouse, its sleeves have delicate floral embroidery with pearl droplets. The blouse feels like a fresh breath of air and is a must-have!
Stylish Ivory blouse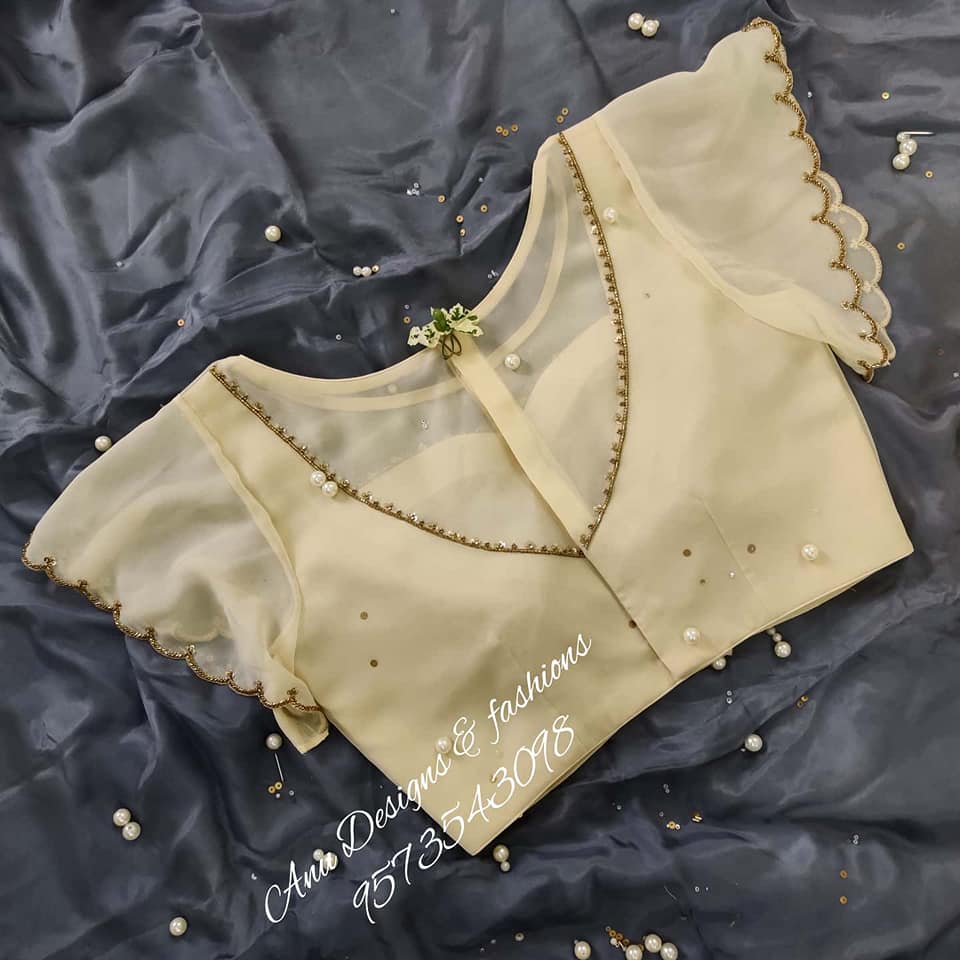 This gorgeous ivory blouse with butterfly sleeves and the bustier silhouette is simply gorgeous! The thin embroidery line along edges of the hemline and neckline adds to the glam quotient in a subtle way. Pair it with a deep hue or shimmer saree!
Leafy Embroidery designer saree blouse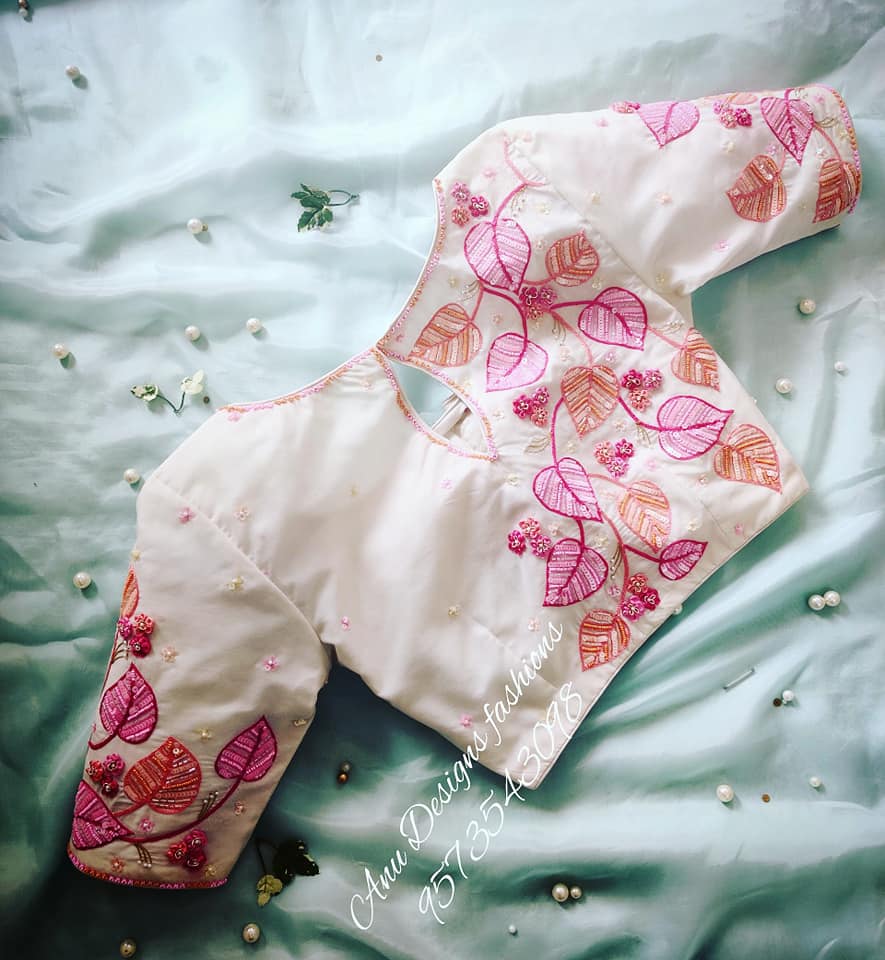 Giving it a refreshing break from the floral embroidery is this blouse with leaf embroidery. With a white base, the orange and pink leafy embroidery stands out in the best appealing way! The back-neck has a key-hole pattern and looks amazing.
Strong Tassel-Game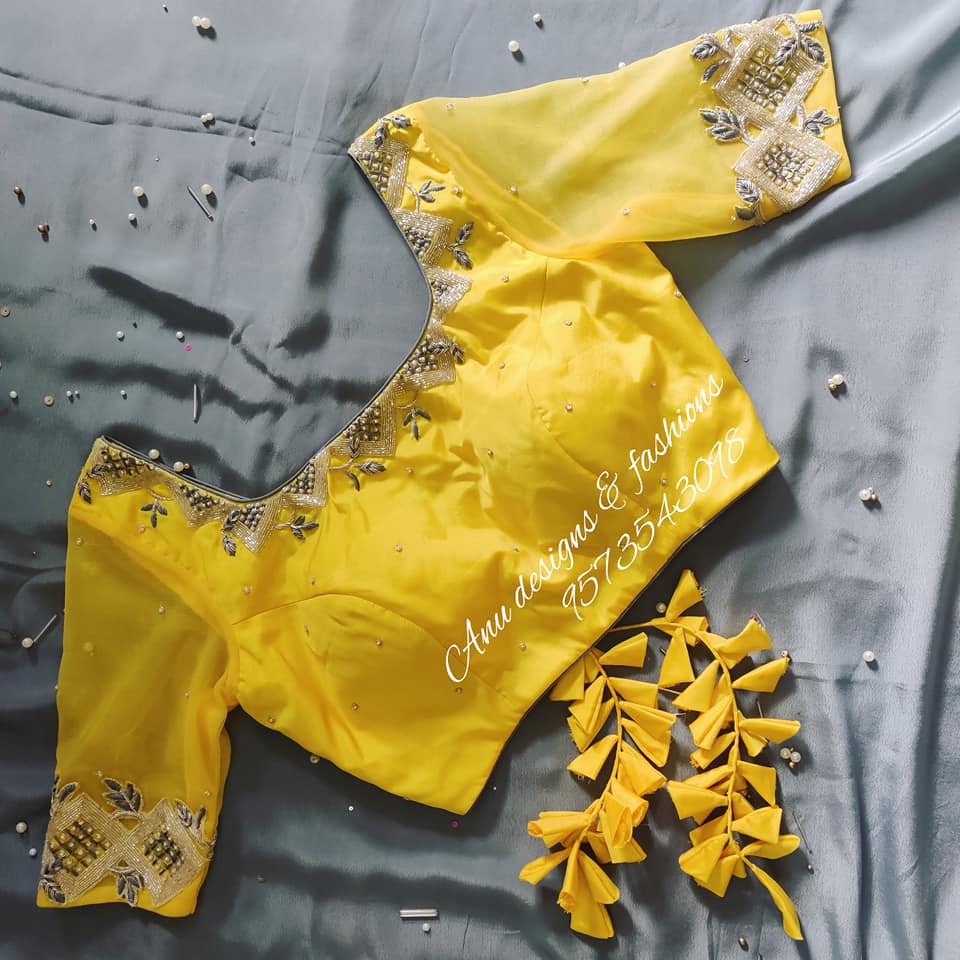 This backless sexy blouse with a Dori filled with tassels is next level glam! A deep-v backless pattern is a perfect designer saree blouse for a party and glam nights. In bright sunshine yellow with earthy-toned zardosi and a bunch of tassels, this designer saree blouse is worth spending on!
Subtle Pastel
The pretty pink blouse with alternative sided embroidery is subtle and mesmerizing! The delicate floral bunch pattern along the sleeves and alternate necklines is attractive. And the hint of sequin flowers all-over adds to touch of charm.
If you are already mesmerized and tempted to shop from this designer saree blouse collection, then check Anu Designs & Fashions social media pages below:
Facebook: https://www.facebook.com/edhasVizag/
Instagram: https://www.instagram.com/anu_designs_and_fashions/