Kurtis are so much in fashion these days. Every girl is crazy about having different varieties of kurtis in their fashion closet. After seeing the demand for kurtis even the biggest fashion brands have started dealing in kurtis. However if you are also one crazy woman who are too much into kurtis these days then here we have something very interesting for you. Read the blog more to know different styles of kurtis that you can make from old sarees or know how to recycle old sarees into kurtis:
Recycle Old Sarees Into Kurtis
You must have many of your old sarees lying in your wardrobe, here we are sharing few ideas on different styles of kurtis that you can make from old sarees. There are ways in which you can recycle old sarees into kurtis. With old cotton and chiffon sarees, you can create lovely kurtis for summers whereas by recycling old silk saree you can create lovely kurtis that you can wear at weddings as well as parties. Let's have a look at how to recycle sarees into kurtis: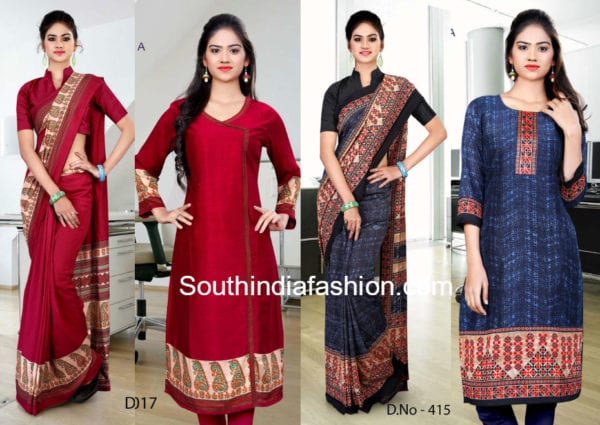 Front Slit Kurtis from Old Sarees
One of the most popular kurti design these days is front silt kurti design. Front slit kurtis look great with palazzos pants, leggings, jeans or long skirts. These kurtis have slit on the front which starts mostly from mid riff till the end. You can reuse old sarees of cotton, chiffon and silk fabric and easily create front slit kurtis. Here are some front slit kurta designs that you can make from old cotton, chiffon and silk sarees.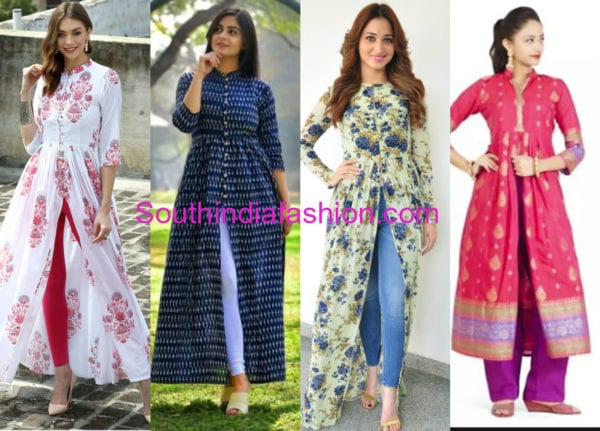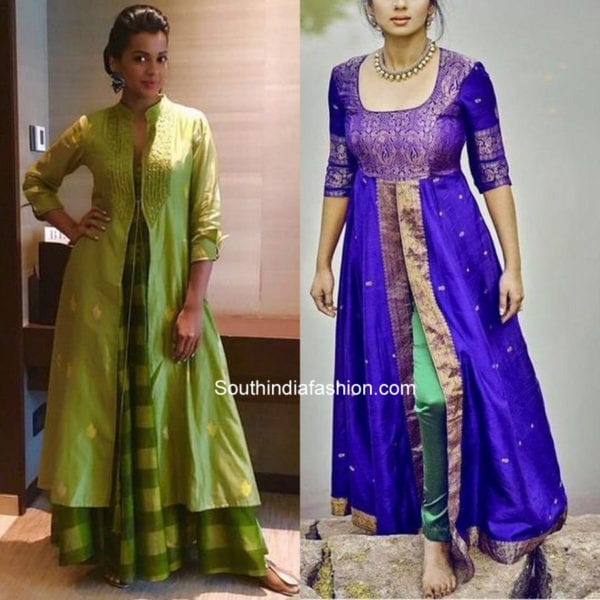 Here's a video tutorial on how to convert old chiffon saree into a front slit kurti: Watch the DIY video to learn tips on how to cut and stitch an old saree to convert it into a stylish front slit kurti.
Recycle Old Sarees to Floor Length Kurtis
Floor length kurtis are perfect for occasions like parties and weddings. You can use crepe sarees, silk sarees or cotton sarees to create floor length kurtis. Long flared kurtis having mirror work at the neckline and shoulders looks amazing. To make the kurti according to the latest trends what you can do is make the sleeves in cold shoulder style and add mirror work in the cut out portion. Here are some floor length kurti designs made from old handloom cotton sarees, chiffon sarees and silk sarees.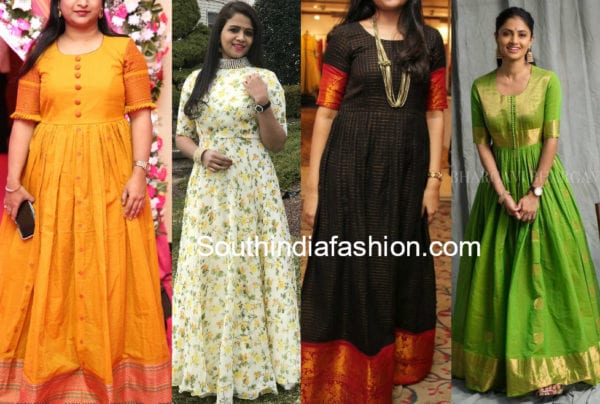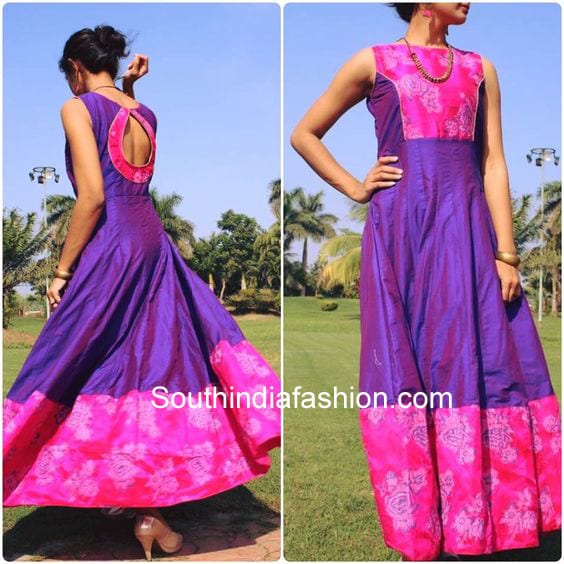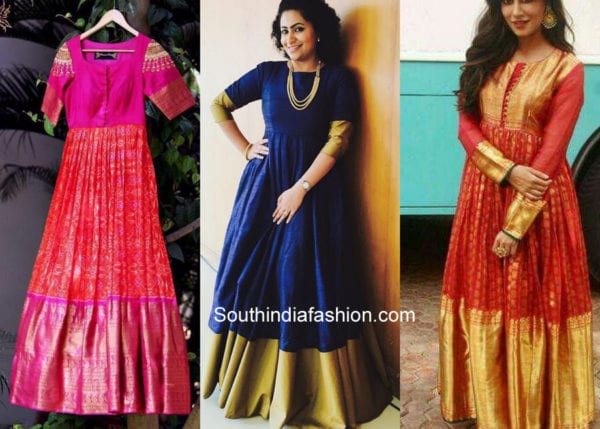 Kaftan Kurtis
Call it a kaftan kurti or the latest cape style kurti, anyways it looks great. This type of kurtis from old saree can be created easily. Loose kaftan style kurtis are perfect for summer season and can be created with chiffon sarees. You can use sarees having geometric prints, quirky prints, digital prints or floral prints in order to create kaftan style kurtis.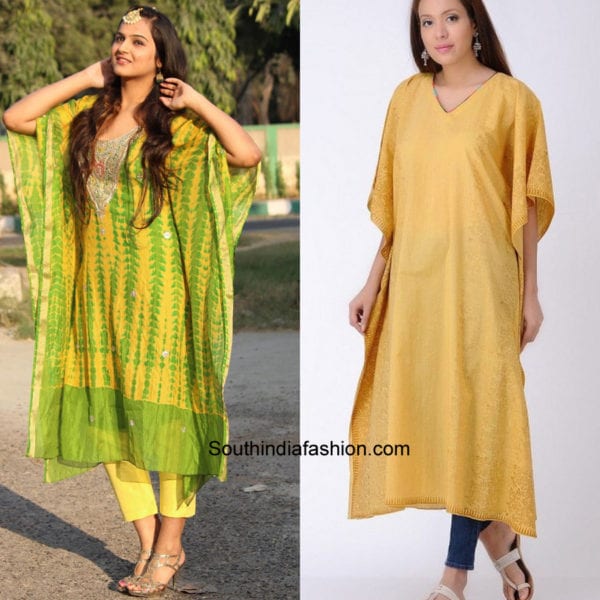 Peplum Style Kurtis
The pattern that's quite hit these days whether it's in top, saree blouse or kurtis is the peplum style. You can ask your local tailor to reuse old saree to make peplum kurti. Peplum style kurti will look great in fabrics like silk and cotton handlooms. These peplum kurtis can be teamed with dhoti pants, patiala pants or jeans.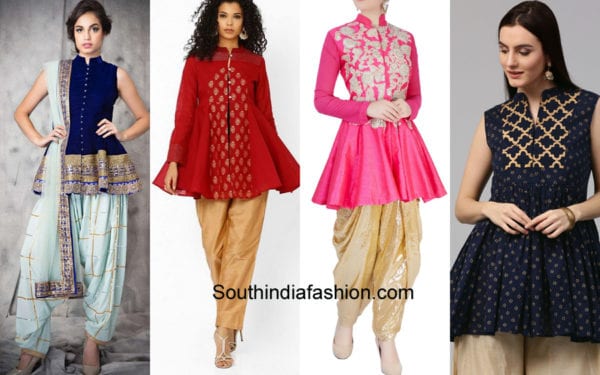 Side Slit Kurtis
The most basic and evergreen design of kurti is side slit kurtis. This is one of the most traditional patterns in kurtis. Kurti having slits on both sides of the kameez looks great either with straight pants, chudidar or leggings. These days one side slit kurtis are also quite in fashion. Here are some of the side slit kurtis that you can make from your old sarees.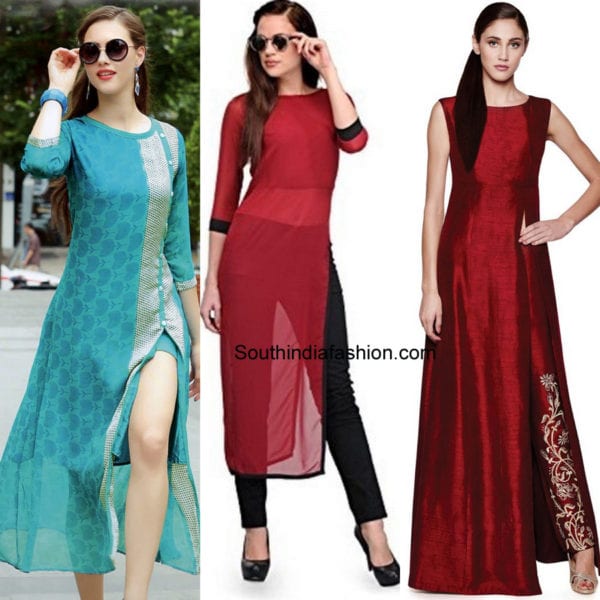 Frock Style Kurtis
You can reuse old silk sarees to make frock style kurtis. Especially choose silk sarees with broad borders to create a frock kurti. Frock kurtis can be worn as a one piece dress as well as with leggings. Here are some beautiful frock style kurtis made from old sarees.