Our wardrobe always has a couple of items that are newly bought. But we also notice some of our outfits seem boring and dull. They may be our favorite outfits that we have worn for a thousand times but haven't had enough of them. In addition, often our clothes start to wear off after we have used them for a couple of months or years. And we are sure none of us love ditching our old clothes while we clean our wardrobe for various reasons. For instance, some of the outfits have a pretty silhouette or they just fit you perfectly and you love its color. If you love preserving outfits, here are some ways you can upgrade some of them and make them look like a brand new one!
All you need is a little bit of creativity! And you can revamp and upgrade these boring outfits with some mundane small elements.
Check out how –
Upgrade with Mirrors
Mirror work is a rage currently and you could use it to your best ability. The traditional mirror work can brighten up any outfit with its bling factor and the colorful vibrant thread work. Stitch it along the neckline of your old blouse or along the pallu drape of your saree. In addition, you can also get the work done along the hemline of your kurta or your t-shirt. In conclusion, this is an easy way to upgrade and revamp your old outfit!
Revamp with Tassels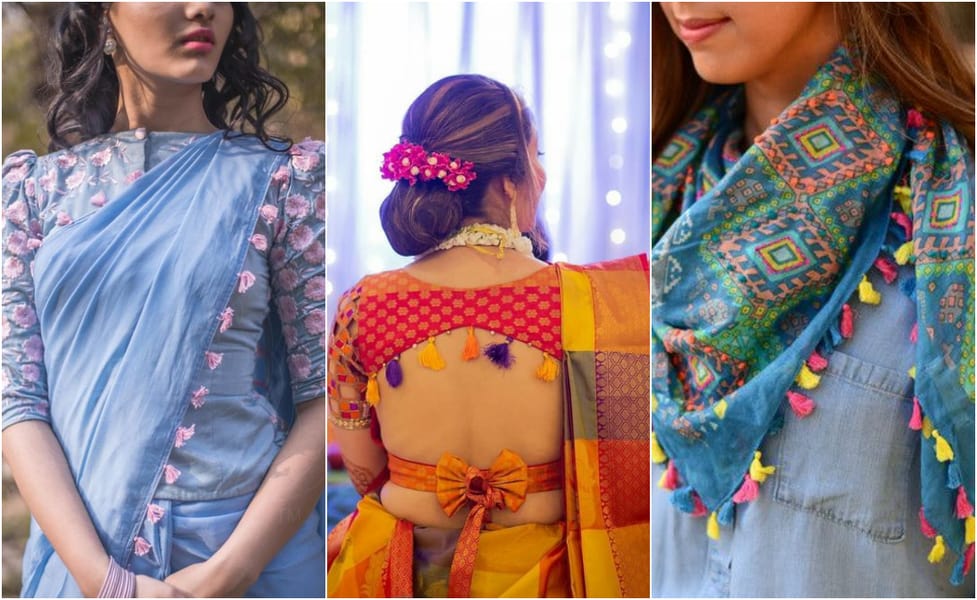 Extremely easy to make and even easier to attach on outfits, these color elements are quite the charmers. Add a stream along your plain white t-shirt to add a pop of vibrant hue or along your scarf to jazz it up. Similarly, you can take a cue from the trend of tassel sarees and DIY your own tassel saree or blouse.
Vibrant Pompoms
Pompoms are taking over the fashion world and every fashion monger's closets. They are not only cute, but they also make your outfit stand out and look chic. You can give your plain outfit a colorful look by adding a pretty line of pompom to it. The colorful pompoms on plain saree compliments and creates an amazing look. These colorful charmers can add a whole new upgraded look to your old or dull outfit.
Upgrade with Sequins
The moment we get into our weekend mode, all we need are a group of friends and the right party dress. I am sure none of us, like to dispose of throw away our favorite little black dress that fits us just right. Rather than buying a new outfit, upgrade your favorite one with yet another easy technique! Glam it up! Try adding a little shimmer to your plain Tees and dresses. Just stitch a little sequin onto your dress and you are good to go!
In addition, you can also use Laces, Pearls, Chains or Accessories to add some freshness to your dull old clothes.
Which one these do you plan on trying out?