We all own a bunch of plain blouses that we're just not that into anymore because fashion trends and needs are ever changing. Even if you don't own any, you could always buy a few and customize a fabulous DIY designer blouse according to your own taste and style. Doing it at home by yourself is also way cheaper as opposed to getting it done from a boutique. Plus you get to take full credit for it when someone asks you where you bought it! So here are 8 fantastic ideas for DIY saree blouse designs to jazz up all your plain and boring blouses.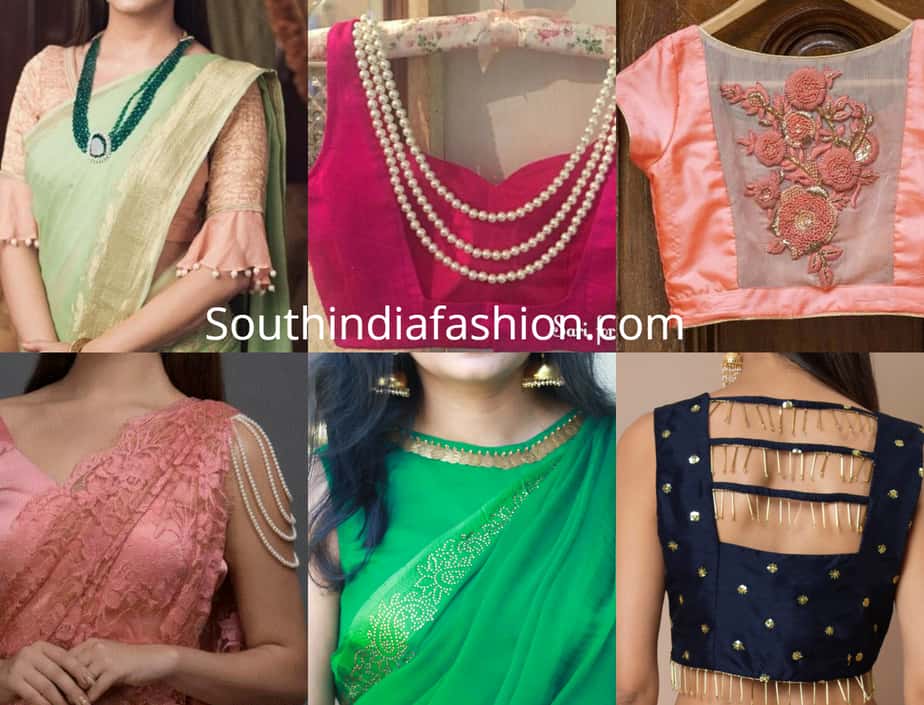 1. Add Applique Motifs
Iron-on patches are embroidered designs with an adhesive at the back, which glues itself on to any fabric when heat is applied. They come in different motifs and are easily available in the market. You could find just about any shape, size, embellishment or color that you're looking for. You can either get one that matches your blouse or something in a contrasting color to make it pop. These look great especially at the back but can also be done on sleeves.

(Shop applique patches online HERE)
2.  DIY Kasu Blouse
Add a dash of vintage glamour to your saree blouse with kasu embellishments. These are also available quite easily online or in shops that sell jewelry making items. The best way to incorporate kasu into your blouses is to hand sew it along the neckline. They also look good along the edges of a back opening. This type of DIY designer blouse is easy to design and the end result is outstanding.
Shop kasu embellishments online HERE or HERE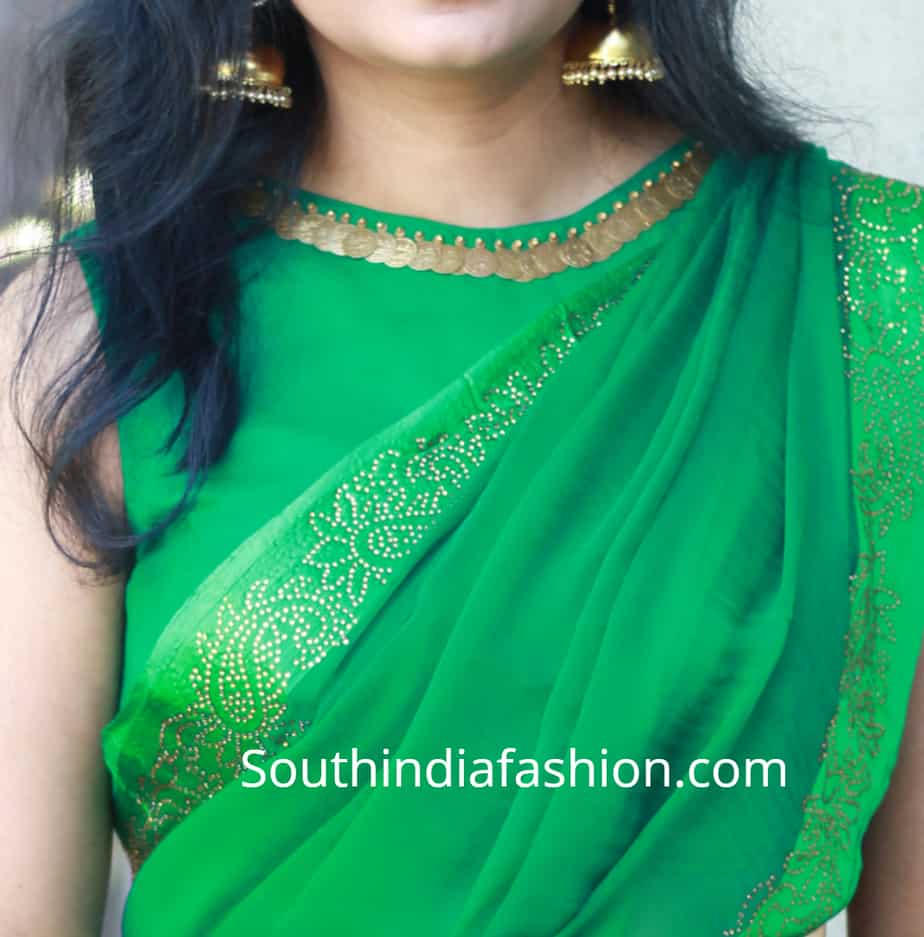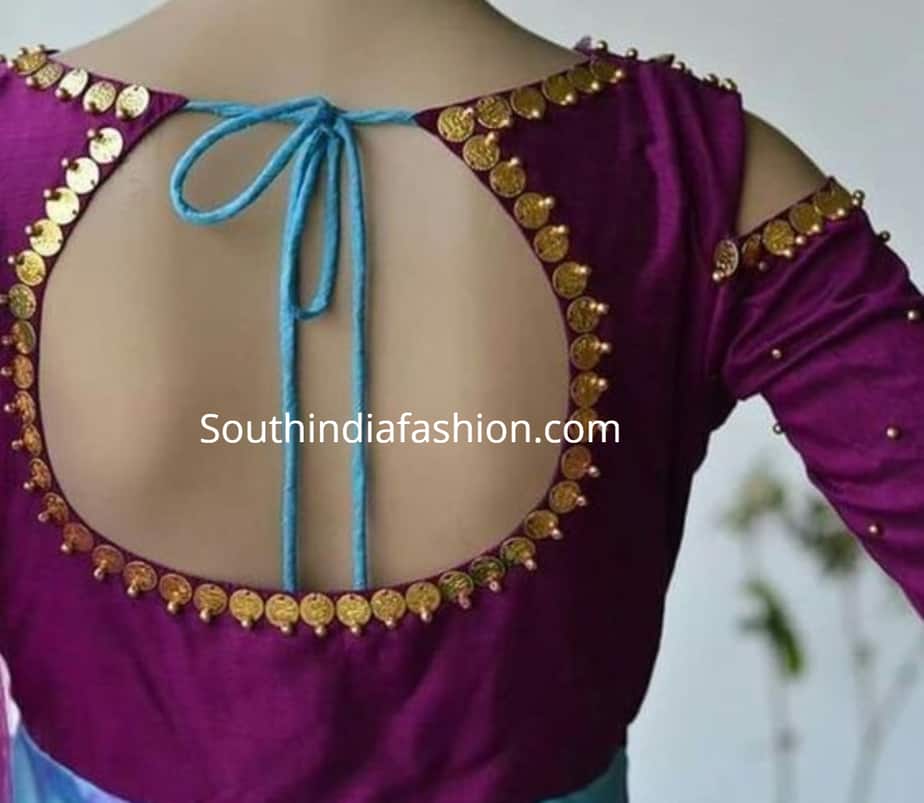 3. DIY Jeweled Blouses
The jeweled neckline trend is taking over saree blouses. Many celebs have sported it in the recent past. And now you can rock a jeweled blouse design as well! All you need for it is a couple of strings of beads of your choice. Pearls are a safe bet due to their grace and elegance. Make sure that each of the strings are different lengths and sew them at the shoulder line and let them hang at the back. Or an alternative method is to buy brooches with dangling pearls and pin them at the back. That's it, your diy designer blouse is ready to rock with your party wear sarees.
Shop pearl chains and brooches online HERE and HERE
4. Embellish With Rhinestones
All the best saree blouses have some sort of embellishments on them. So why not design a personalized one-of-a-kind blouse that only you own? Glue-on rhinestones are easy to find and also easy to use. Simply lay out the stones on your blouse in any pattern or just along the hems of the sleeves or neckline. Lift the rhinestones up one by one and glue them as you go. This diy designer blouse method is really simple and also a fun activity to do when you're bored.
Glue on Rhinestones – BUY HERE
Sew on Rhinestones – BUY HERE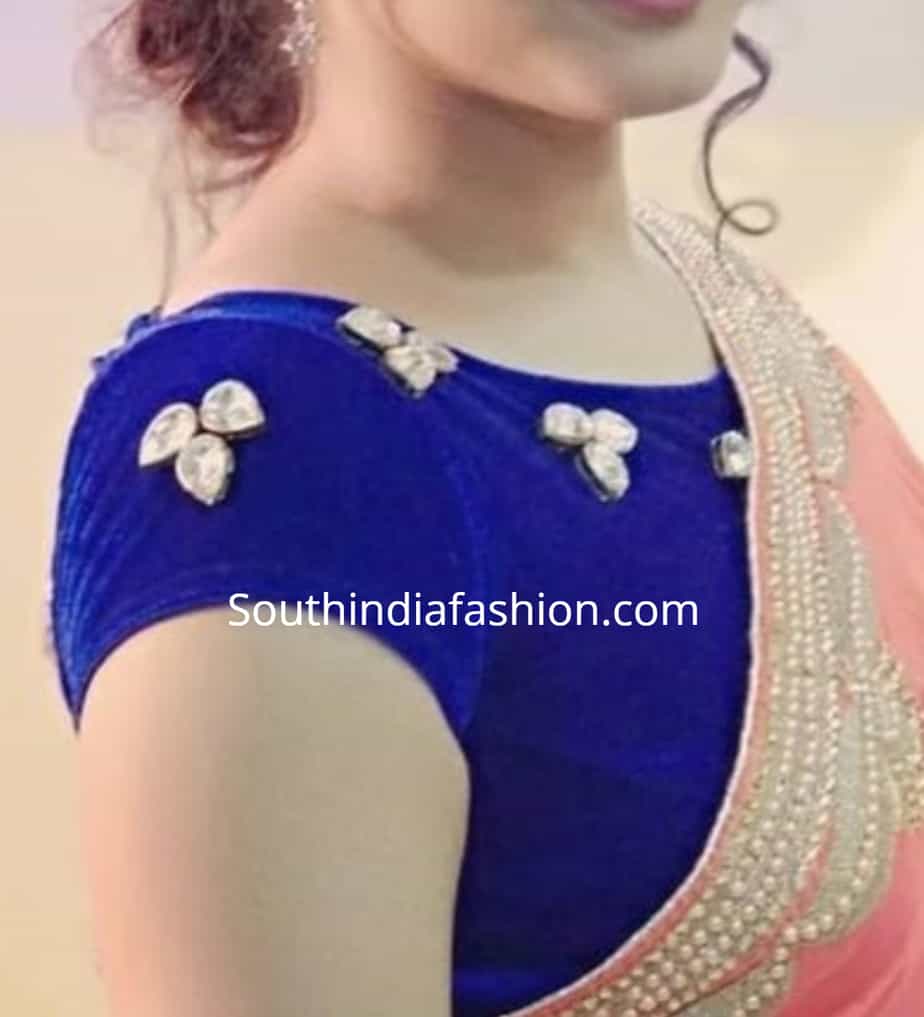 5. DIY Fringe Blouse
Fringes and tassels give a bohemian feel to any saree blouse. And it's not that difficult to make this diy saree blouse design. You can sew tube beads individually or buy strips of tassels and sew them on in one go, which is much easier. Fringes look the best on the hems of the blouse. But you can also get creative and attach them on the back opening.
Shop tube beads online HERE or buy tassel lace HERE to make this diy designer blouse.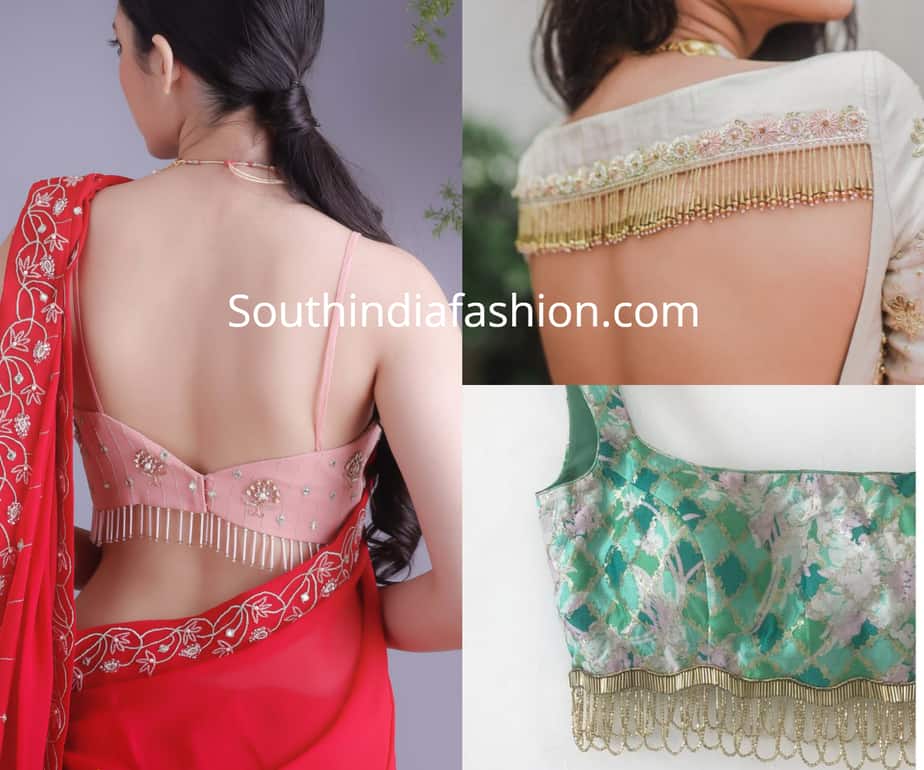 6. Embellish With Pearls
Not everyone prefers the bling of rhinestones and gems, which is why pearls are perfect. Adding a couple of pearls at the ends of sleeves or along the neckline is all you need for a timeless and classy saree blouse. Another great idea is to sew tiny pearls all over the front and back of the bodice.
Shop embroidery pearls online HERE!
7. DIY Pearl Shoulder Blouse
This next method is for sleeveless DIY saree blouses. Just attach different lengths of pearl strings to both straps. You can even go for colored pearls and match it with your blouse. Also, oval shaped pearls are unique and can give your blouse a different look.
8. DIY Mirror Work Blouse
This type of embellishment has roots in Rajasthan but here's an easy way to do it in the comfort of your own home. Mirrors come in various shapes and sizes. If you know how to sew mirrors, sew them along the neckline or all over the blouse.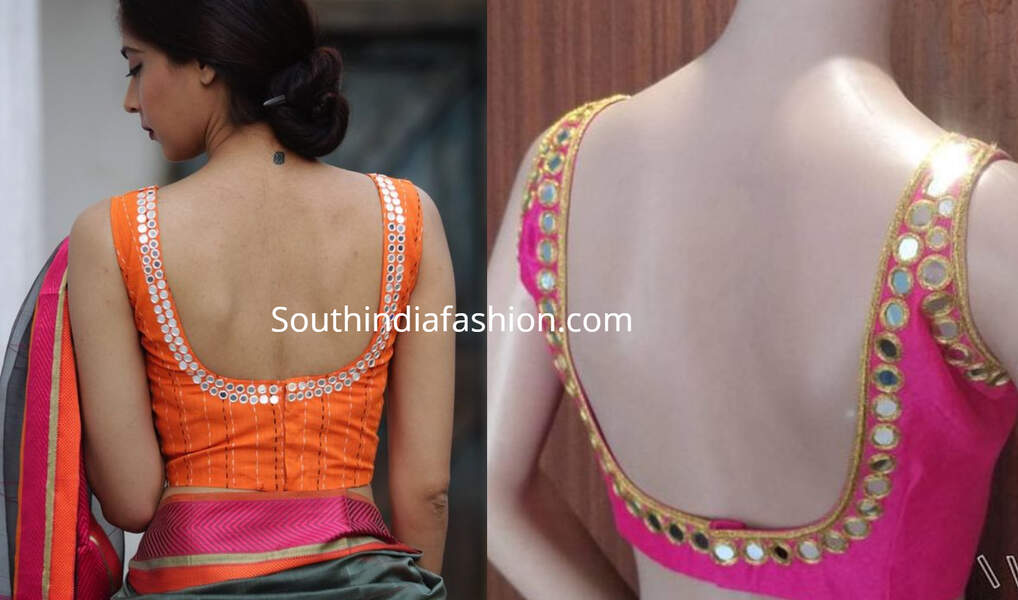 Here's a tutorial on how to sew mirrors:
If you do not know how to sew, then you can purchase ready-made crochet rings and glue them to your blouse. It can be done on the bodice, neckline or sleeves, it's all up to you!
Shop crochet mirror rings online HERE!
So, these are some easy DIY designer saree blouse ideas. Aren't you excited to try these methods to give a new look to your old saree blouse? Don't forget to share your DIY saree blouse designs with us in the comment section below!!