It is not always necessary to spend a fortune to get a designer saree. There are many ways in which you can design a stylish contemporary saree for yourself on your own. Yes, that's absolutely possible! Let's see 5 easy DIY saree ideas:
1.  Add a border
This is the simplest DIY saree method. You can transform a plain fabic into a beautiful designer saree by adding latest saree borders that are available in stores. Buy a plain saree fabric and choose a border that contrasts with the color of your saree. You may add this border to the sleeve of your blouse too. You can use a velvet border, silk border, wire work border, pearl border, kundan work border, mirror work border or anything that you like. A variety of lace and designer borders are available in local stores and online.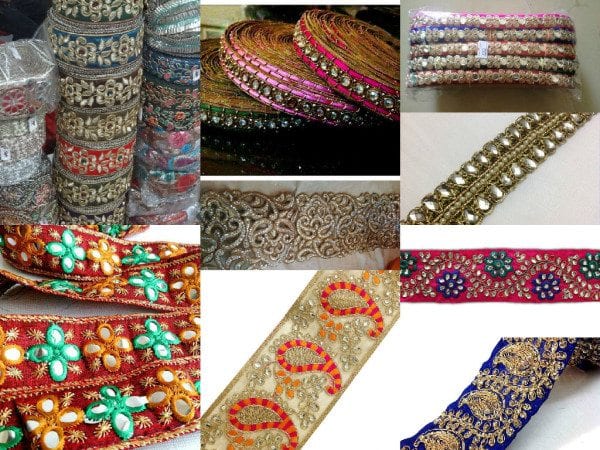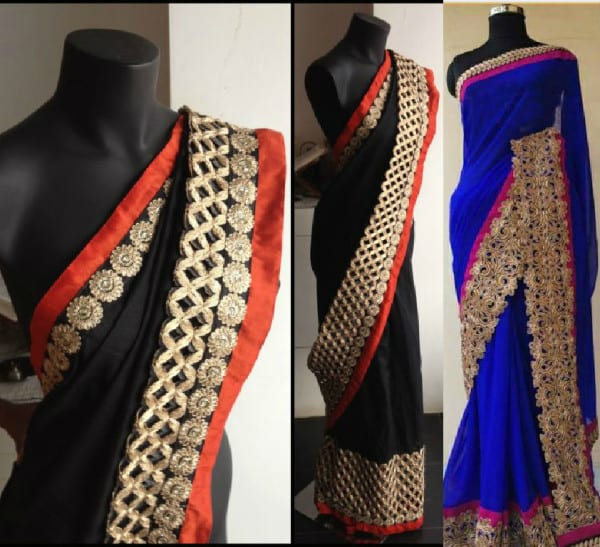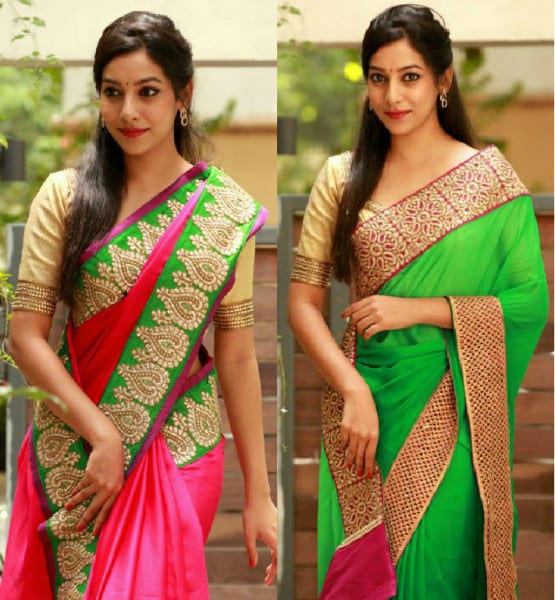 2. Embroidery / Embellishments
Another simple DIY saree method is to brighten a plain saree fabric with some embroidery or embellishments like zardosi work, mirror work or kundan work. There are several ways to embellish your sarees. Readymade embroidery patches are also available in the market and these look really chic. Simply buy a plain saree fabric of your choice and glue kundans or mirrors or sequins along the saree borders or all over the saree. Your DIY designer saree is ready!!
3. Sequins
Any plain saree can be converted into a designer piece by adding a sequins border. You can also get a sequins blouse to go with this. Every woman should have a black, silver and a golden sequins blouse in her wardrobe. These can be paired with multiple sarees and they transform the look completely.
Here are some beautiful designer sarees created by adding sequin borders to plain fabric…
Shanvi's beautiful black sequin saree is easy to DIY. All you need is 6 yards of black plain fabric, black sequin fabric for border & blouse and a contrast red fabric for piping!!
4. Plain Saree with Brocade or Printed or Kutch Work Blouse
Now-a-days a variety of beautiful unstitched embroidered blouse pieces are available in the market. Pick your favorite blouse piece and pair it up with a contrast plain saree.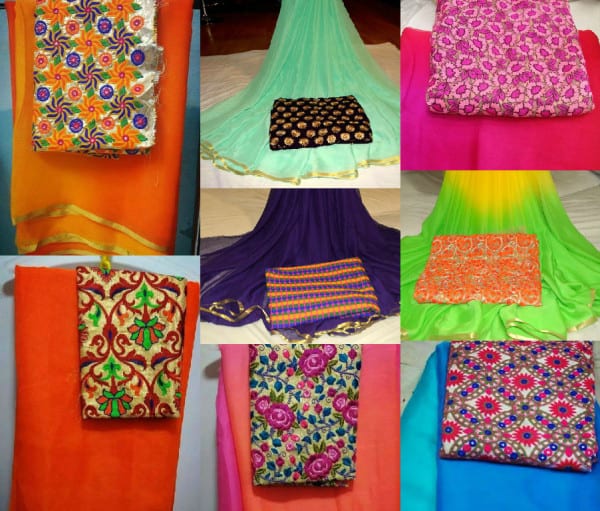 A brocade blouse can do wonders to any saree. Just get a stylish brocade blouse to go with a plain saree and get all the attention!
5. Half and Half Sarees
To design your own half and half sarees all you have to do is purchase two fabrics in different colors and patterns of your choice and get them stitched together. Add lace or sequins borders to make them look more beautiful.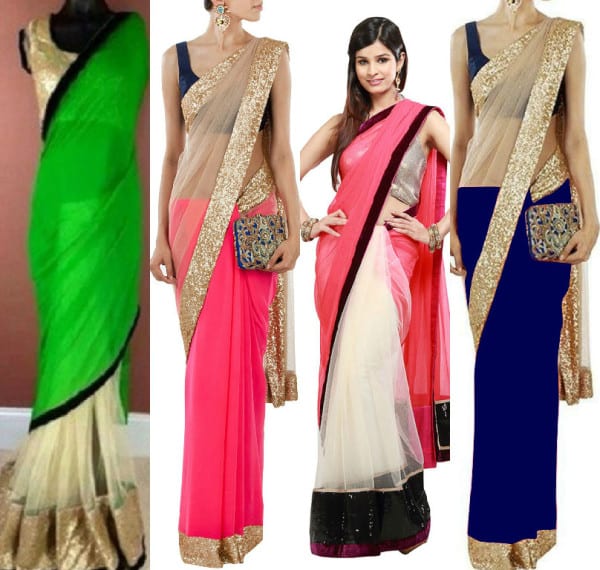 You can easily design your own sarees using one of the above methods. It'll cost you much less than any designer labeled saree!
Tags: diy sarees, diy saree ideas, how to diy sarees, design your own sarees, how to design sarees, designer sarees making ideas, diy designer sarees