If you'd wish to wear the richness of ancient Indian culture on your clothes, blend it with some elegance and a little bit of modernity and flaunt it around, you know that Sabyasachi's couture is your go-to designer label. His clothes very effortlessly ooze a certain ethnic opulence without the need to be drenched in many glistening embellishments.
Here's a glimpse of a few outfits from his recent 'opium' collection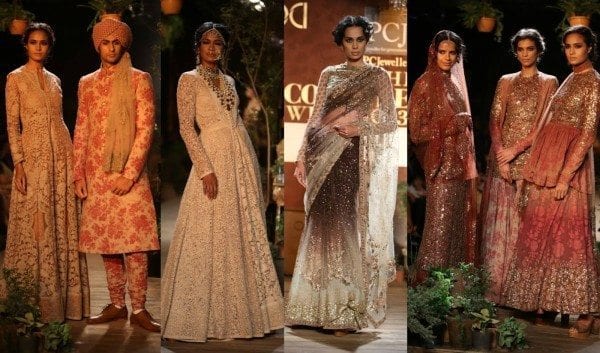 Sabyasachi sarees that are fit for the royalty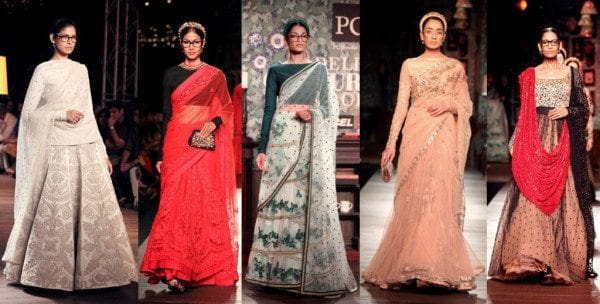 These creations of Sabyasachi can bring out the princess in just about anyone..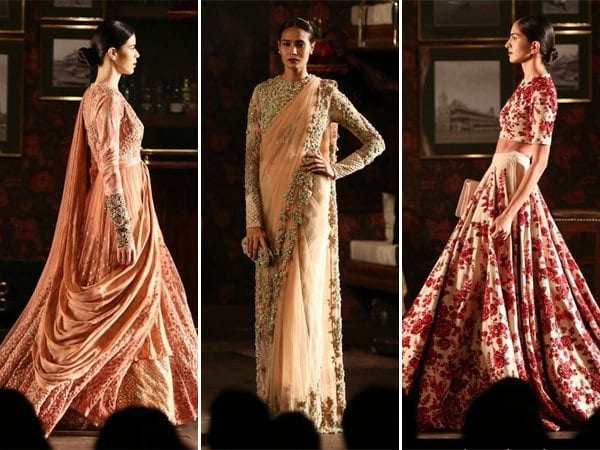 There were perhaps a countless number of times when we've seen celebs wear Sabyasachi's sumptuous creations on and off screen and drooled over them. And now, you can actually own them (atleast some of them) by buying them online.
A few websites where you can buy Sabyasachi Designer clothes online:
1. Pernia's Pop-up Shop
An online shopping site for designer labels is one place you can grab those amazing Sabyasachi's couture. You can shop not just for Sabyasachi's sarees, lehenagas and anarkalis but also for his accessories like clutches and bags.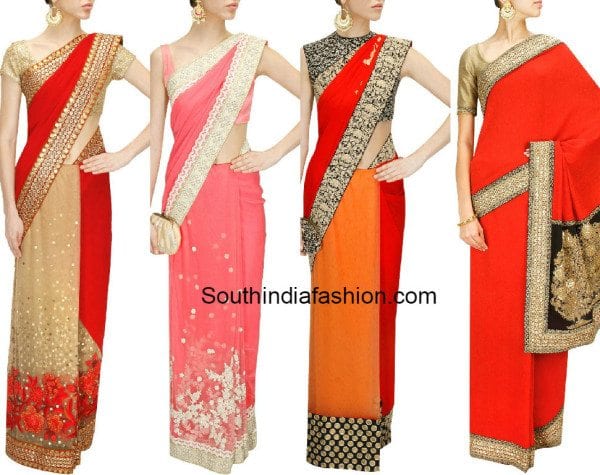 CLICK HERE to buy Sabyasachi clothes and accessories online from Pernia's Pop Up Shop!!
2. Pia ka Ghar
Pia Ka Ghar is yet another online store where you can shop for Sabyasachi's couture. The very clothes that celebrities have worn on the red carpet can be found here in this store. In fact, here's also the collection of some really bigwig designer labels that you'd sure love to get your hands on.
CLICK HERE to buy Sabyasachi designer clothes online from Pia Ka Ghar!!
3. Carma Online Shop
Carma Online Shop has got couture belonging to some big designer labels for sale, Sabyasachi Mukherjee's clothing being one of them. They've got a great collection of Sabyasachi's clutches as well.
CLICK HERE to buy Sabyasachi designer sarees and accessories  online from Carma Online Shop!!
If renting Sabyasachi's couture for just that one event is what you're looking for, Secret wardrobe is a website where you do just that – rent and return designer labels including Sabyasachi's label. If you can't own 'em, rent 'em!
We wish there were more websites where we can shop for Sabyasachi's couture online, but these are all. However, looking at how the normal folk are showing a great interest in buying designer labels off the internet, we're sure a lot more websites are soon going to pop up.