Since time immemorial, sarees have been the epitome of elegance for the Indian woman. The 6 yard fabric signifies beauty and grace like no other garment. But what's a saree in 2020 without a stylish blouse? Absolutely nothing! Gone are the days when a blouse was just a piece of cloth that covered from the neck/shoulders till the waistline. With changing times, new and trendy blouse designs have emerged that are completely unique. Blouse neck designs have evolved and blouses are a style statement on their own. In this article, we will be talking to you about the trending new and latest blouse designs 2020.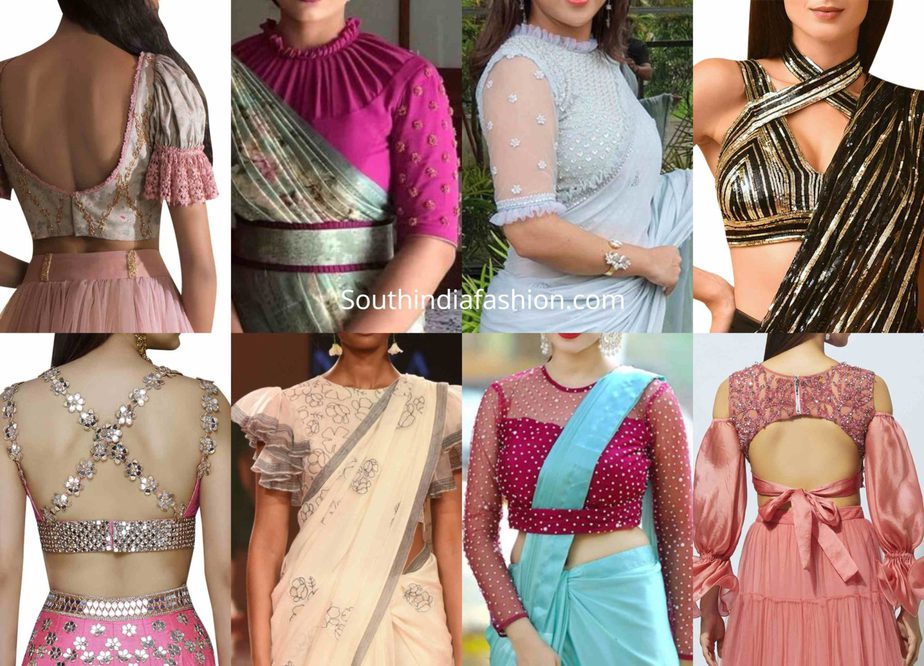 Latest Blouse Designs 2020 | Trendy Blouse Designs 
1. Off-Shoulder Exaggerated Ruffle Sleeves Blouse
This voluminous and extra looking latest blouse design is a step in the right direction. The exaggerated ruffle sleeve mimics the western off the shoulder top that is extremely popular nowadays. This type of new blouse design depicts a more modern woman rather than a traditional one. Paired with vibrant colors like red and yellow such as below, this latest blouse design 2020 is definitely a hit from our side!
2. Embroidered Noodle Strap Blouse
Adoring this petite noodle strap embroidered new blouse design 2020 with a daring back neck design. Looks extremely pretty in pink and blue!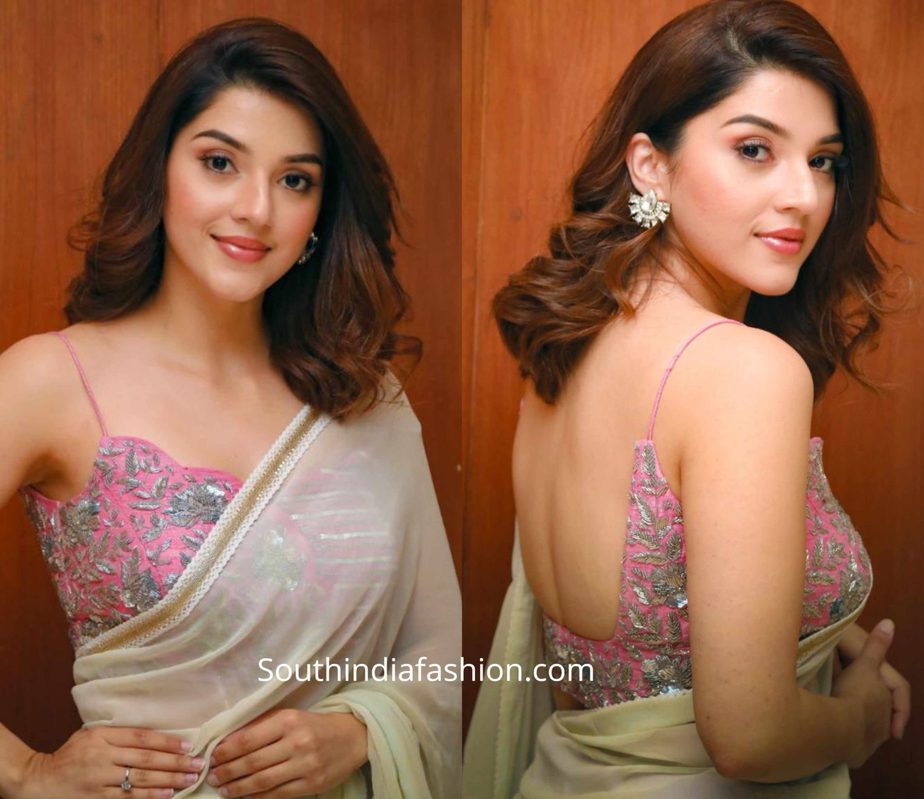 3. Contrast Striped Blouse – Latest Blouse Designs 2020
This exciting new 2020 blouse design has a modest boat neck in the front and a contrasting plunging back neck design. Further, the mix of horizontal and vertical stripes in contrasting colors tells the tale of a modern fashionista. We're digging this latest blouse design!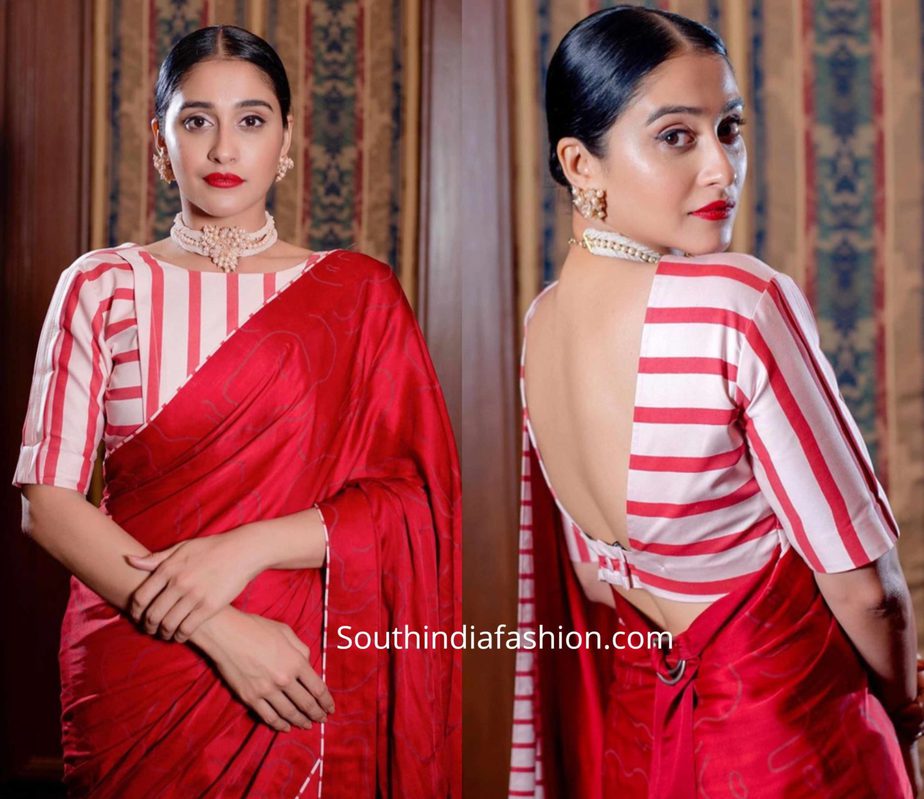 4. Deep V-Neck Sleeveless Blouse
Deep V-neck blouses are said to elongate the neck beautifully.  Popularized by Sabyasachi Designs, this latest blouse design is making waves everywhere in 2020 and being worn by many celebrities. South Indian actresses Samantha and Karishma Tanna look gorgeous in these new neck designs.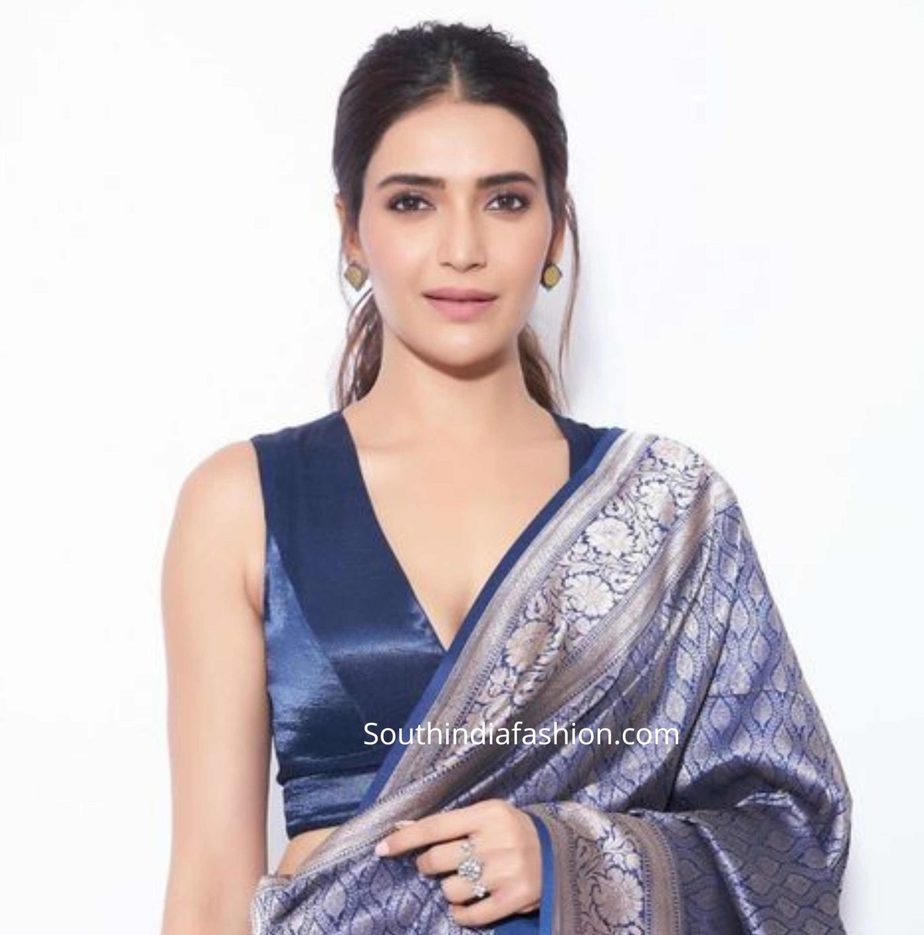 5. Bralette Blouse – Latest Blouse Designs 2020
Fun and quirky, the bralette blouses add a playfulness to your ensemble that will leave you looking effortlessly sexy. You can pair them with statement neckpieces for a boho-chic look. The stringy back blouse design is extremely flattering on young women.
6.Sleeveless blouse With thin Shoulder Straps
These sleeveless blouse designs with thin shoulder straps just scream elegance. Pair it with either neutral or vibrant shades of sarees and this evergreen trendy blouse design 2020 will not disappoint you! Perfect for a simple family function or friend's house party. Accessorize with some dangling earrings to complete the look like

7. Crop top with bow tie – Latest blouse designs 2020
For older women who'd like to dress more conservatively but not miss out on the fashion trends, the latest 2020 blouse design is this type of crop top with a front/back bow tie up detail. The simple high neck blouse design with floral buttons at the back is incredibly stylish.

8.  Sleeveless Ruffle Collar Blouse
Ruffled collars remind us of 19th century Englishwoman with their lace ruffled sleeves and collars. This modern neck blouse design is being seen quite frequently and is perfect for the winter!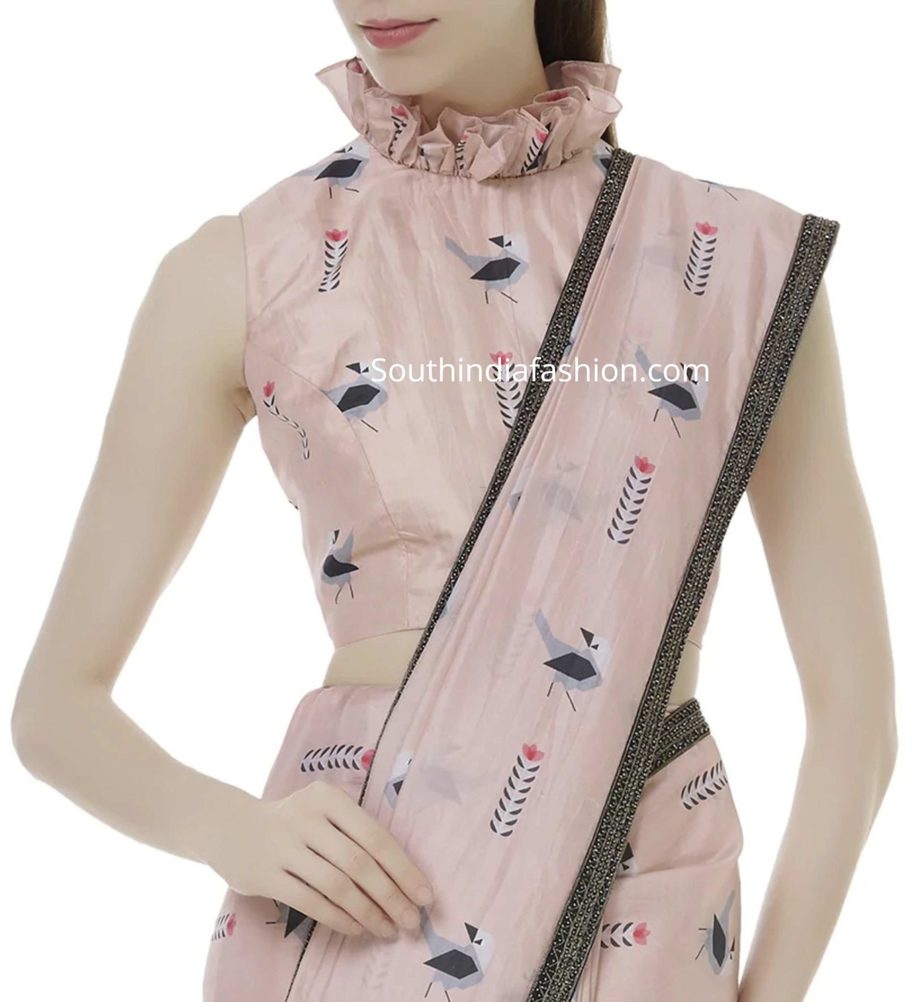 9. Bell Sleeves Blouse
Bell sleeve blouse designs 2020 come in flowy fabrics and tulle materials that look so feminine and pretty! Often the sleeves are present in layers with frilly borders which adds another dimension to the look and makes it all the more fashionable.
10.   One shouldered sleeveless blouse
This one shouldered sleeveless blouse is the perfect 2020 party wear blouse; whether its your bffs sangeet night or baccalaureate party, you're sure to be dazzling in this sequined fancy blouse design that can be paired with any light weigh saree materials like chiffon and georgette for a graceful look.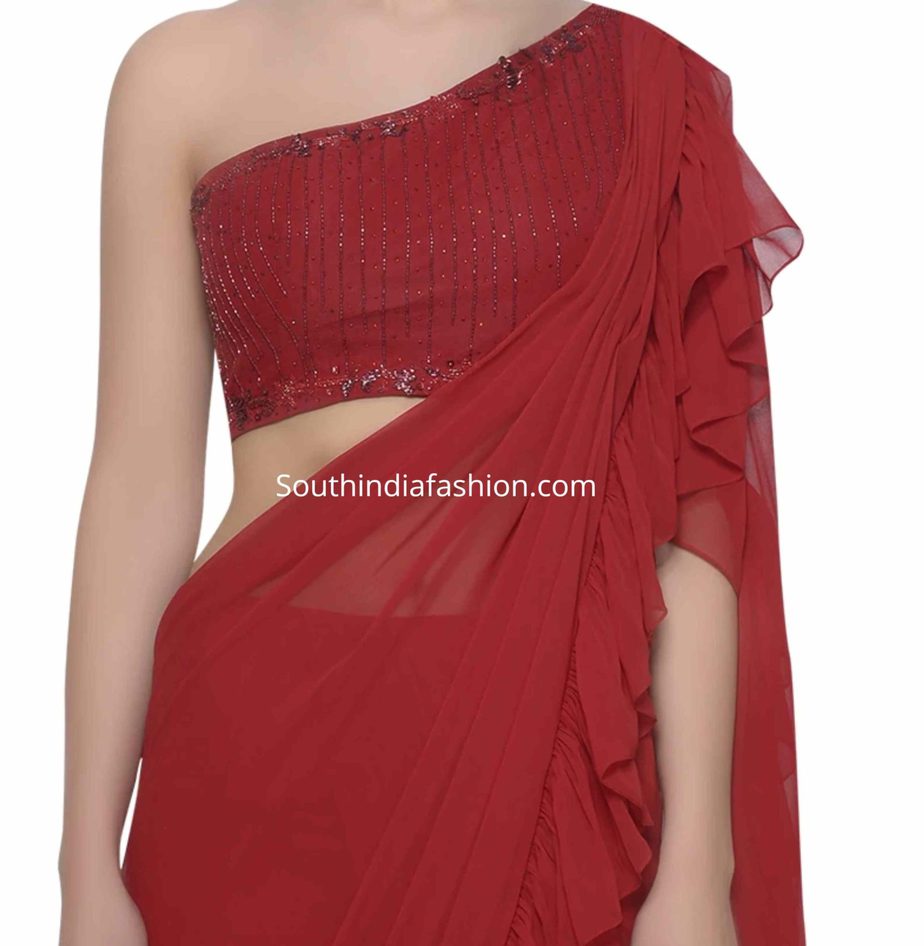 11.  Closed neck blouse with transparent flared sleeves
For the less daring, we recommend this baby pink close neck 2020 latest blouse design with flared transparent sleeves having scalloped borders. The spaced out floral prints are perfect for a breezy summer day and is just the right amount of hip for traditionalists.

12. Ruffle sleeves blouse designs
We think this new ruffle sleeves boat neck blouse design is so incredibly sassy! The short, layered, big ruffles will make any blouse stand out and give a very polished appearance. We definitely want you to try this latest sleeve blouse design in 2020.
13. Off-shoulder blouse with ruffled borders
We love how modern designs are being incorporated into traditional sarees in 2020. This off shoulder blouse design with a ruffled neck border is gorgeous indeed! The matching ruffled sleeves border is breezy and makes for a great summery blouse when you'd rather not suffocate your body with tight outfits.
14. Choker neck blouse patterns
Chokers on their own have always been synonymous with high end fashion. Now with this 2020 choker neck blouse design, you can make your own fashion goals seem that much more nearer. For a night time party, do try this latest neck blouse design. We guarantee you'll be the star of the evening!
15. Racer Back Blouse
Dare to bare your back? With this 2020 latest blouse designs for the back, that's exactly what you'll be doing! Show off those hours of intense working out in the gym with these uber-cool racer back blouses. You can safely say you wore it first when all your friends start copying this style again!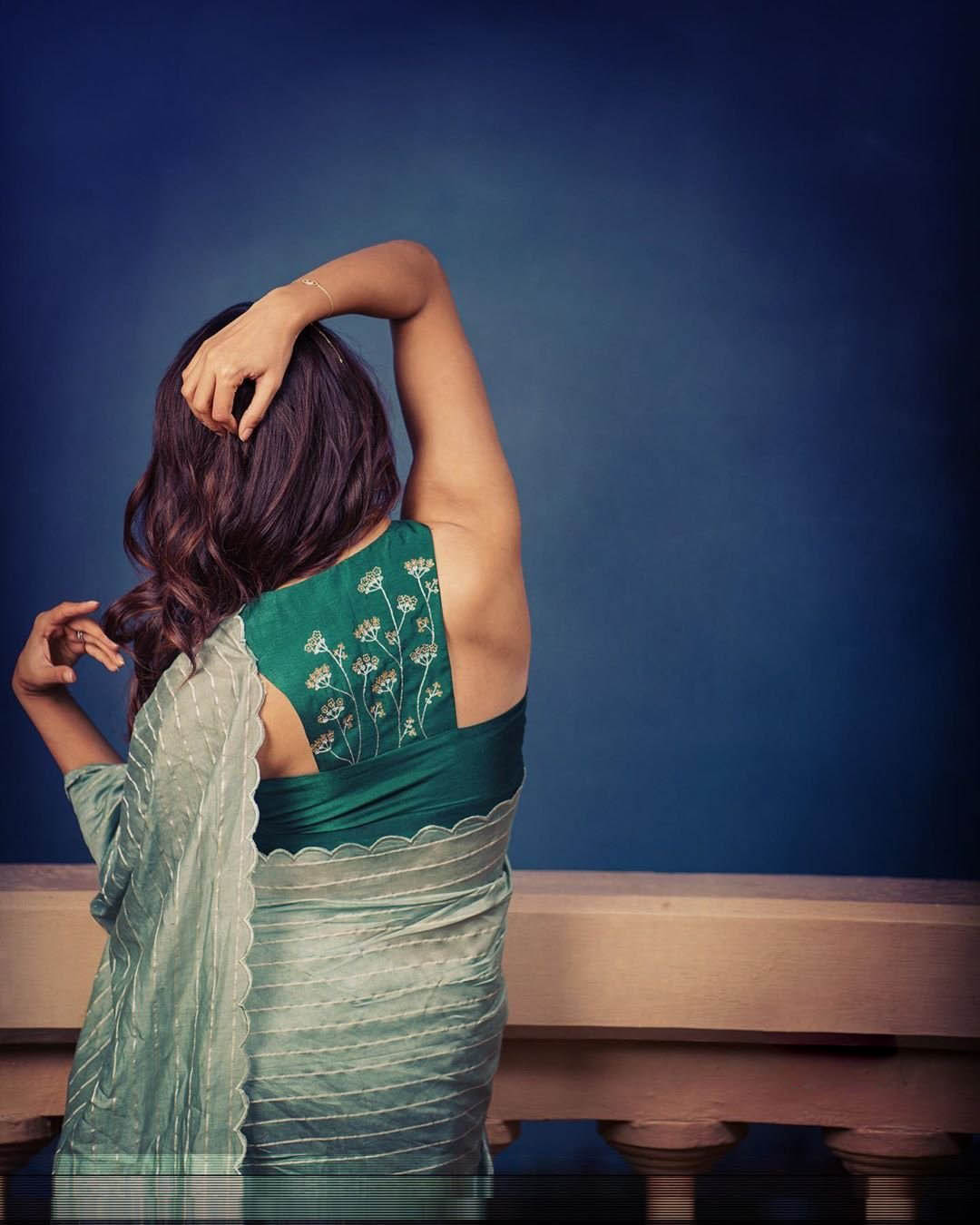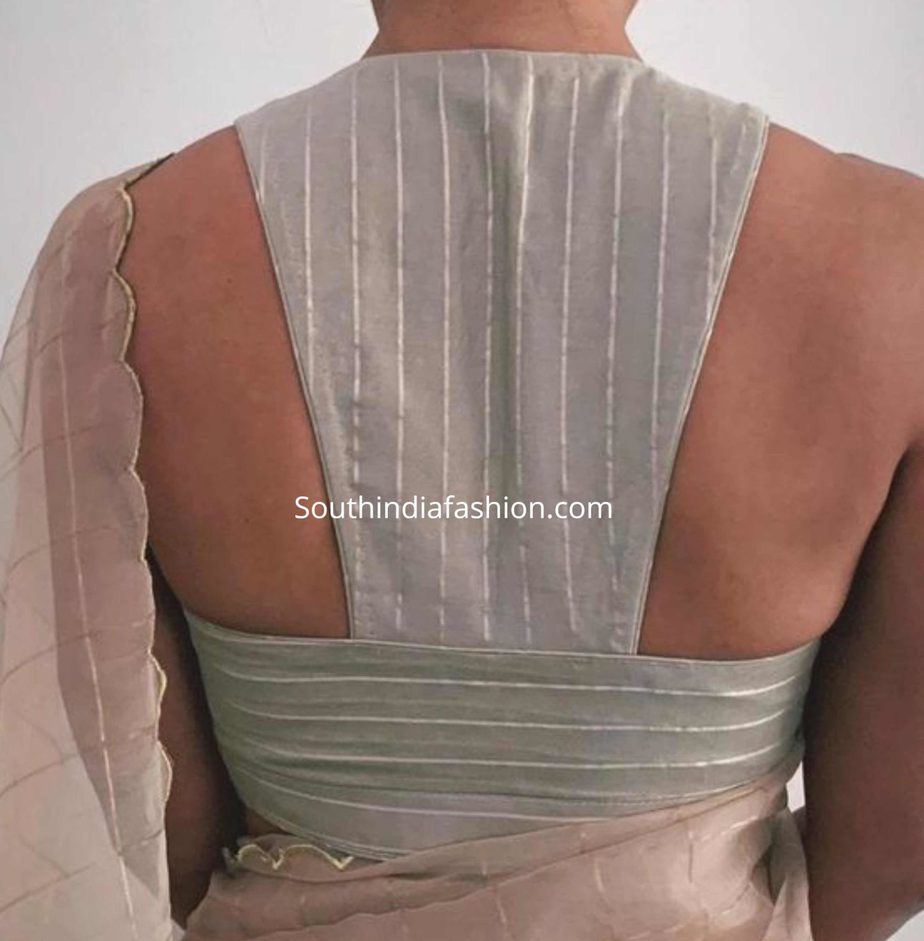 16. Balloon Sleeves Blouse
Loving this elegant, straight balloon-sleeve blouse design with a barely there back neck design. The back neck is kept together with stringy tie up tassels and a lower back tie up knot. The airy fabric with floral designs is prefect for those summer days, don't you think?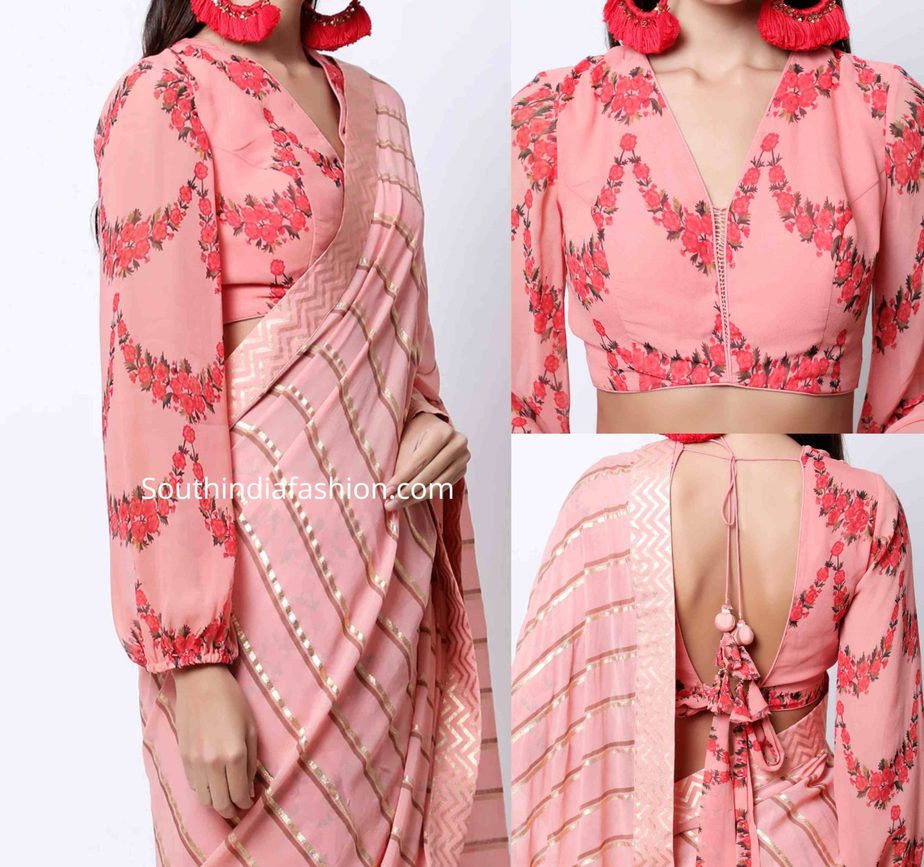 17. Vintage Balloon sleeves blouse with bow-tie
This 90's style balloon sleeves blouse with a front-bow tie-up neck design is making waves again in 2020! Roll out your cassettes and shimmy to your favorite music in this 90's Bollywood outfit.
18. Blouse designs with ruffles on the front
If we can have ruffles on our sleeves, why can't we have ruffles on the front of our blouses?! We don't follow rules, we invent them! Look your most elegant self with this petite latest 2020 blouse design with ruffles in the front.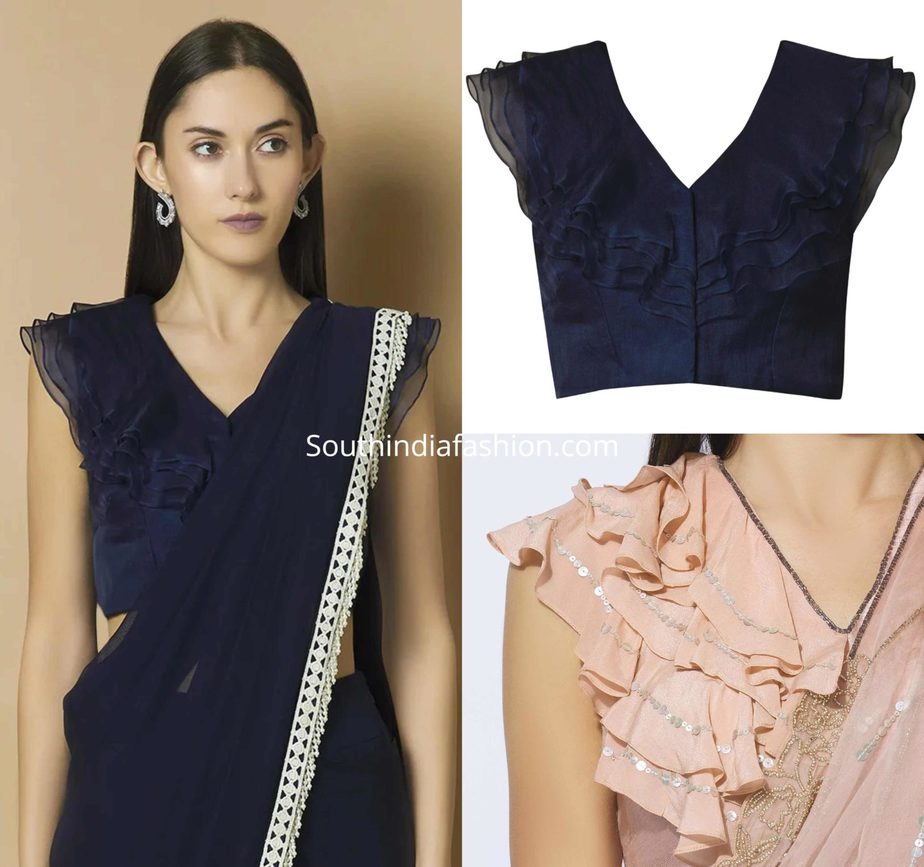 19. Blouse design with tie up bow on the shoulder
We're really adoring this cute shoulder bow tie-up sleeveless latest 2020 blouse design. Looks quite fetching!
20. Criss cross back blouse with tassels
Inspired by Bollywood item numbers, this 2020 trending back blouse design will never go out of style! The blouse piece is held together by string tassels criss crossing across the back which we think looks extremely steamy. Totally digging this back blouse design!
21. Embroidered peplum crop top blouse
For the more demure women out there who don't want to be left behind in the fashion parade, the long sleeve peplum crop top looks very elegant! This classy latest 2020 blouse design with a closed neck looks extremely flattering on all ages and body types. Pair with a sleek bun and dangling earrings for an ultra-chic look.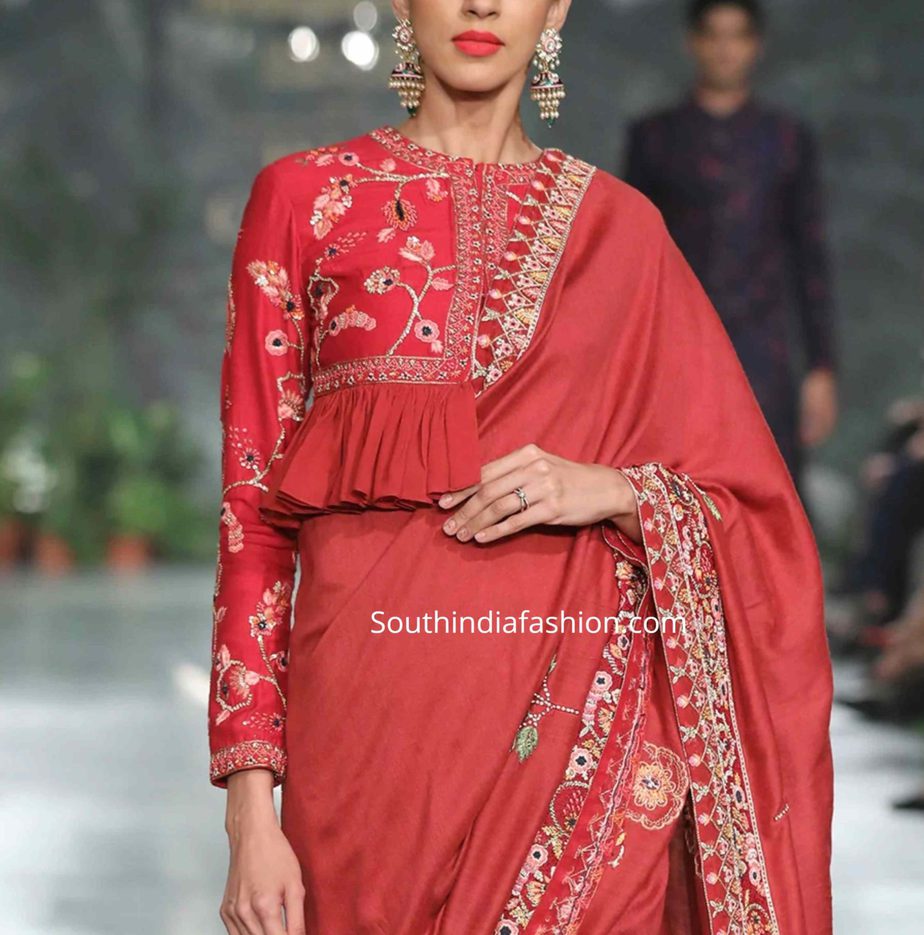 22. V-back neck blouse
Turn heads with this deep V-back neck blouse design that's going to look gorgeous with your silk blouses! Add some tie up detailing with tassels at the back for more glamor.
23. Blouse with ruffle collar and ruffle sleeves
Ruffles ruffles everywhere! What can we do when they look so smart? Choose this ruffle collar and ruffle sleeve latest 2020 blouse design for an ultra-modern quality for yourself.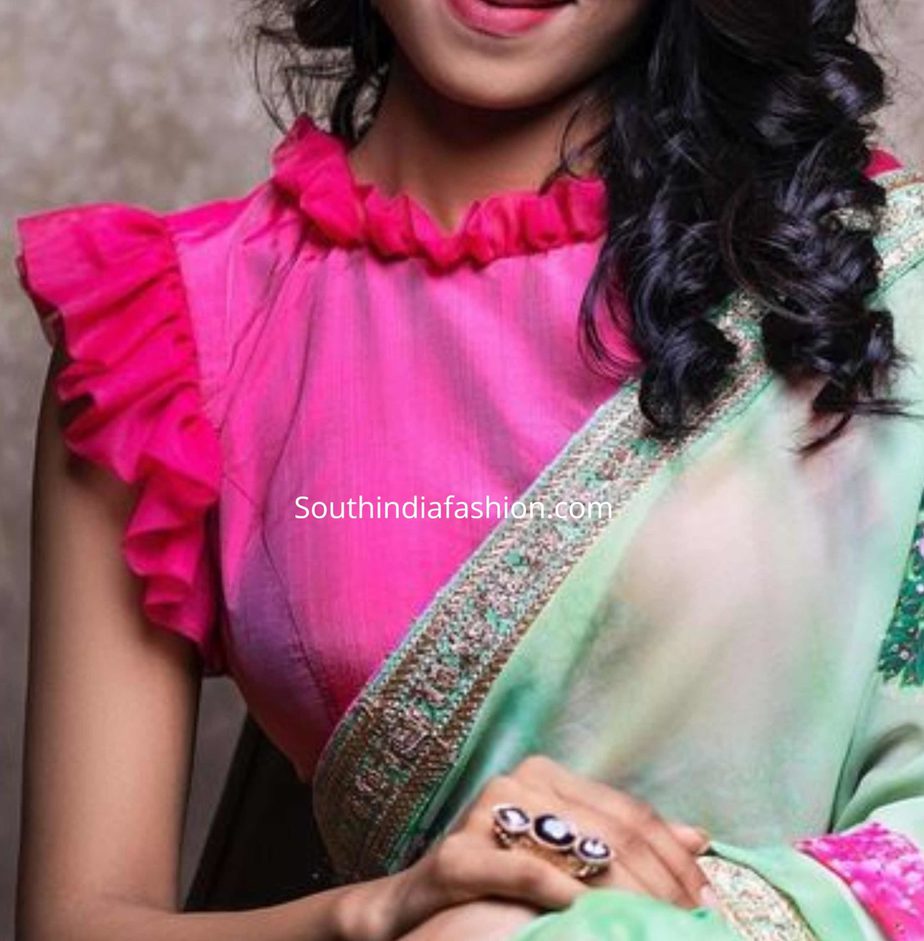 24. Frilled off-shoulder blouse
This dainty frilled off-shoulder blouse piece is just perfect for your summer lehengas and sarees. Pastel shades with gold detailing and net ruffles look so beautiful! You'd be a fool to pass up this lovely a blouse design!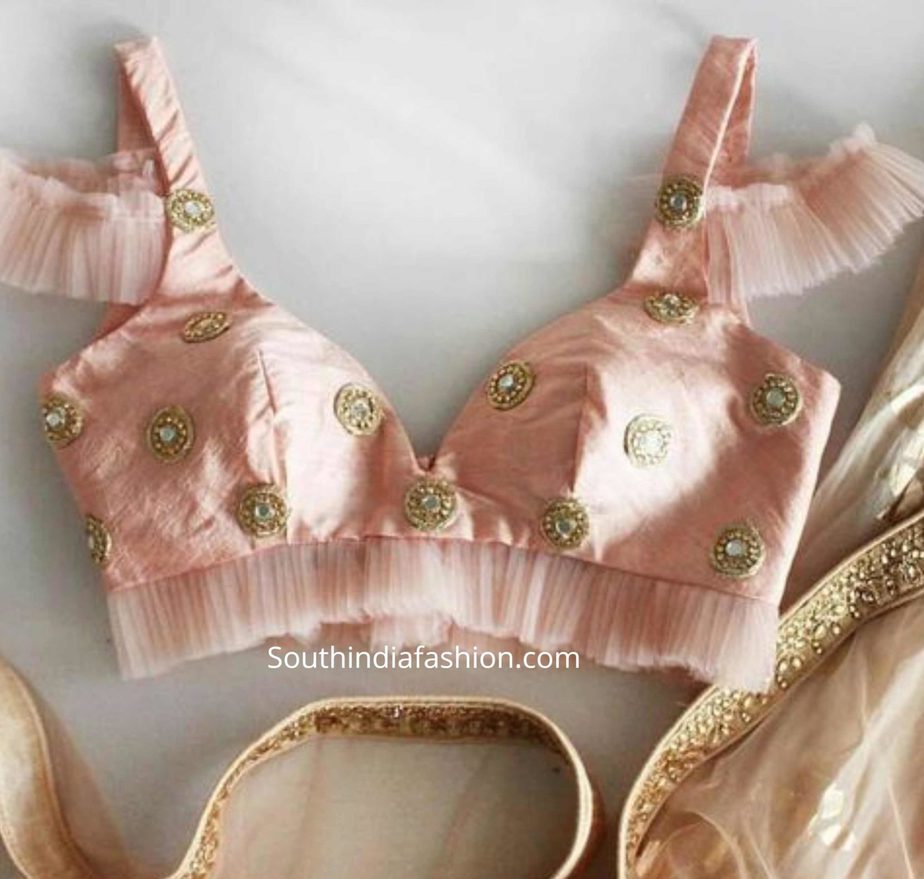 25. Ruffle collar blouse with flared sleeves
Try out this ruffle collar blouse with flared net sleeves for a g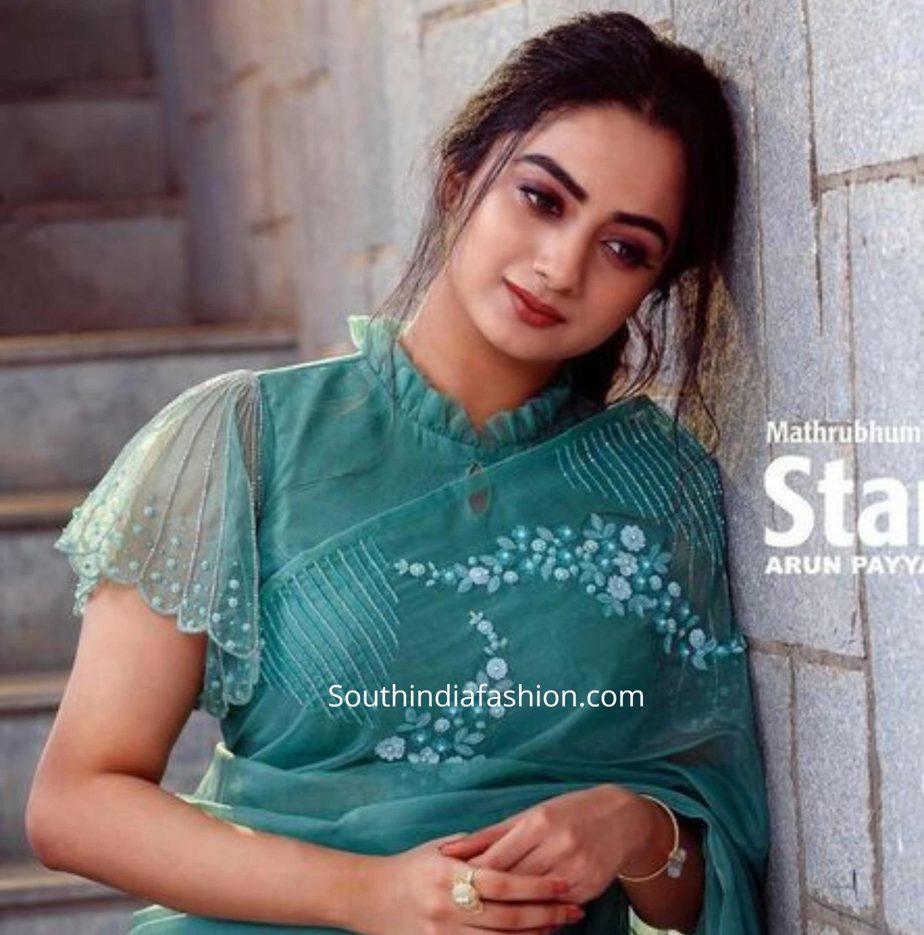 26. Sheer embroidered designer blouse
We've always been in love with the heavily embroidered sheer net blouses. They have once again made their comeback in 2020 with fitted long sleeves and a high neck design for a timelessly classy appearance. Especially alluring in pastel shades and paired with matching net embroidery sarees, these trendy blouse designs are sure to look amazing on everyone!
27. One shouldered blouse with ruffles on one side
Be in vogue with this one shouldered latest 2020 blouse design with big ruffles on one side. Made with lightweight and flowy fabric, the ruffles look really fancy and stand out on their own.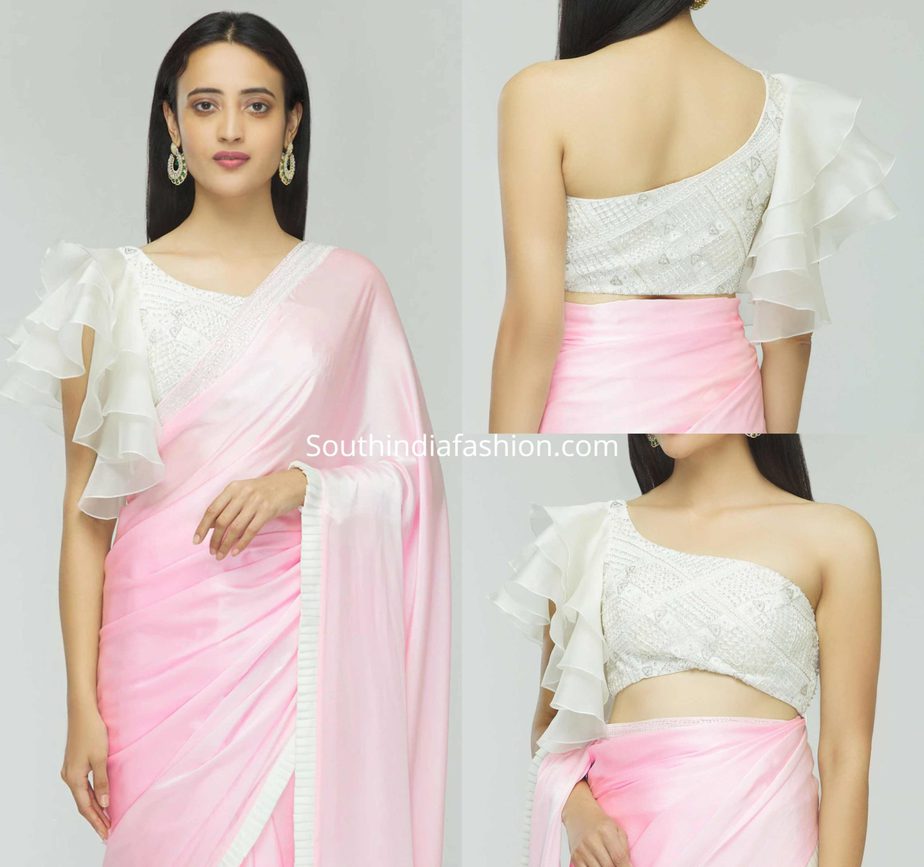 28. Simple sleeveless blouse with deep back neck
Simplicity is beauty. This could not be far from the truth with this simple sleeveless blouse deep back neck design. Add some tassels, latkans or pompoms to the back blouse design for more quirkiness! Drape a gorgeous organza or net fabric and top with nude makeup for a million dollar look.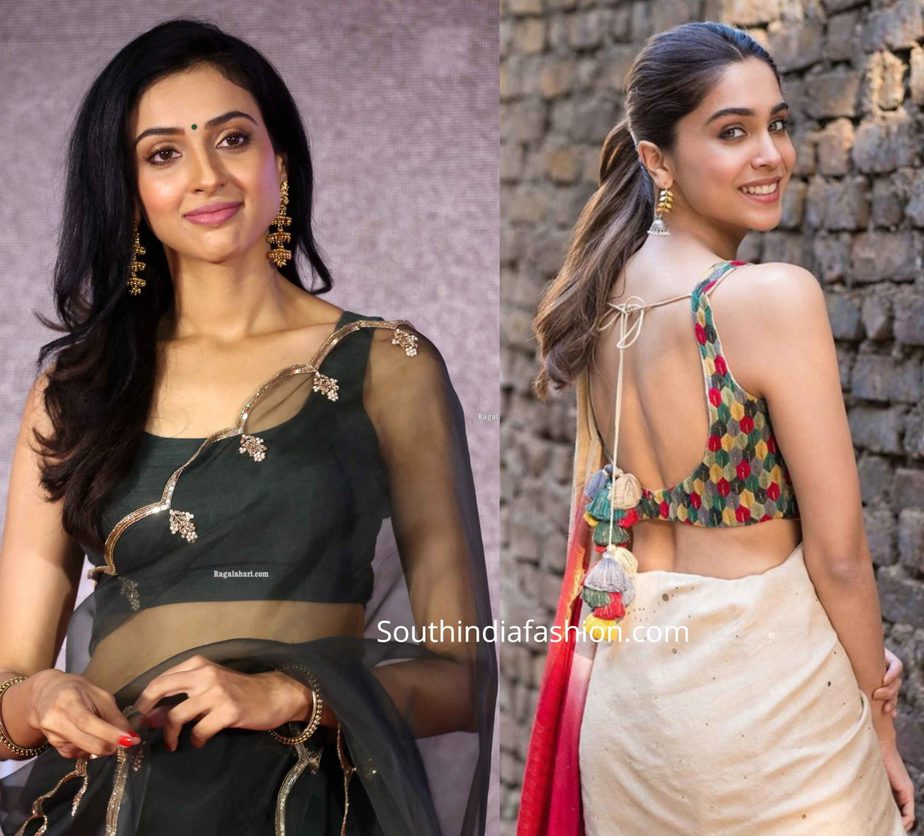 29. Exaggerated puff sleeves blouse
We're loving the high oomph factor with this exaggerated balloon shoulder puff sleeves in hot pink. Way to make a statement in style! Pair with simple floral sarees for an ultra contemporary look.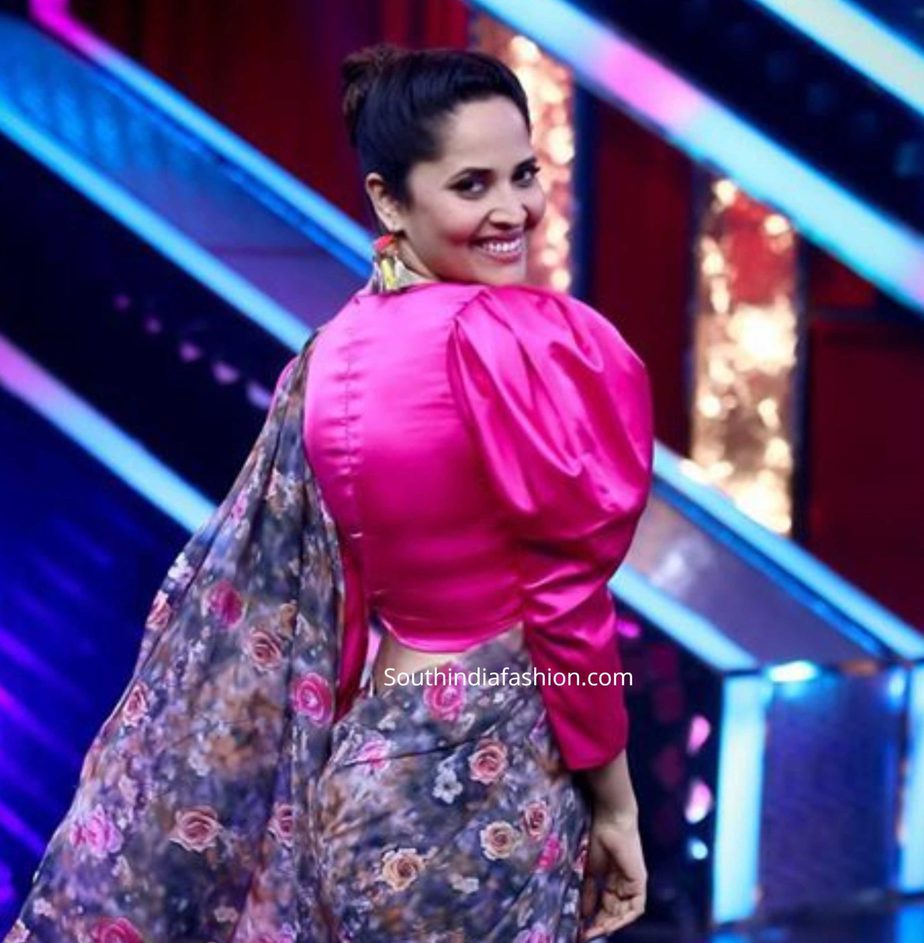 30. Blouse with attached belt
This new 2020 blouse design with an attached belt is a very sleek way to dress for formal occasions. Be it to the office or for a formal work event, you'll feel on top of your game in this stylish ensemble.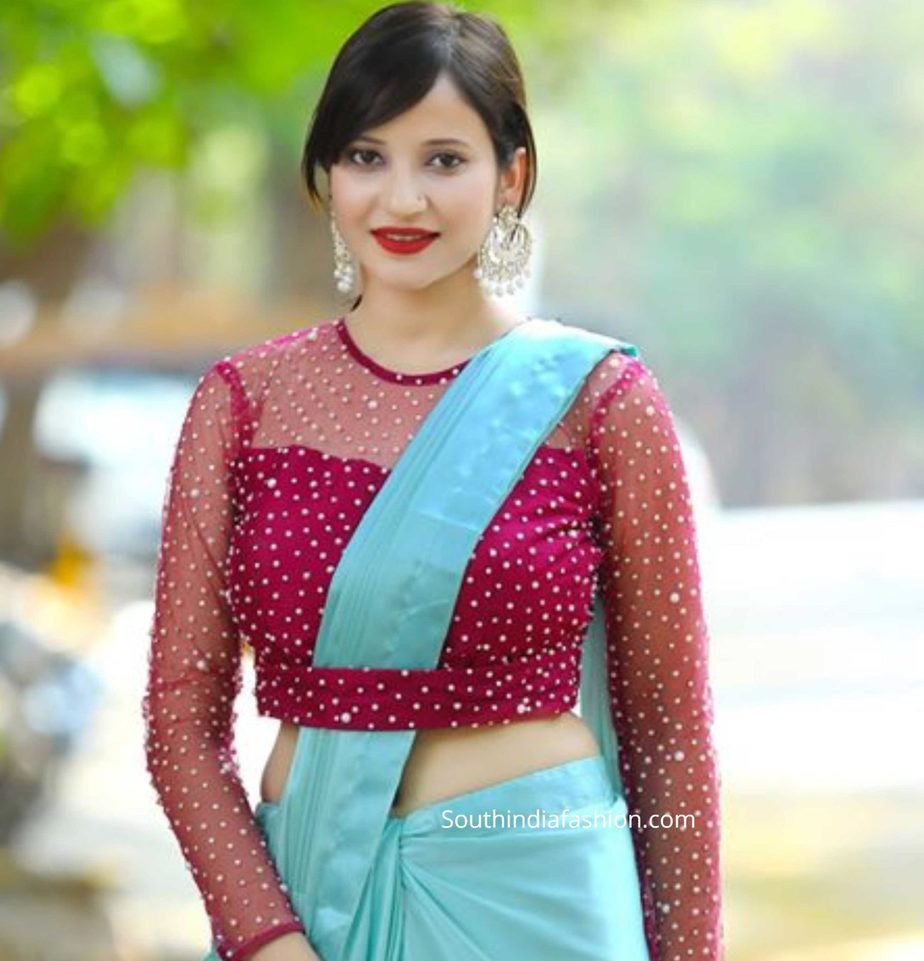 31. Blouse design with gathered neckline
Who said you need to show skin to look sexy? With these gathered lace/net neck blouse designs, you're sure to look smashing as it is without showing skin at all! This latest maroon, sequined, full sleeve gathered neckline 2020 blouse design seems ready to hit the dance floor!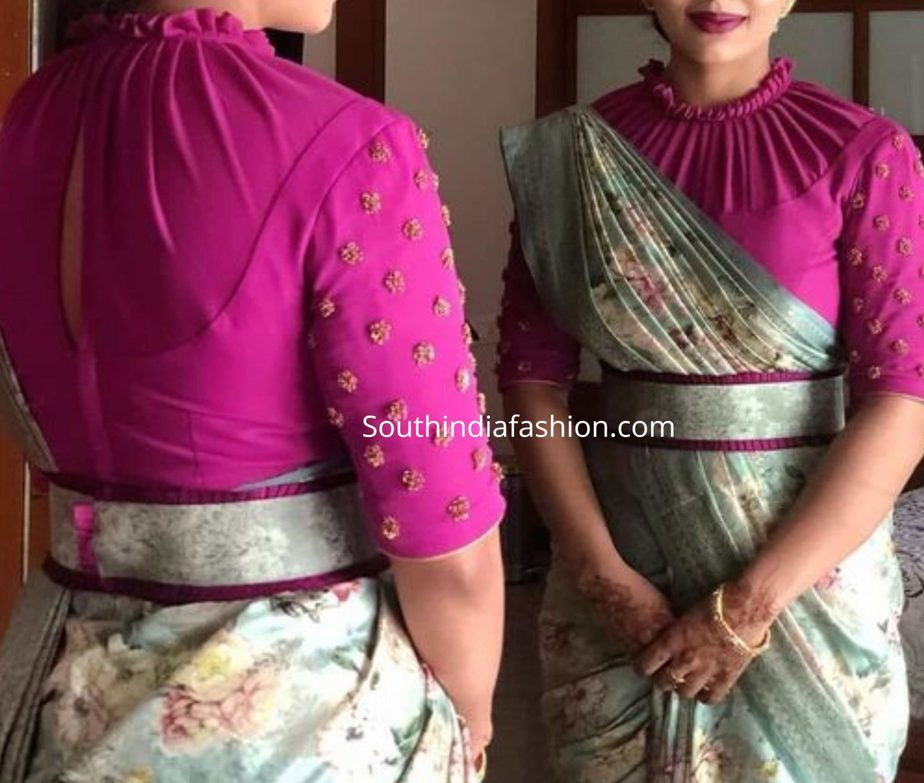 32. Wrap blouse
Wrap-around style blouses are also trending a lot in 2020! Step away from the conventional boring stitched blouse pieces and opt for these trendy wrap blouse patterns.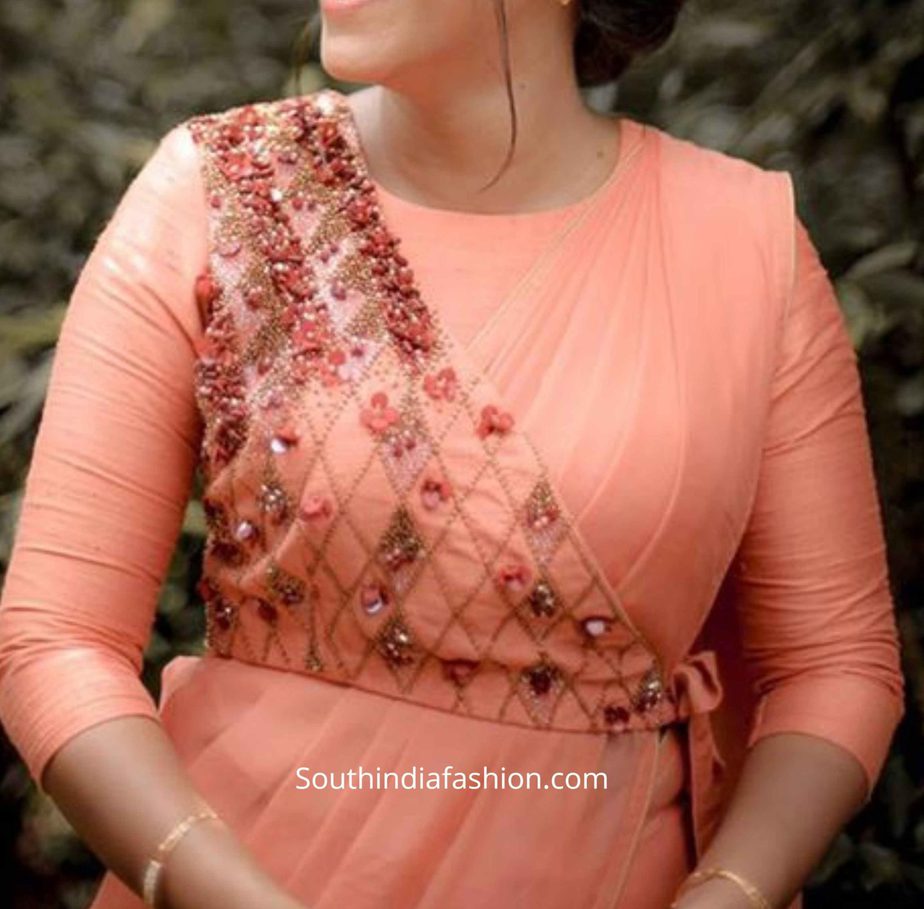 33. Boat neck blouse with small cut outs on the back
Simple geometrical cut outs on the backs of blouse designs adds an element of funkiness to new 2020 blouse designs. Be it cotton blouses or silk blouses, you can have your pick!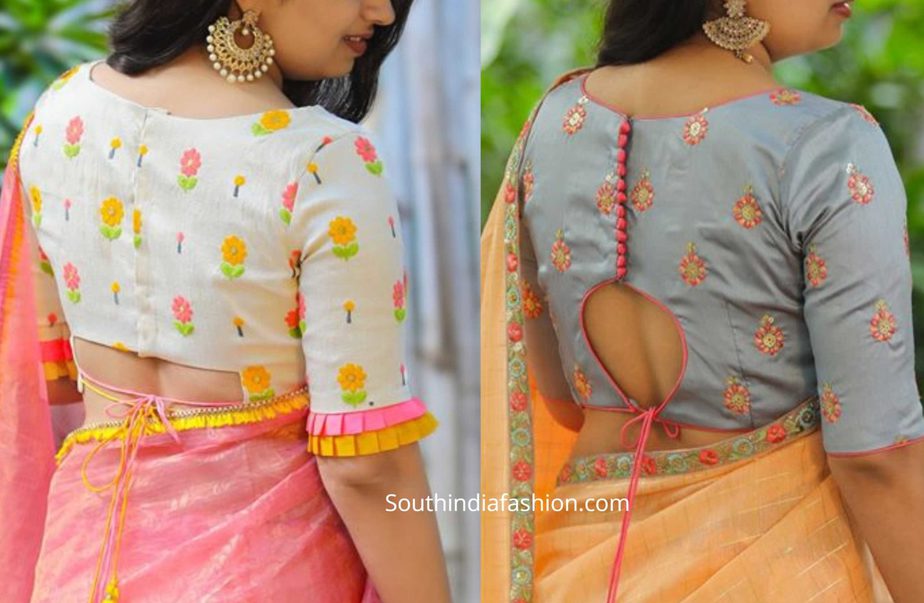 34. Blouse designs with small frills on shoulders
Go for this 2020 latest blouse design with small frills on shoulders which looks scintillating in pink! You're sure to fetch tons of compliments!
35. High neck party wear blouse with frills
Can't get enough of frills with this ice blue-grey high-neck party wear latest blouse design with frills on 3/4 sleeves.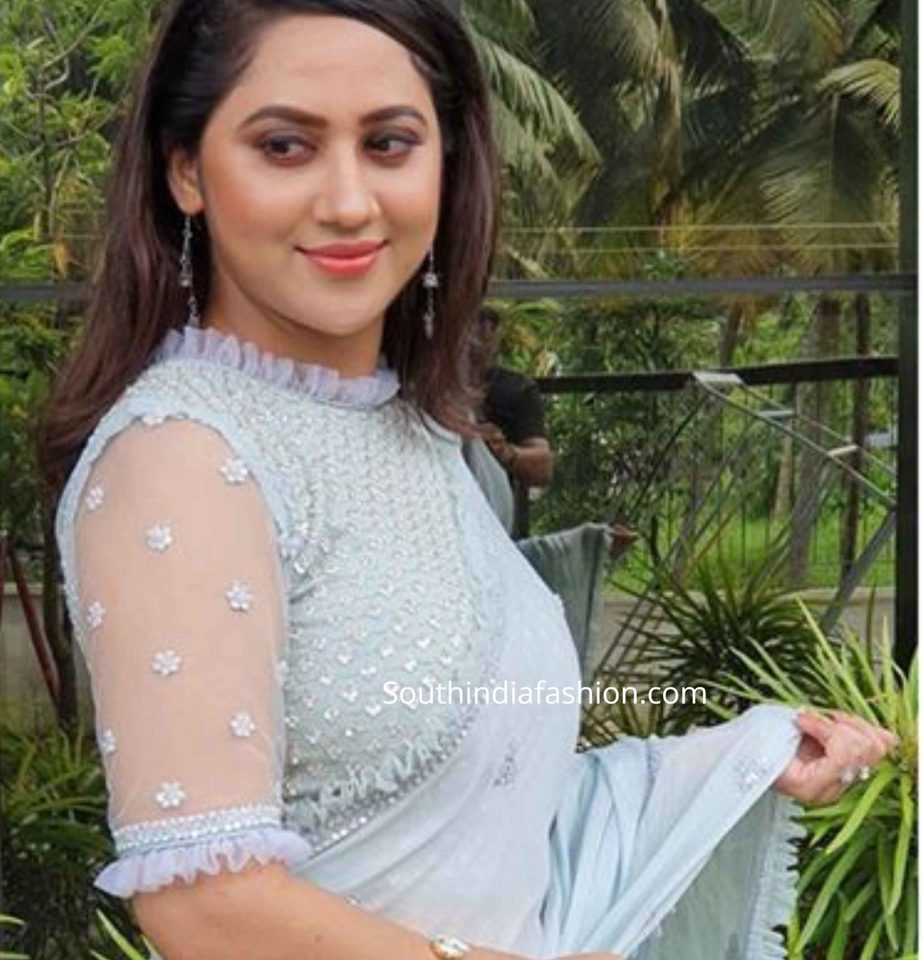 36. Sexy backless blouse designs with straps
Make everyone's jaws drop with these sexy backless blouse designs with straps criss crossing across the back. Blingy straps will raise your sutriness to a whole new level. Go ahead, flaunt those tattoos on your back at your next party!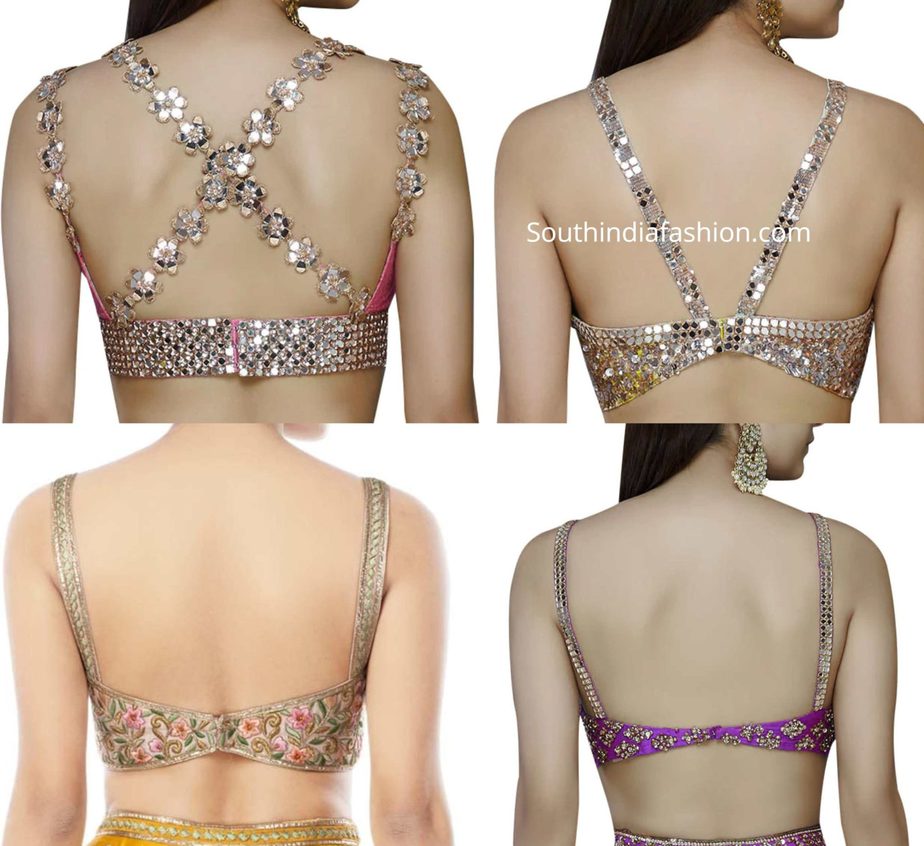 37. Cold shoulder bishop sleeves blouse design
This lovely cold shoulder organza fabric bishop sleeves new blouse design is something we're seeing for the first time! The heavy embellishment work on the blouse body along with a tie back bow design makes this blouse totally unique and not looking bad either. Show your creative side with these funky designs at your next house party and your guests will surely appreciate it.
38. Halter Wrap Blouse – Latest Blouse Designs 2020
Sizzle your way through any function, event or party with these sexy halter wrap 2020 neck blouse designs. Elegant and hot at the same time, your men will definitely be eying you appreciatively in these pieces. In addition, go for some blingy details for more depth to the look.
39. Puff Sleeves Blouse With Ruffles
Go old-school with these puff sleeves new blouse design with ruffles on the sleeve borders. Short and sweet, if you're not feeling too adventurous, try this design for a hatke look.
40. Trendy halter neck blouse
Halter neck blouse designs are trending everywhere right now.  Try out this blingy number with strapped back design for your next sangeet night.
41. Designer spaghetti strap blouse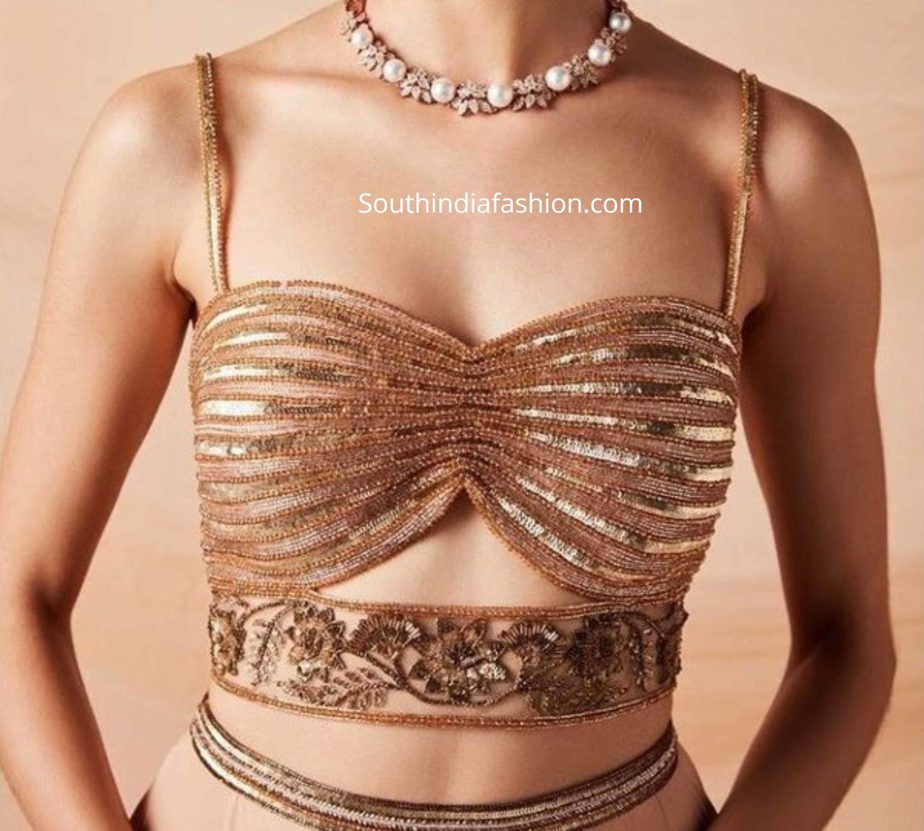 42. V-Collar neck embellished blouse
Collars make you look more majestic. Opt for this open design V-neck embellished blouse instead of a high closed neck collar that will make you suffocate in the hot summer months! It'll be one of the best choices you make, we swear!
43. Transparent back blouse with key hole design
This petite 2020 blouse design with transparent back and key hole design looks stunning! Pair with your sheer embroidered sarees for a timeless look. Decorate your sheer back with stones, pearls and embellishments and watch everyone's heads turn.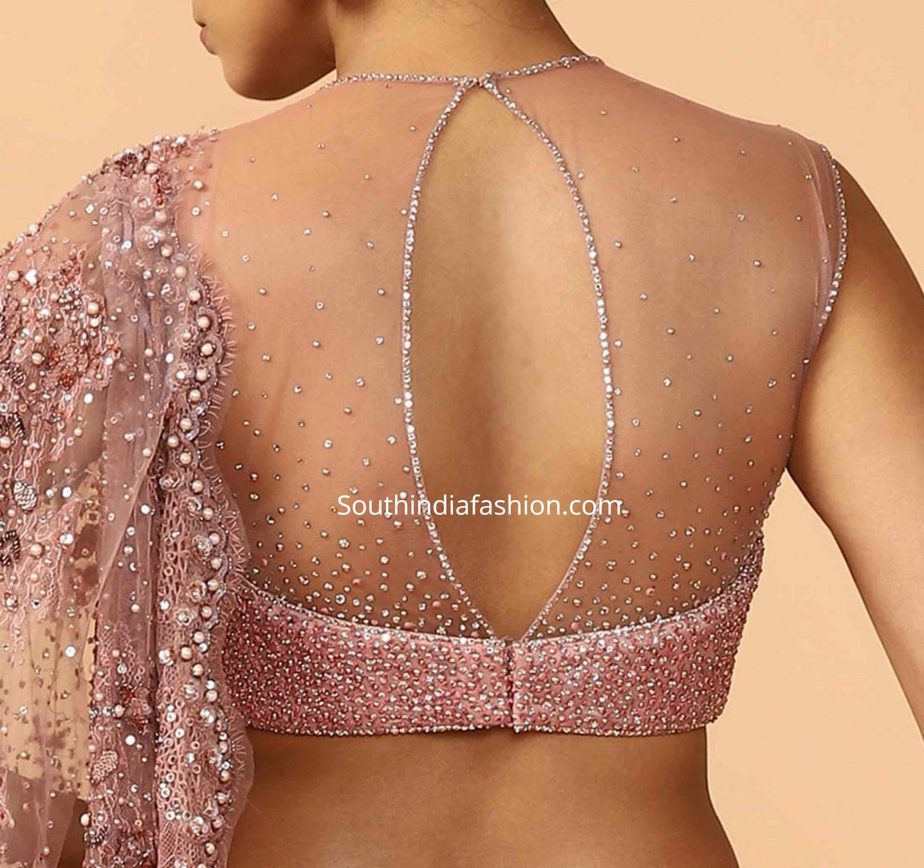 44. Jacket Blouse
For our more conservative audience, we recommend this jacket style silk blouse with a V collar. The long koti 2020 blouse design will hide your belly fat and make you look smart at the same time! Pair with your puttu or kaanjivaram sarees to elevate them.
45. Latest Blouse Designs 2020 – Criss cross front neck blouse
This front criss cross neck blouse design incorporated into a halter neck looks superb! Perfect for the urban modern woman who like to be bold in their choices.
46. Off-shoulder blouse with multiple bows
Don't want to look boring? Try this one off- shoulder blouse design with multiple bows for a beautiful break from monotony!
47. Collared U-neck long sleeves blouse with cut out back design
This collared U-neck long sleeves design with cut out back design will look very stylish. You can opt for a covered back for a more formal  or office look.
48. Stylish Cap Sleeves Blouse Design
Try this square neck cap sleeves latest 2020 blouse design with a delicate string tie up at the back. Add some hanging details on the cap for more drama.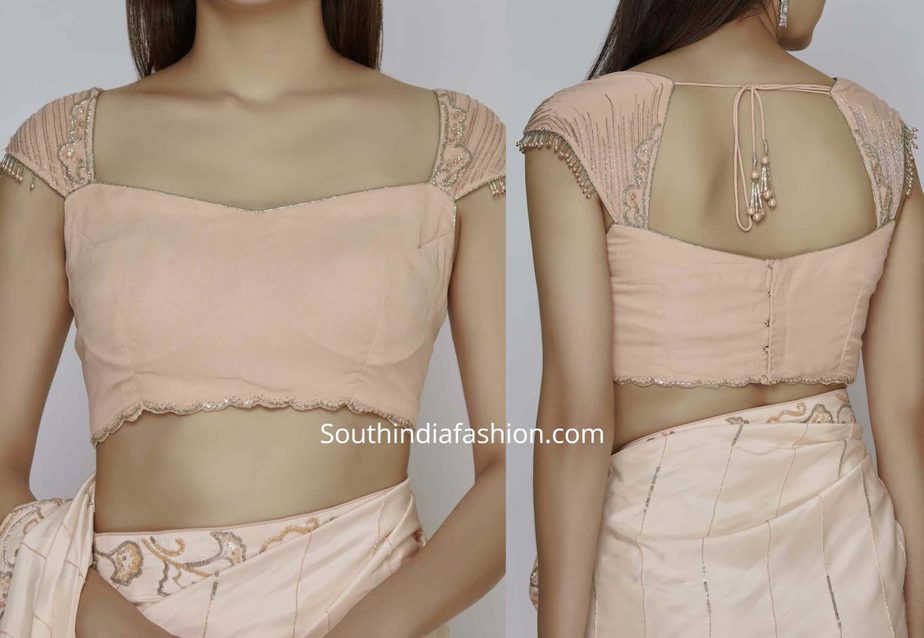 49. Blouse with transparent cap sleeves
We recommend this latest blouse design with transparent cap sleeves and embroidery threads hanging from the shoulders. It looks extremely chic and pretty as a picture!
50. Deep V-neck blouse with long puff sleeves
Make a style statement with this V-neck 2020 blouse design with long puff sleeves. Pair with monochrome prints and sarees for an easy on the eye appearance.
51. Chinese collar embroidered long sleeves blouse
Look your most charming and graceful self with this embroidered chinese collar 2020 blouse neck design with long sleeves. You'll feel exactly like a royal in this design. Perfect for the winter functions!
52. Embroidered Chinese collar blouse with scalloped hemline
If you still want to opt for a Chinese collar in the summer, try this cap sleeves chinese collar 2020 blouse design. Additionally, add a scalloped hemline for more vogue.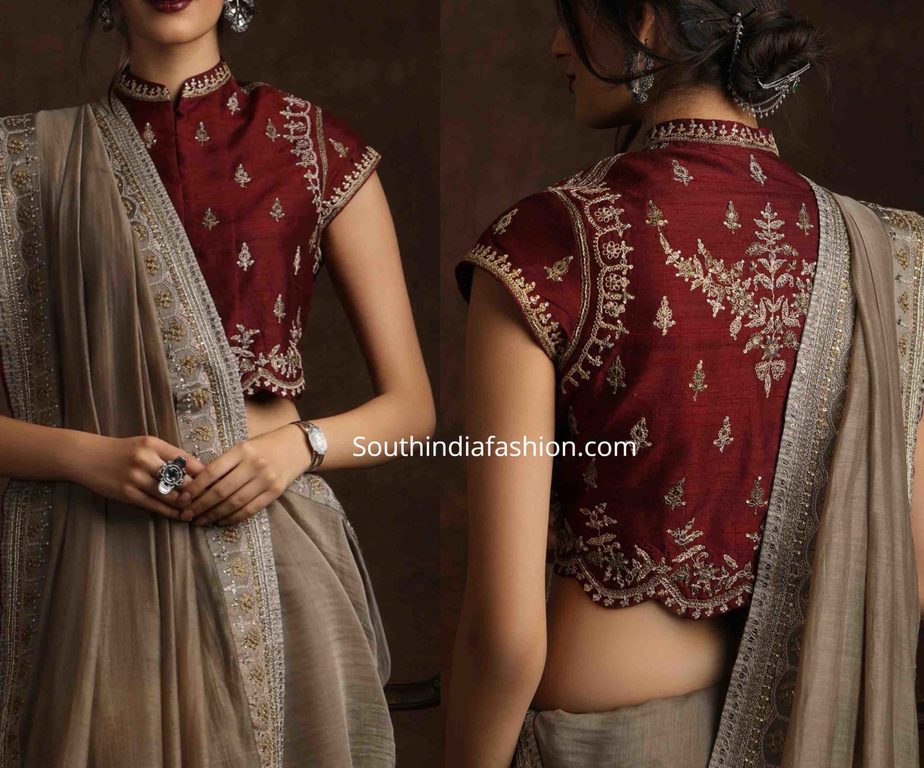 53. Latest Blouse Designs 2020 – Trendy Sculpted blouse
Try these abstract cut-out body-sculpted blouse designs in various shapes that are super trendy! Only for the more daring ladies, mind it!
54. Long peplum blouse
For our demure women, we recommend this long peplum style blouse with high neck collar and short sleeves.
55. Transparent Puff Sleeves Blouse
Absolutely in love with this sage green transparent puff sleeve latest 2020 blouse design with a deep v-neck. The embellishments on the blouse paired with the choker look lovely indeed!