A blouse can make or break the entire look of a saree. Picking the right saree blouse for a simple or plain saree is very essential. These days there are so many varieties of blouses in the market that you can pick from. And with so many options, styling saree blouses to jazz up your simple saree can be tough. We have a few options of saree blouses that you can pick from to mix and match with your saree. Wear these saree blouses 2019 and give your simple saree a stylish touch.
Check out the various types of saree blouses 2019 that you can oomph up your simple saree –
Printed Blouses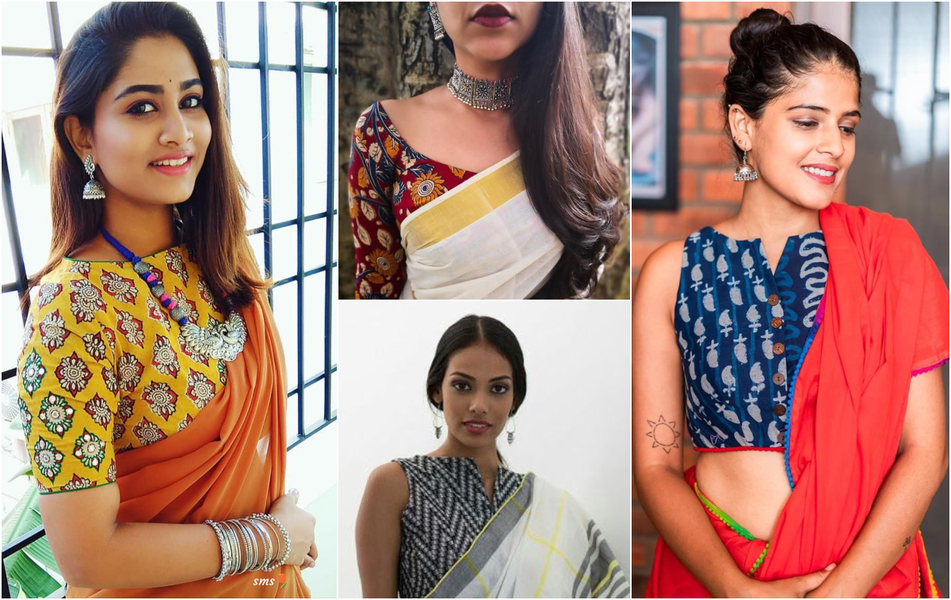 We know that printed blouses are a hot trend these days. Especially the printed cotton blouses that have various artistic prints on them. Ajrak, Kalamkari, Ikat or batik, there are so many types of blouses that you can pick! Play the contrast game or go with the mix and match trend with no hesitation. It's all about contemporary styling these days and you can pull that style off even with the sarees and blouses. (Shop Online)
Neck Pattern Blouses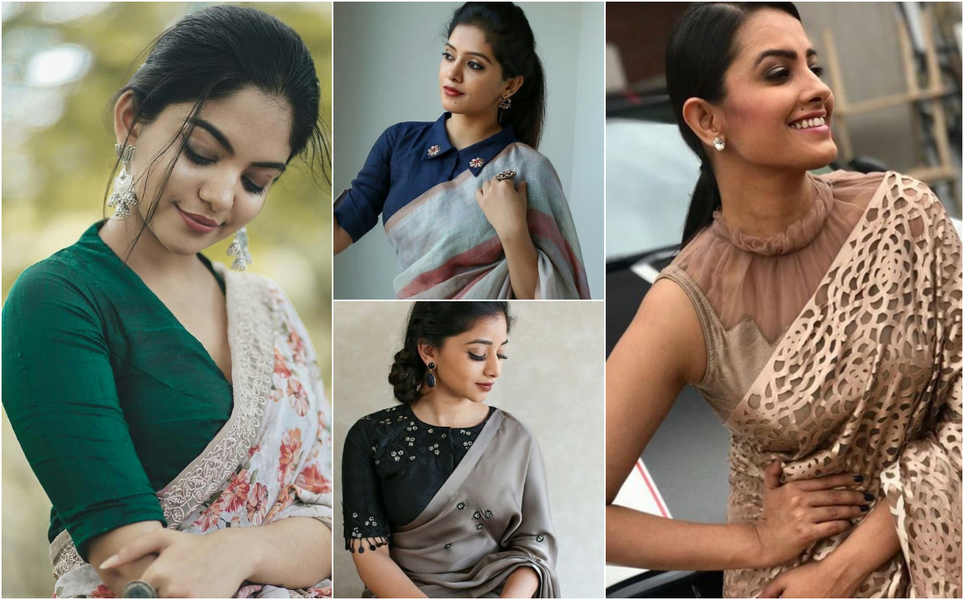 Blouses these days come with neck patterns that are stylish, uber-cool and chic. Ditch the usual blouse neck designs and opt for a fashionable neck pattern. Even if the blouse is monotone or simple, a stylish neck pattern can do wonders to the look. Even the simplest blouse with a high colllar or choker neck style can give your saree a designer feel. Collar neck blouses, high neck blouses, or deep 'V' are some of the styles to experiment with.
Contrast Saree Blouses
The matching trend is far off behind now; it is a world of contrast now. Pick an off-beat contrast color that can instantly add life to your look. Ditch the same colored blouse for colors that are in trend or that go with the tone of your saree. If you are open to experimenting, then opt for floral or embellished blouses. These can jazz up a simple saree in the most stylish way!
Saree Blouses 2019 – Variations of Sleeves
Just like the blouse neck patterns, the blouse sleeves game is currently going strong! Play with various styles of sleeves rather than sticking to the regular half-sleeves. Sleeveless, flared sleeves, bell sleeves or cape, you can pick any of these. Pair it with your saree and see the magic it creates. Simple and regular is boring these days. In fact, opt for something contemporary and off-beat!
Stylish Back Saree Blouses
The back neck of the blouse also plays an important role in lifting your saree's style statement. Explore the blouse back neck styles with different patterns, styles, and embellishments. Blouses these days also have quirky motifs painted at the back which adds to the chicness of the look. Add tassels, Dori, pompoms, and zardosi to oomph up your simple saree.
These were just a few types of blouses that can instantly add an oomph factor to your simple saree. Above all, don't hesitate in experimenting!