When it comes to looking stunning in sarees, choosing unique saree blouse back neck designs is the way to go. Saree and blouses go hand in hand. If the blouse is too basic or boring, the whole saree look falls apart. One of the reasons why the saree is considered beautiful and elegant is because it looks great no matter what angle you look at it from. And the back is definitely one of the most prominent and visible parts. So here are 10 unique saree blouse back neck designs that will ensure you make heads turn in a crowd.
Saree Blouse Back Neck Designs:
1. Criss-Cross Back Blouse Design
Saree blouses that have criss-crossed strings as closure at the back are barely a new trend. But they can be tied in many different ways and that's what makes them unique. You can also customize how revealing it is according to your preference. These unique saree blouse designs can be paired with simple cotton sarees as well as heavy silk sarees.
2. Tie Back Saree Blouse Designs
These unique saree blouse back neck designs can be designed in so many different ways. Instead of having just good old strings, opt for other decorative elements to combine it with, like rings and beads. You can even opt for pretty shapes for the back opening of knotted blouse designs.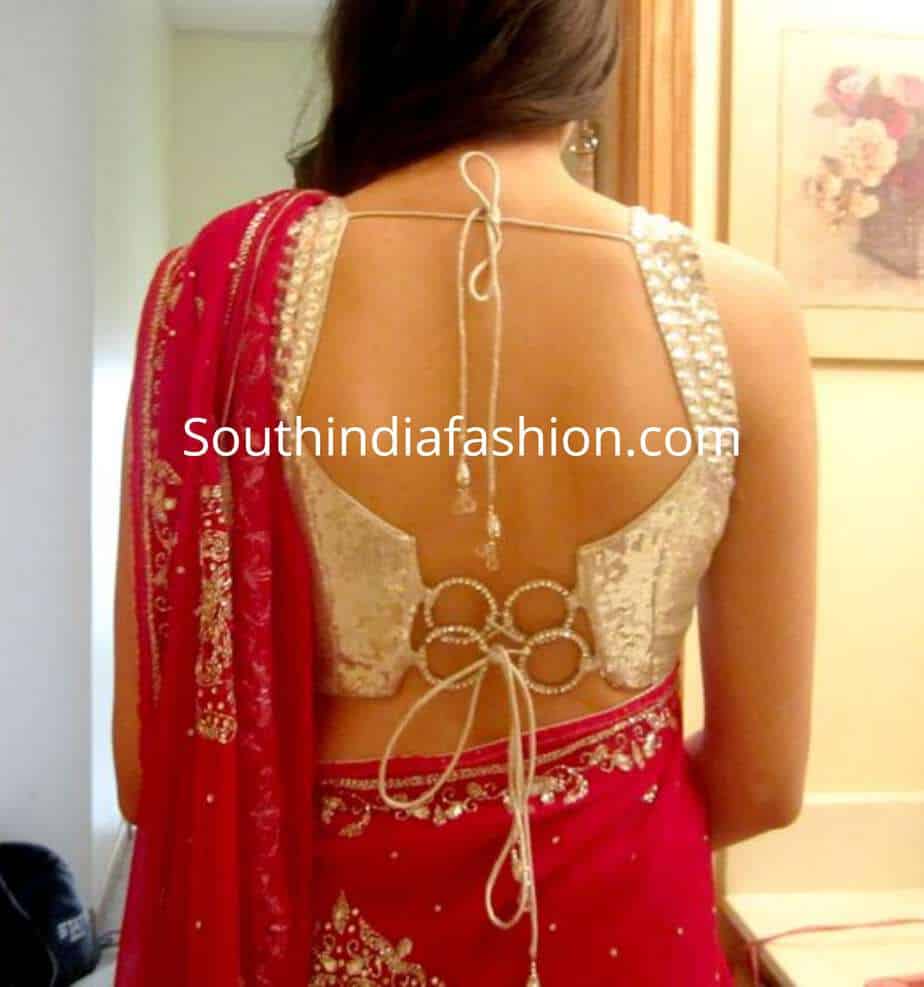 3. Bow Tie Saree Blouse Designs
The bow back blouse design is taking the fashion world by storm. This blouse back pattern would not only look great for saree blouses but also lehenga cholis. The bow could be in a sheer fabric in the same color as the rest of the blouse or a contrasting color in the same fabric. Either way, you'll be the talk of the party!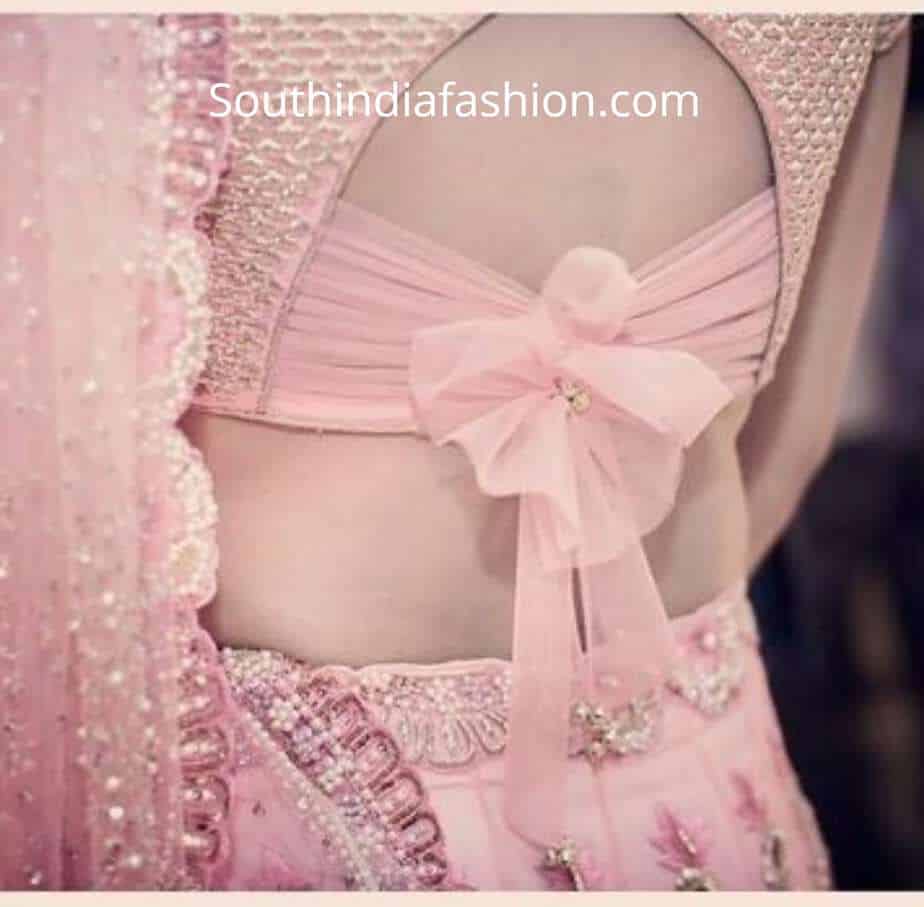 4. Pearl Saree Blouse Back Neck Designs
Pearl work blouses have always been a designer favorite on runways at Indian fashion weeks. And it doesn't come as a surprise because it's very feminine and chic. There are so many gorgeous ways that pearls can be incorporated into your pattu saree blouses. They can be sewn in individually on the blouse or left as strings to decorate where the back is open.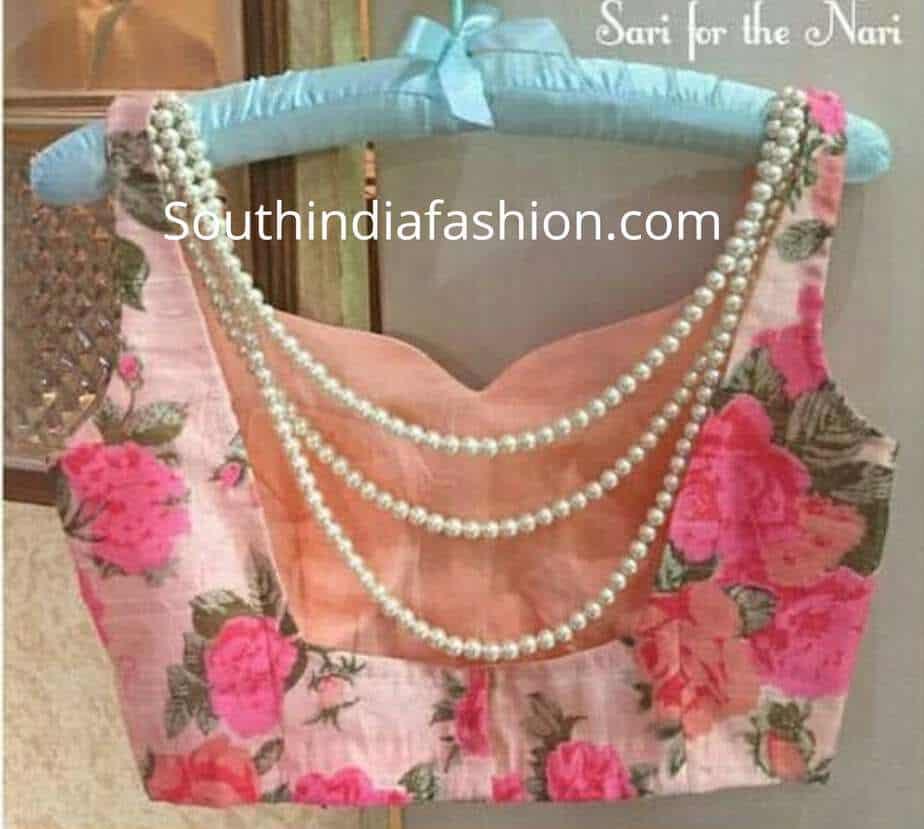 5. Fringe Saree Blouse Designs
Flaunt a hint of bohemian in your favorite saree blouse designs by having some fringes cascading down the back. This can be done in horizontal layers or only on the bottom hem or why not both?! These blouse patterns can be paired with simple and plain sarees.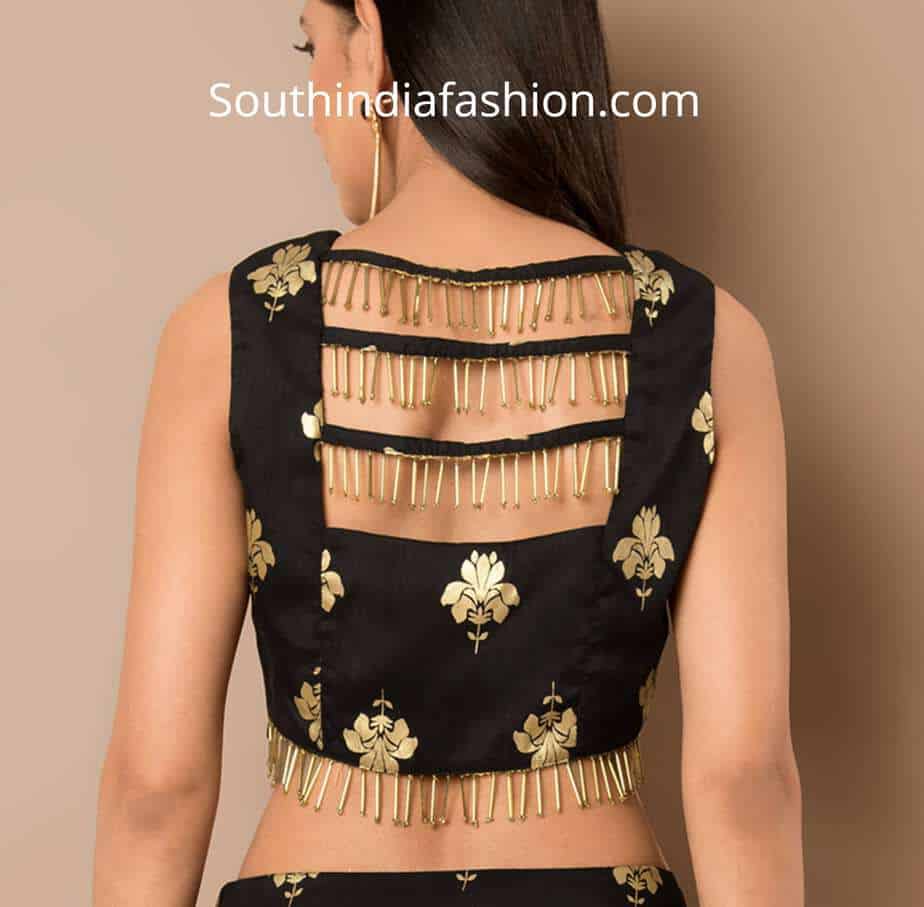 6. Tassels Blouse Back Designs
This unique blouse back side design looks best when the tassels are in a contrasting color that compliments the blouse. They could also be paired with beads on top to give it a desi touch.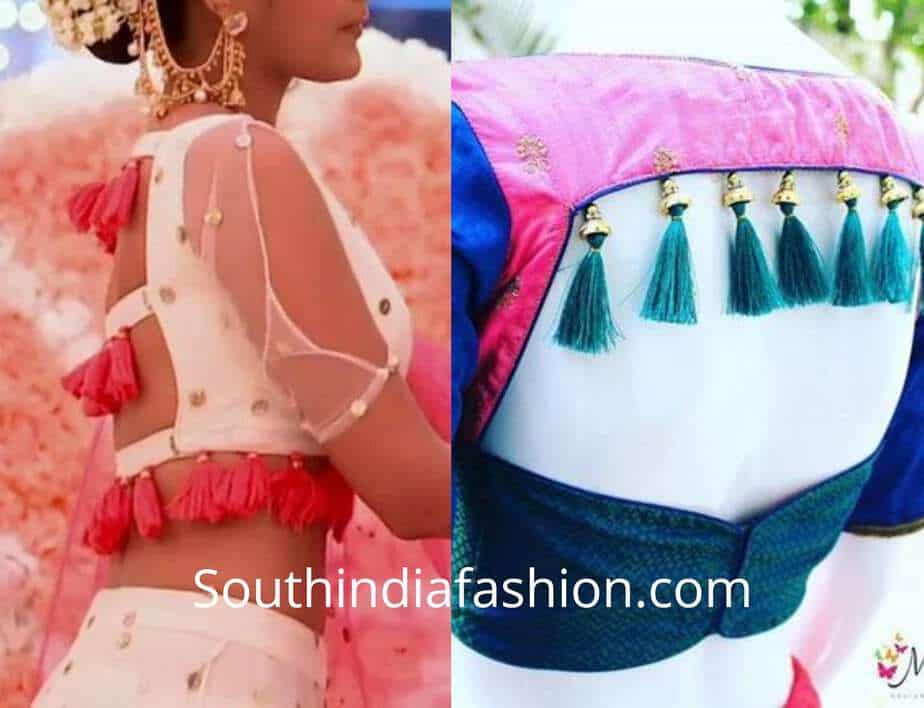 7. High Back Neck Saree Blouse Designs
This list of unique saree blouse back neck designs would not be complete without this latest trend. Open back and revealing blouses are being replaced by modest high back neck blouses. To make it more interesting and special, bows or pretty buttons can be added along the centre of the back.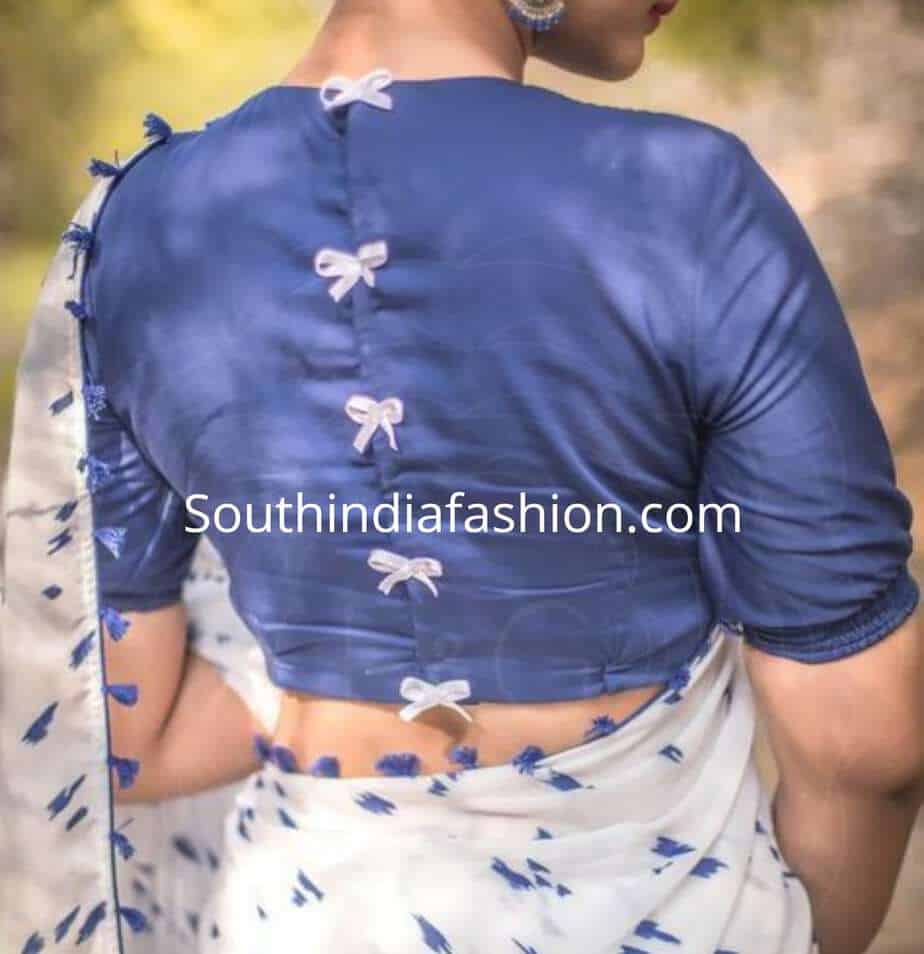 8. Cross Back Saree Blouse Patterns
A simple sleeveless blouse with a cross back design is a wardrobe staple as it is very retro and diverse. Its simplicity makes it suitable for all types of sarees like chikankari, kalamkari, bandhani, pochampally, etc.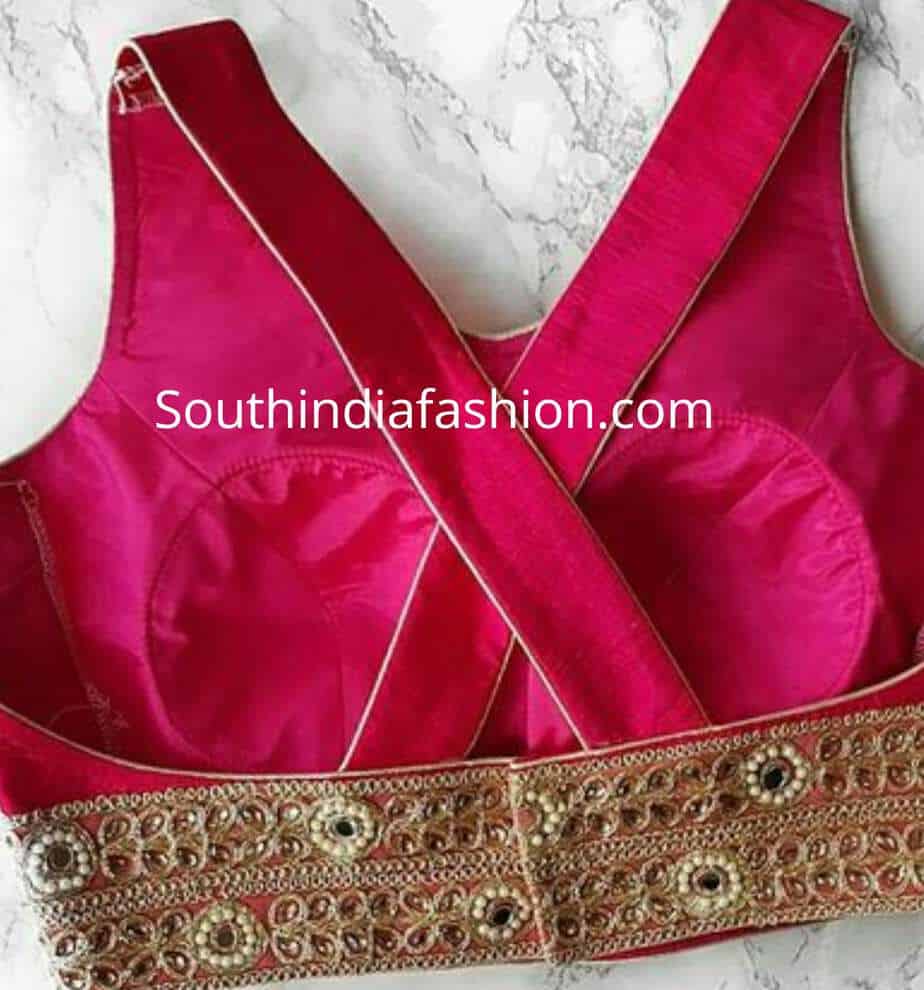 9. Collared Open Back Blouse Design
Since collared saree blouses are usually high, it's only right to have the back open to strike that balance between covered and exposed. The opening of this unique saree blouse design can be anything of your choice. From geometric shapes to more abstract ones, the options are endless.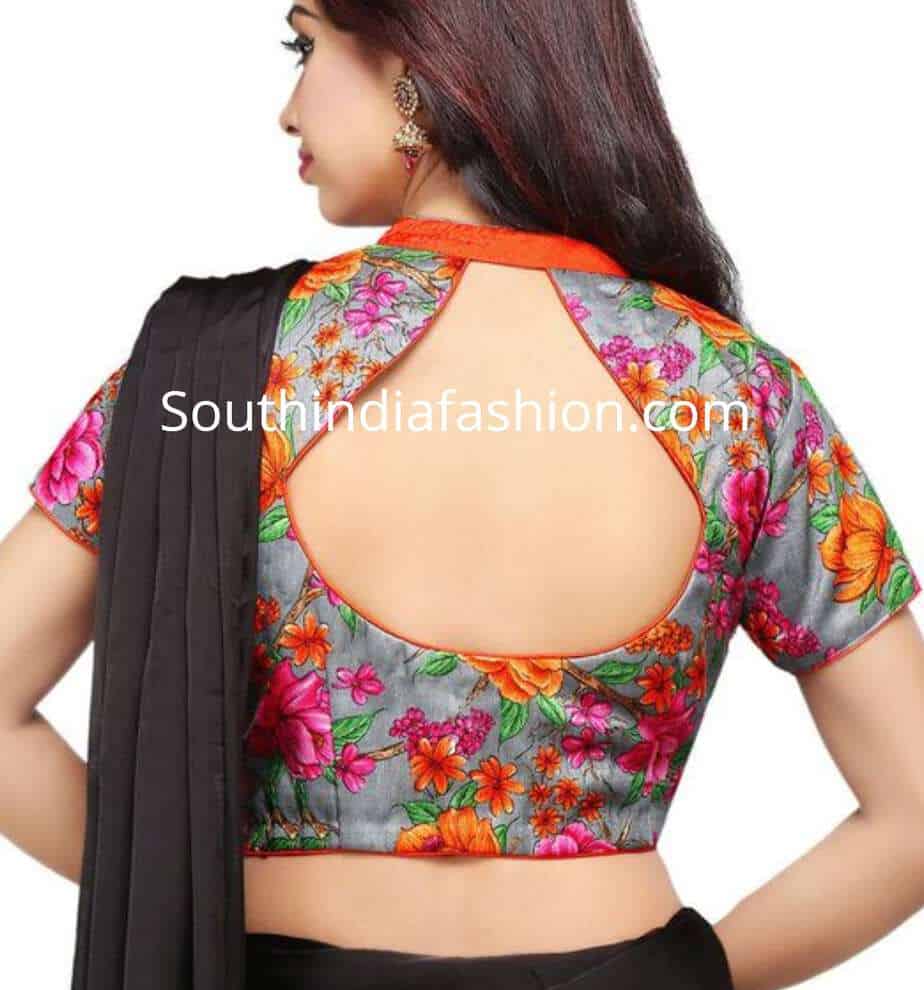 10. Unique Saree Blouse Back Neck Designs
The combination of an open back and strings to hold it all together makes for the perfect saree blouse. There are a variety of back opening shapes to choose from – circle, square, teardrop or oval. For a trendy touch, pom-poms or tassels can be added to the ends of the strings.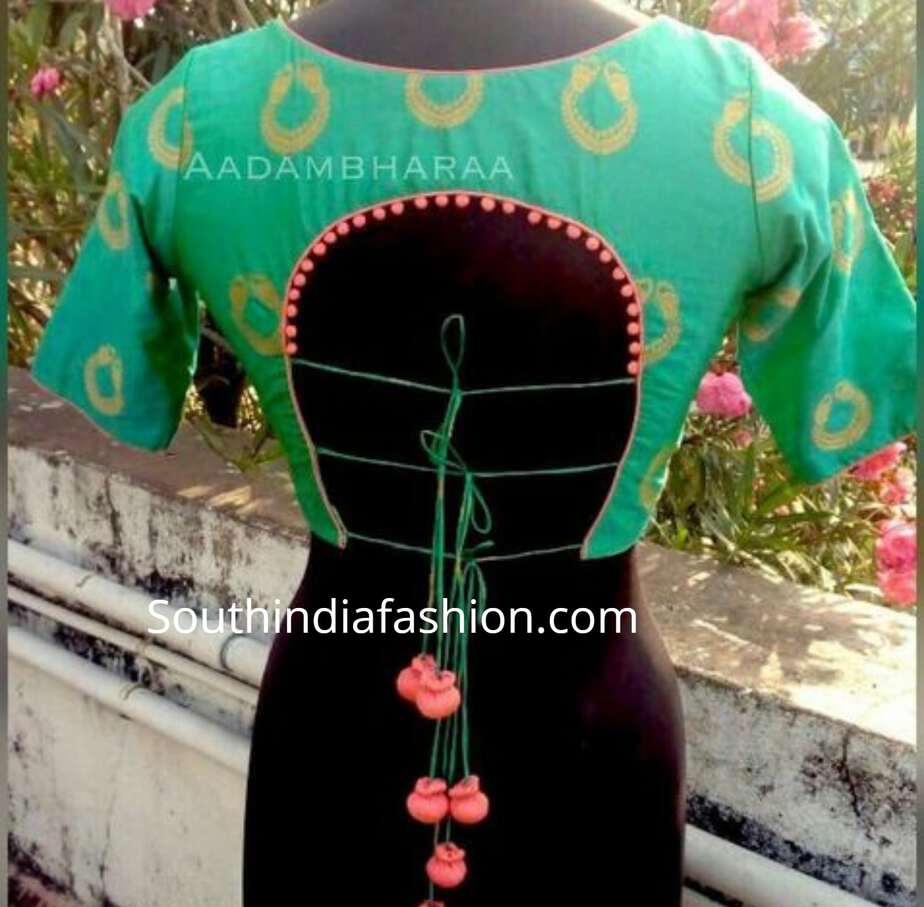 [amazon box="B00E9OFDH8″]