The festive season is upon us! And we are sure you would be looking forward to getting all decked up in your favorite sarees. Silk sarees are our personal favorites when it comes to festivals and celebrations. But you cannot always go all out in dressing up as a simple festive look. But silk sarees can make you look festive ready instantly with basic statement elements. Make a statement even with the simplest or plain silk saree. From picking the right silk saree to a blouse and dressing up glamorously, we have got you covered!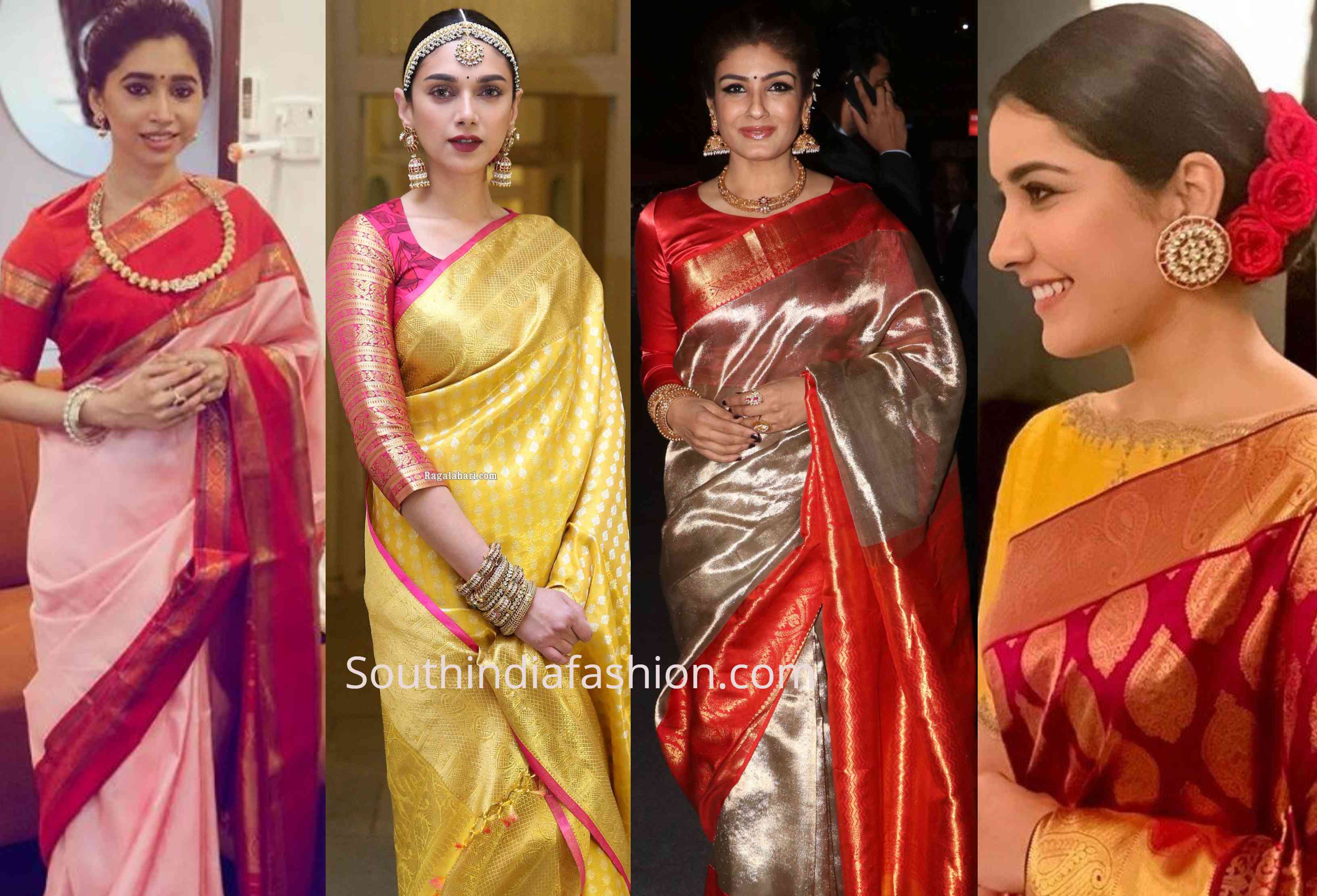 Check out the ways you can make a statement in a gorgeous silk saree and slay this festive season –
Right Kind of Silk Saree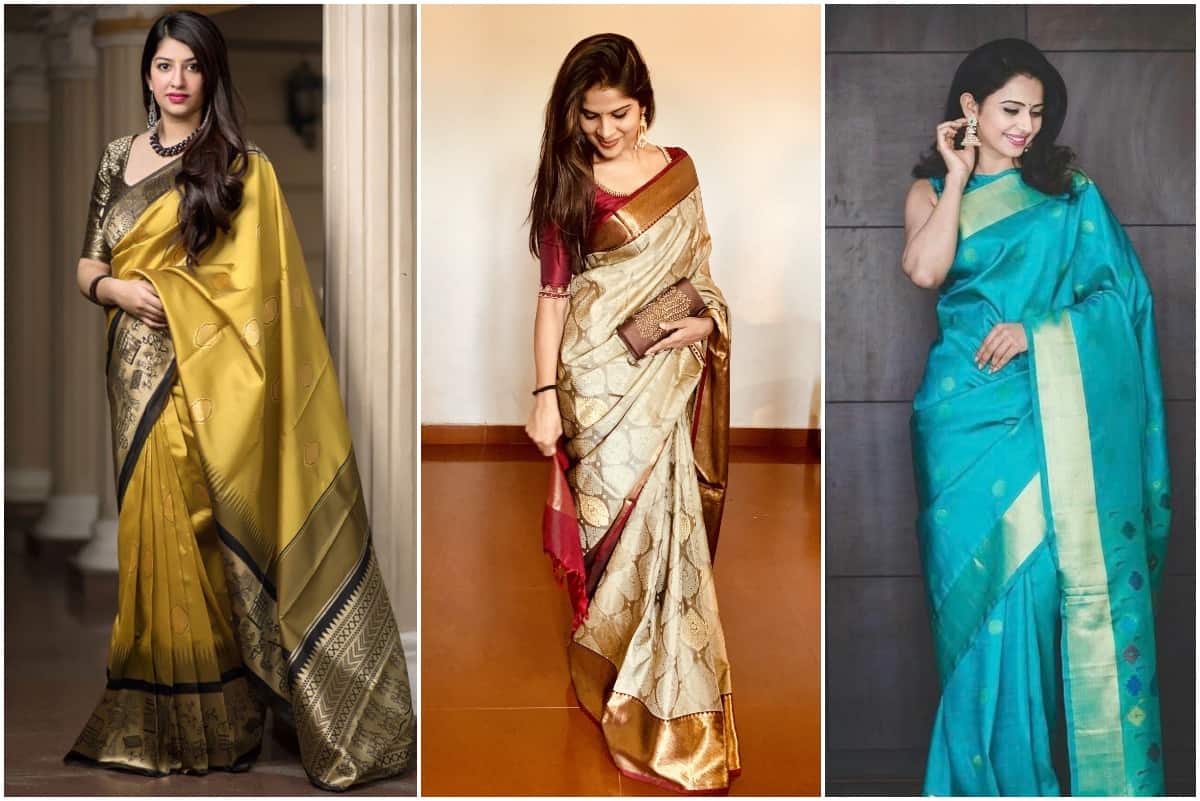 Silk sarees instantly bring out glamour and elegance to your look. If you are expecting guests at home for the festival, pick a lightweight saree. This way you can be on your toes with the festive preparations whilst looking all graceful. Heavy sarees look grand, but you might end up half the time fixing it rather than looking after your guests. Lightweight silk sarees are a huge hit these days. Especially for their ultra-elegant looks and yet being extremely comfortable to carry.
Statement-Making Blouse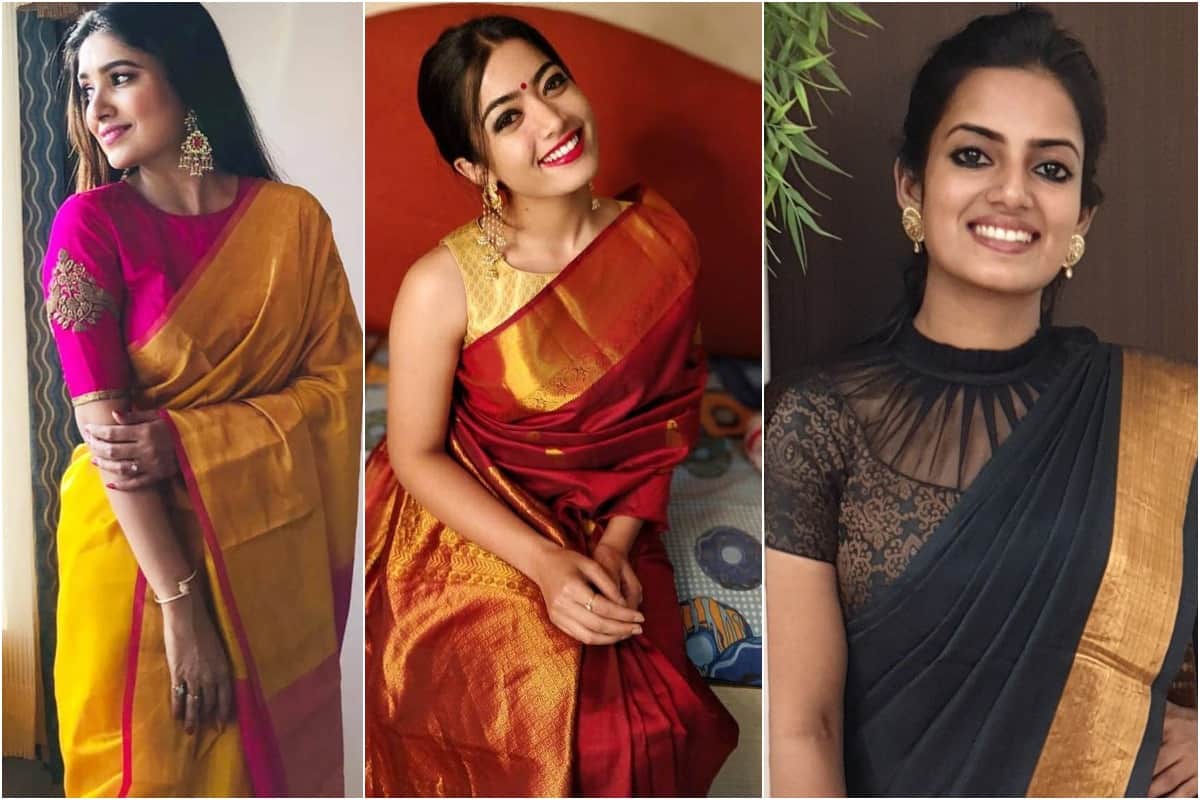 If you pick a simple saree with minimum zari, then make sure your festive look stays a statement maker with its blouse! Pick blouses that are bold, contrast colored and blouse patterns that are not your usual ones. Experiment with the latest blouse patterns for necks, sleeves, and styles. Mix and match like a pro with your plain silk sarees!
Antique Jewellery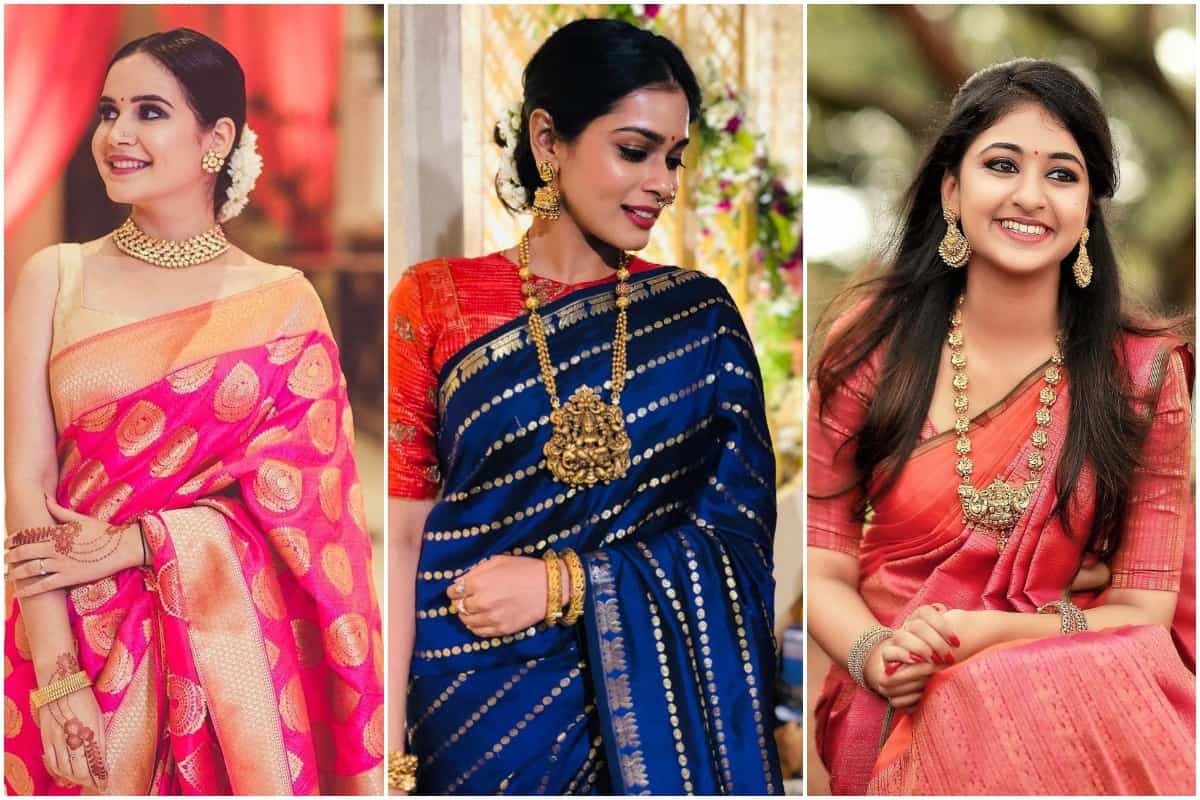 A silk saree look isn't complete without some fine pieces of traditional jewellery. And festivals anyway are just another reason to bring out your favorite jewellery. Style your saree with the bold temple and antique necklaces and jhumkas. You can also add kadas and bangles that go with your silk saree. If gold or antiques aren't your choices, invest in some pearl pieces that go with every saree. Jewellery sure does add a statement and charm to your silk sarees.
Hairstyle to Highlight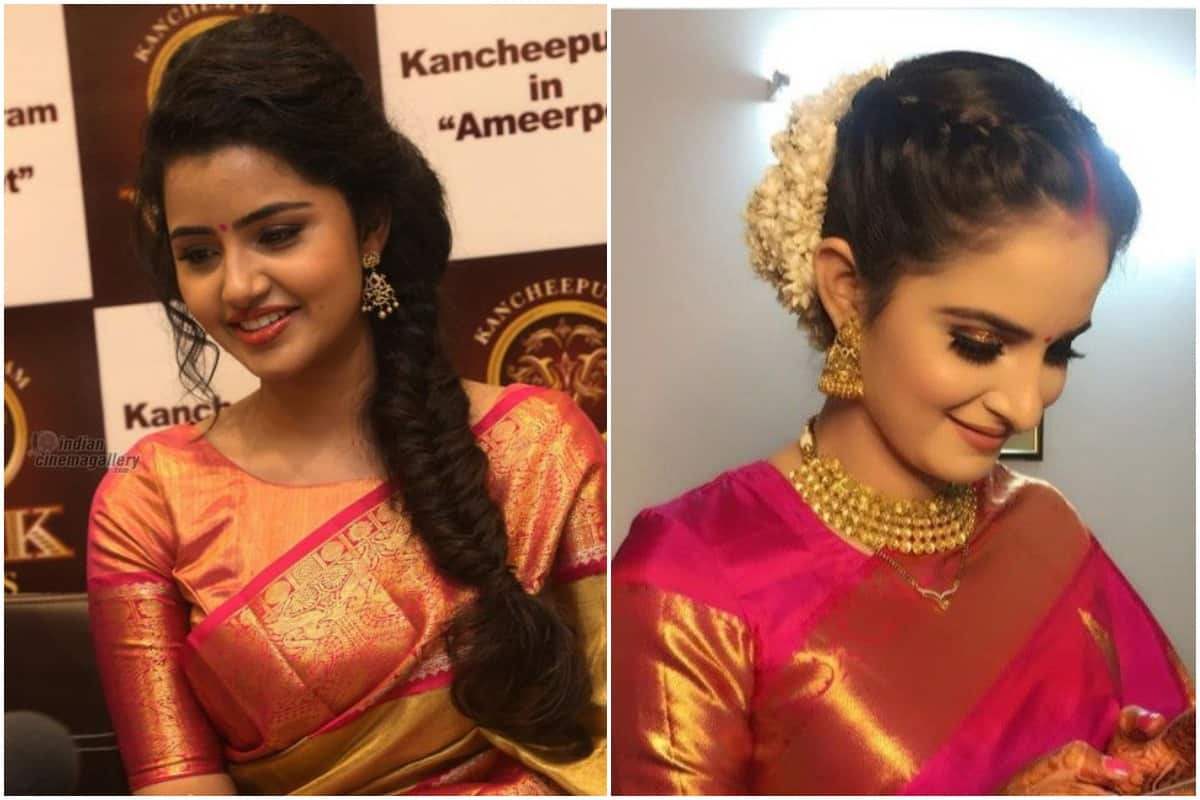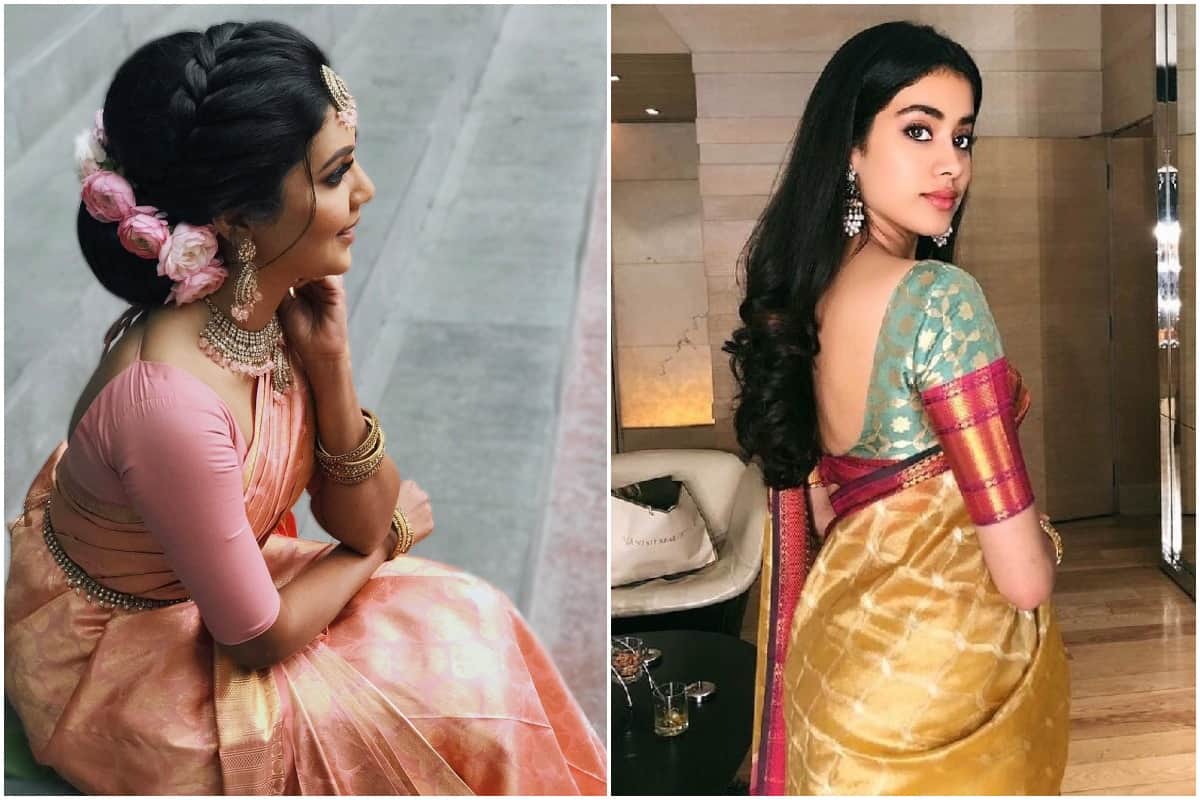 Your hairstyle is equally essential to nail that traditional statement silk saree look! You can either let your hair down in loose curls or try out different braid hairstyles for silk saree. In addition, a bun also adds more glamour to the statement saree look. Decorate your bun hairstyle with some gajras and turn up the elegance meter!
Makeup On Point!
If your jewellery is final and so is your hairstyle, then it's time to decide on how to glam up your face! Remember, just like your jewellery, hairstyle or a blouse, your makeup too, needs to be on point. But don't go over the top with your makeup as it will ruin the look. Decide if you want to highlight your eyes or want bold lips. The trick to keep it clean and elegant in order to let your saree be the highlight!
Try out the above-mentioned ways of making a statement in your silk saree this festive season. You will definitely fetch some compliments!