Dressing up in a regal silk saree is something we all love. But when it comes to styling our hair, we often tend to get confused. But, it's heartbreaking to see the look of a beautiful silk saree ruin due to a hairstyle that does not suit it in any way. Silk sarees look most sophisticated only when your hairstyle is on point! So if you are planning to wear a pattu saree for any occasion, make sure you also decide on a hairstyle to go with it. But pick a hairstyle which is something that goes with the traditional look that you wish to carry. Check out some simple and elegant pattu saree hairstyles..
Here are some simple hairstyles that work great with pattu sarees and can give you a traditional look –
Pattu Saree Hairstyles:
Braided Hairstyle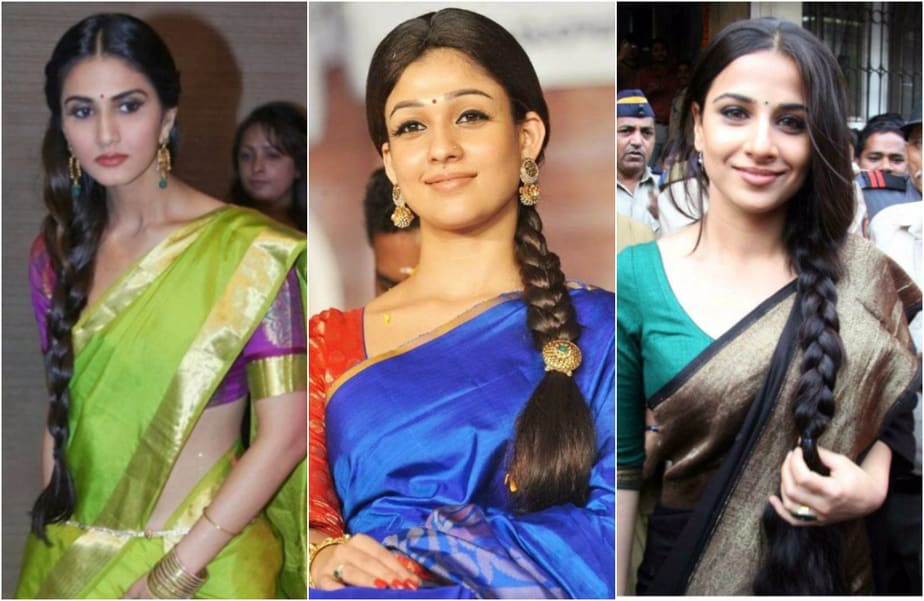 Are you blessed with long tresses? Then flaunt them in beautiful braids! Braids are the go-to hairstyle that compliments any silk saree. You can jazz it up by using fancy clips, bands or flowers. Loose braid hairstyles also look marvelous and add a very traditional touch to the look. Check out Vidya Balan and Vaani Kapoor who looked gorgeous in a simple loose braid.
Fishtail Braid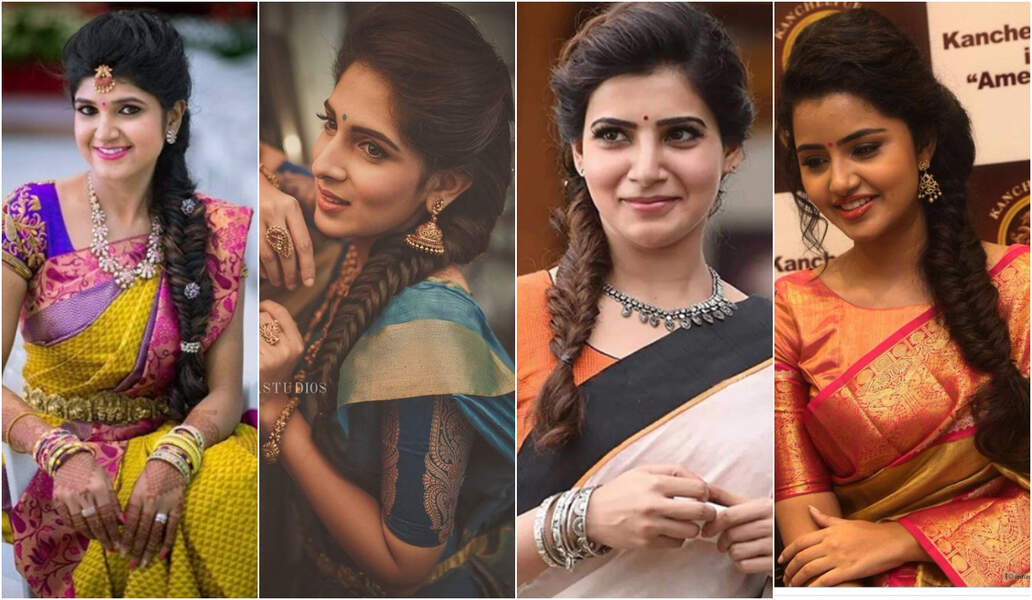 Fishtail braid hairstyles are literally the most beautiful version of braids. They look amazing with western outfits as well as with ethnic wear! In other words, you can definitely opt for this hairstyle with your silk saree. From simple fishtail braid to side-swept or braid with a puff also looks equally great. This pattu saree hairstyle gives a very chic and trendy look even when you dress up in a traditional way.
Low Bun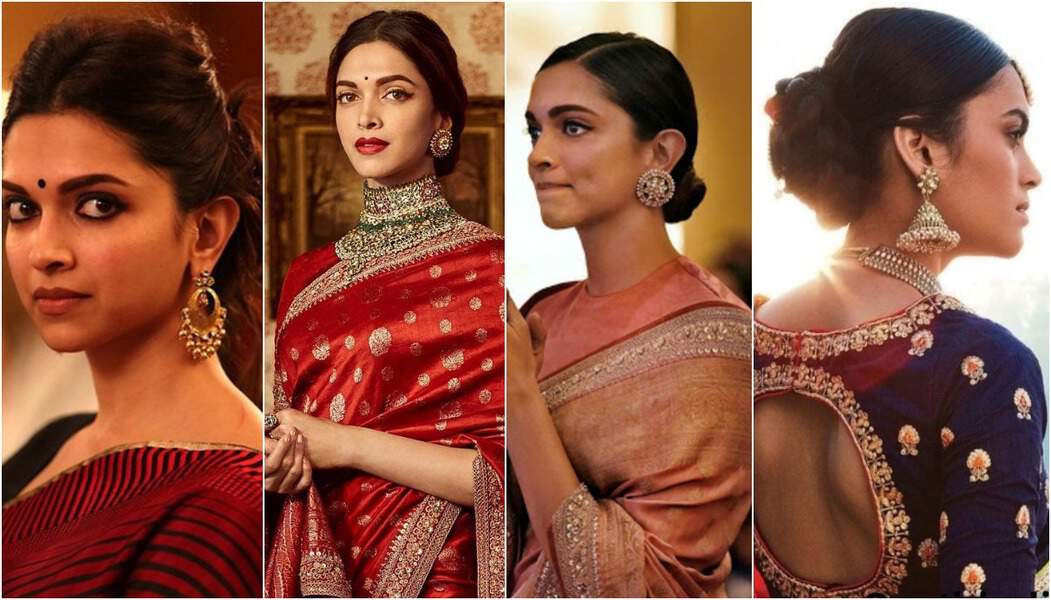 The classic low bun is yet another pattu saree hairstyle that never goes out of trend! A neatly done low bun almost near the nape of the neck is perfect for an ethnic and traditional silk saree look. You can take notes from Deepika Padukone who aces the sleek low bun look every single time! If you wish to keep the focus on your silk saree and temple jewellery, then low buns should be your go-to hairstyle.
Bun with Gajra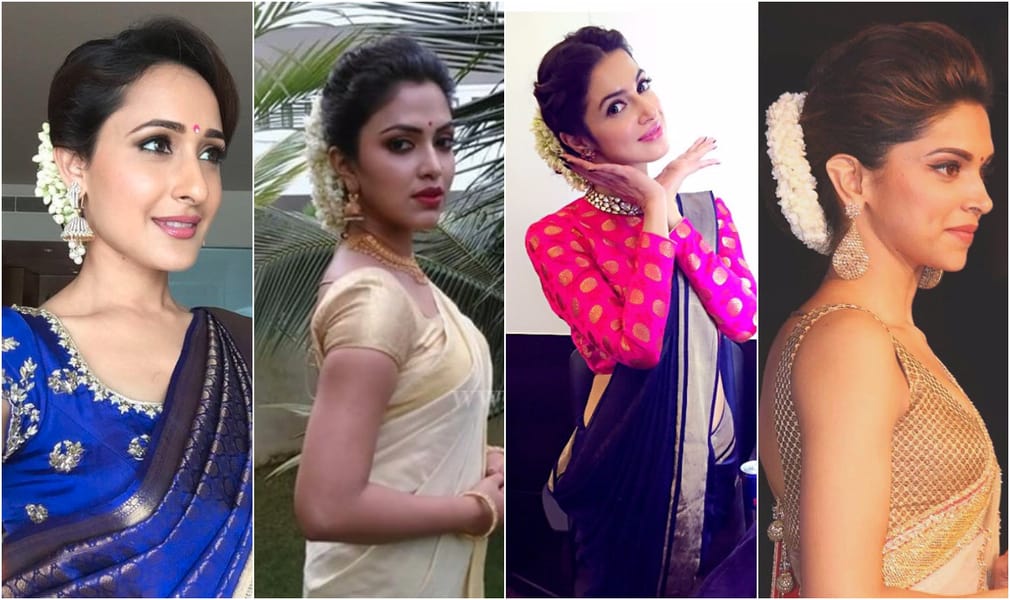 A traditional simple bun with loads of flowers – gajras seems like the most ideal way to dress up in a silk saree. Literally, every celebrity flaunts this pattu saree hairstyle whenever they wear a silk saree. You can style it up by adding a few tiny side braids into the bun. To highlight your look a bit more, wear some bold jhumkas and gajras like Shilpa Shetty and Parineeti. And you will surely be glad to see how traditionally beautiful it looks on you.
Let Down – Loose Curls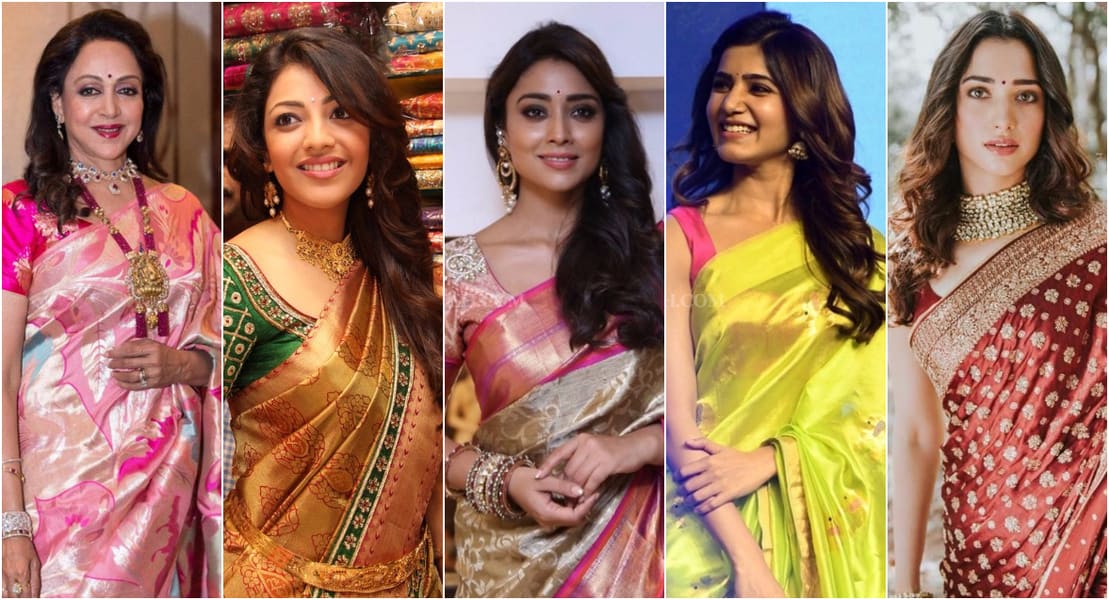 If you would any day prefer letting your hair down rather than trying tricky hairstyles – then do it! Straight hair may hold a special place in your heart, but curls have a beauty of their own. Just add some voluminous beach-y waves or loose curls and you are good to go. You can also make a small puff in the front and let down your hair in curls.
So the next time you wear a silk saree, you have some simple and elegant hairstyles to pick from!