A saree used to be a staple garment earlier with a blouse just serving as an add on the garment but lately, the blouse has taken the center stage and defines the ethnic look completely. Women have started experimenting with blouses teaming them up not just with sarees, but also with lehenga and lehenga skirts, even ditching the dupattas to show off their blouses or cholis thus making them the trendiest accessory of the decade. Chiffon is the best fabric when it comes to experimenting with blouses as the fabric of the saree is light and breezy which helps in highlighting the blouse design in a better way. Thus picking the right chiffon saree blouse design is important.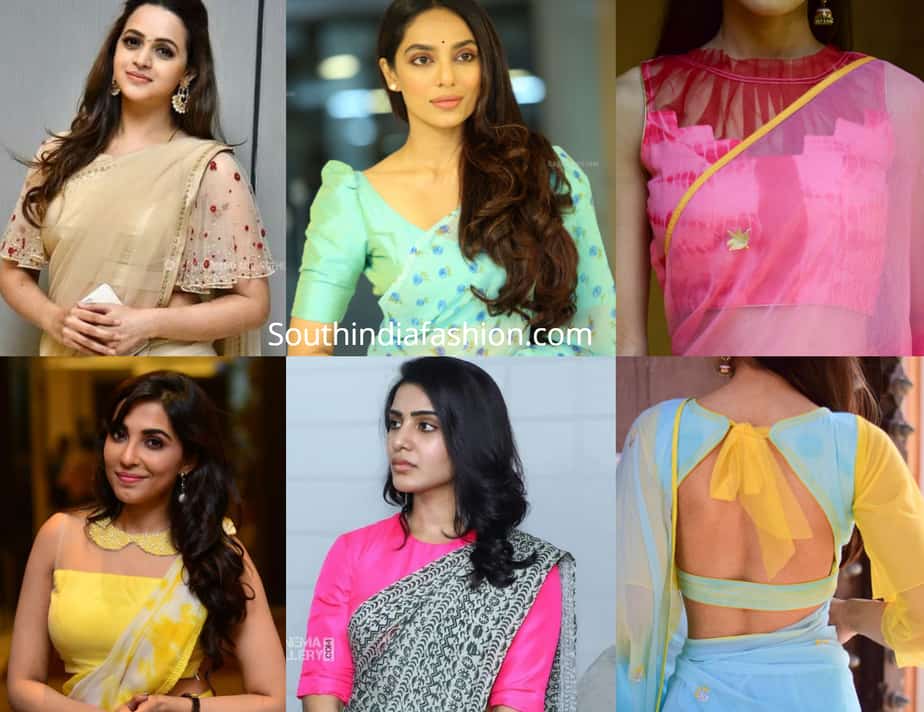 SouthIndiaFashion through this blog looks at 25 trendy Chiffon saree blouse designs that channel out your inner diva and give you a chic and classy look.
1. Elbow Length Puff Sleeves Blouse
Puff sleeves have been an extremely safe choice in South India but the trend has reemerged in a classy way. Blouses with elbow length puff sleeves are the latest rage and give a classy and sophisticated look.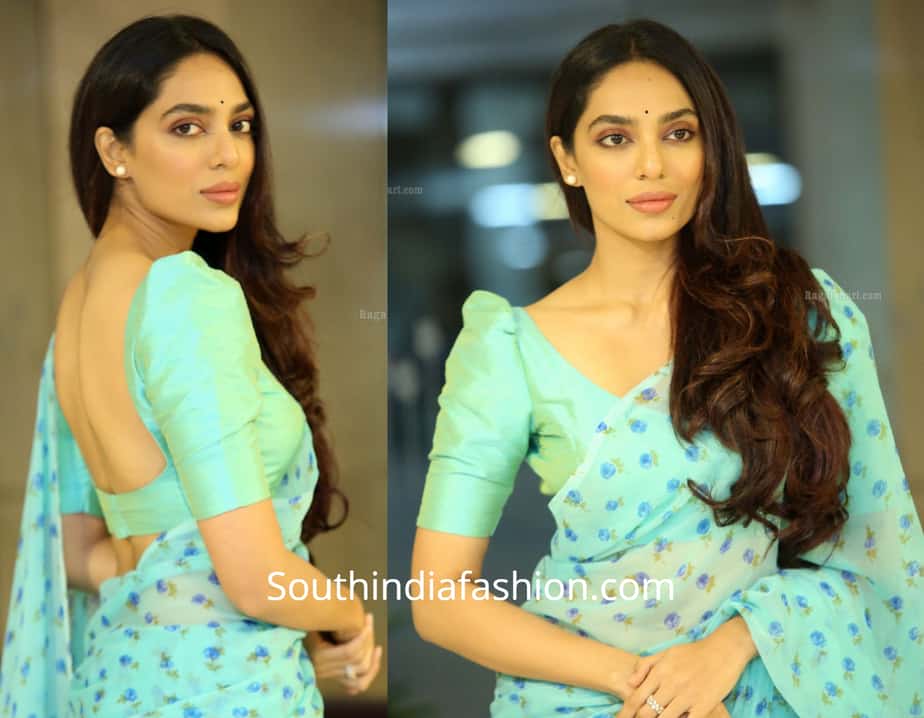 2. Designer Blouse For Plain Chiffon Saree
The raging trend this season is to keep the saree plain and accessorize it with designer blouses that stand out. One can choose stylish sleeves and louder colours to get the desired look.
3. Closed Neck Transparent Sleeves Blouse
A closed neck blouse with transparent sleeves is stylish and feminine at the same time. The closed neck look gives a chic appeal and is appropriate chiffon saree blouse design. The sheer sleeves look great when plain and can also choose a blouse with subtle details of sequin or beads.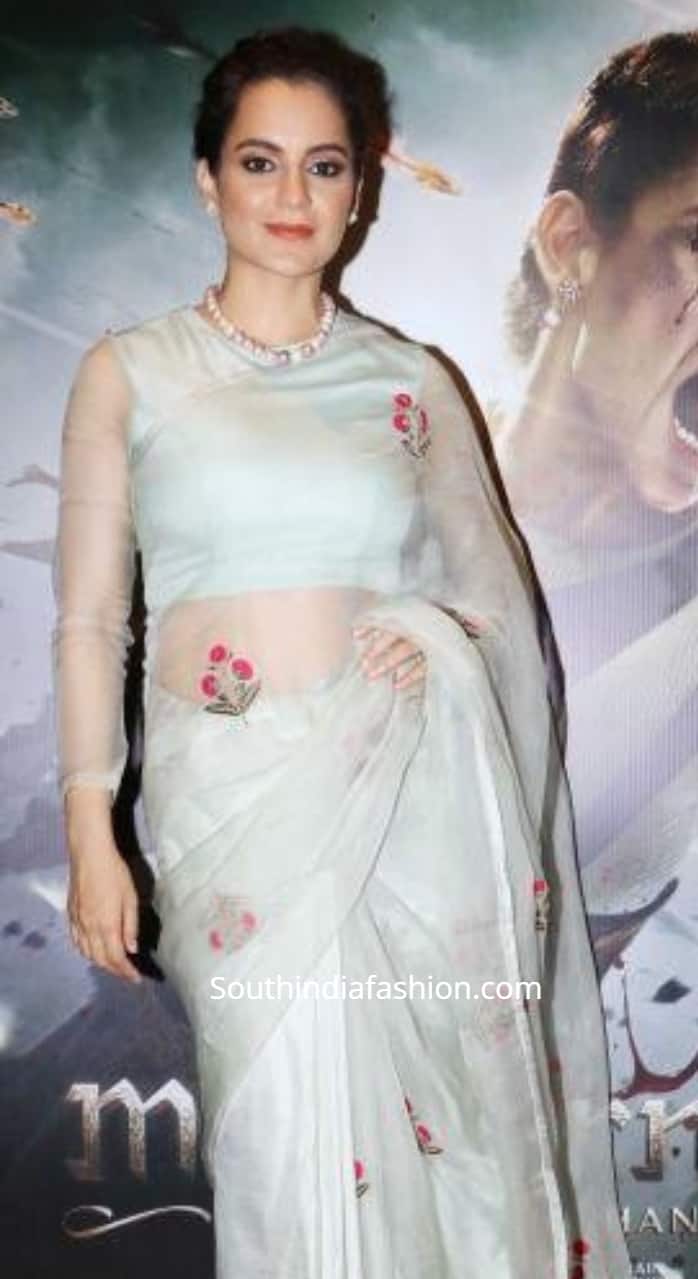 4. Cape Sleeves Blouse Design
Cape sleeves blouse are a great way to create a dramatic look, especially with a light coloured saree. The flowy sleeves with a plain design accentuate the overall look.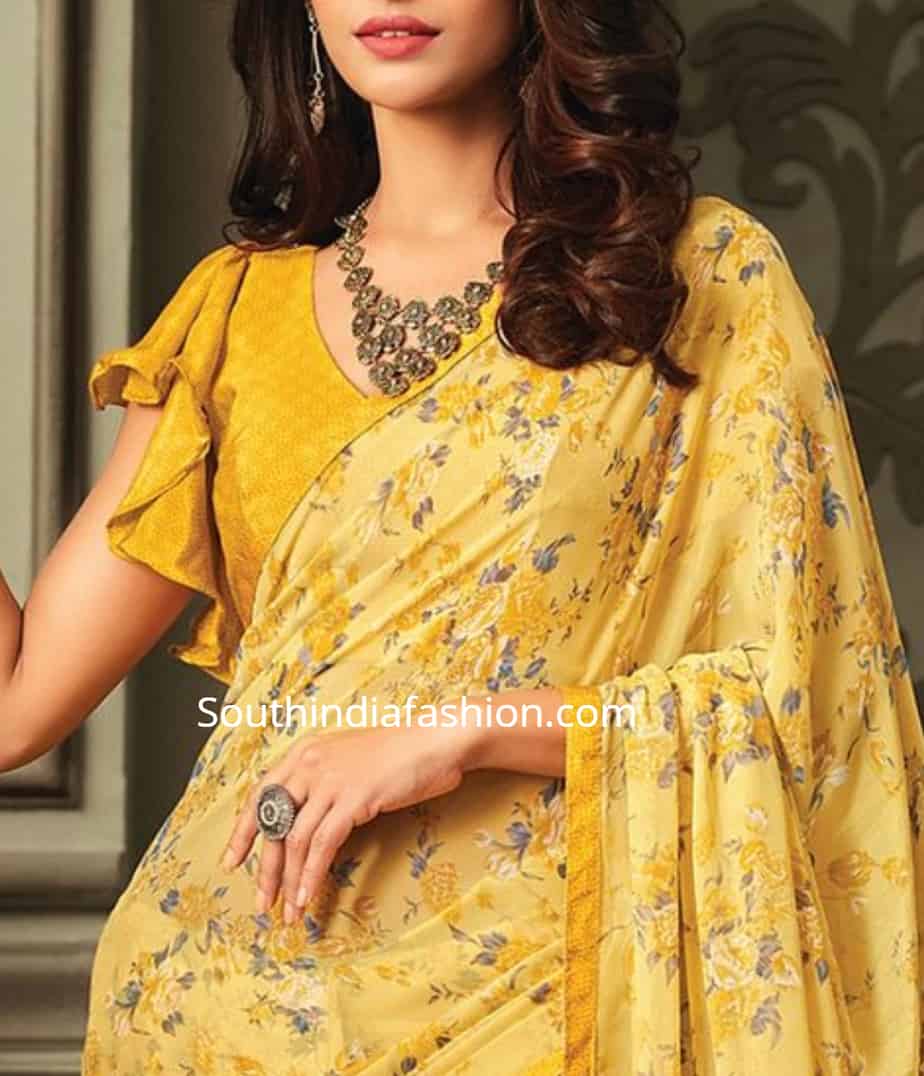 5. Cold Shoulder Blouse With Flared Sleeves
A cold shoulder look is the latest trend that works wonders with flared sleeves and gives a better look especially with a fabric in a solid colour.
6. Halter Neck Blouse
A halter neck design gives a minimalistic party wear look and gives an even better look with a sequined design.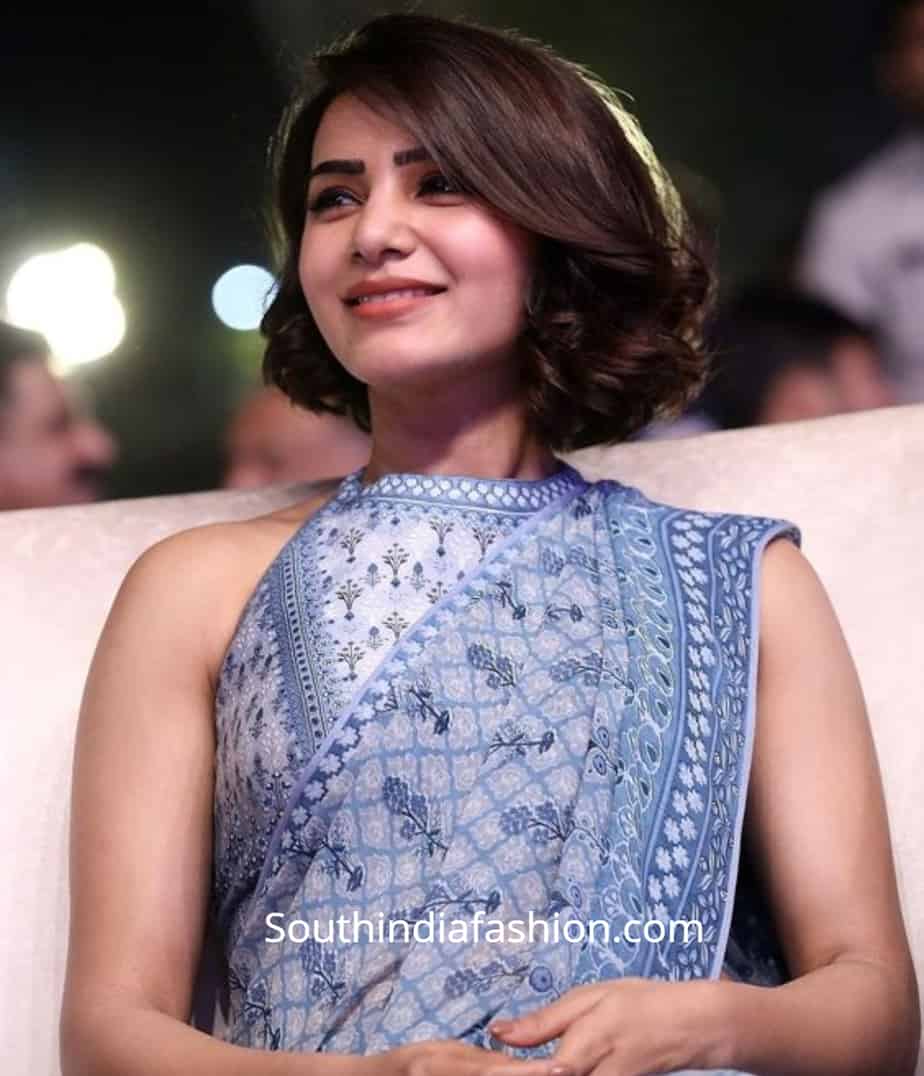 7. Closed Neck Elbow Length Sleeves Blouse
If you desire an understated blouse design with a solid fabric especially when you do not want to look very loud, then this chiffon saree blouse design will work well for you.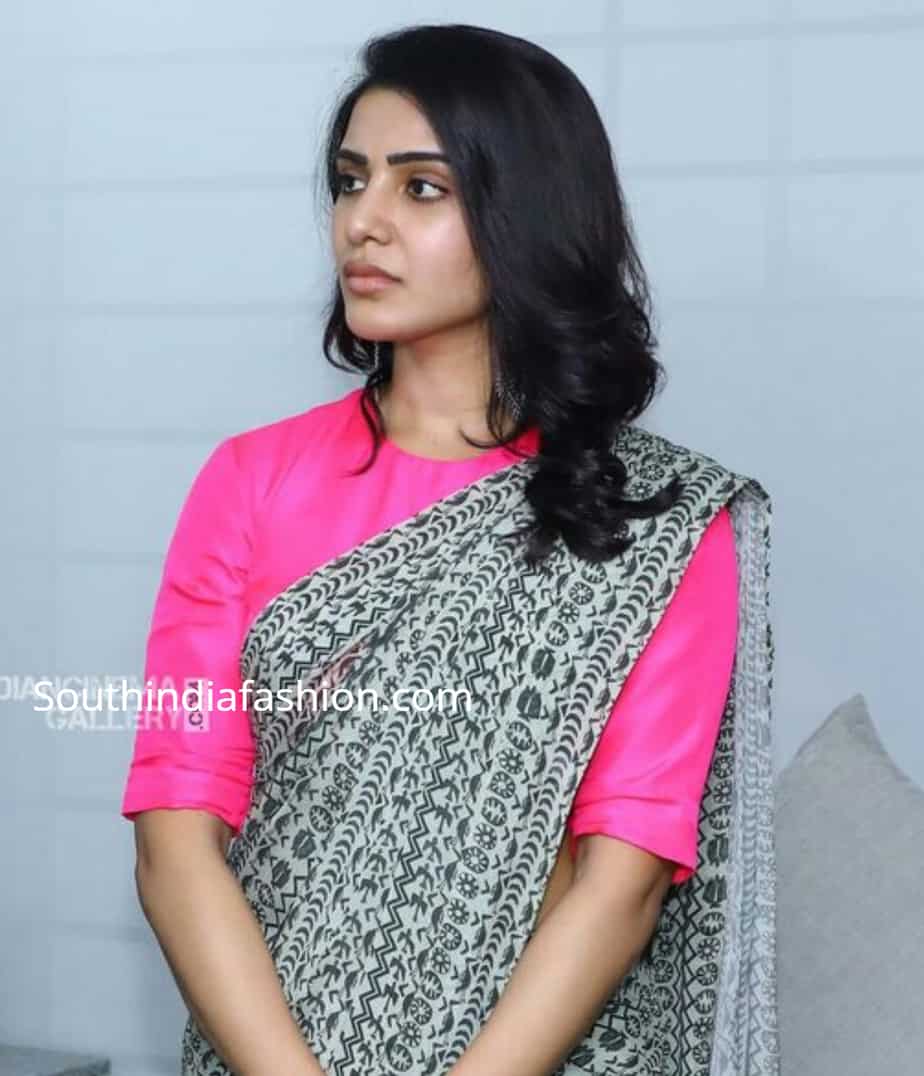 8. Keyhole Cut Out Blouse
A keyhole cut out at the back of a blouse is a perfect way to get a breezy and casual look. Wear this look with a bold accessory and remember to tie up your hair to get the best look.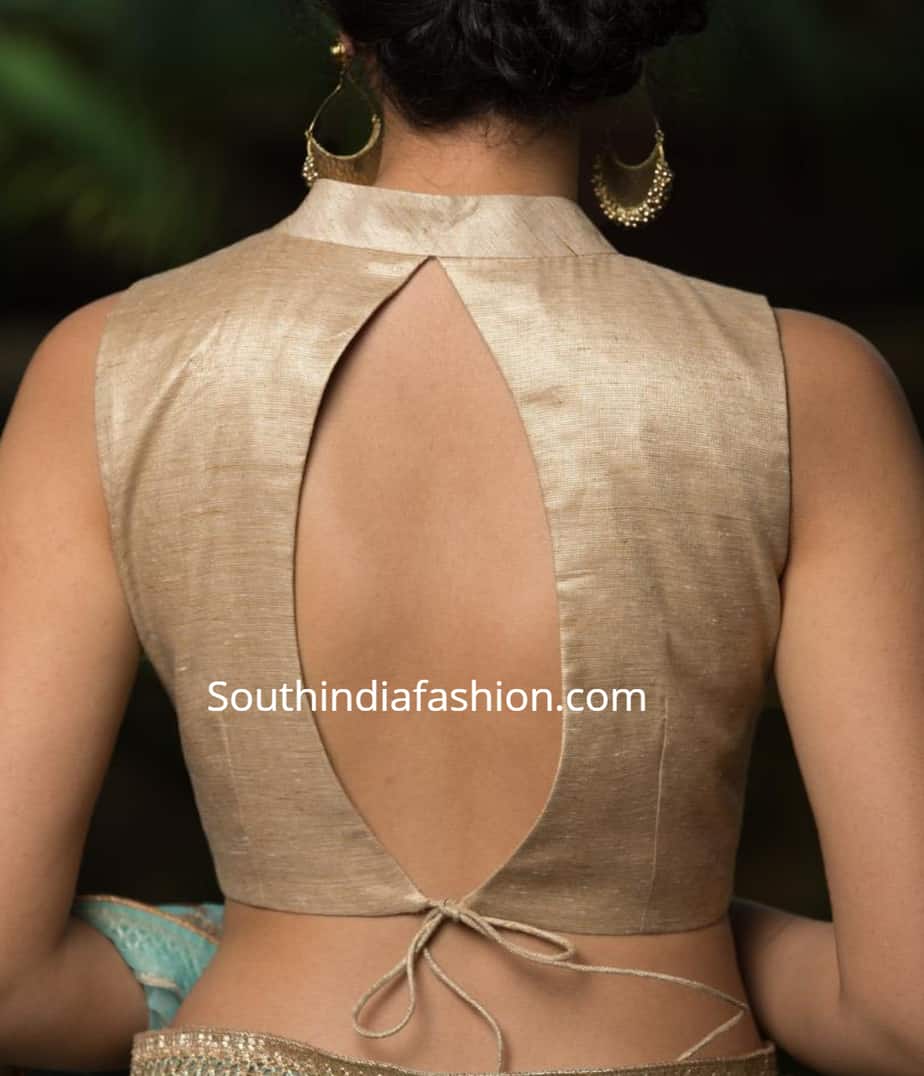 9. Blouse With Frilled Collar Neck and Transparent Sleeves
A frilled collar neck blouse with transparent sleeves is a perfect chiffon saree blouse design that is a perfect evening cocktail look. It doesn't look overstated but is elegant at the same time.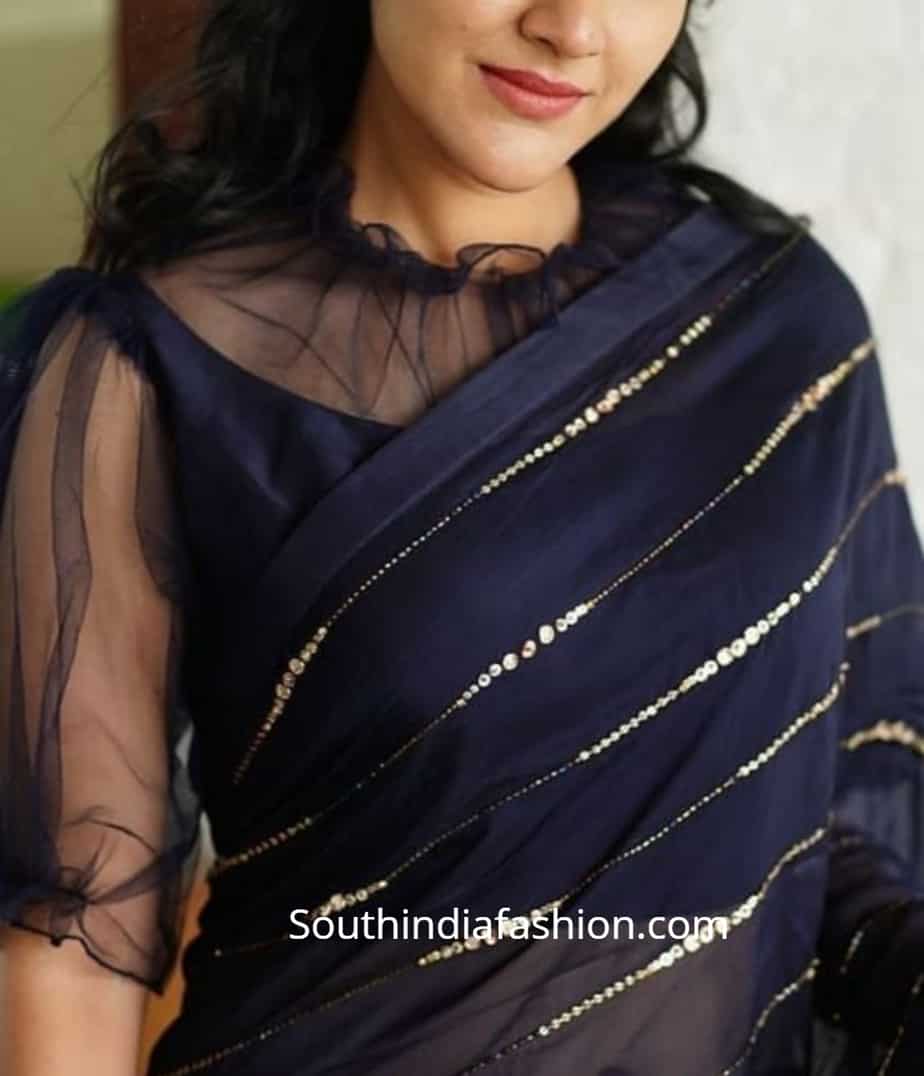 10. Round Neck Elbow Sleeves Blouse
The best thing about a chiffon saree is it gives a very simple and graceful look. A chiffon saree blouse design that you can carry every day is round neck elbow sleeves design which is perfect for a slim body.
11. Turtle Neck Blouse
The turtle neck blouse design is another best chiffon saree blouse design that adds to the style quotient. The turtle neck design gives the blouse a unique look and is perfect for young and trendy women.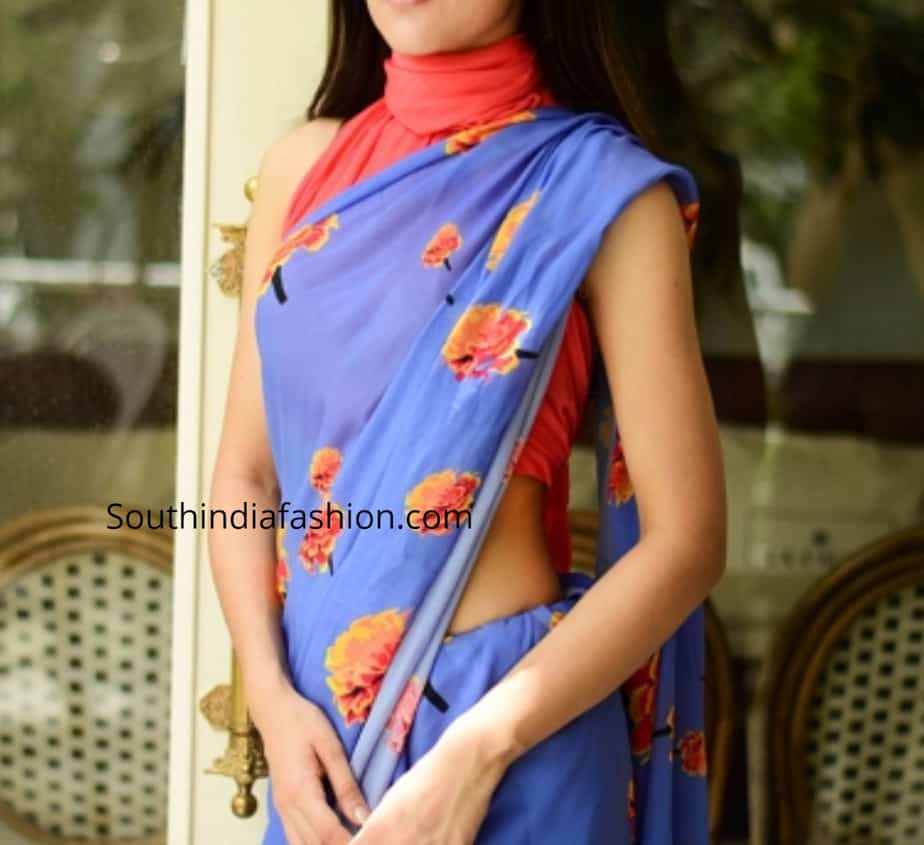 12. Deep Back Neck Blouse With Bow Detail
The stylish back design with the chic bow style is a perfect cocktail look. Keep the colour tone light and breezy with this blouse design.
13. Boat Neck Ruffle Sleeves Blouse Design
The trendiest blouse neck design these days is the boat neck which starts from shoulder and doesn't go deep to the chest line giving an elegant appearance. Such a design looks even better with trendy ruffle sleeves.
14. Frill Collar Blouse Design
A great chiffon saree blouse design that every woman should keep in her wardrobe, the frilled collar neck design will make you look peppy and cool. The closed neck design doesn't need any accessorizing.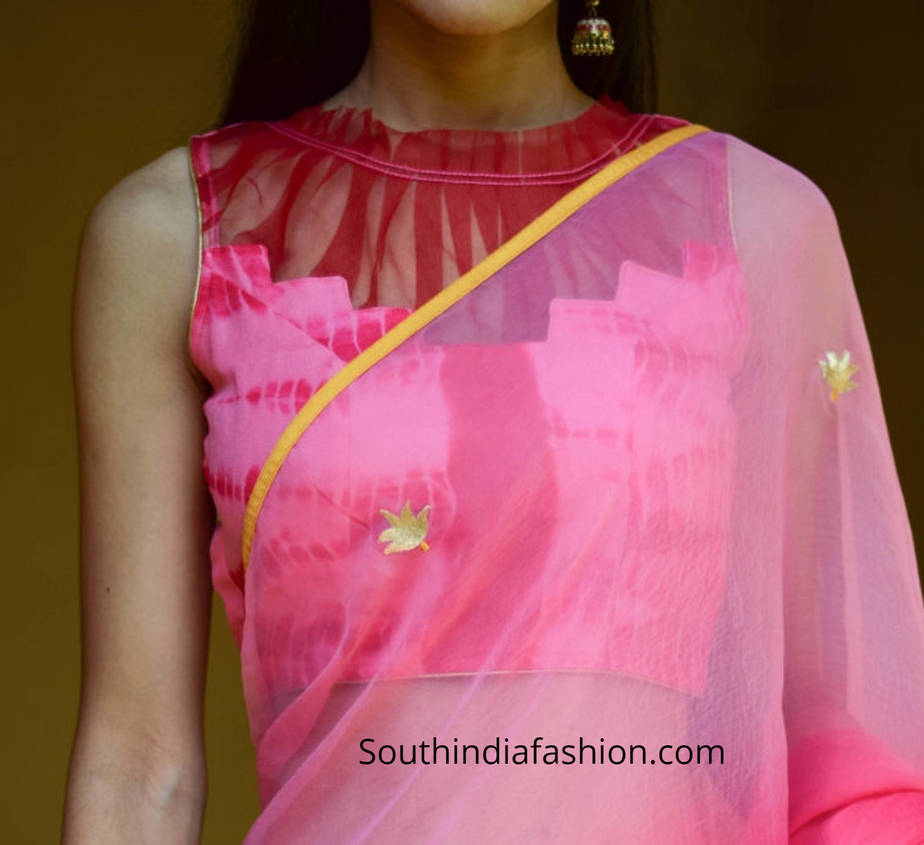 15. Layered Flared Sleeves Blouse Design
Although a sheer flared sleeve design has been a trendy look so far you can take this look further by choosing layered designs with flared sleeves in a blouse. The design looks both modern and elegant.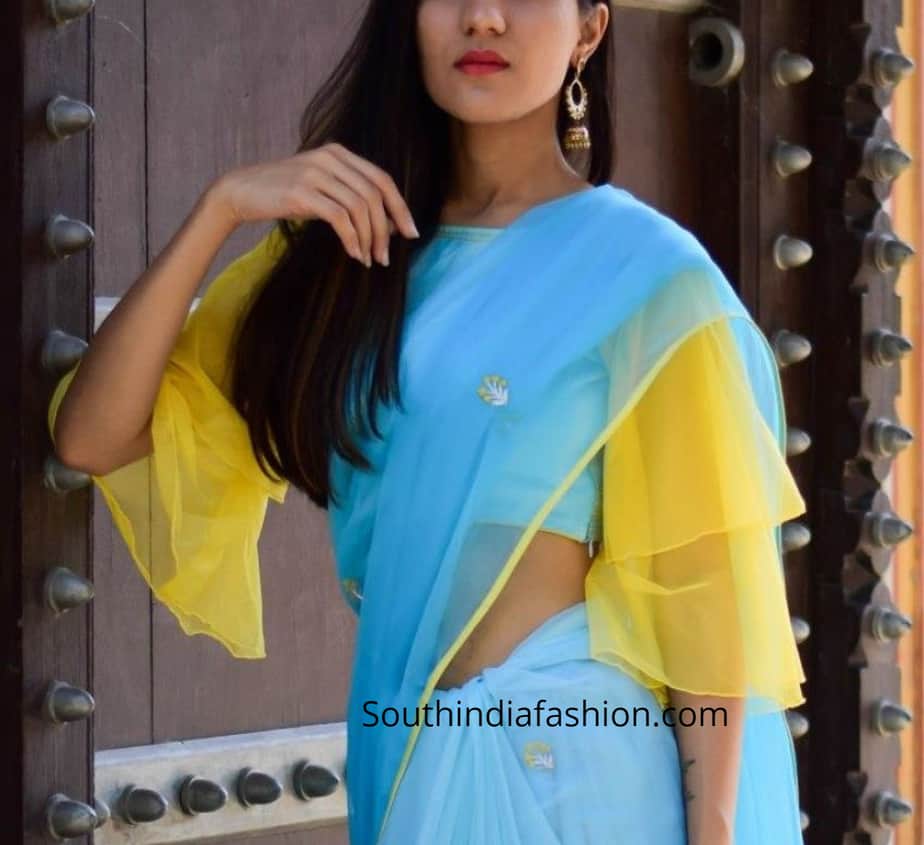 16. Boat Neck Elbow Length Sleeves Blouse
A simple yet charming chiffon saree blouse design is a collar neck look with elbow length sleeves that look good both in the solid fabric as well as in richer blouse designs.
17. Inverted U-Neck with Tie-up Bow
If you want a sensuous, tasteful and classy look with minimal investment, you can choose a blouse with an inverted U neck back and tied up bow. This chiffon saree blouse design is perfect for a day outing or a wedding occasion.
18. Spaghetti Strap Blouse Design
A spaghetti strap blouse is for those women who have a collar bone to die for. The chiffon saree blouse design that is perfect for an evening function or a party. Team this look with a bright necklace and enjoy all the attention that it brings.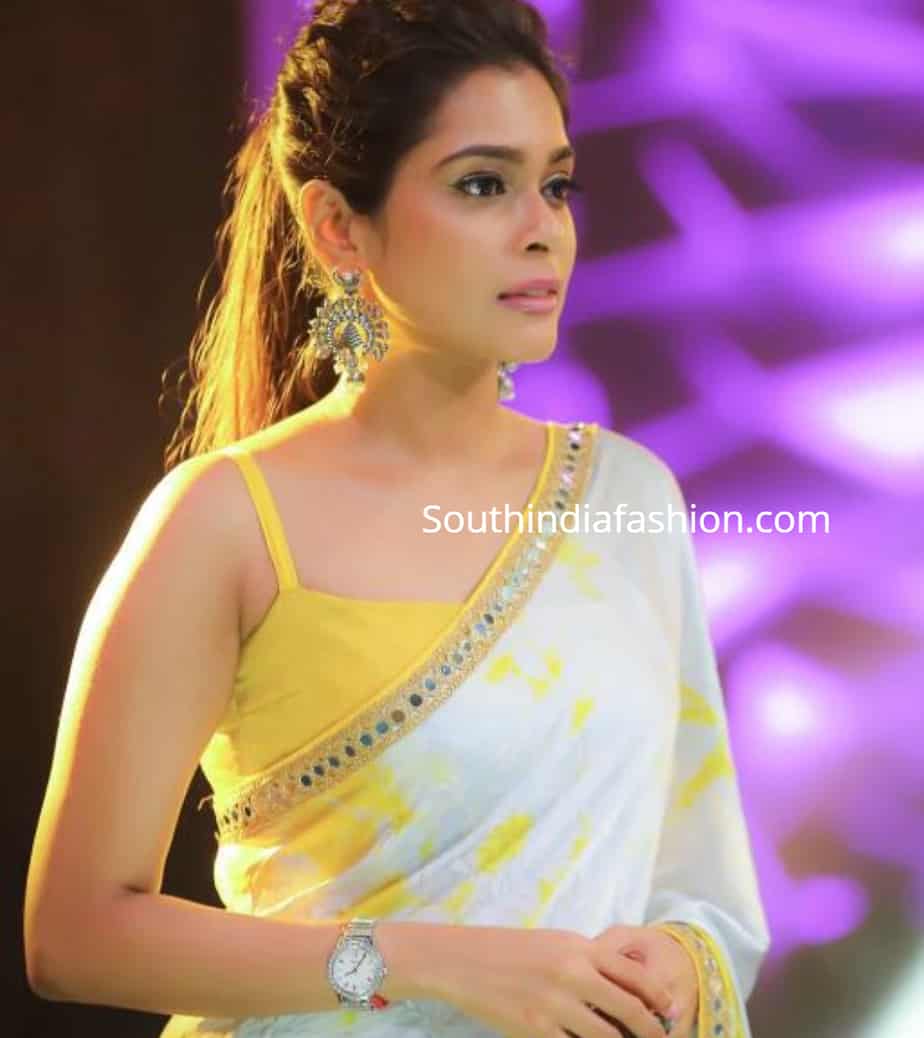 19. Cold Shoulder Full Sleeves Blouse
A cold shoulder blouse design with full sleeves is a very elegant chiffon saree blouse design that looks super elegant and trendy at the same time.
20. Off-Shoulder Long Sleeves Blouse Design
An off shoulder chiffon saree blouse design is for women who stand out and are extremely confident to carry such a look. The sensuous look is perfect for a party or evening gathering.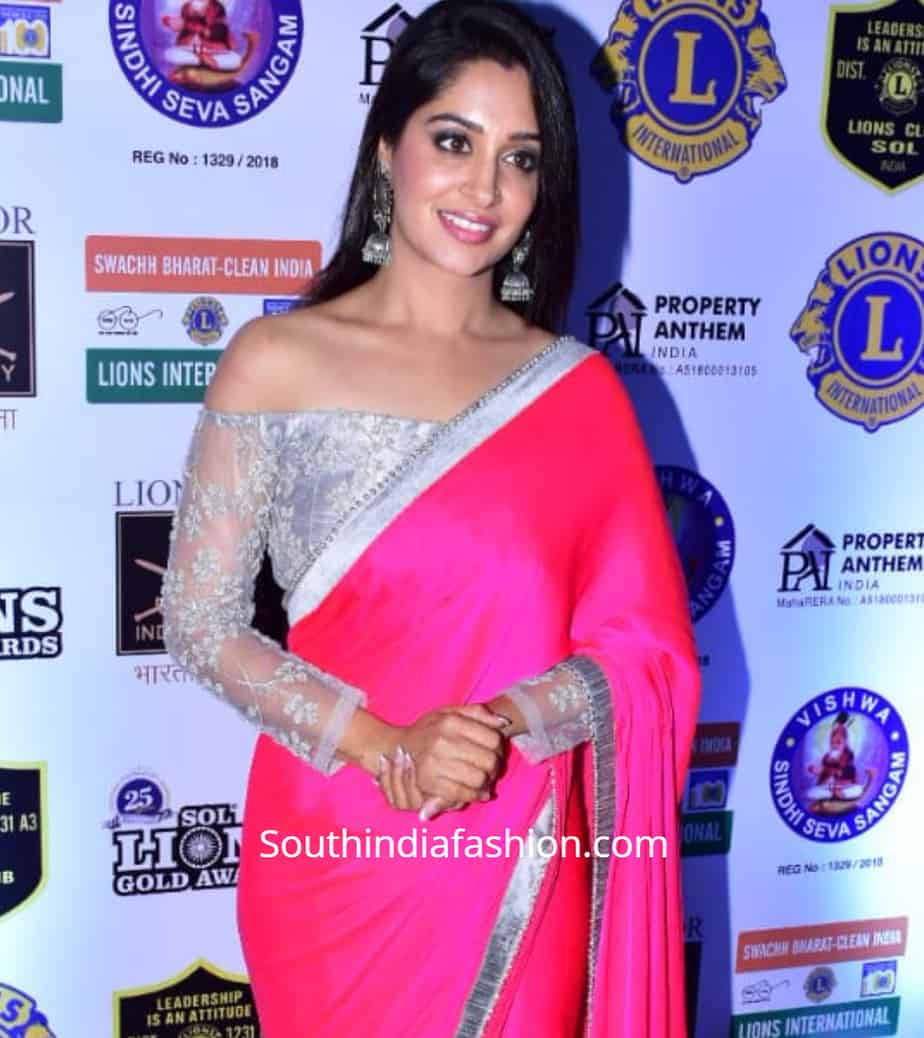 21. Peter Pan Collar Blouse
A very cute blouse design that helps you channelize the kid in you is the Peter Pan collar blouse design. The look is trending these days and it can be worn with a sheer neck to enhance the look.
22. Simple Sleeveless Blouse
The most straightforward look, a sleeveless blouse design never fails to attract attention and looks great with a chiffon saree.
23. Trendy Blouse Design For Chiffon Sarees
Trendy blouse design for chiffon saree is a one shoulder designer strap design that will look great for day occasions and make you stand out in the crowd.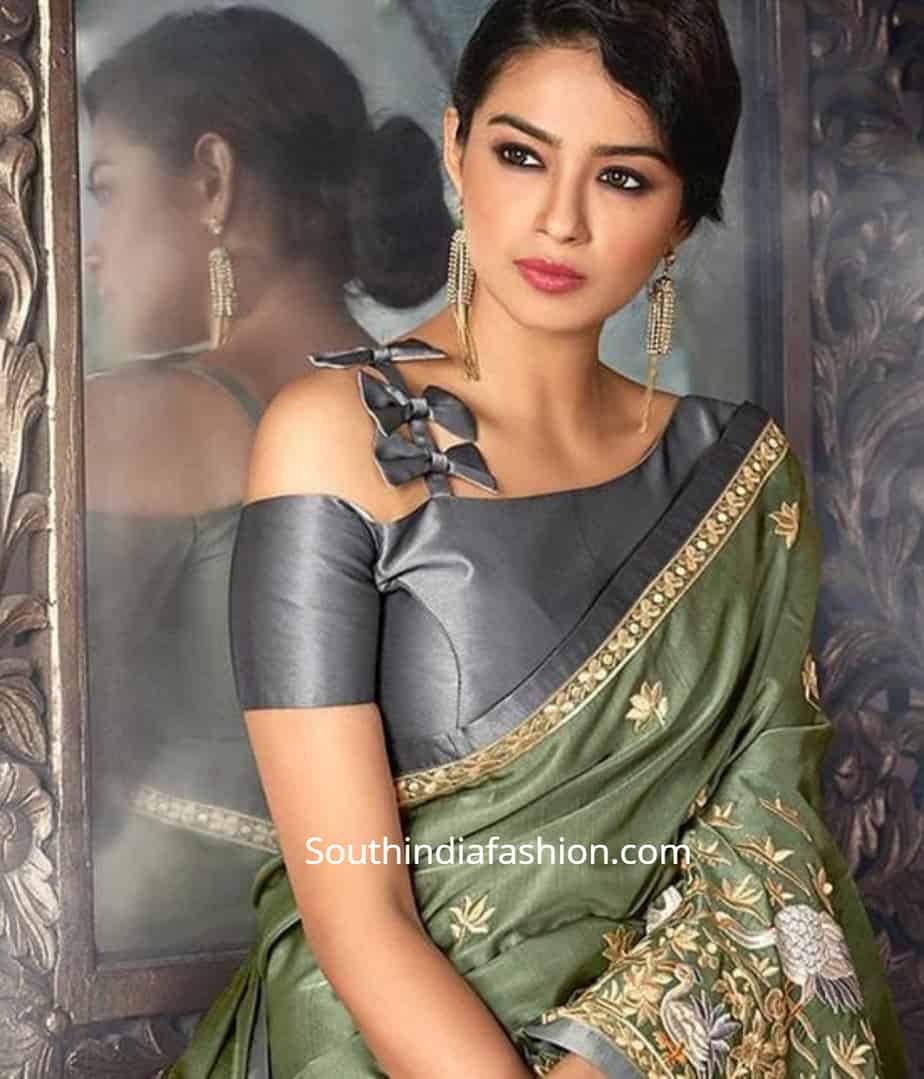 24. Transparent Back Blouse Design
A design that has stayed for long yet never fails to look trendy and stylish is a transparent back design which looks especially stylish with a chiffon saree.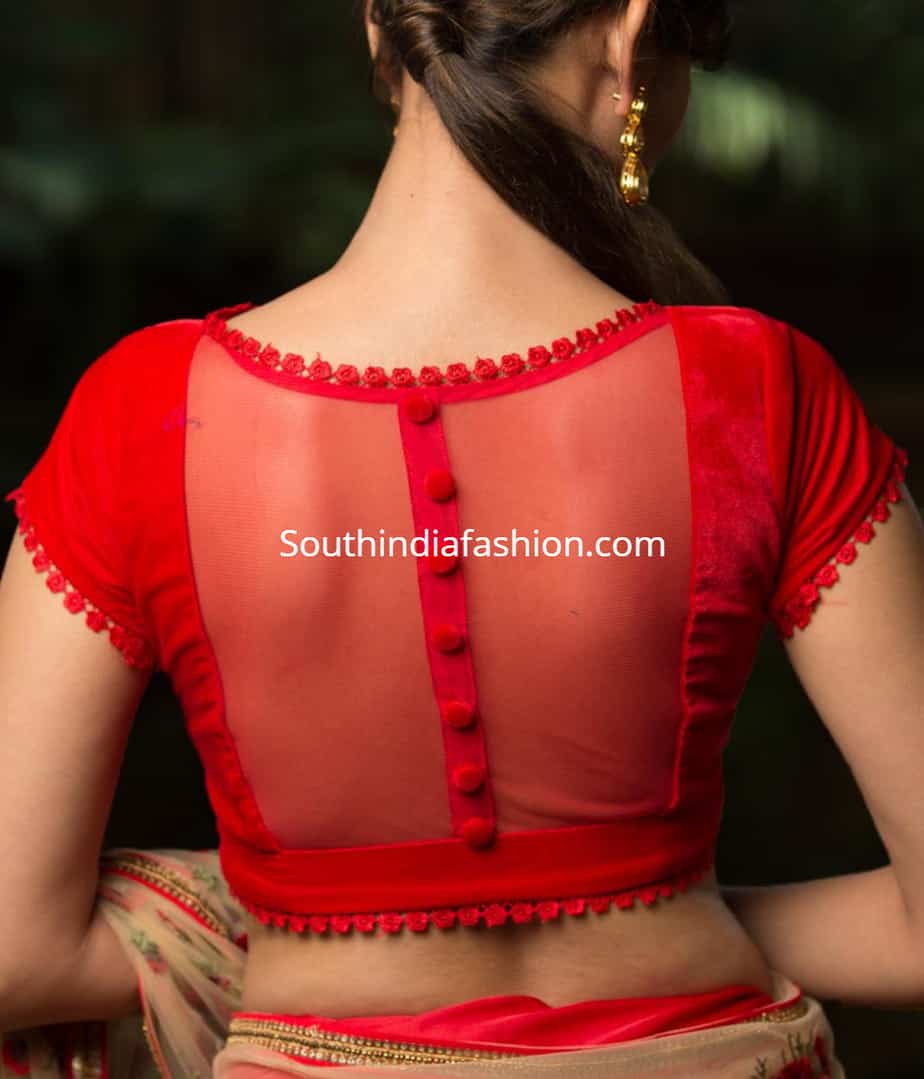 25. Closed Neck full Sleeves Blouse
A classic blouse design that looks retro and classy and gives a perfect look for a day occasion is a closed neck full sleeves blouse design.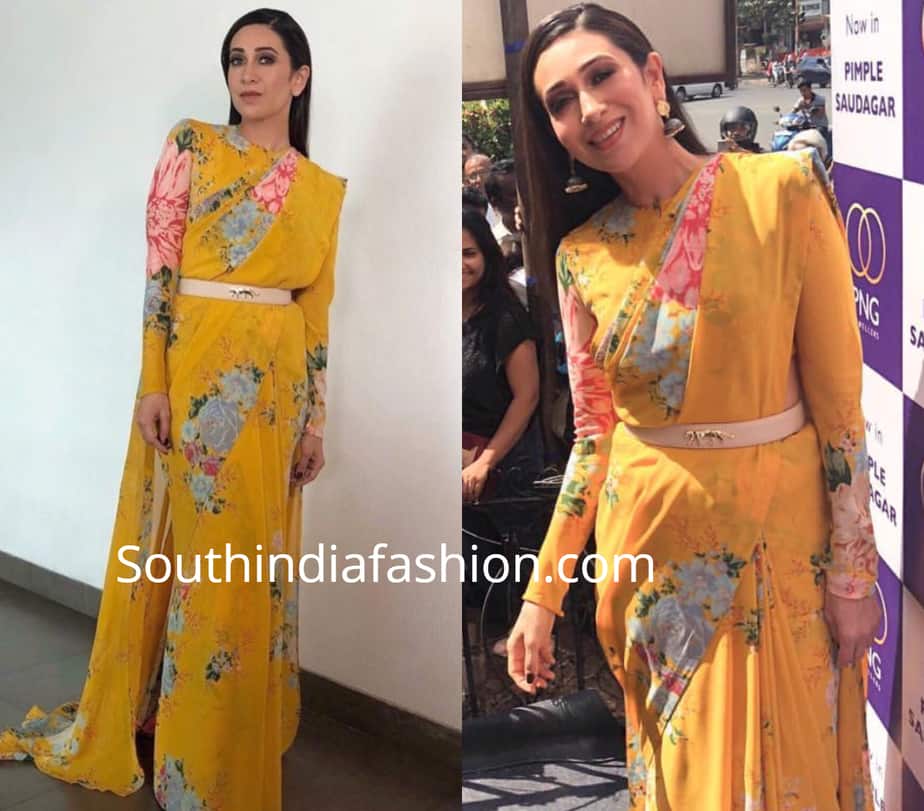 So hopefully you have taken note of all the blouse designs here and will definitely pick a few of these styles for your next outing. Choose the looks that suit you best to give your chiffon saree look an edge with a killer blouse design that will make you stand out and get noticed in a gathering. Also, have a look at the Celebrity Blouse Designs for more into it.
(Shop readymade saree blouses online HERE!)