Festivals are the times when you get to show off your beautiful collection of sarees. Because, there is not another time apt to wear your sarees than an Indian festival. Especially the heavy 9 yard pattu sarees are meant to be worn during festivities. But, a kanchi saree's grandeur is showcased rightly only when it is worn with a proper blouse. For the festivities, you should pick only blouses that are as grand as the saree itself. Featuring some traditional blouse designs that can be paired with pattu sarees..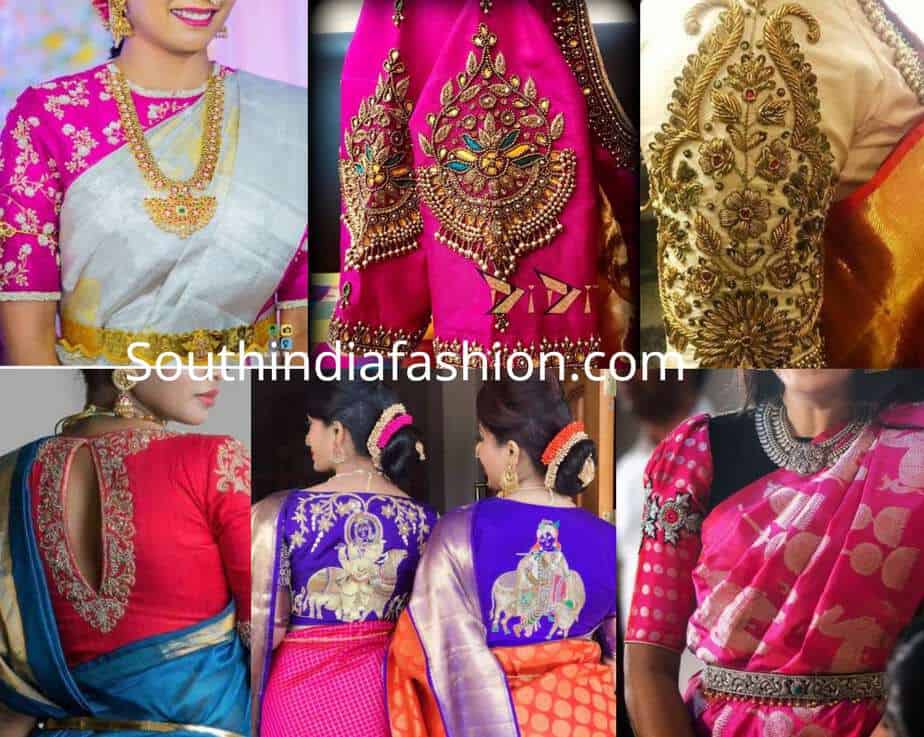 Here are some traditional blouse designs for kanchi sarees:
1. Traditional Blouse Designs With Heavy Work Sleeves
The sleeves are the most prominent part of your blouse that are visible easily. So, they will have to have heavy embroidery if you want a splendid look. Striking thread work or bead work on the sleeves will look attractive and very festive. This is especially suitable for the kanchi silk sarees.

2. Back Design Blouse
These days, it is not just the sleeves or the front that the onlookers observe. So, the back of the blouse is no longer plain like it used to be. Having heavy embroidery work on the back of the blouse is also trending. If you prefer to have back neck work avoid choosing deep neck designs. Let there be a high back blouse which can have all kinds of designs on it.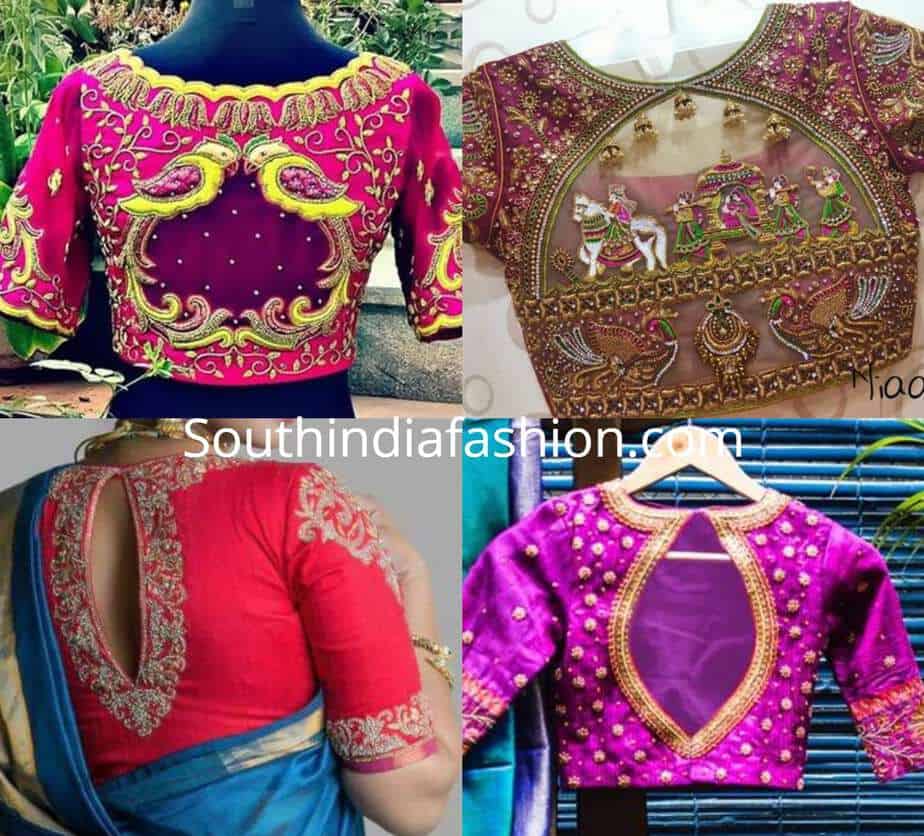 3. Divine Saree Blouse
During the festive season, you can literally wear your gods on your blouse! The designs of Radha Krishna, Parvati, Saraswati and other gods are quite famous when it comes to embroidery of the blouse. These godly prints can be printed or embroidered on the blouse on the sleeves or the back.
4. Contrast Blouse Design
If you want the blouse to dazzle your onlookers, it must be in contrast with your saree. So, if you are wearing a yellow saree, choose a pink or a red blouse. If the saree is blue in colour, opt for green colored blouse. The contrast blouse is very attractive, especially when embellished with stone or bead work.
5. Puff Sleeves Blouse
Puff sleeves is back in fashion this festive season. You can wear your traditional kanchi sarees with puff sleeves traditional blouse designs that have heavy embroidery work all over it. The puff can be too big or very light according to your preference. Below the puff, where the pleats are arranged, the embroidery work can be done to make the blouse attractive.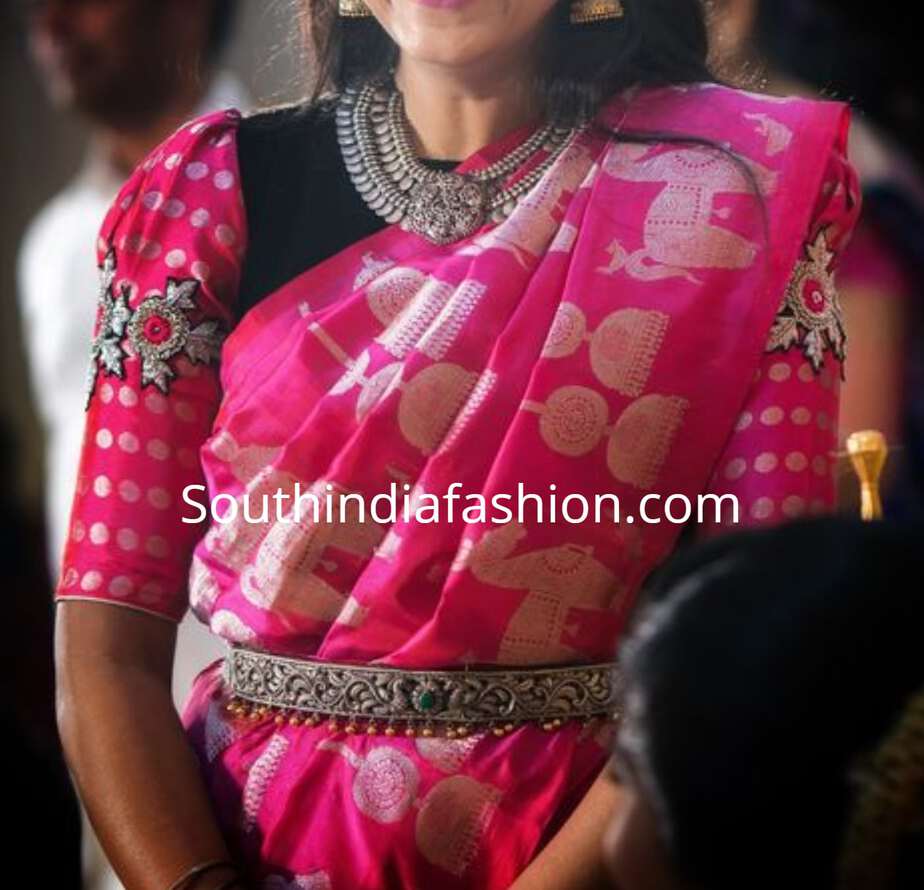 6. Blouse With Gold Embellishments
Gold is a colour of royalty and festivity. This festive season, when you want your look to be regal, you can opt for blouses that have gold beads, coins or tassels on them. These blouses go very well with any kanchi saree.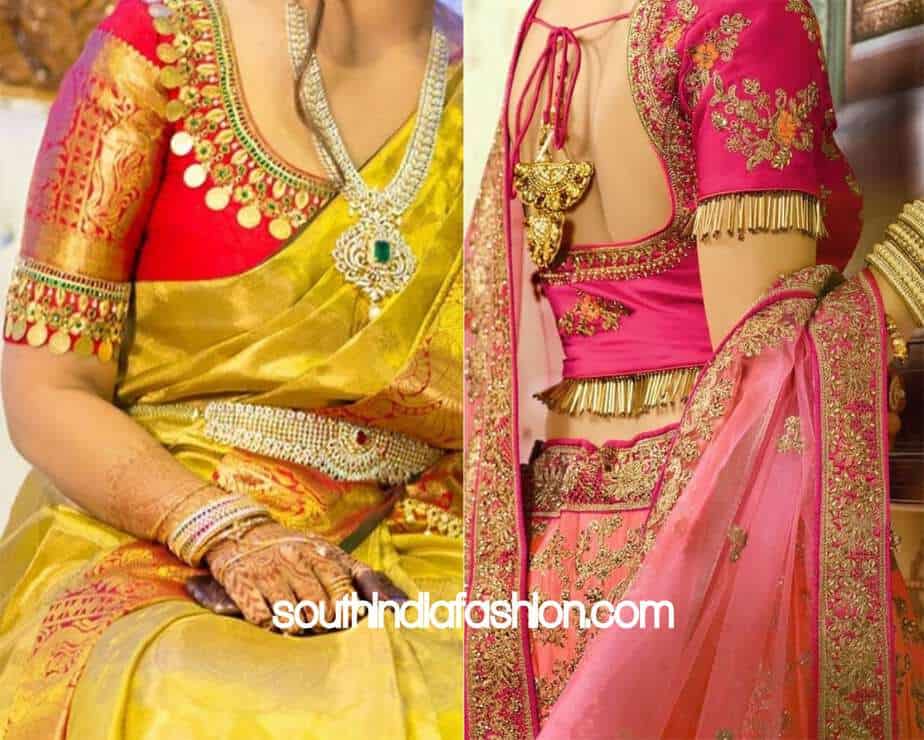 These are some of the festive blouses that you can wear with your kanchi silk saree.[amazon box="B00O7NQOAG"]