What formal saree blouse designs are trending and how to give a formal saree the edge of elegance with decent office wear saree blouse designs? We love sarees and it is the most popular attire in the category of popular office wears in India.  The extra edge of ethnic appeal along with pleasing elegance of saree helps in keeping the Indian vibes intact. However, without a sophisticated matching professional blouse design, gaining the appropriate look of formal saree is not possible. Here, it is important that while choosing the latest design of blouse, the element of maintaining decorum of official wears is the key point to notice. Too fancy blouse designs comes with open threat of ending up the elegance of saree and on the other hand simple blouse designs may seems boring to try.
To help you find a middle way in between simple and fancy, we have come up with selective formal saree blouse designs. You can pair these latest blouse designs for office wear sarees to lock the look with grace and style.
Collar Neck Blouse Designs for office sarees – formal saree blouse designs to style with everyday work wear sarees
Undoubtedly, this is one of the most popular types of office wear saree blouse designs. There are many variations of collar neck blouses to experiment from Chinese collar, Peter Pan collar, collar blouse with keyhole designs, butterfly collar and many more.
Shop collar neck office wear blouses online HERE!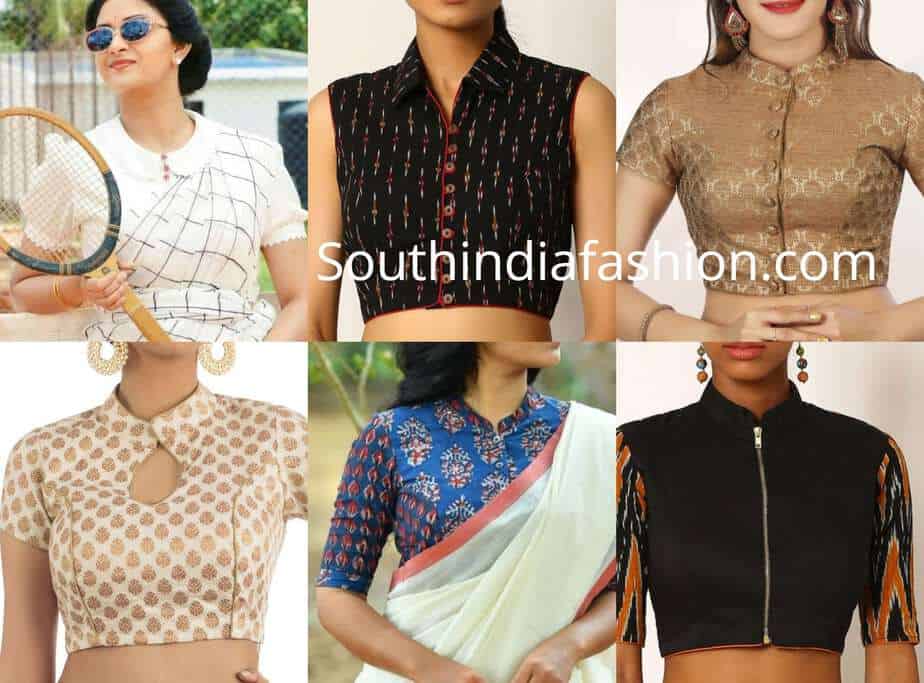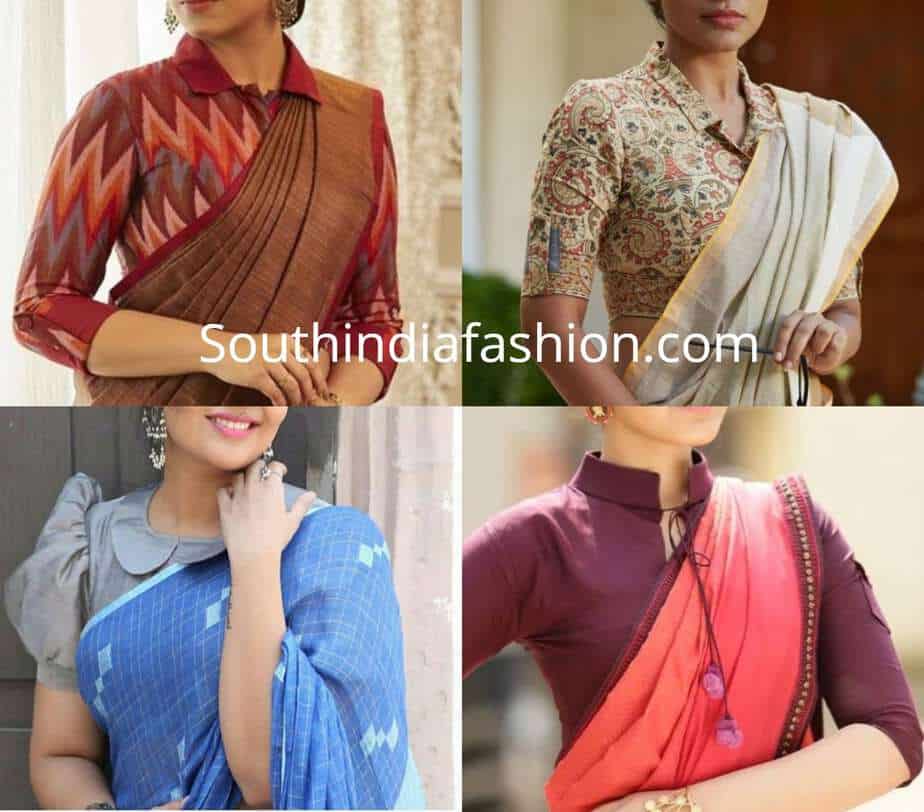 Boat Neck Blouse Designs for Office Wear Sarees – formal saree blouse designs to lock sophisticate office wear saree look!
Style with elegance is what you can get in one go with boat neck blouse designs for office wear sarees. Just make sure to not get charmed with embellished boarders or crystal work on formal office wear blouses. Adding to it, you can define your style statement with simple printed blouse with boat neck to pair office wear sarees.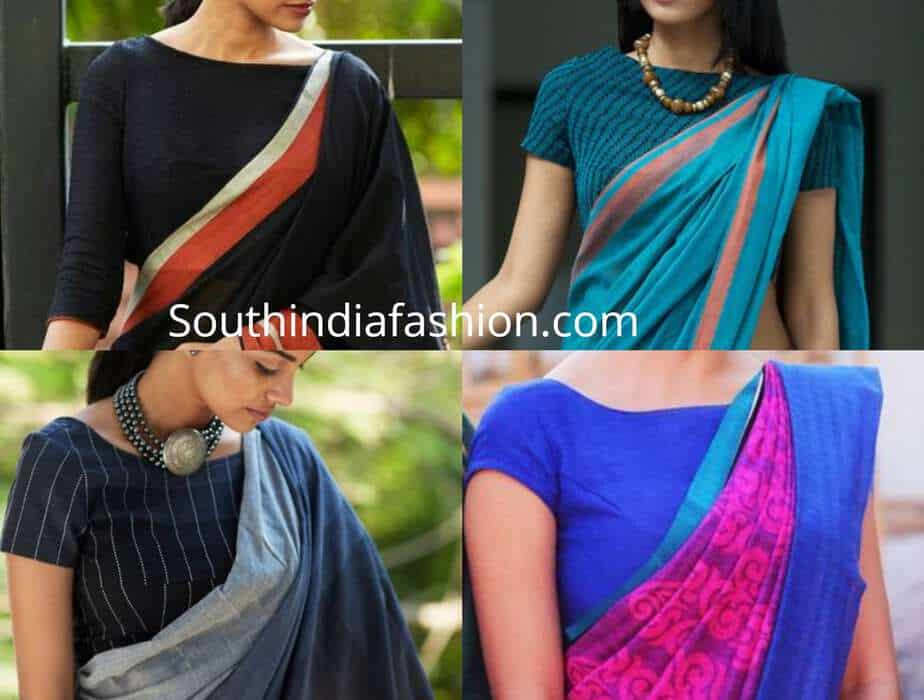 Simple U and V Neck Blouse patterns – Easy and evergreen choices for office wear sarees
The old school designs of simple U and V neck blouses are still in trend. However, there is a lot of scope to experiment with sleeves and back portion of the blouses.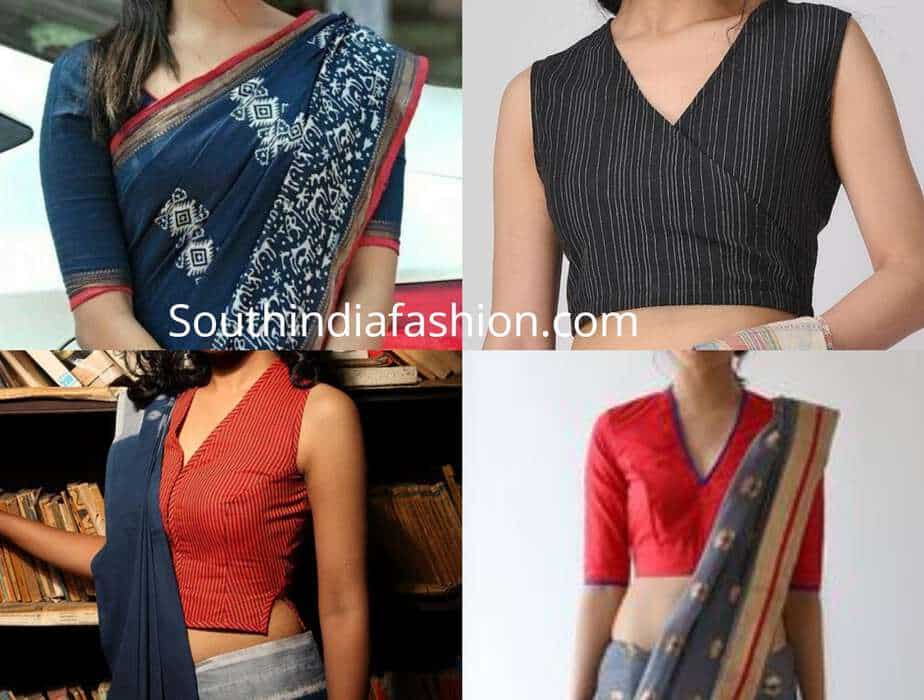 Some tips to note to get right formal office wear saree blouse designs:
Choose right fabric that is comfortable and breezy for long work hours. Try kalamkari, cotton and denim fabric.
Avoid choosing deep neckline cuts that may make you feel conscious during work hours.
Don't follow any trending office wear saree blouse designs blindly to look fashionable unless you are easy to carry it elegantly in your work place. (As no one likes adjusting saree or blouse in between work)
If you are bored with regular cut sleeves or sleeveless patterns, experiment with half sleeves or 3/4th sleeves blouse designs.
And, don't forget to accessorize your complete look with complementing office wear jewellery pieces.
So, choose a right formal wear saree and pair it with stylish yet elegant blouse to get the office ready look. Hope you got many ideas to bright up your work wear sarees with these latest formal office wear saree blouse designs.