Traditional outfits have a polished and elegant look while western ones give contemporary and fashion-forward vibes. So a mash-up of the two is always a winner. Indo western blouses are perfect for the modern woman who wants to look trendy and in vogue but also still embraces her roots. Take a look at some unique blouse designs with western elements that can transform you and your saree.
Indo Western Blouses:
1. Off-Shoulder Blouses
Lately, off-shoulder silhouettes have been all the rage in the world of fashion. Whether they're full-sleeved, short or ruffled, these bardot style blouses are the perfect way to make a statement. Being off-the-shoulder, these blouses are also the perfect excuse to accessorize with a huge neck pieces.
2. Collared Blouses
Up your style quotient with the latest trend in blouses – collars. From mandarin and peter pan to turtleneck, the options are endless. And anyone can pull off this blouse trend with ease.
3. Bralette Blouses
Spice up your saree by pairing it with a bralette blouse. This daring trend is the way to go for fans of fusion wear. You can keep your saree really simple and pair it with an embellished bralette or vice versa to nail this look.
4. Halterneck Blouses
Halterneck backless blouses show the right amount of skin and are a must-have for every fashionista. These indo western blouses work well with any type of saree and are extremely flattering for all irrespective of their body type.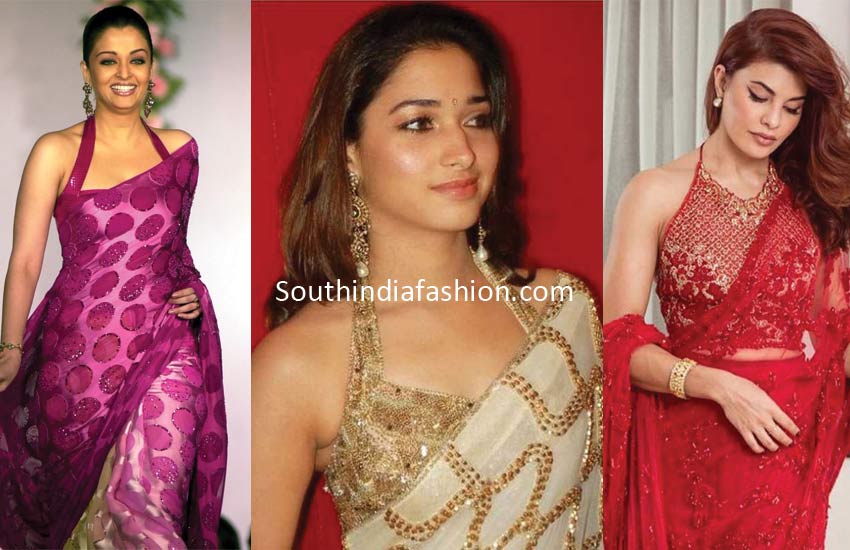 5. Sheer Blouses
Blouses with sheer panels or sheer sleeves are yet another wardrobe staple for every woman. This peekaboo style is perfect for someone who wants to make a bold statement but without revealing too much skin. Blouses that have a see-through panel at the back are also good options to go for.
6. Fringed Blouses
Add a bohemian touch to your sarees by pairing them with fringed blouses. Whether there's fringe details on the sleeve, hemline, neckline or all over the blouse, this trend is an essential for this season.
7. Strapless Blouses
Tubed or strapless bustier style blouses are barely a new trend. Celebs have been loving them and sporting them for ages. But these indo western blouses are the perfect match for all your cocktail sarees.
8. One-Sleeve Asymmetrical Blouses
Asymmetrical silhouettes never fail to give a bold and striking edge to your look. They were quite the trend during the 90s and early 2000s and now they're back and bigger than ever. Quirky and edgy, it's a great blouse trend to try for the summer.
9. Cold Shoulder Blouses
This blouse design has been ruling fashion runways recently and it comes as no surprise. Shoulder cut-outs are an ideal way to add that oomph to your saree look. Anyone who's conscious about their arms can definitely rock this look as only a bit of the shoulder is exposed.
10. Corset Blouses
Accentuate your curves with this fab trend. The Victorian era was a splendid time in terms of fashion and that's where this trend draws inspiration from. The indo western blouses are form-fitting, very ladylike and the go-to fusion wear blouse.