Net pattern blouses are becoming quite popular these days. From mixing fabrics, textures and adding layers to your outfits with the classic net adds a very graceful and dressy touch. This style is an ideal choice for parties and functions and are best suitable with designer sarees. These stylish net blouse designs can instantly be carried from day to night and can be flaunted by anyone. Read more to know why net is the fabric of the season and some design inspiration for net saree blouses.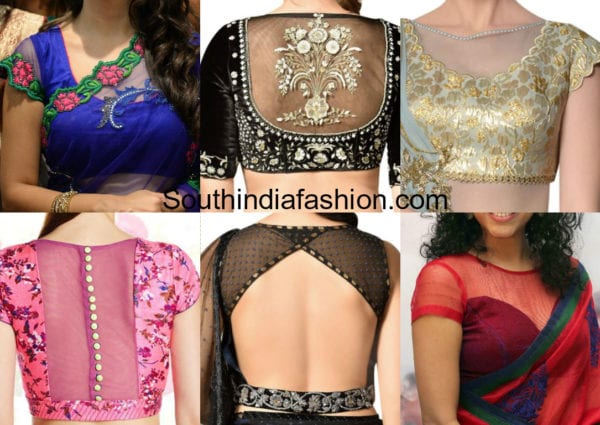 If you are one of those who love to show a sneak peek of your skin and yet flaunt a modest blouse design, then the classic net blouse design is sure to help you achieve the look. This style also allows you to try out various designs giving you a good grip thus making you feel comfortable at the same time.
Net cut-out patterns, embellishments on the delicate fabric, concept embroidery and various other intricate patterns look beautiful with the classic net. Create high or low neck designs with the stunning net fabrics and play with the lining to create stylish different patterns.
From office wear to night parties and day weddings, the net blouses are an instant head turner and can be a statement in your saree look. Simply leave it plain and patch it up instead of showing off your back neck. You could also embellish with embroidery or motifs to jazz up for a function look.
These net pattern blouses are super versatile, trendy and will never go out of style. So whatever the occasion maybe, there is a net pattern blouse design to suit every age and style. They help you to jazz up any saree with their dressy look. So go ahead and make a lasting impression with the trendy net pattern blouse designs.