Draping a saree is no longer restricted to being traditional or modest. With the right styling, any party or wedding reception can be overwhelmed with the glamorous look of sarees. It is super fun and easy to self style the stunning designer sarees with trendy blouses and glam up your desi look. Blouses play a major role in the appearance of the person wearing. This article is for all you glamorous divas who love to experiment with the timeless classic and trendy sheer black blouse designs.
Sheer black blouses make a perfect option for party wear and are the ideal choice for anyone who want to look trendy yet modest. So if you want to show a sneak peek of your skin and make heads turn with a modest blouse design, then these blouse designs are sure to help you achieve the look. Read more to know why a sheer black blouse is an ultimate party essential this season.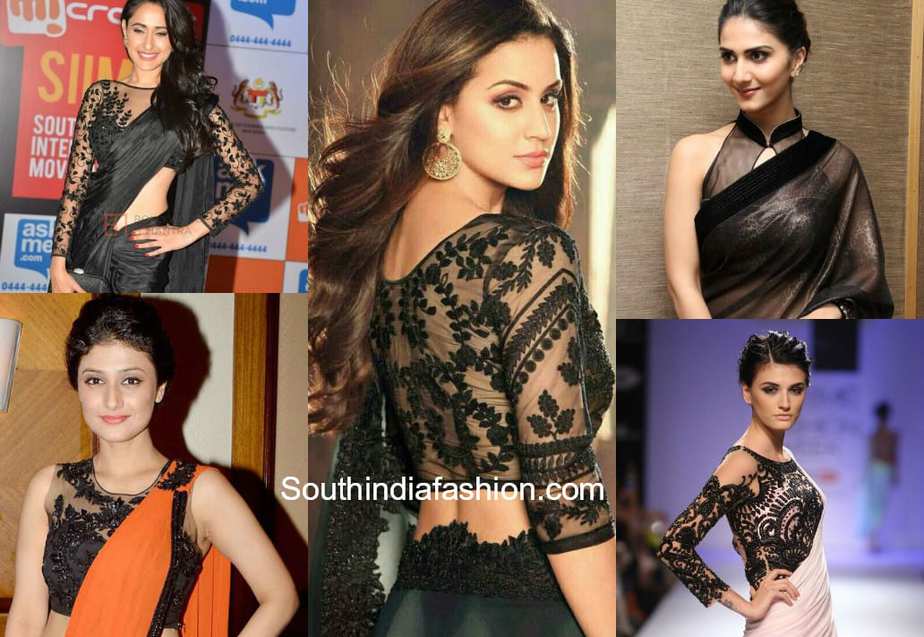 Design your black blouses with a touch of lace and net on the black neck or sleeves. Playing with different textures and fabrics will give an interesting look to your black blouses. Enhance your sheer black blouse with bow ties, skip the lining to create an interesting design or simply just go with bold cut-outs on the back neck and cover it with sheer for a sophisticated look.
A sheer net blouses looks fabulous with almost every other saree. From stunning black sarees to vibrant hues or even a black or a white saree goes well with a sheer blouse. You can instantly dress up or down in a sheer black saree blouse. The versatility of this blouse will only leave you impressed and others staring. The sheer blouses allow you to experiment in numerous designs. Deep cut-outs, embroidery designs, collars, halter necks, sheer sleeves and many versatile designs can designed with a black sheer blouse.
Black sheer saree blouses look even more stylish when they are worn the right way. So from classy modern styles to stunning glamorous looks, flaunt your best saree looks with black saree blouses.