Doesn't everyone have a brilliant white saree? Be it heavy designer sarees , pattu sarees, a white saree is a must have. Each time we choose to wear one of the whites we can change the look by the blouse options that we pick. When we pair white sarees with different color blouses it gives a whole new look. Let us see the top 10 blouse options for your white sarees. You can choose from silk cotton blouses to rich brocade blouses or go for the heavy designer blouses.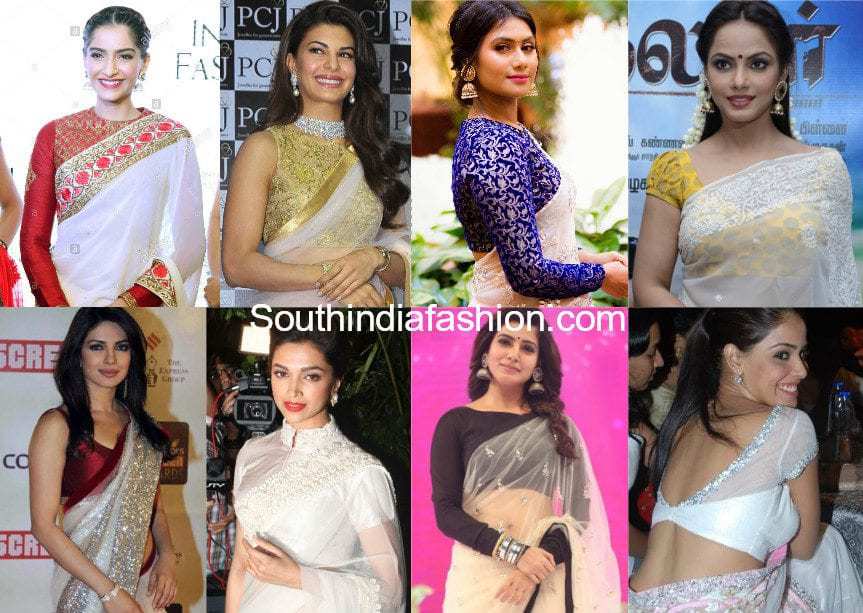 1. White Saree with Black Blouse
Black and white, a beautiful sight. One of the evergreen combinations pairing a white saree of any kind with a black blouse is only going to result in positive reviews from the onlookers.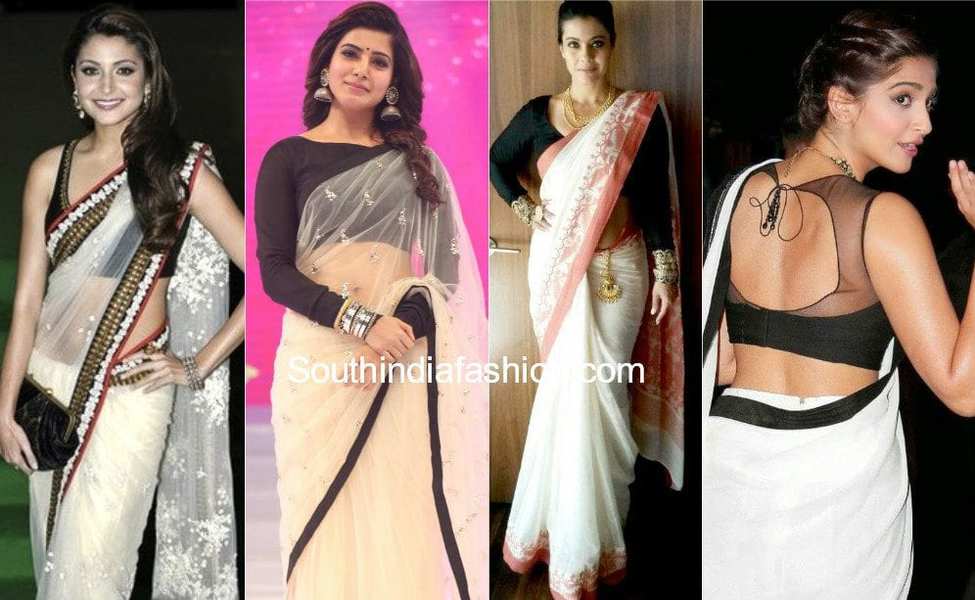 2. White Saree with White Blouse
Just like Yash Chopra's famous heroines a white saree with a white blouse is a pleaser and apt for these designer sarees. For designer sarees choose halter neck blouses, sleeveless blouses for more galm.
3. White Saree With Pink Blouse
White sarees with a pink blouse is a great choice. Almost all pink shades work well with a white saree. We are partial to a high neck hot pink blouse with slight bling that will accentuate the whole look.
4. White Saree With Blue / Indigo Blouse
Yet another great choice for a white saree especially formal fabrics like linen an indigo or a blue printed blouse will surely work wonders.
4. White Saree With Red Blouse
A perfect choice for the slightly heavier fabric white or off white sarees, a red blouse proves the age old fact of when in doubt wear red. Boat neck blouses, deep neck full sleeve blouses in red can make you look very nice.
6. White Sarees With Gold Blouse
Gold blouses are not only for the white sarees with the gold border or the Kerala sarees. Try a heavy gold blouse with a heavy designer saree, you will love the outcome.
7. White Sarees With Green Blouse
How many times have you seen someone pair a white cotton or a Kerala saree with a rich green blouse and gone "wow"? Well it is that simple to put together and that easy an outcome. For something unique pair your weak whites with a light dull green blouse.
8. White Sarees With Maroon Blouse
A unique combo that we do not see much, try this for something a little different. A good choice for the sturdier whites and something traditional.
9. White Sarees With Orange Blouse
To make the simple and subtle white saree into a fiery look try the orange blouse. Choose something with slight brocade of sorts to make it look funky and interesting.
10. White Sarees With Yellow Blouse
How about a pleasant overall look? Try a lemon yellow blouse on a plain white saree or a printed yellow floral blouse on a lighter weight white saree. The instantaneous outcome is fab.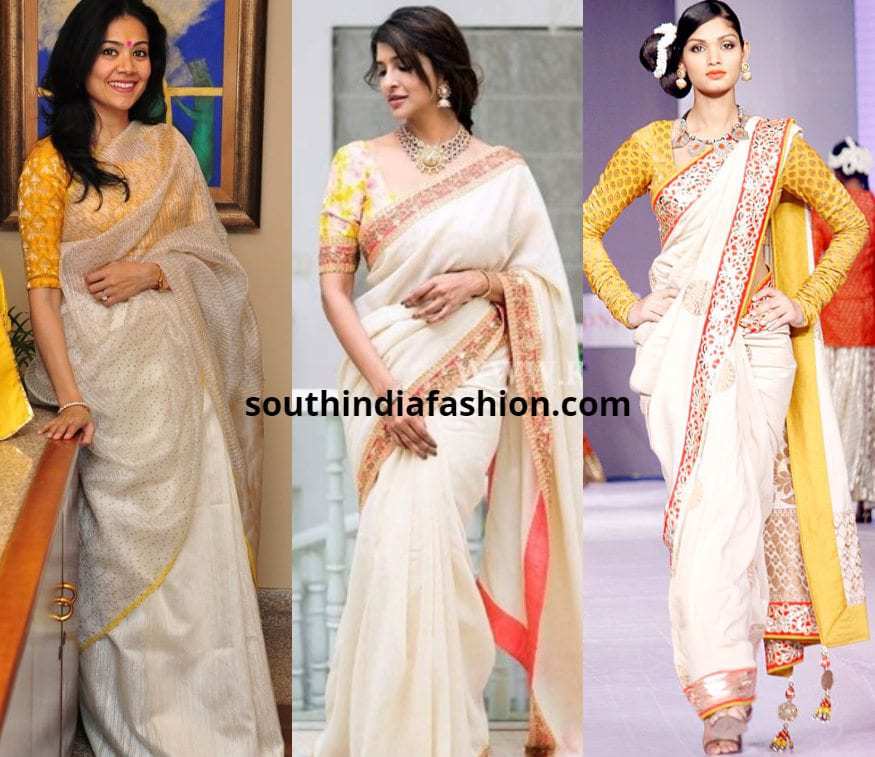 These 10 blouse options for white sarees are so classic and funky depending on what you choose and for what occasion. White is always right!!