Raksha bandhan has already marked the beginning of the festive season. There are so many festivals which are about to come like Karva chauth, Navratri, Dussehra, Diwali etc. Not only the festive season, the wedding season is also just a few months away. So, are you ready for all the upcoming grand celebrations? Especially women, are you ready with you designer sarees? And yes not to forget, have you decided the latest saree blouse designs for festivals?? If not, then here we are sharing some latest blouse patterns for your reference:
Brocade Blouse Designs
For the festive season, Brocade blouse designs are something that you must try. The self printed brocade saree blouses are simple yet it looks quite royal in itself. Usually these textured saree blouses looks good with Kanjeevaram and Banarasi silk sarees. If you want to experiment a bit then you can add the latest fashion of sheer or cape to your brocade blouse design and give it a contemporary touch.

Embroidered Blouse Designs for Festivals
One of the most popular and evergreen blouse designs for saree is embroidered blouse. For the festive season, pick up the blouse pattern having heavy embroidery in the neck part and sleeves part. The embroidery design can be of resham thread, zardosi thread, stones, mirror or sequins.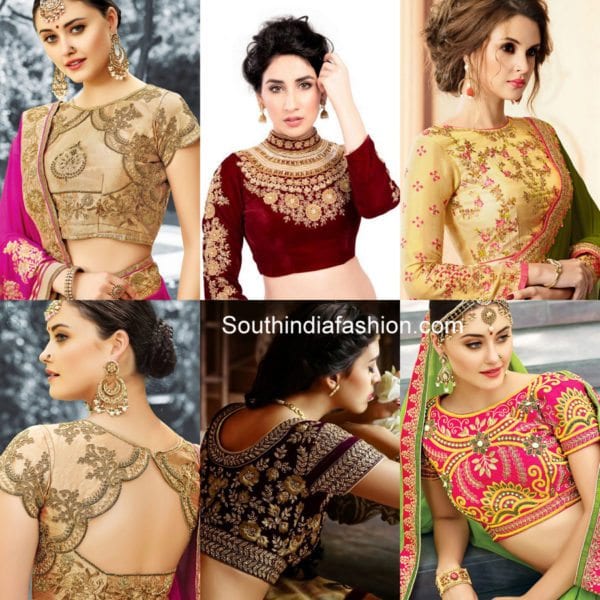 Boat Neck Blouse
One such saree blouse that is quite hit in the year 2017 is the boat neck blouse design. To get an elegant look, women prefer to go with this blouse type as it looks quite simple but at the same time it looks quite stylish as well. Usually this blouse pattern looks good with sleeveless blouse, cape sleeves or quarter sleeves.
Velvet Blouse Design
One of the oldest Indian fabrics that have made a remarkable comeback in Indian fashion is velvet. From sarees to lehengas to blouse patterns, you can find velvet everywhere this season.  Velvet blouse designs looks awesome with zardosi and stone work. The high netted, boat neck and Chinese collar design are highly popular in velvet blouse designs.
Silk Saree Blouses
Women love to wear their rich Silk sarees during festive and wedding season. If you are running short in ideas for pattu saree blouse designs then we have lots of suggestions for you. Designs like puff sleeves, cut out back designs, elbow length sleeves, full sleeves and row button back looks pretty with pattu sarees. The front cut out pattern is also quite poplular in silk saree blouses.
Puff Sleeve Saree Blouse Designs
This particular blouse design is quite popular in West Bengal where women prefer wearing puff sleeves blouses. Especially at the Durga Puja celebrations, women team up their puff sleeve saree blouse with the traditional white saree having red border.
If you are confused about you saree blouse design for festivals then have a look at the above patterns. All the above suggest designs are evergreen blouses that will never go out of fashion. Pick the best one for yourself!!