Sarees are every woman's first love as this outfit can never go wrong for any type of occasion. Mostly in weddings women prefer teaming up sarees with beautiful wedding blouse designs. These days more focus is given to the saree blouse designs and the saree is mostly kept simple. The contrast color blouses, kutch work blouse, floral print blouses looks good with sarees. If you have any wedding to attend soon and you are looking for the latest wedding blouse designs then here we are listing few of them for your reference:
Kutch Work Blouse
This is a beautiful ancient Indian art which includes embroidery designs with bright color threads. To make it look more attractive the kutch embroidery is combined with mirror work. The kutch work blouses are quite trending these days and looks beautiful when teamed up with plain or border saree.
Floral Saree Blouse
If you don't want a very heavy look then floral saree blouses are good for you. This blouse looks good with chiffon sarees and net sarees. This is a good option if you are going for a day wedding. You can try beautiful back design and get an entire new look.

Ruffle Blouse
One of the latest wedding blouse designs for saree is the ruffle blouse. This blouse design can turn even a simple looking saree to the most beautiful one. Bell sleeve looks amazing with this style blouse.
Brocade Blouse for Saree
If you are wearing a silk saree then brocade blouse is the best to team it up with. The brocade blouses are so rich in themselves that they can make any saree look elegant. Quarter sleeves look good with this type of saree blouse designs.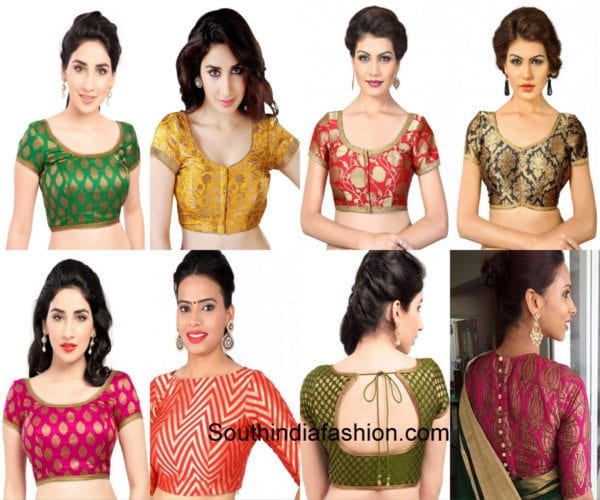 Jacket Blouse
If you want to add some royal factor to your wedding saree blouse then try jacket blouse. Depending upon your choice you can decide whether you want a long jacket or a short one. The buttons can be closed or open, again depending on your choice.
Elbow Length Blouse Designs
These blouse designs are highly trending now-a-days. These saree blouses not only looks good but they also suits all the body types and that's why it's immensely popular.  If you have thin arms then you can go for heavy embroidered elbow length blouse designs but if you have bulky arms then go for plain elbow length sleeves.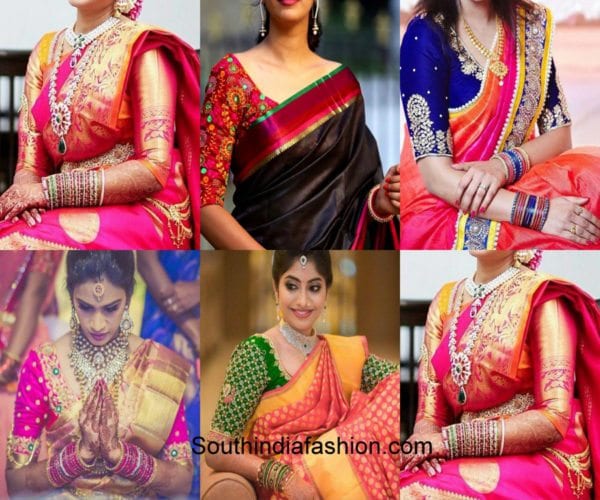 Boat Neck Blouses
If you don't want too much of skin show and still want to look stylish then boat neck blouses should be your first choice. With this blouse design you can go for net sleeves or contrast sleeves.
Sheer Back Saree Blouse Designs
With georgette, chiffon or crepe sarees, sheer back saree blouse looks stunning. This is one such wedding blouse designs that is quite popular among the young girls. At the back you can also add a row of buttons or embroidered designs.
These are some of the most latest trends in saree blouses which you must give a try to make your saree look entirely unique and stylish.