The wedding season along with it brings lots of positivity, celebrations, dance, music, decorations, delicious food etc. But the center of attraction always remains the bride-to-be, everyone is curious to know what she is wearing for the next wedding function. When the would-be-bride is so much in the limelight she just can't afford to choose a wrong outfit. When we talk about the bridal outfits, the most important thing that comes in our mind is the bridal blouse. Yes, even though its not the main outfit but still bridal blouse design have the capability of make or break your D- Day look. That's why here we are suggesting you top 6 bridal blouse designs, so that you can take some inspiration from the same.
1. Full Sleeves Boat Neck Blouse
If you want to keep the look simple yet classy then pick up any boat neck blouse designs. If the blouse is heavily embroidered then you also don't need to add any jewellery. The full sleeves can be of any fabric that you want, if you are comfortable wearing net sleeves on the wedding day then go for it as they look quite stunning.
2. Maharani Blouse Design
The Maharani Blouse is perfect to wear on your D Day as you will certainly be the Queen that day. Usually in the Maharani Blouse design the neck and shoulder part is heavily embroidered, giving a look like a Queen.
3. Elbow Length Blouse Patterns
If you want to look like one fashion updated bride then choose elbow length sleeves blouse. It's even good to pick up this style blouse if you don't have too toned arms. This sleeves style suits all the body types. Your bridal look will enhance even more if there is beautiful embroidery done on the sleeves part.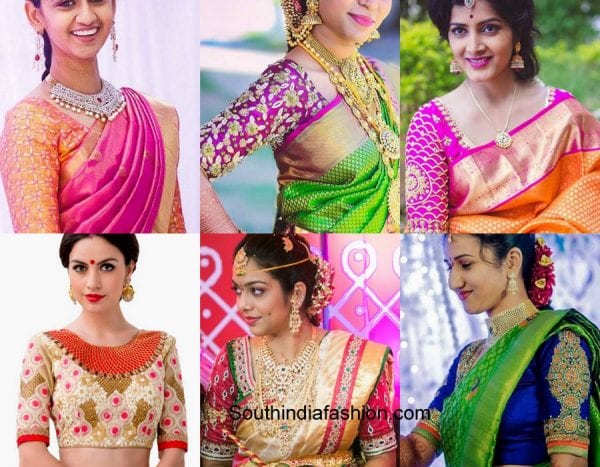 4. Sheer Sleeves
These days the latest trending bridal blouse designs includes sheer sleeves and sheer back. You can either choose full sleeves, ¾ sleeves or elbow length sleeves in transparent fabric. But as it's a bridal look blouse, you can't go completely sheer from the back and thus you can try for options where only slight part of the back is covered with sheer fabric.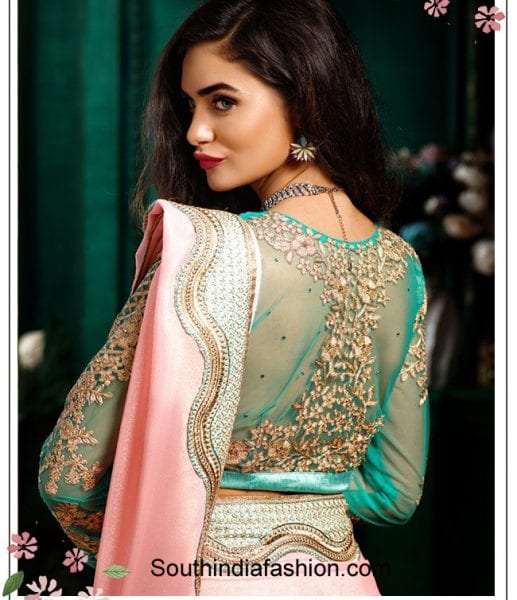 5. Corset Saree Blouse
For those women who don't have a very good waist to flaunt, corset saree blouses are a great option for them to choose. While designing your corset blouse, keep the length of the blouse in your mind as if it would be too long then you will have problems in tying the saree. Your Bridal corset blouse should end just on your waist.
6. Full Embroidered Blouse Designs
Now this one is quite evergreen style, since always the bridal blouses have been fully embroidered with heavy work. The fully embroidered work can be of zardozi, stones, mirror or cutwork. However you should avoid this blouse design if you have a short neck or a heavy upper body as it will make you look even more bulky from the top.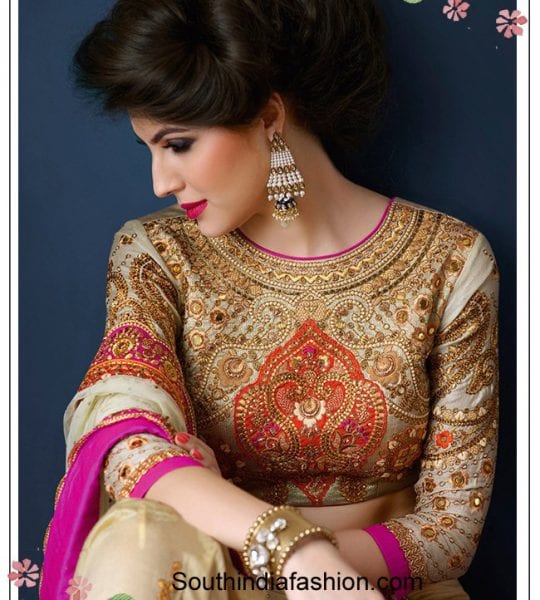 Stitch your saree blouse designs in these 6 amazing bridal blouse designs and get set ready for your wedding.