Just a few days more and the wedding season will start in India. Here are some of the stylish bridal blouse designs for the upcoming wedding season.
1. Floral Blouse Designs
Well these days it seems like the floral pattern is every where, be it ethnic jackets, skirts, lehenga, indo western or the saree blouses. The best thing about the floral blouse is that you can color coordinate a single floral saree blouse with multiple sarees. In the weddings you can wear a border saree with a floral blouse and wear the matching fashion jewellery and you are all set to rock the occasion.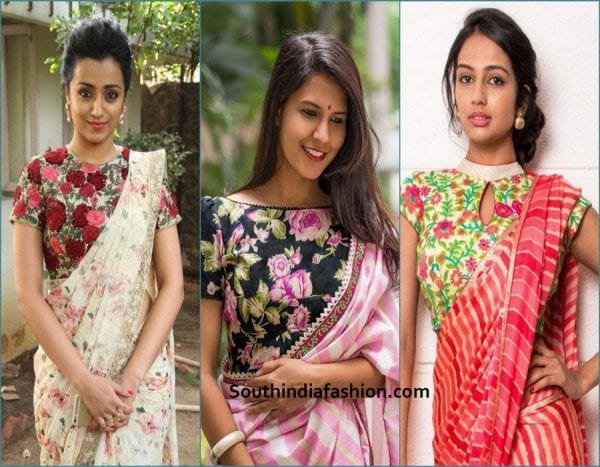 2. Mirror Work Blouse Designs
It's not that the mirror work blouse designs are anything new in the world of Indian Fashion. Since a long time the Indian fashion designers are using the mirror work in various outfits. The mirror work adds the spark and thus makes the blouse a perfect wear for wedding.
3. Crop Top Blouse
Specially those women who have a thin waist to flaunt, crop top blouse are a boon for them. They are latest in the fashion trends and also makes you look ultra glamorous in the weddings.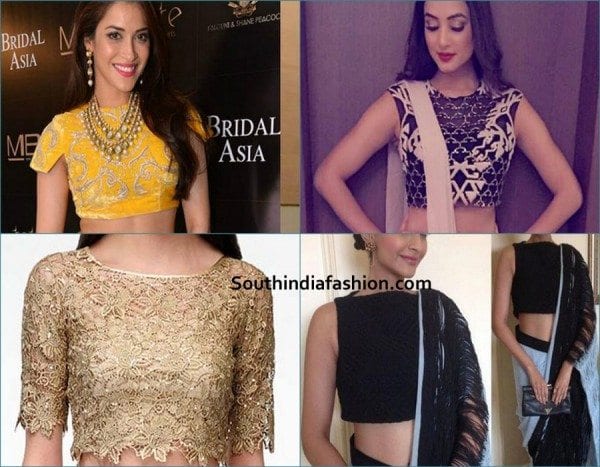 4. Off Shoulder Saree Blouse
This one is off lately high in trend, if you are comfortable showing bit of your shoulder then this is the perfect choice for a saree blouse for the upcoming wedding season.
5. Cape Saree Blouse
If you are wearing a heavy saree to the wedding then you can style it with a simple cape saree blouse with just glitters in the border. This one will certainly be a cool choice to wear to a wedding this season.
6. Angrakha Style Blouse
Inspired by the Mughal era fashion, angrakha style blouse closes at either left or right side of the chest. This style is perfect for those who are still a bit traditional and don't feel very comfortable in showing their skin.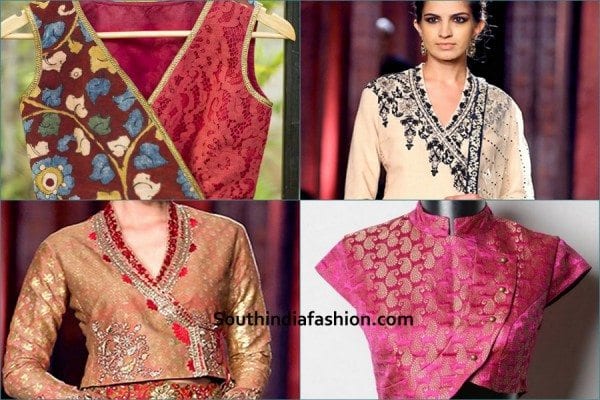 7. Long Sleeves Blouse
Yes, they are again back in fashion and they can be your perfect choice for the upcoming wedding season. The full sleeves saree blouse designs are perfect for winter weddings. Infact you would have seen that these days even the sarees models are wearing full sleeves blouses only.
8. Lace Blouses
Even though they are not embellished, still they look very royal due to the lace work.
9. Scalloped Saree Blouse
The scalloped pattern can be anywhere, whether its back, front or on the sleeves. This blouse pattern looks good on every body type.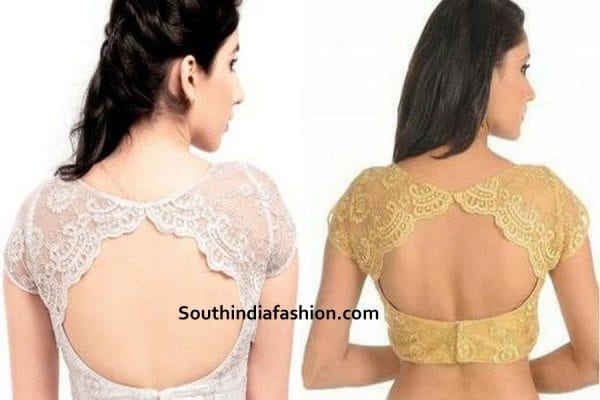 10. Boat Neck Blouse
This one is certainly gaining lot of popularity lately as it is simple yet stylish in its own way. Its suggested to drape the saree pallu in such a way that the neck and shoulder lines are visible.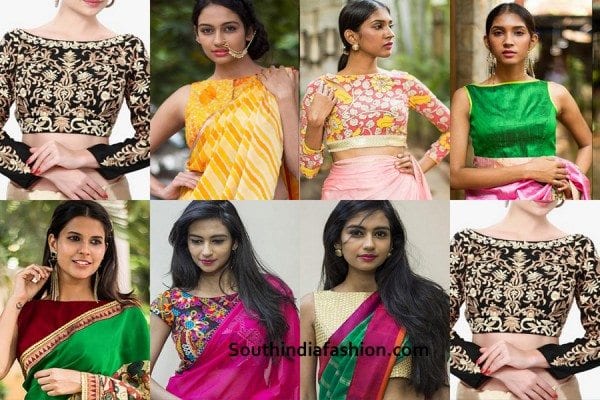 11. High Neck Collar Blouse
This type of blouse is perfect for the tall and thin women. You must have seen Bollywood beauties like Nargis Fakhri, Deepika Padukode, SonamKapoor and Shilpa Shetty wearing high neck collar blouses.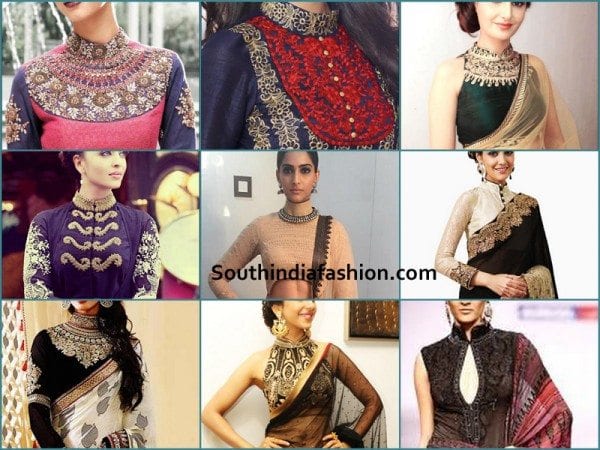 12. Jacket Saree Blouse
The ethnic jackets are totally in fashion these days and its also a great way to protect yourself in the winter weddings.
13. Net Blouse Design
This one is quite in fashion since few years where the shoulder the upper back area is covered with the net or sheer fabric.
So, above are few saree blouse designs and patterns which you can follow for the upcoming wedding season. Also don't forget to comment which saree blouse pattern did you liked the most from the above ones.