Saree has always been a trendsetting piece of fashionable clothing for women in India and abroad. And by making such high-fashion waves, one simply can't ignore the important yet designer contribution a saree blouse adds in uplifting the overall diva look. Stylish blouse designs are not just meant to be a saree accessory, but today, they are meant to carve dramatically elegant and sophisticatedly classy looks every single time. And thanks to the advent of mixing and matching clothes effortlessly, a designer saree blouse can create a definitive style statement for fashion-forward modern woman in multiple ways.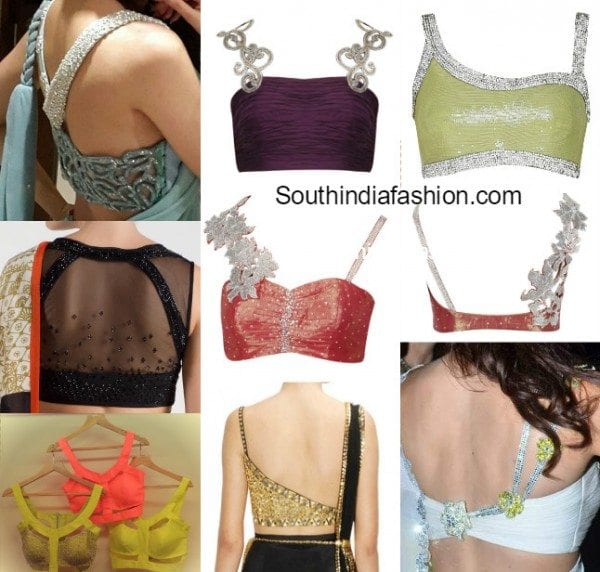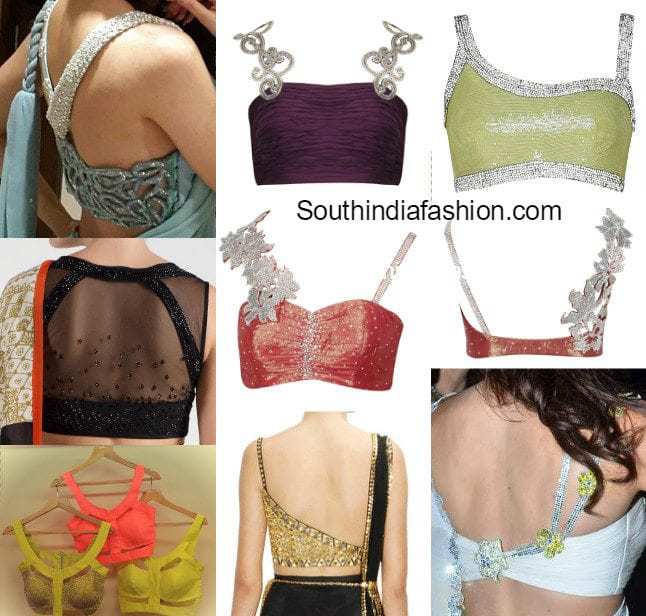 So without further ado, take inspiration from these 30 latest blouse fashion styles and amp up your plain old boring blouses by stepping up your regular saree game.
Trendy stone studded blouse designs for rich and sophisticated party look
Create an outright bold and sensuous look by designing blouse straps embellished with swarovski beads and crystal sequins. The floral embroidery lends the much needed femininity to your overall sex appeal. This sassy spaghetti strap blouse is best when worn for evening wedding or reception get-together in summer or winter gatherings. A satin silver or black saree in georgette or cotton silk would surely complement the delicate workmanship of the blouse. Skip wearing anything heavy around your neck and let the bare back and front along with heavy earrings or maang tikka do the talking!
Embossed bodice saree blouses for elegant and refined look 
These heavily embroidered choli-cut blouses were a lot of rage back in 50s, but today they have made a raging comeback! Packed with modern touches of neon shades and dabka embroidery, these blouse designs feature intricate golden or silver embossing. With glittering on the side panels or around the full cup, make sure to pair these blouses with matching chiffon sequinned or black chanderi sarees in an all-appealing drape. Joined with a close triangle in the front, you should wear these trendy blouse styles with delicate gold necklace and loads of gold bangles.
Sheer black saree blouses for backless glamour
Don sheer to partake in the hottest fashion styles. These backless sheer design panel blouses lend the right amount of sassiness and glamorousness to your overall style. The net is aesthetically used at the back of the blouse to display your slender back with class. Floral lace-like texture when combined with sweetheart neck bustier helps in giving you a charmingly graceful look. Wear bright color back neck blouse designs in shades, such as passion red, sea green, and turquoise blue to create a breath-taking look. Wear plain contrast sarees with chunky borders with these designer blouses and flaunt your fashion statement with aplomb every single time.
Sassy wrap-up saree blouses for fun and funky look
This celebrity-inspired blouse style is full of beachy yet playful vibe. A style that has the power to make you look gorgeously irresistible from every single angle, these stylish wrap-up blouses are available in a range of bright and beautiful shades. When it comes to styling these classy blouses faultlessly, make sure to wear a similar-colour saree with them to create an eye-catching look in ethnic gatherings. Women with sleek shoulder should wear wrap-up blouse designs with sheet or net saree, whereas women with broad shoulders should avoid this blouse style completely.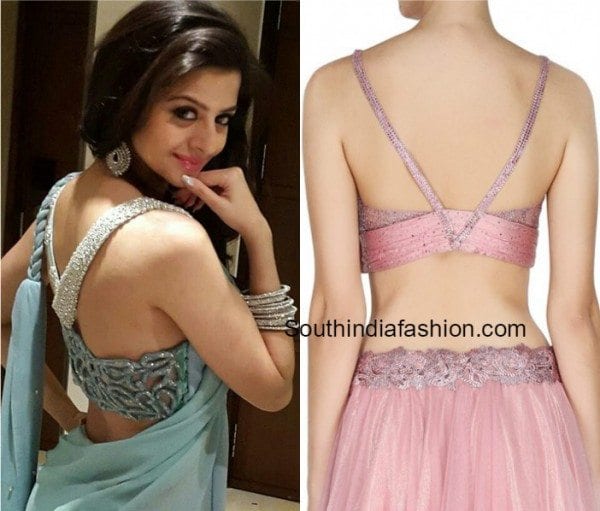 Designer scalloped saree blouse designs
Enhancing the appeal of simple cotton or lace blouses, scalloped trim blouse designs help in dramatically enhancing the overall appeal of wearer. Scallop designs on hemline, sleeves, shoulder pads and side stretch makes for an astounding saree blouse type. This types of blouses go perfectly week with lehenga saree or cocktail saree as they help in streamlining the look by lending an artistic touch to the wearer. Another interesting way would be to wear your creative backless blouses with black, silver, purple or yellow colour contrast sarees.