Manish Malhotra, one of the most loved designers of the country, unveiled yet another one of his fascinatingly gorgeous collection that was displayed at the Sahachari foundation. Like always, he managed to win a lot of hearts with his distinct collection yet again.
While the collection was mostly comprised of his signature, glittery, mirror work outfits, there were also some ethnic, Benarasi, traditional outfits this time around. Some of the outfits from the show were instantly a hit with plenty of celebs sporting them at the recently held Filmfares which was held nearly right after it. Here are some of the best outfits that were displayed at the show. Scroll on and check out these gorgeous outfits.
Like always, Manish Malhotra's new collection had plenty of outfits with mirror work and glittery gold work all over it. White, gold and silver were the predominated colors that he chose for these stunning lehengas and sarees.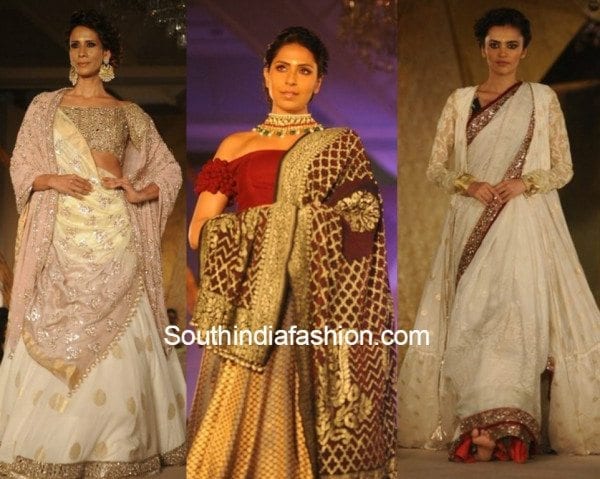 Checkering up seems to have caught on with Manish as well as the show had a lot of traditional checkered sarees and even kurtis like these ones below.
There were a lot of traditional sarees, handloom and silk alike that were a part of his collection. We loved how he chose to team them up with off shoulder blouses and boat neck high collared blouses which only added to all their ethnic charm.

Benarasi sarees were a major part of this Manish Malhotra's collection. Bright colors like blue, pink and red were used to make these traditional Benarasi weaves.