With the summer just around the corner, we often look for fashion inspirations! Especially to beat the heat while wearing a saree. In summers, you shift from heavier fabrics to the cooler ones and the blouse patterns also become breezy. And for those looking for statement blouse patterns to try this summer, we have rounded up some fancy ones just for you.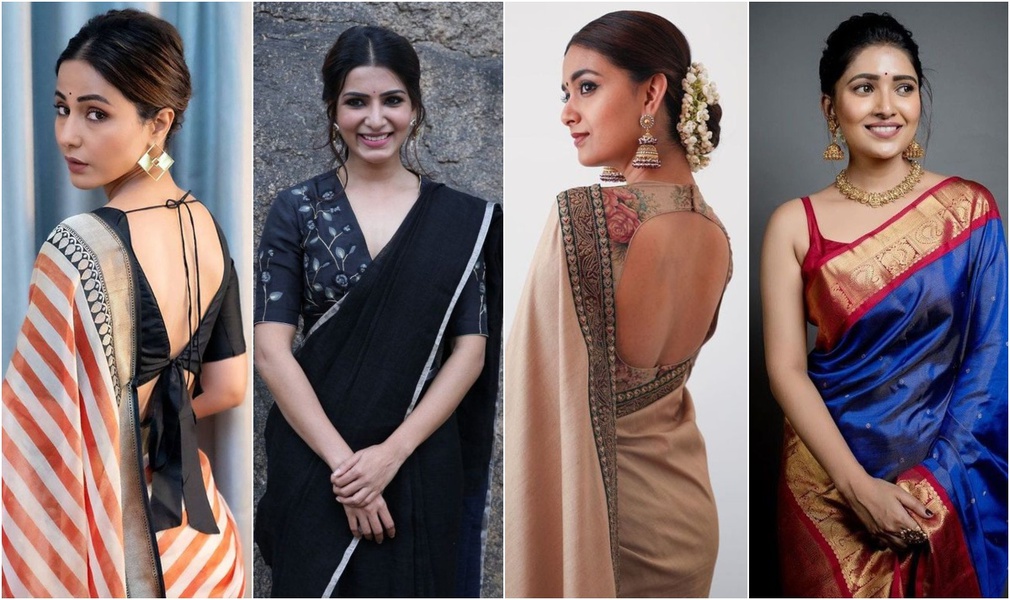 Scroll away and check out these statement blouse patterns for summer –
Deep V-Neck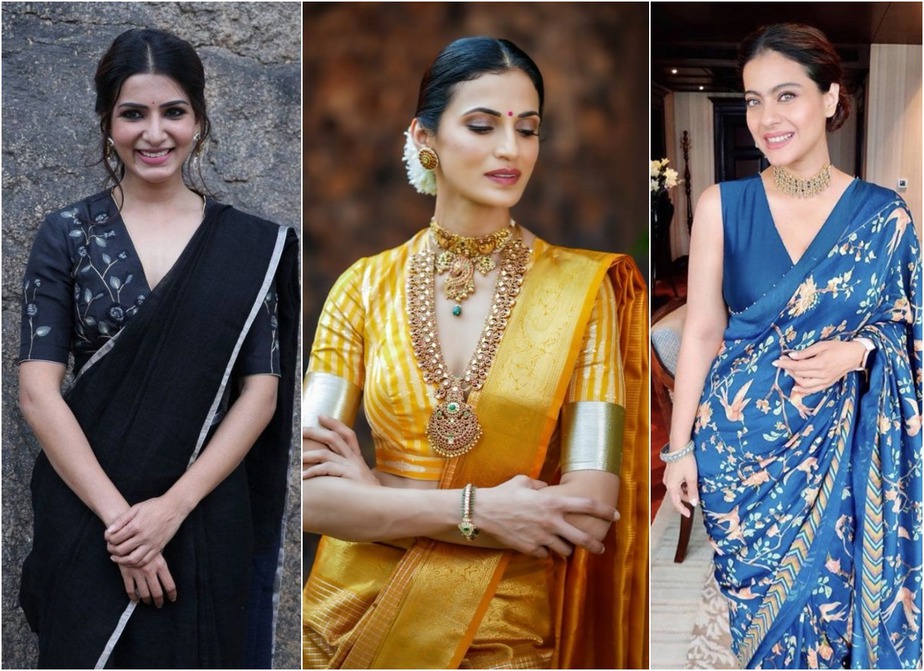 The deep-V neckline trend is catching up, thanks to the Sabyasachi collection. A deep V neck looks stunning and even graceful with silk sarees. And for those a little skeptical, you always have the pallu to cover up. But it is definitely a breather in the scorching heat and also is a perfectly stylish statement blouse pattern for summer.
Strappy Necklines
Some of us may shy away from this blouse pattern, but trust us, it looks stunning! You can always experiment by adjusting the neckline to a high neck from front or back as per your comfort. This statement blouse pattern for summer would be perfect for any cotton or handloom saree. It is the best easy-breezy option that you can pick for the hot summers.
Cut-Out Blouse Pattern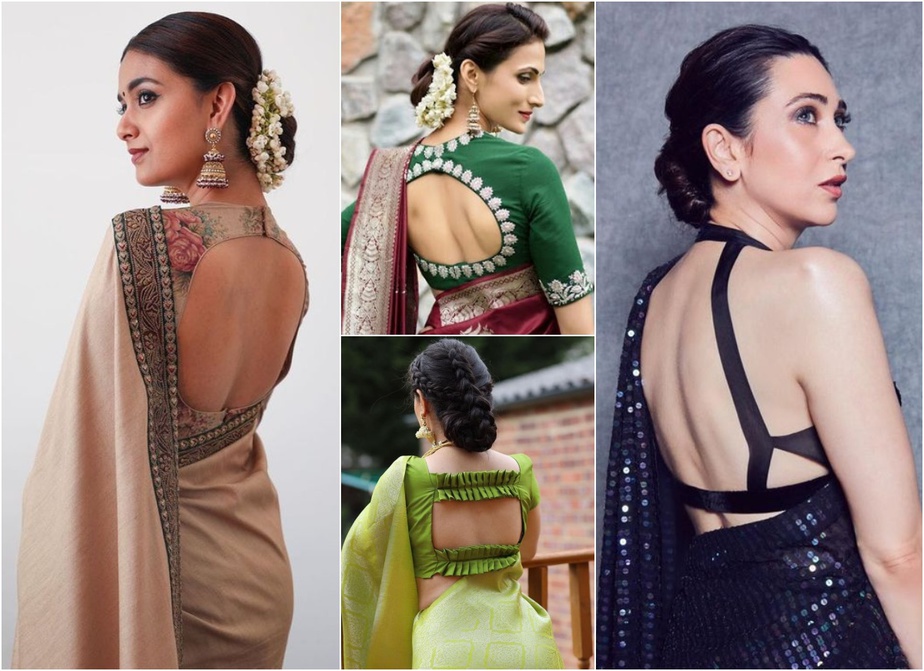 Just as fun as the strappy blouses are, the cut-out blouses are equally amazing! There is no rule book as to what the shape of the cut-out should be – and that is the best part about it. No judgments! You can opt for any shape of cut-out back neck for your statement blouse and slay it this summer. These are a great way to work the high-back neck blouse style with a little twist.
Keyhole Neckline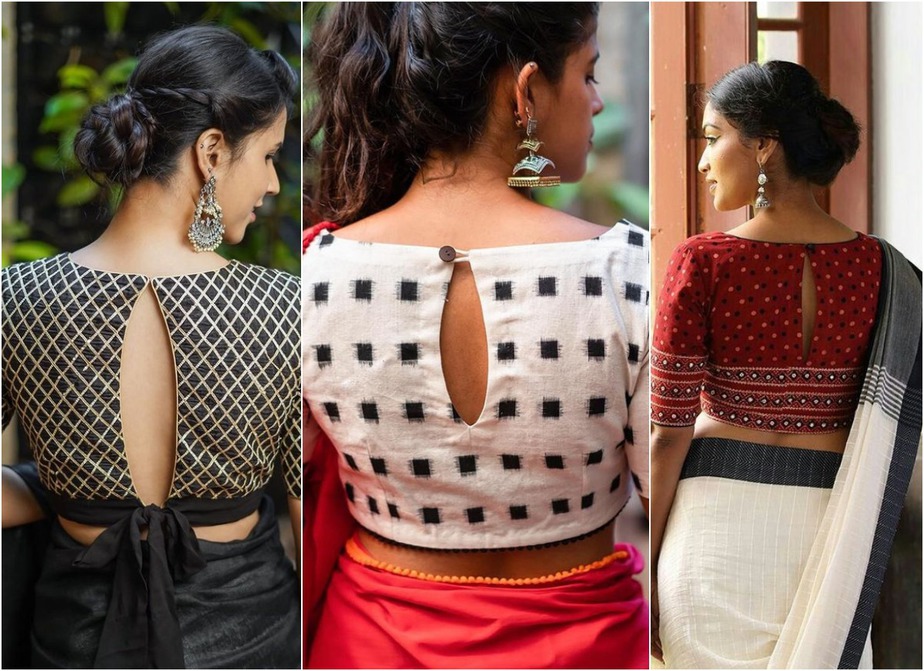 The keyhole neckline blouse pattern has been a popular trend. It looks really stylish and works effortlessly for a simple and chic look. This statement blouse pattern looks great especially with cotton or handloom saree blouses and adds a lot of panache. You can totally design the keyhole size as per your comfort to flaunt your creativity during summer.
Sleeveless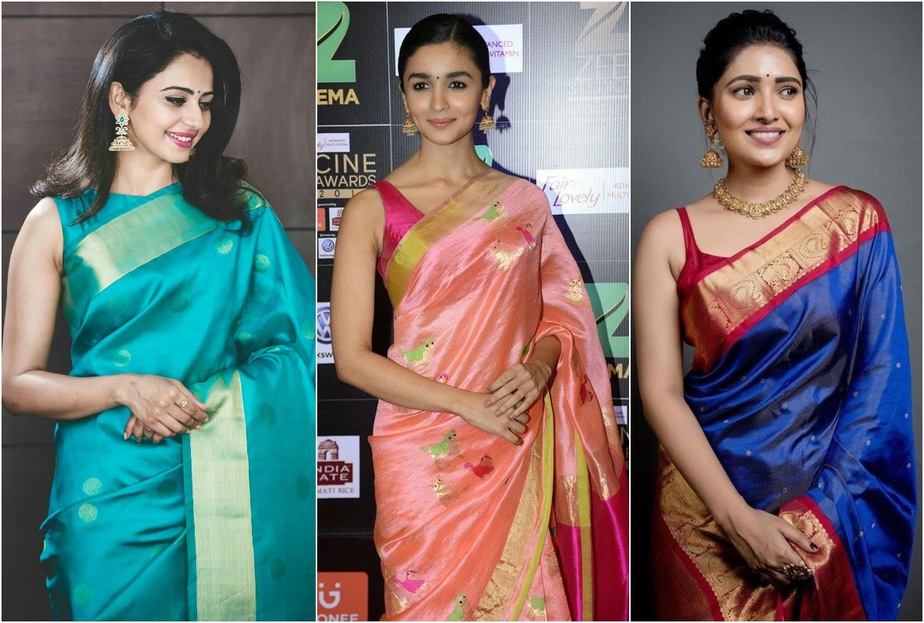 There is no doubt that nothing looks effortlessly stylish like the classic sleeveless on summer days. And no matter what saree type – cotton, handloom, or silk, the sleeveless blouse pattern looks absolutely stunning. And despite being sleeveless, you can experiment with various necklines to elevate the look of your blouse and slay like a fashionista!
Tie-Up
Take the deep v back neck up a notch with the tie-up technique. This pattern makes one look slimmer, chic, and glamorous. You can choose a fabric of your choice, either printed or plain as it works with all! The open back with tie-up would suffice your summer look, as well as save you from the heat. You can either add a hook on the end of the design or keep it a complete tie-up – both will appear equally graceful.
The beauty of a saree is truly reflected when it is paired with a perfect statement blouse pattern!  So, we hope that these statement blouse patterns help you slay through the summer heat in style.