When we are planning a look, we tend to buy accessories for everything from face to toe. But we often ignore one most important part of our look, which also needs some accessories. Our hair. Most of the Indian hairstyles look good only after we have adorned it with some or the other hair accessories. The hairstyle is complete when you place a flower or a brooch on it. For Indian hairstyles, there are special Indian ethnic hair accessories that are beautiful. They complement the kanchi saree or the desi lehenga that we wear during festivities.
Here are some Indian hair accessories that you ought to try out:
1. Flowers
One of the most common accessories that you can put on your hair to attain a traditional look are the flowers. They can be fresh jasmines, roses, orchids or any such attractive flowers or the fake versions of these too. While the fresh ones smell good and look absolutely delightful, the fake ones last you longer and can be used multiple times.

2. Hair Brooch
When you want to sport a hair bun or a simple ponytail, you can pep up the look by using a hair brooch that is bejeweled. It will add a shiny touch to the entire look. Also, it is the most simple hair accessory that you can wear on your own without much help. Even a small brooch can upscale the most basic hairstyle. (Shop Online)
3. Hair Chain
If you want to add a little fun to your hairstyle, use layered chains or a simple chain that has pendants on it. Even your necklace can be used as a hair accessory. You need some creativity and pins to secure the chain. If the hairstyle is simple, you will need this particular accessory to make the look swanky. (Shop Online)
4. Hair Braid
The bejewelled hair braid or the jada as it is called in local languages is a much necessary accessory for the brides. It sits on the real braid of the girl and makes the plain braid sparkle like it's something treasurable. The hair braids come in many designs and materials. It can be of lace, silver, gold or stone work. It can have pearls, semi-precious stones or glittering stones on it. This accessory is perfect with a silk saree look.
5. Hair Ornaments
When you are wearing a hair bun, it will look rather plain and simple. You can spice up the look with the help of various hair ornaments that match your outfit in colour and type. You get different varieties of hair ornaments in the market these days that you will surely be spoilt for choice.
6. Fancy Hair Pins
Plain hairpins are used only to make hairstyles. Once your hairstyle is complete, you can use fancy hairpins that contain fake flowers, crystals or colored stones to wear then in a certain pattern that they beautify your hairstyle. These pins will make the hairstyle look much prettier. (Shop Online)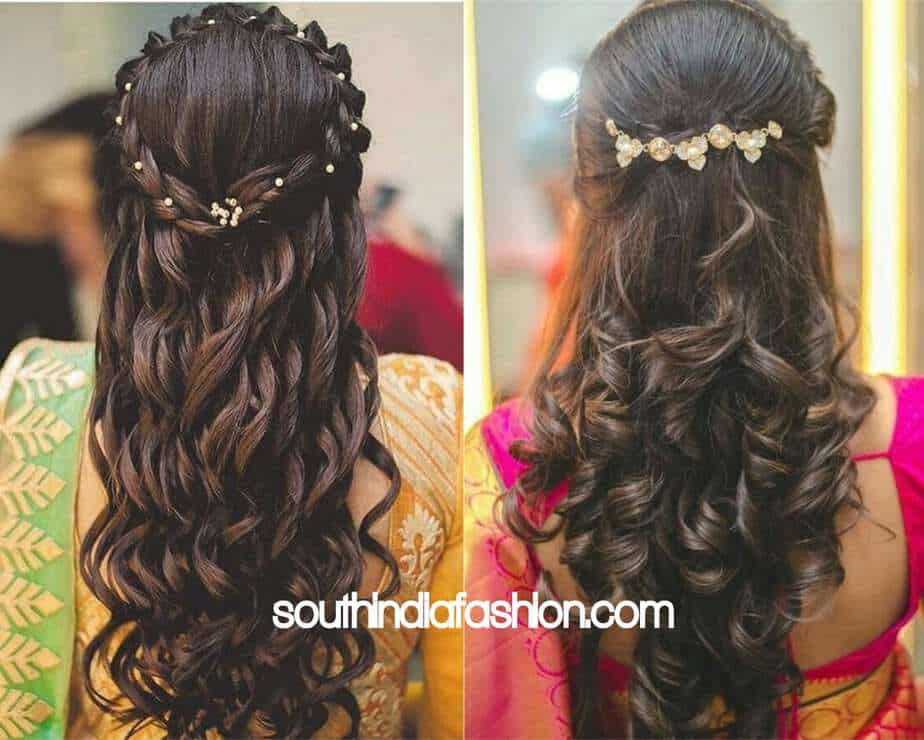 These are some of the hair accessories that you must have when you are planning a traditional look.