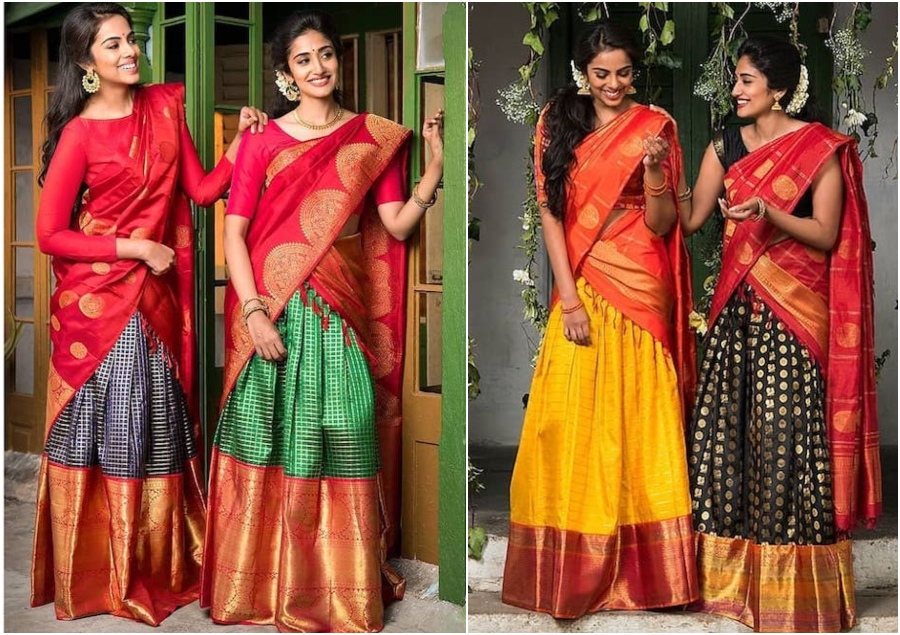 If you are a quintessential South Indian bride, you obviously picked a half saree (Langa Voni) as one of your outfits! There is something magical about a pattu lehenga that makes you stand out in the most glamorous way. The richness of a silk saree itself is amazing and the lehenga is traditional and enchanting! If you are a bride-to-be, you can most certainly pick a pattu half saree if you are looking for something new.
Here are some pattu half saree and lehengas that you can scroll through for inspiration –
Traditionally Ethnic Pattu lehengas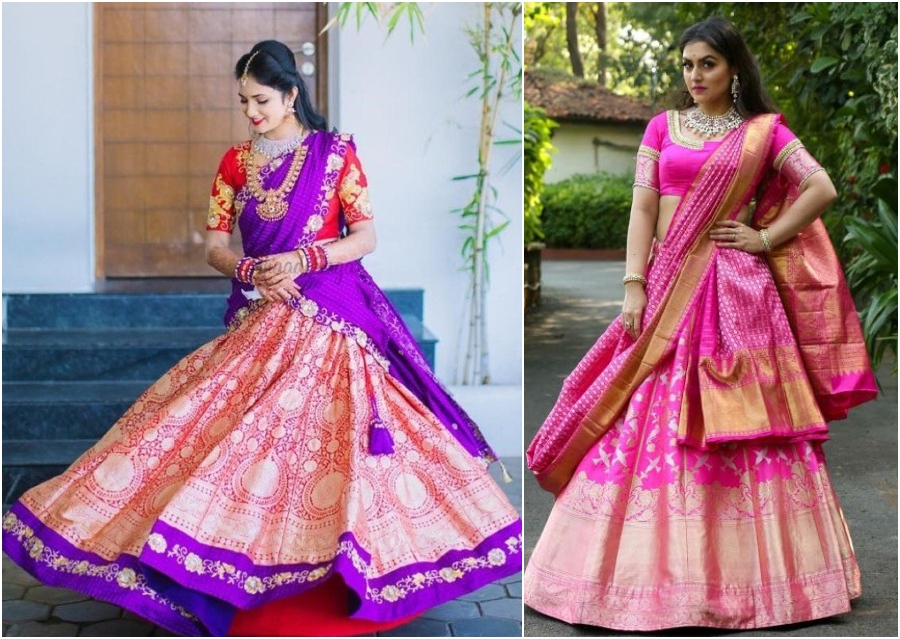 For years now, South Indian brides have brought some of the most exquisite saree lehenga designs for us to admire. There are so many contemporary twists that the designers are coming up with these days. But there is nothing that can beat the authentic traditional half saree. The richness of the pattu lehenga brings out elegance and grace. The style of draping the dupatta to turn the pattu lehenga into a saree is what highlights the beauty. And it is probably the best way to say yes to both a saree and a lehenga at the same time!
Off-beat Style pattu half sarees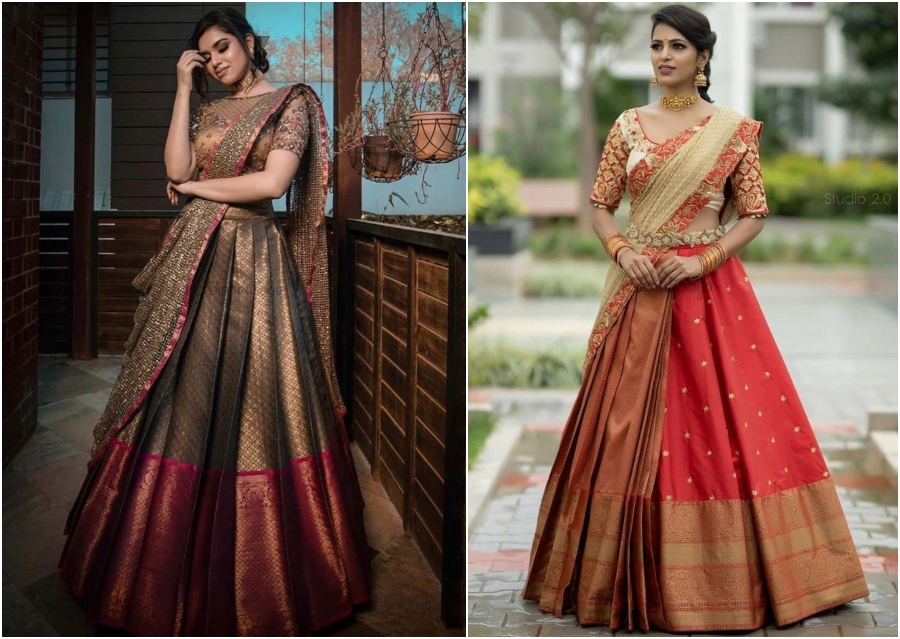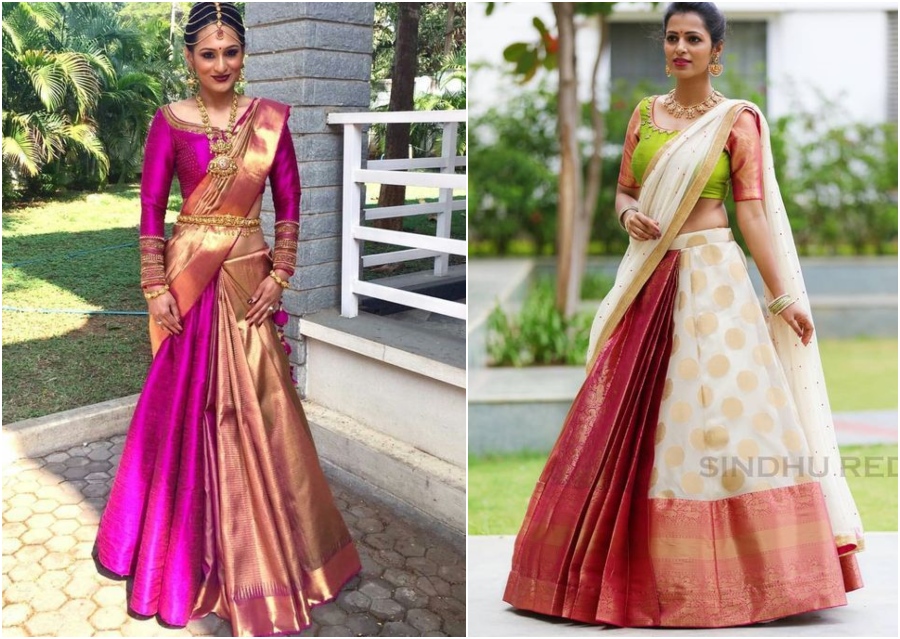 Is your style a blend of contemporary and off-beat fashion? If so, then you can take the traditional pattu half saree and lehenga up a notch. So many designers and boutiques have a range of stylish pattu lehengas that are worth checking out. Sindhu Reddy, Bhargavi Kunam, Mugdha Art Studio are few of them. From pleated skirt to add volume and also give a saree like feel to amazing textured silk that makes it look like a gown. These designers have given a newness to the authentic pattu lehenga.
Stylish Dupatta
We love how the silk dupatta adds grace to the half saree. But you can also pick  alternative dupattas to enhance it more to your style. You can opt for an embellished georgette dupatta, velvet or a Banarasi one. Opt for anything that can make it look more like your off-beat style. Draping it stylishly can also enhance the look and can make it look glamorous.
Color Combinations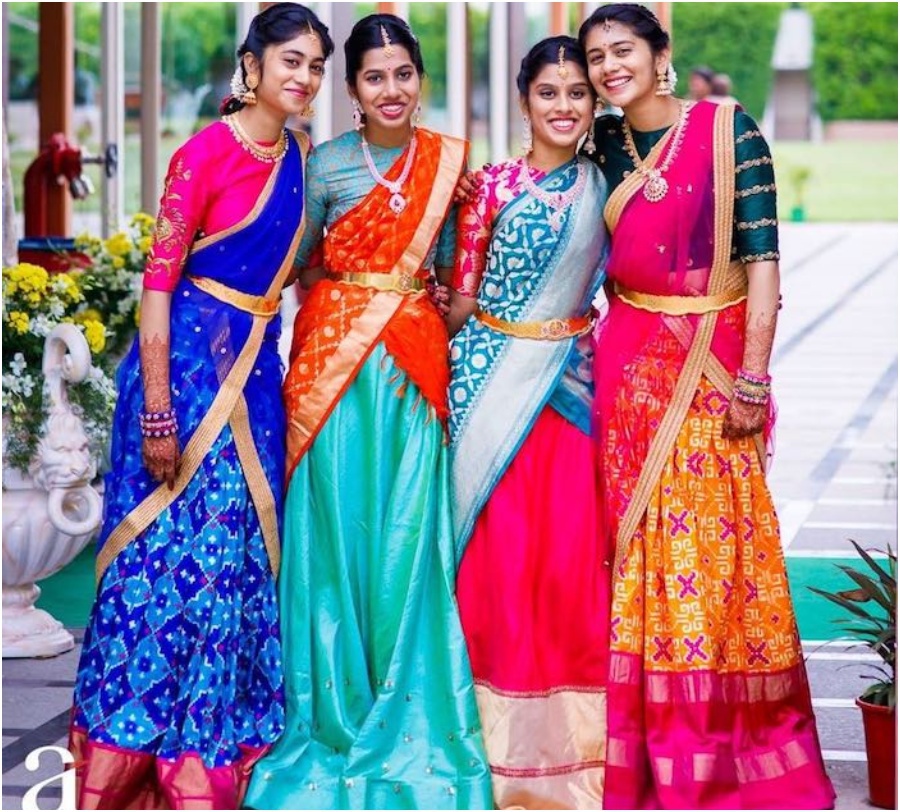 If you haven't noticed, a pattu lehenga or a half saree isn't always styled in the usual traditional colors.  One of the best reasons for wearing it is that you can play around with the color combinations. Be it the usual ones or off-beat and unique colors put together, you will always have fun at exploring it! These off-beat color combinations are perfect for bridesmaids and sisters of the bride.
Blouse For Pattu Lehengas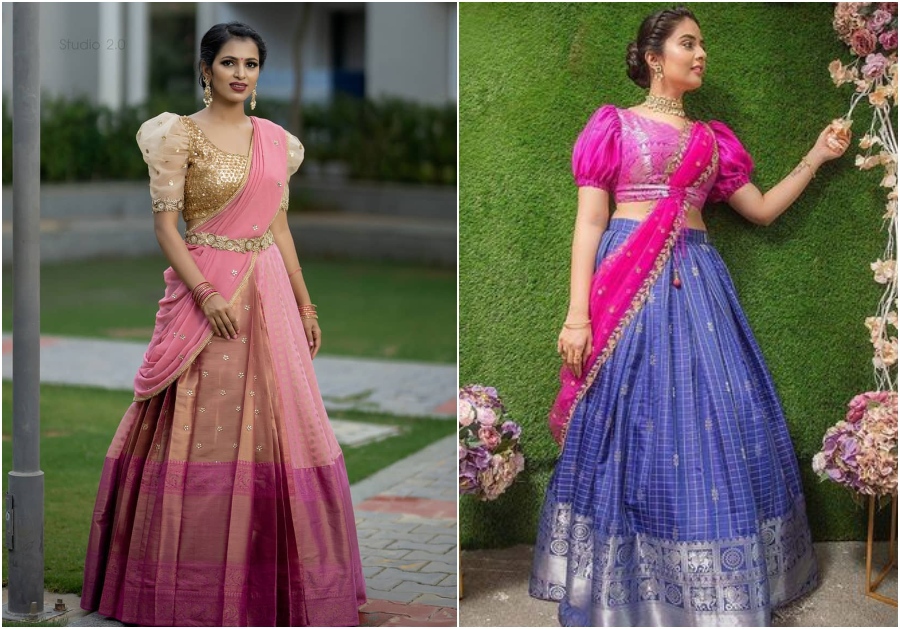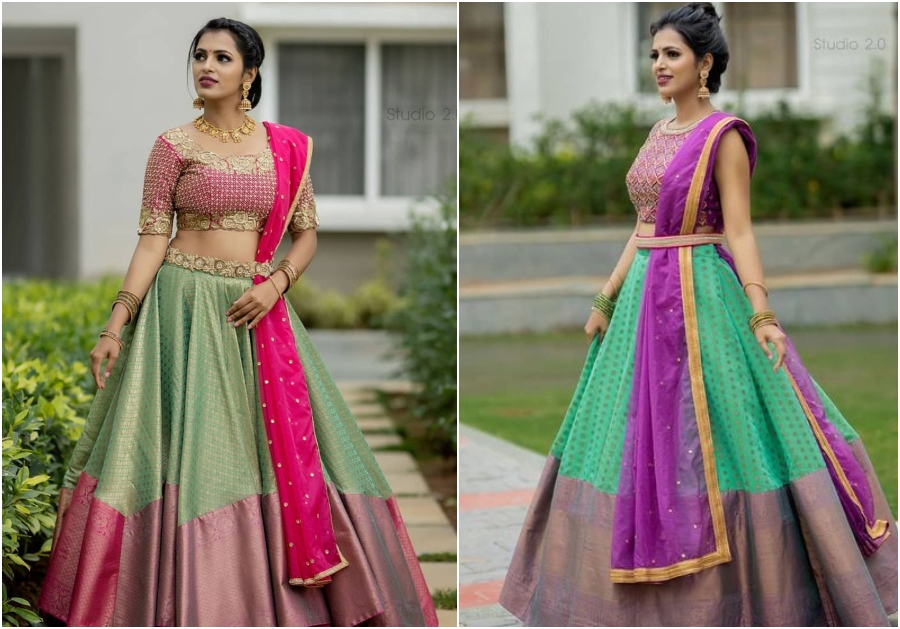 Oomph up your pattu lehenga and half saree by styling its blouse in a fun and chic way. From puff sleeves to balloon and maggam work embellished – there is so much to explore. Although most of the brides anyway prefer puff sleeves as it adds a feminine and girly touch to the lehenga.  You can also opt for sleeveless or full-sleeved blouses with a high neck to enhance the look further.
These were some of the stunning pattu lehenga and half saree inspirations that you can try out!