If you are a bride-to-be or a newlywed, and wondering what to do with your grand lehenga post-wedding, then fret not! Here are some fun ideas that you can try out to reuse lehenga and wear it in many different ways post the wedding. In other words, wearing the same lehenga can be pretty monotonous and boring. Also, you
just
can't wear a heavy outfit to a small function.
Therefore
, you can always rely upon the trick of mixing and matching or fusion wear!
With Contemporary Kurtas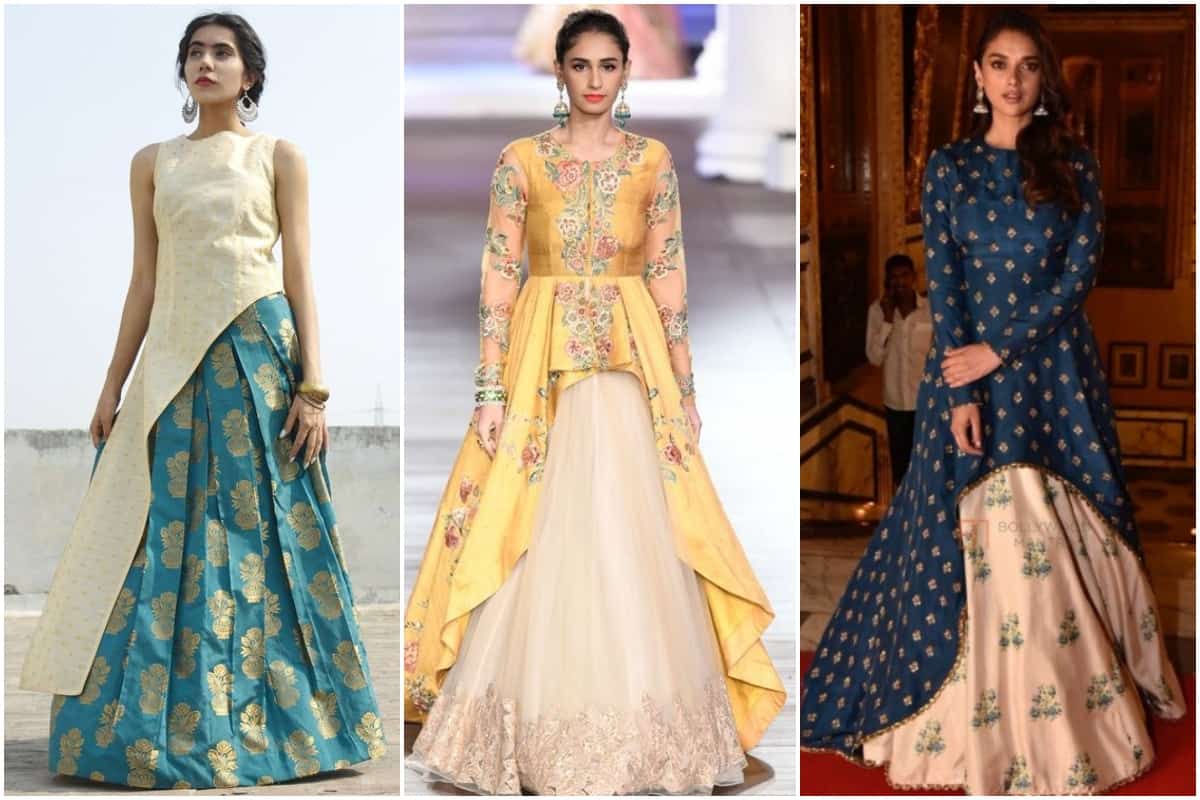 Pair high slit kurtas or asymmetric kurtas with skirts for a regal look. You can totally adapt to this trend when it comes to re-styling your lehenga. You can ditch the blouse and, simply pair its  skirt with the kurta. It's a great way to reuse lehenga and give a refreshed look to your lehenga.
Lehenga Blouse with a Saree
You can ditch your lehenga skirt and wear its blouse with a plain or a contrast colored saree.
It will
instantly
give a fancy designer look as the heavy lehenga blouse will highlight the subtle-ness of the saree
. Take your mixing and matching a notch up!
Half Saree Style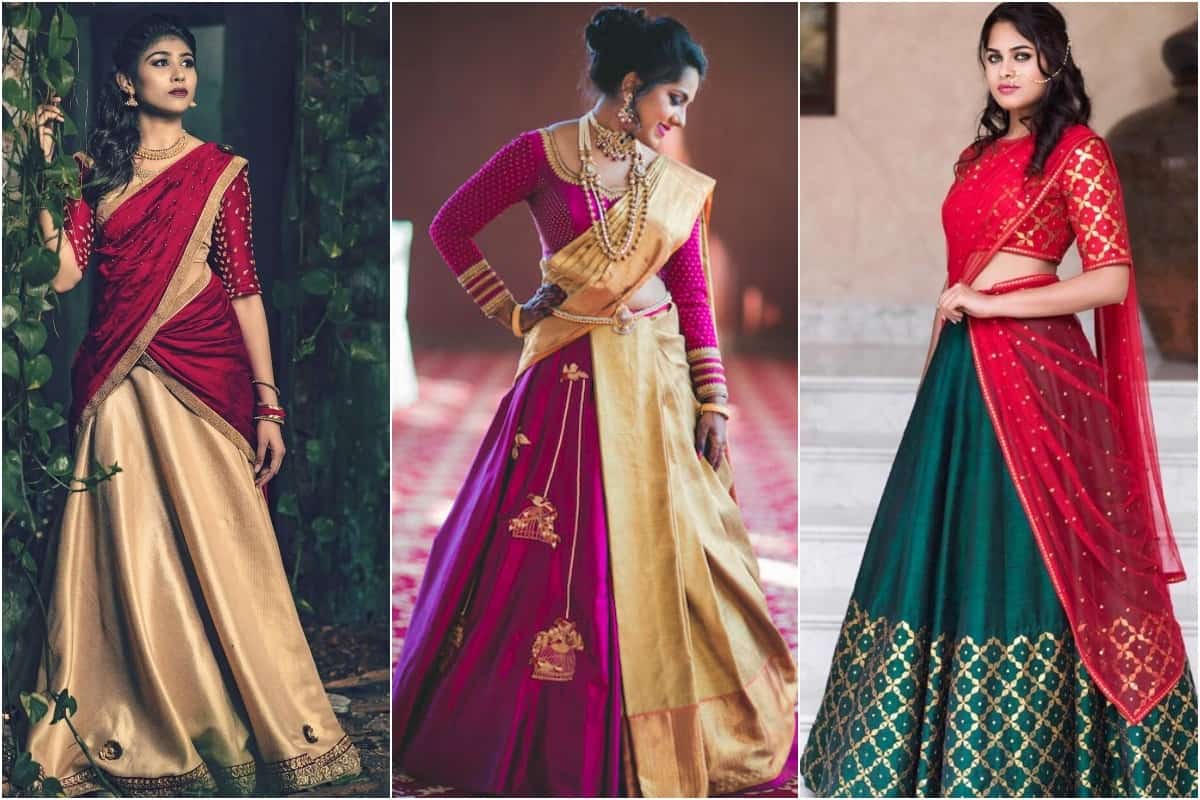 For those days when you want to jazz up a fusion look, style your lehenga like a saree! This saree-lehenga fusion gives a unique and gorgeous look. Drape your dupatta similar to the South Indian half-saree look. Your dupatta can turn into a pallu and this gives a fancy saree look.
With A Belt
Create a fusion look by wearing a stylish belt along with your outfit. This ensures that your dupatta stays in place while giving the look a hint of panache! Belting up technique is for all those who like to keep up with the trend. Always pick shimmery belts as they will complement your outfit.
Turn your Dupatta into a Cape
With A Jacket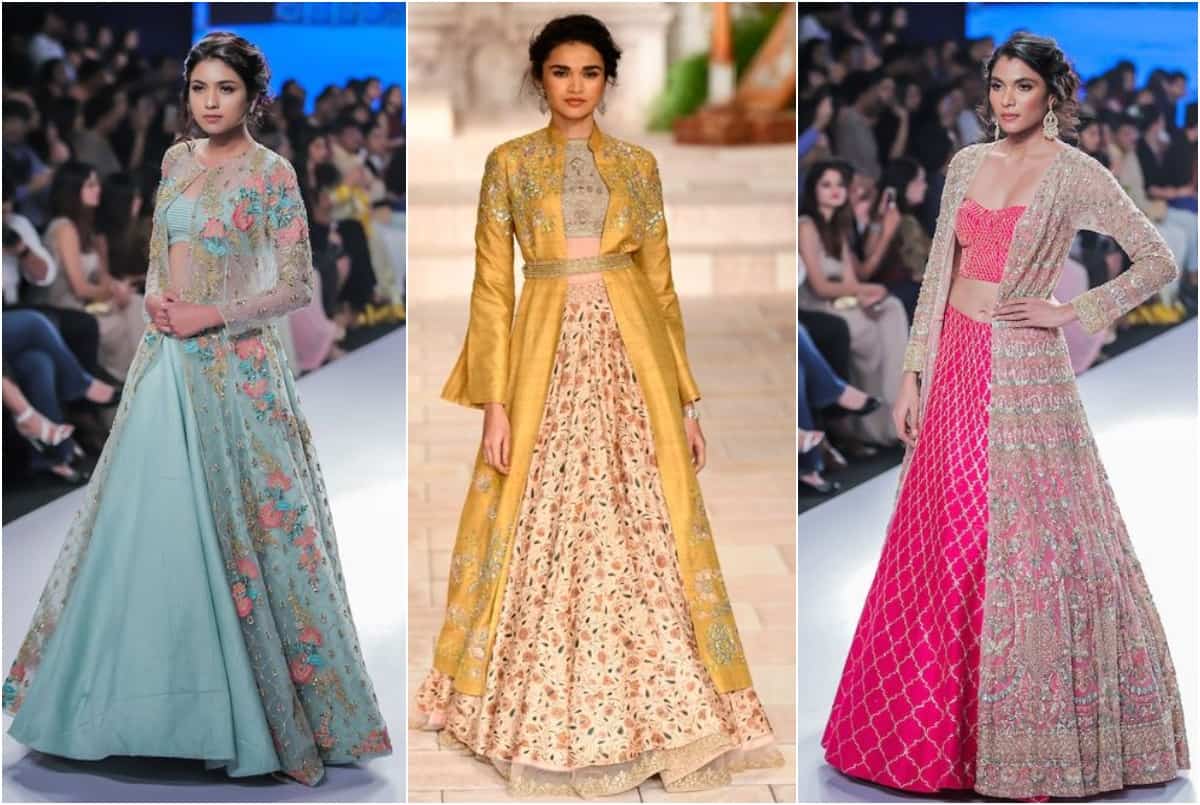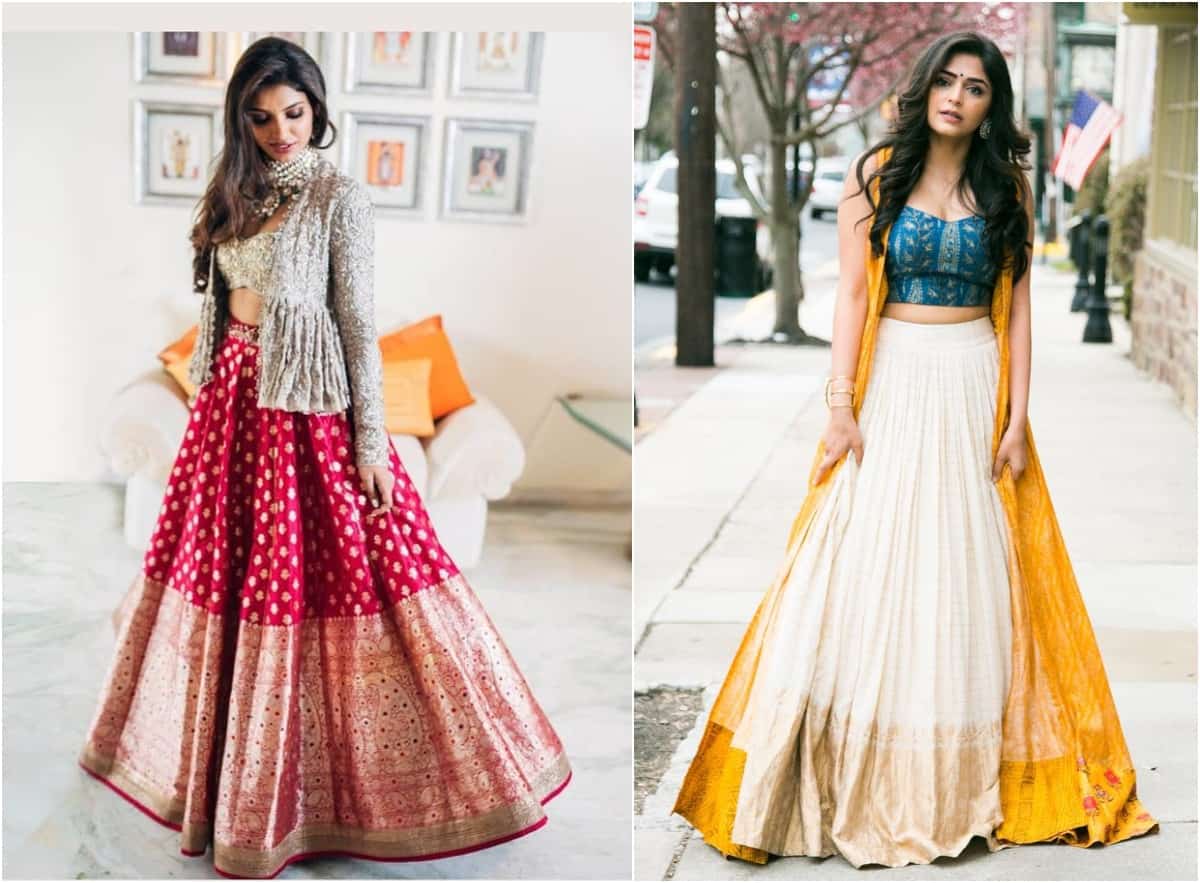 Long jackets are the current trend that's catching up even in ethnic wear.
Similarly
, you can
simply
ditch your dupatta and wear an embellished contrast colored long jacket
. Also, you can pick a fancy multicolored or metallic short shrug too! This chic fusion look will definitely fetch you some compliments!
Lehenga Skirt with Trendy Top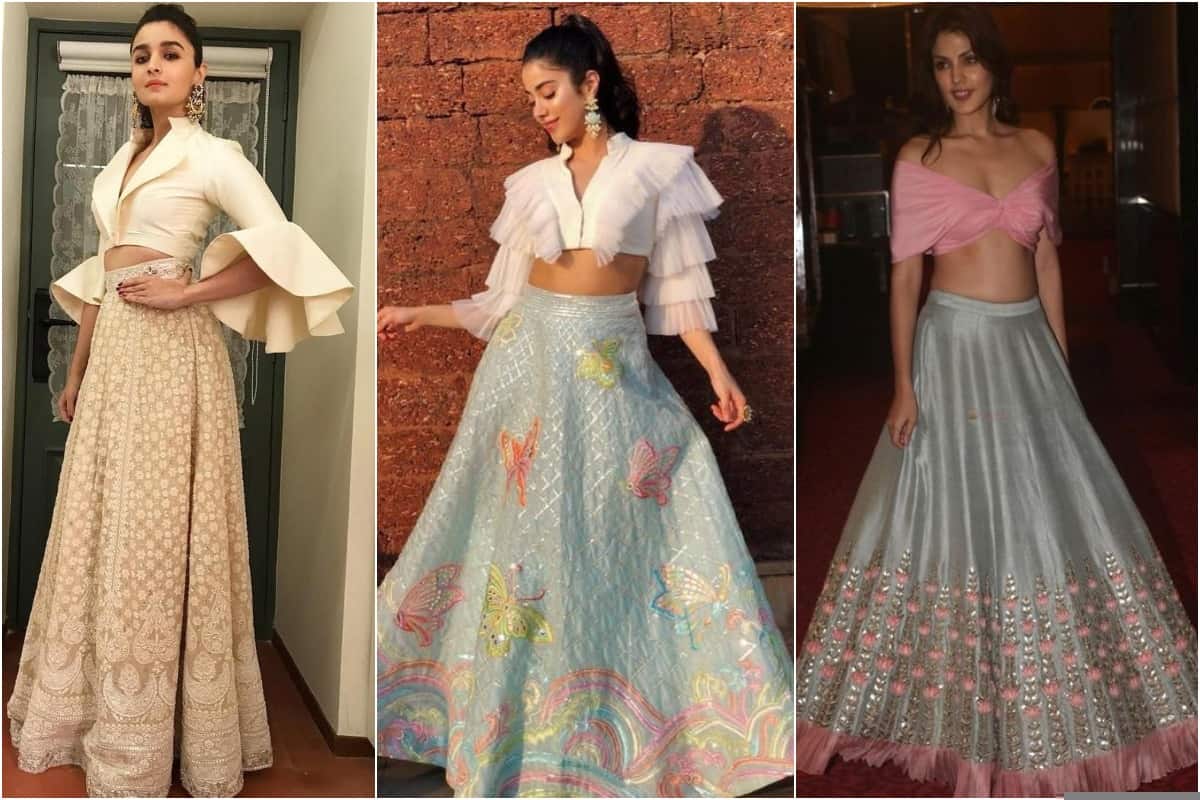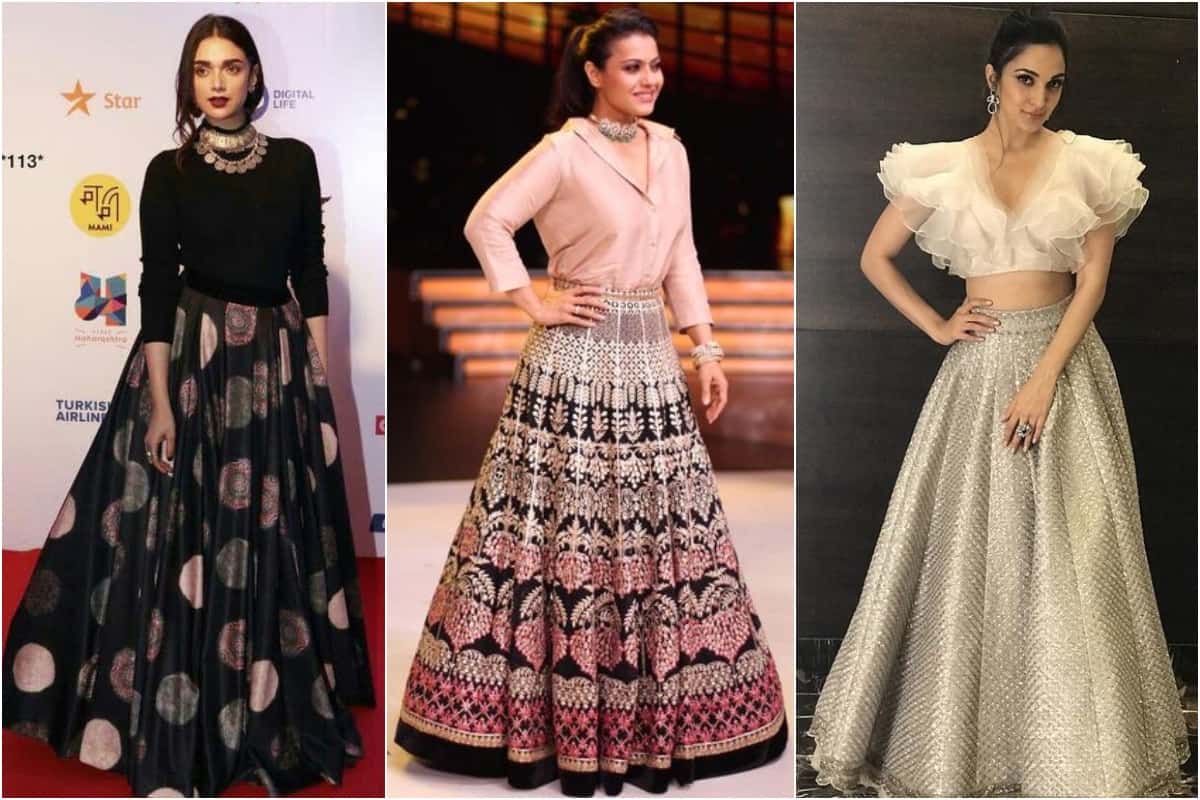 You can easily ditch the blouse and, mix and match your traditional skirt with a sexy top. From shirts to dramatic sleeved tops – there are so many options out there! If the lehenga is heavily embellished then you can pair it up with a simple top for a balanced look. For a chic look, wear it with an off-shoulder or a cold shoulder crop top.
In conclusion, do try these fun ways to re-style and reuse lehenga each time and look unique.