In fashion, trends come and go with every changing season. What was once a hit trend might not last in the coming few weeks. Similarly, you might not spot 2019's hottest trends in 2020. Be it ruffles that created waves in the fashion world or the super casual boyfriend jeans. With new trends and styles popping up, these trends from 2019 are vanishing. We put together a list of trends that are vanishing in 2020 along with the trends replacing them.
Check them out –
Ruffles
2019's one of the most trending ruffles are slowly fading away and are not spotted much these days. Ruffles had become such a common trend that it was spotted on every style of clothing. From ruffle sarees, blouses, skirts, and tops to sleeves – ruffles made its mark! But 2020 is going to be all about layers and tiered fashion trends.
Knee-length boots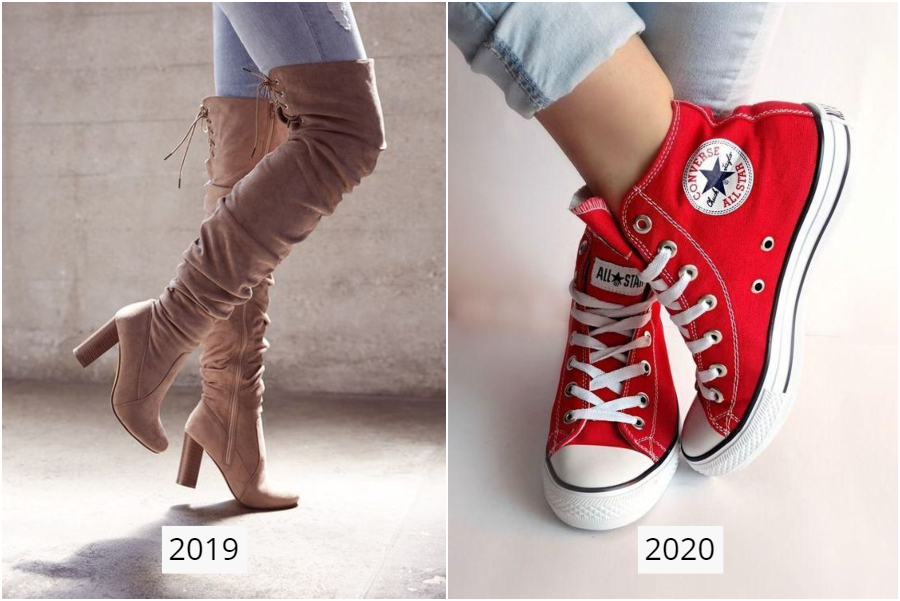 The ever-stylish and chic knee-length boots that many celebrities flaunted in 2019 are going to vanish. 2020 is all about comfort and athleisure style thus making room for retro canvas shoes. The stunning knee-length boots were great for an edgy style but canvas shoes are perfect for a casual look.
Neutral tones
We saw many neutral tones from earthy browns to greys in 2019. But 2020 is all about pop colors along with some pastel ones. Those neutral tones that ruled last year will take a back seat to the upcoming vibrant tones. The hues of browns and beige were largely loved and experimented with.  But colors like scarlet red, bright yellow, pinks, and Aubergine are sure to rule this 2020.
Chunky Accessories
Last year was about chunky and statement accessories, but 2020 is all about minimalistic stacking. Ditching that attention-grabbing chunky jewellery, the latest trend consists of multiple subtle accessories. The style of stacking these minimalistic accessories is really loved by many celebrities and stylists. It makes you look edgy, stylish and chic. The minimalistic stacking jewellery trend is catching up from traditional to western style.
Boyfriend Jeans
With a heavy heart, 2019 bids adieu to the ever-so-comfortable boyfriend jeans. These jeans were in trend for the longest time and they definitely made their way into our wardrobes. But these are now replaced by the 70's evergreen bell bottoms and flared pants. They are truly a classic piece of fashion and a pleasant blast from the past.
Stripes
The fashionable stripes are exiting this year and replacing them are the quirky prints. Stripes of various sizes and colors have ruled the fashion world and set a trend that many adored! But now, the quirky and animal prints are taking over and marking their reign.
Chunky Platform Heels
Chunky platform heels came into trend suddenly and the fashion world embraced it! Many designers used chunky platform heels for their runway as it added a new dimension and edginess to the look. But the classic go-to kitten heels are all set to replace the platform heels! Stylish, feminine and perfect for every occasion – kitten heels are here to rule.
These are some of the trends that will no longer mark their presence in 2020.