2019 has been a year of trendy, chic and modern saree blouse designs. And these saree blouses are perfect for party wear. Wearing such stylish blouses adds a dynamic charm to your look at any party. Weddings or parties, you can style these party wear saree blouses with even a simple saree! And they will surely give a designer look.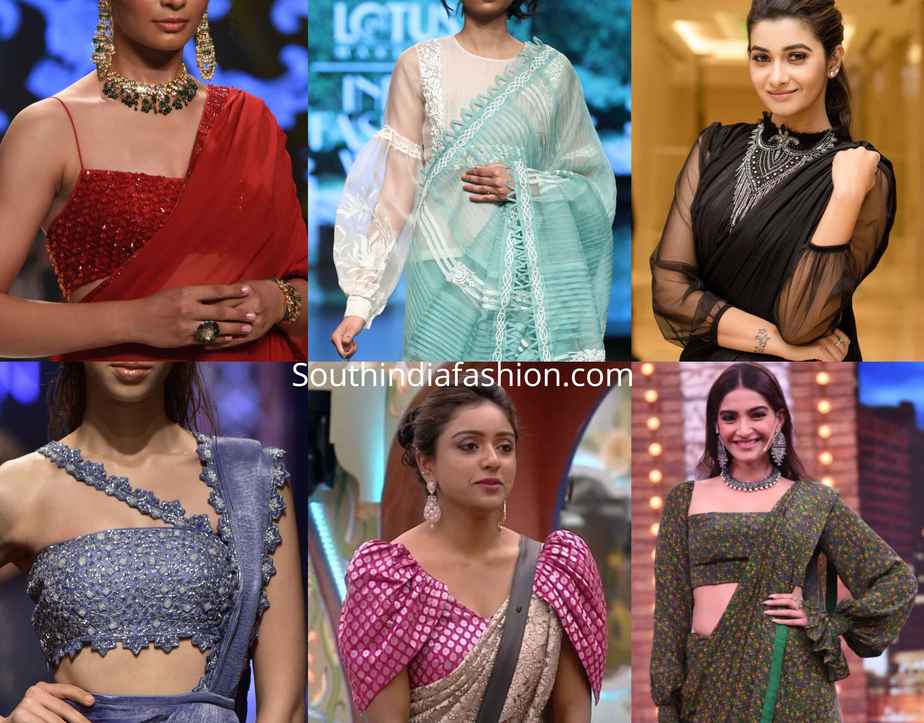 Check out these 15 stylish party wear saree blouse designs –
Bishop sleeves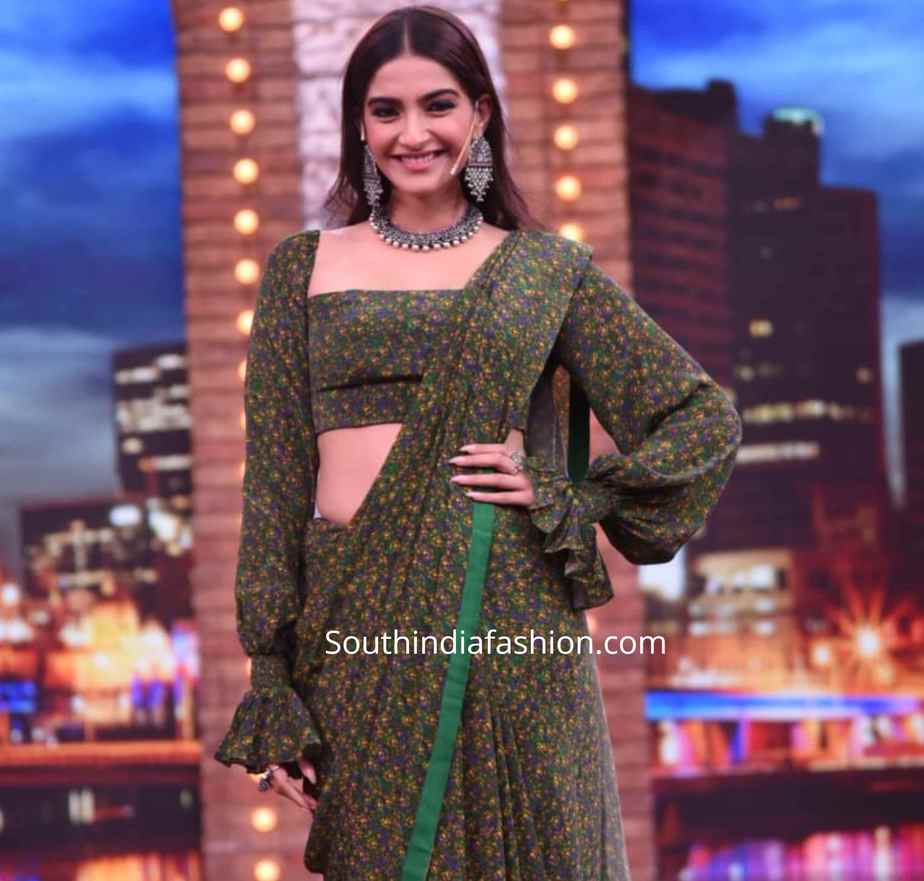 Sonam Kapoor wore a stylish olive green saree with a super stylish party wear blouse. It features Bishop sleeves blouse with a square neckline. This party wear saree blouse design is ideal if you want to wear a statement neckpiece.
Embroidered Bell Sleeves
Embroidered blouses are a happening trend in 2019. This bell-sleeves saree blouse design has embroidered embellishments all over it. With a plunging deep-V neck, the blouse is perfect as stylish party wear.
Spaghetti Strap Party Wear Saree Blouse
This spaghetti blouse has sequins embellishment all over it to make it party-worthy! The blouses look great with a plain saree or a ruffled saree. Perfect for a reception or a party, these stylish saree blouses are statement-makers!
Wrap-Around Knot
Knotted tops have been in trend and in 2019, this trend took over saree blouses too! This stylish saree blouse design is a wrap-around blouse secured with a knot. Ditch the back-knot blouses for this party wear saree blouse design.
Peter Pan Collar Blouse
Peter pan collars are so understated and we are glad that they are back in trend! They are extremely sophisticated and subtle. If you want an elegant blouse to complement your saree, then Peter Pan collar blouses are a great pick.
Shirt Style Collar Blouse
Shirt collar blouses stand for everything elegant and classy! With long sleeves and ruffles, shirt color blouses are sure to add some oomph to the party. Add some lace details to jazz up the simple blouse design.
Slit Blouse
This gorgeous party wear stylish blouse design has a round edge collar with a fancy v-slit in the front. This slit adds an appealing touch when the blouse is skillfully paired with a sheer saree.
Balloon Sleeves Party Wear Saree Blouse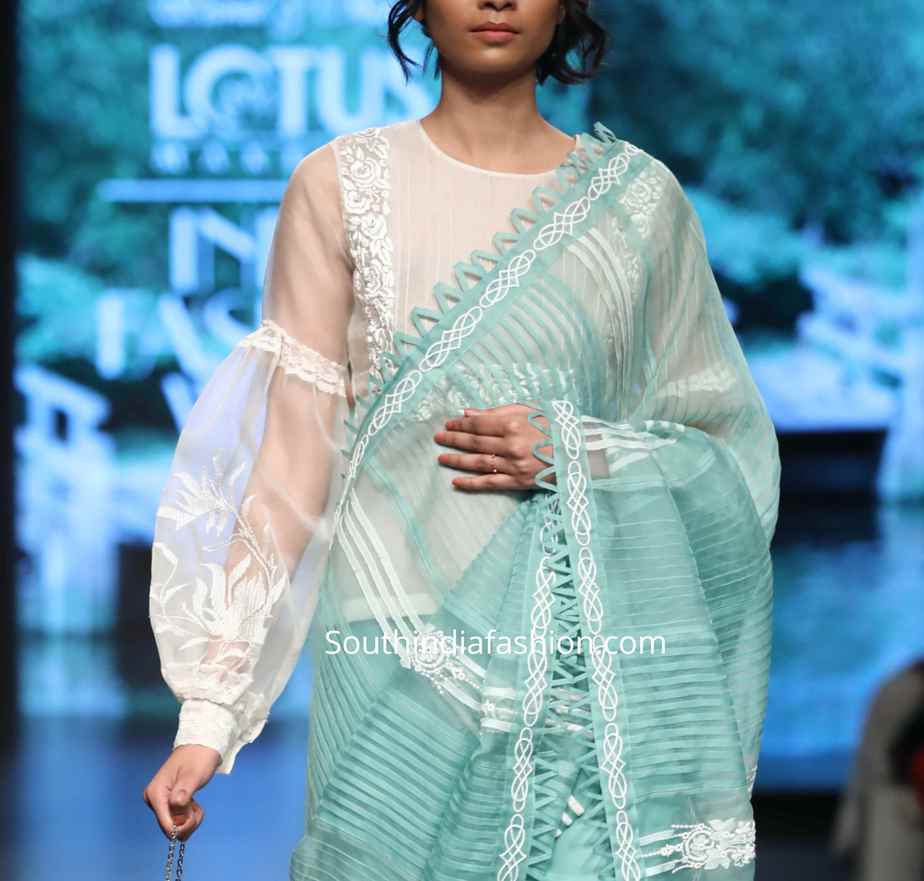 Balloon sleeves are a comeback trend in 2019 and are here to stay! This saree blouse design looks great when the fabric is sheer or netted. Adding a lace detail along the sleeves, this blouse style is sure to turn a few heads at the party!
Flap Sleeved Blouse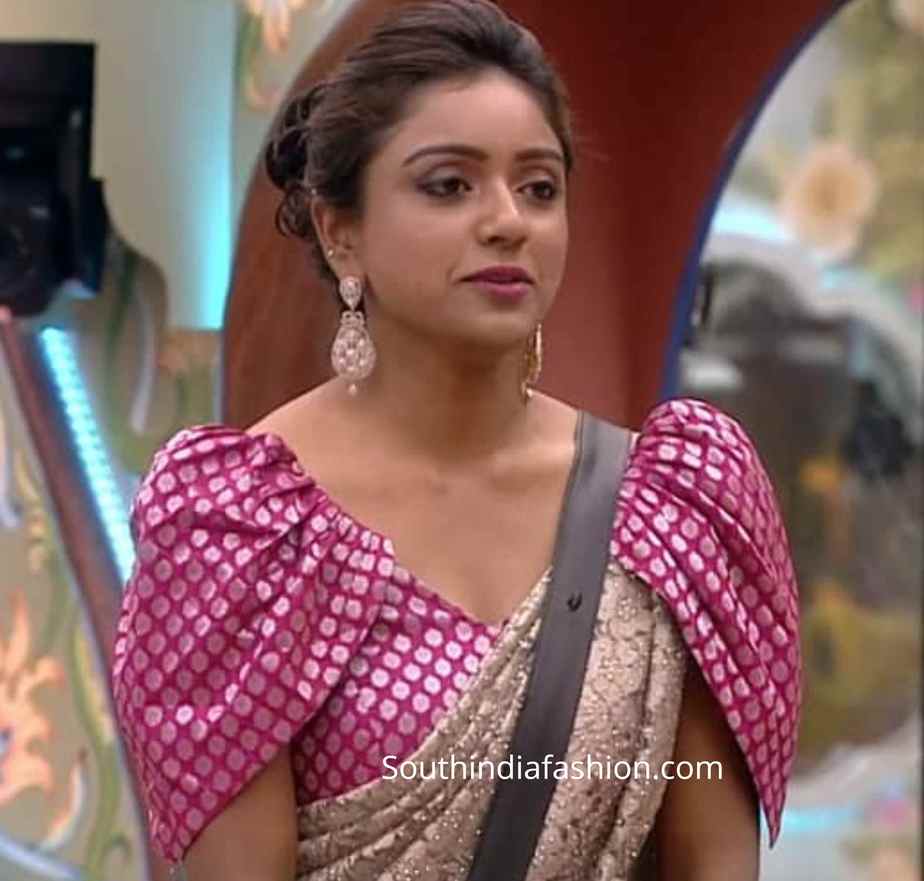 That pretty flap sleeved pattern looks so gorgeous! A blend of cape and tulip sleeves, this flap sleeves look like wings. A perfect pattern to jazz up your look, this party wear saree blouse design is a celebrity-inspired!
Off-Shoulder Drape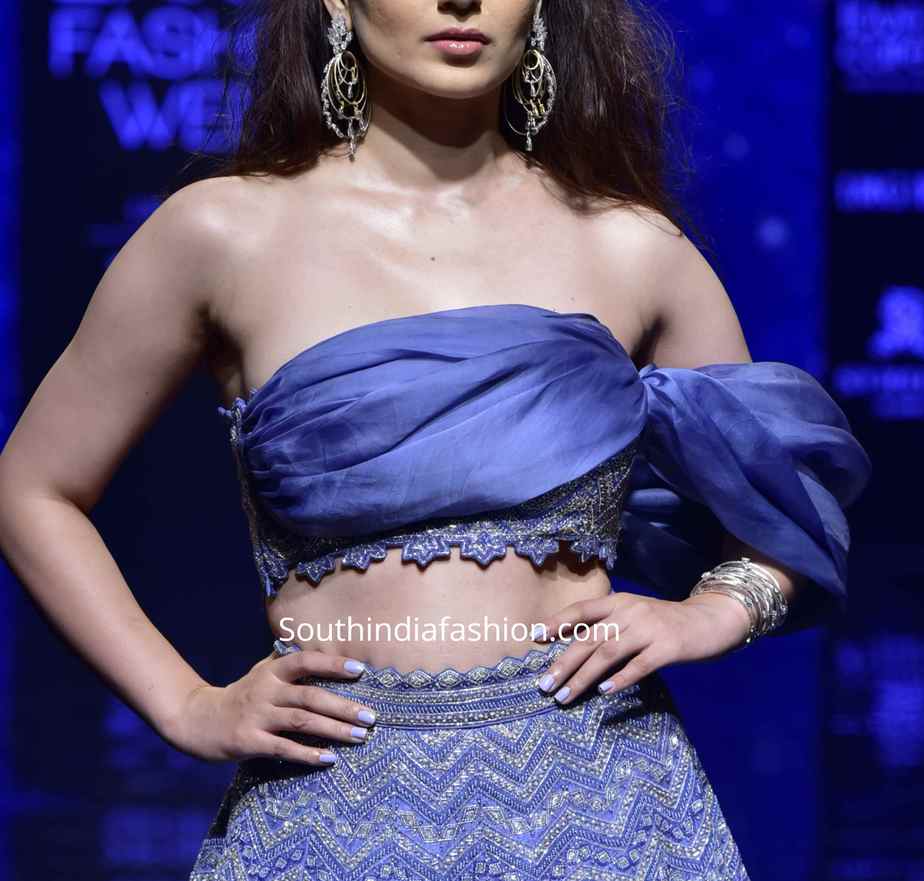 Off-shoulder blouses are for the bold beauties who like to keep their styles edgy and sexy. With a draped style blouse, this pattern is the latest hit on the runway and will surely be a hit when you wear it.
Across-Shoulder Strap Party Wear Saree Blouse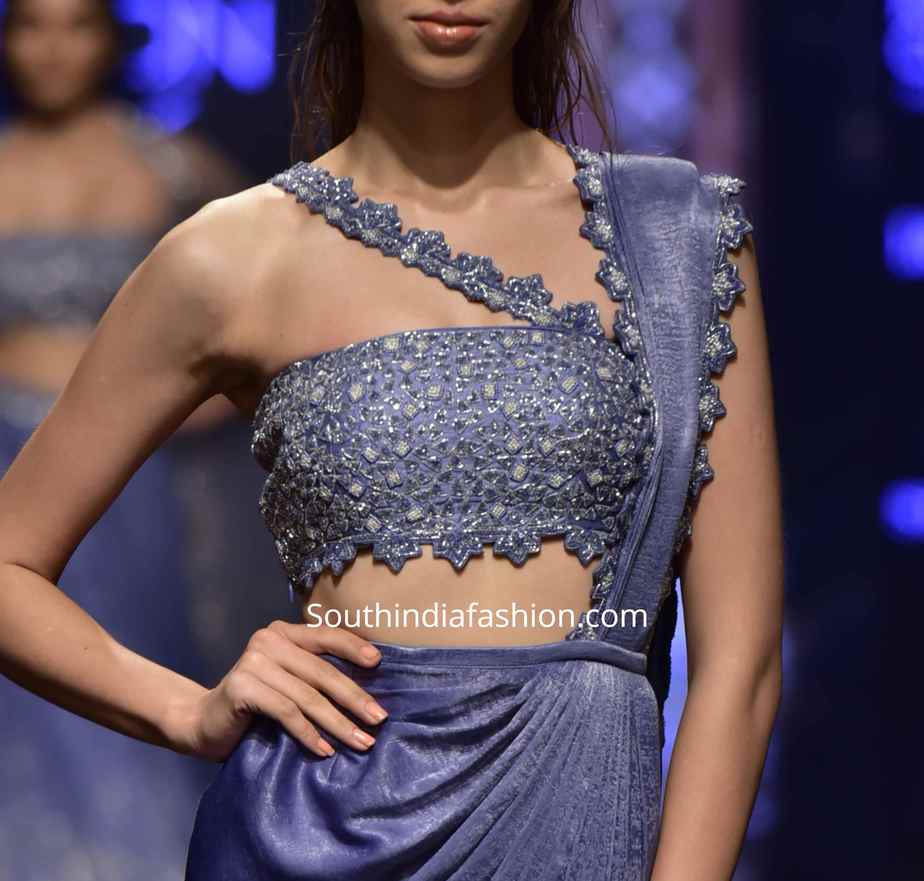 An embellished bustier with an across-shoulder strap is such a chic design! This embroidered blouse is for when you want to experiment with a fancy saree draping style.
Sheer Balloon Sleeves
These netted balloon sleeve blouse designs look fantastic when styled for a party! With strappy lining, netted fabric layer outshines with balloon sleeves and thin back-straps.
Choker Neck Party Wear Saree Blouse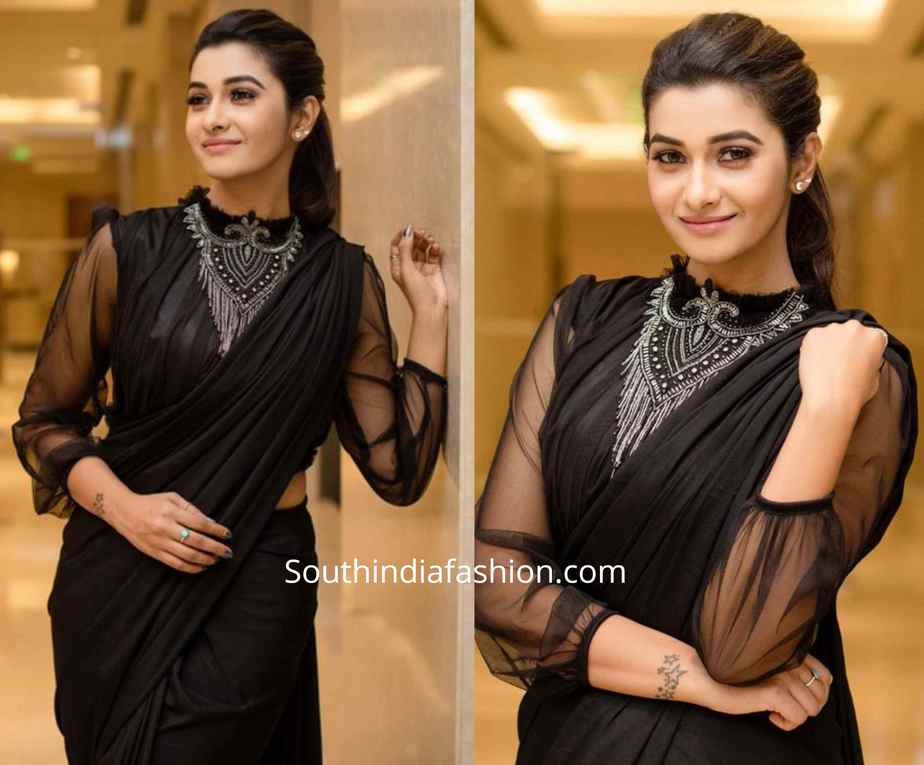 Just another chic style! Style your blouse neck like a choker neck with a full sleeve. This can add a whole new oomph factor to your saree and keeps the party look on point.
Off Shoulder Attached Sleeves
An off-shoulder blouse like the one goes very well with sheer and shimmer sarees. The blouse simply stands out giving an edgy look to the saree. Keep the sleeves sheer with netted fabric with a knotted finish.
Bustier with Sheer Sleeves
A bunch-pleated bustier with sheer fabric sleeves is great is your choice is all about chic and style. Pair this with a shimmer saree and a statement choker to finish the stylish look.
Loved these bold and stylish party wear saree blouse designs? Let us know your favorites!