With the on-going festive season, sarees are the most conventional and hassle-free outfits. You don't have to worry about fittings and patterns as you can literally style sarees however you want! Sarees are such multi-functional drapes! And this festive season, drape your sarees in traditional as well as fusion ways. Experimenting with different ways is what we millennials are famous for! And you can very well style a saree to create some interesting looks this festive season 2019!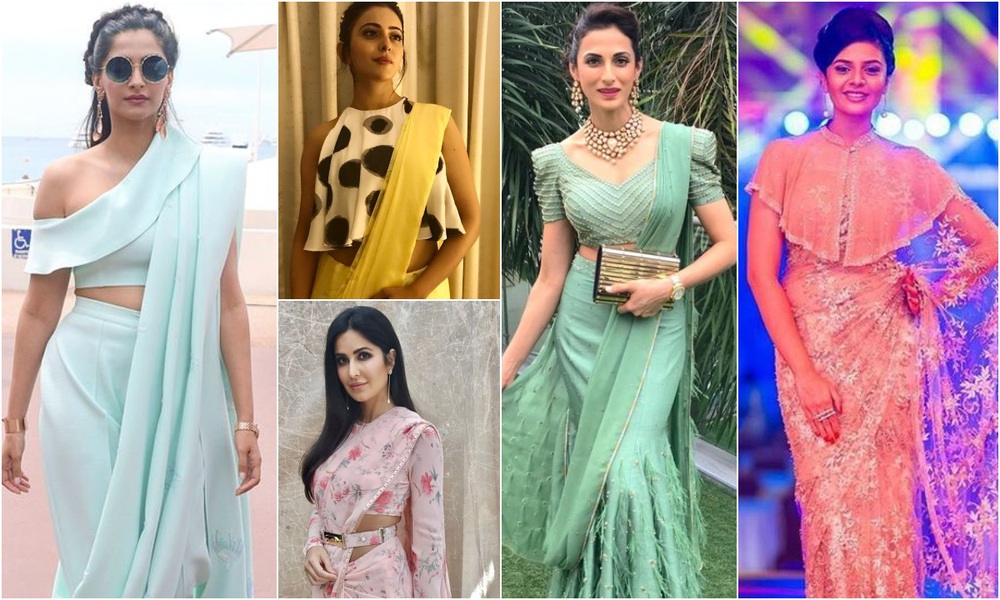 Here are 10 fabulous ways to styling sarees this festive season 2019 –
Belt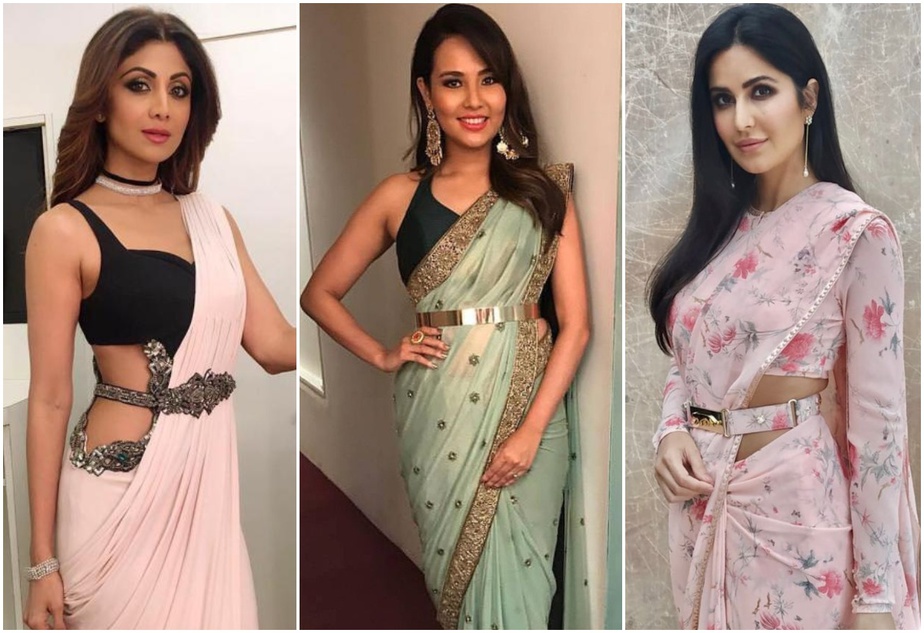 Style your saree by adding belts as they are best to accentuate your waist. Also, they add a quirky element and are trend-setters! You can pick any type of belt – fabric belt, metallic, embellished or also a leather waistband.
Dhoti Style
Dhoti style saree draping is hassle-free! You can drape it over pants or can actually drape it like a dhoti, both look wonderful. In fact, this draping style is famous among celebrities. As it looks ultra-chic for parties and for the festive season.
Palazzo Saree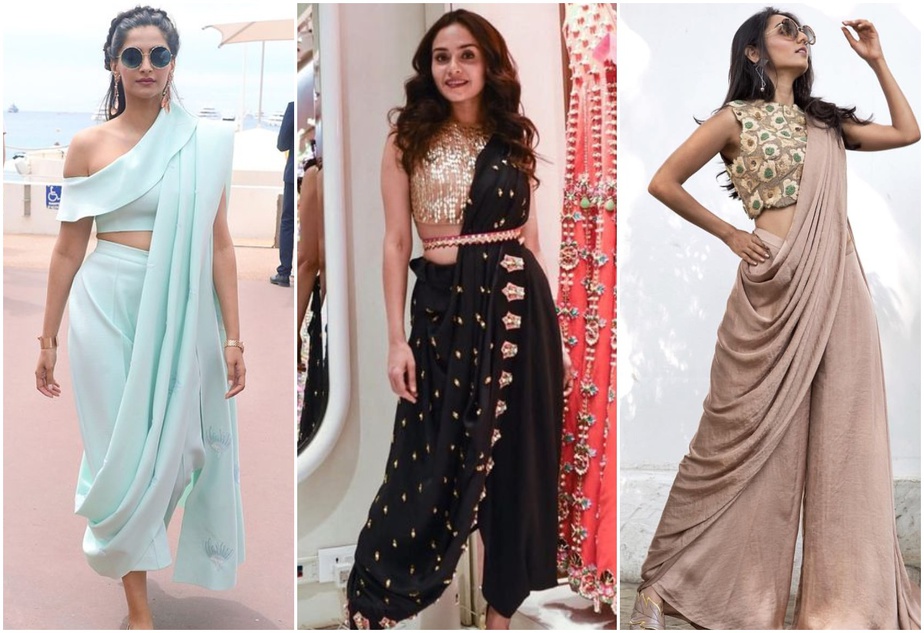 Just like the pant style saree, Palazzo saree is more of a laid back and breezy style of draping. Sonam Kapoor wore this for the Cannes Film Festival and set a trend thereafter! Above all, it is one of the easiest and chicest way of draping a saree.
Jacket / Blazer With Saree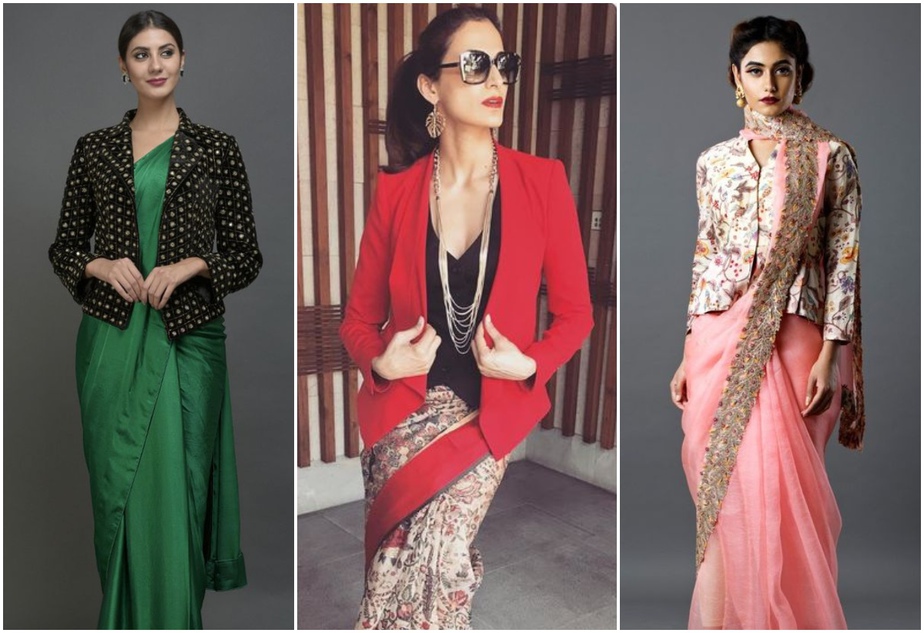 With the variety of saree styles, pairing jackets and blazers are also a draping trend these days. Pairing a blazer or a chic jacket with saree will simply oomph up your simple saree look. Also, it gives an elegant and sophisticated look that you are sure to love!
Cape
Keep it traditional and contemporary this festive season? Just cape-it-up! Capes are such an amazing and simple way to jazz up your saree and 2019 is all about capes! The idea behind draping a saree with a matching cape over it is amazing to add zing to the look.
Gown-Saree
A pre-stitched gown-saree is a modern and chic style of wearing a saree. It gives a fancy cocktail gown look only to know that it is a pre-stitched saree. Many celebrities prefer wearing it for events and award shows as it is easy to carry and looks elegant.
Back-Pleat Style
This style of draping a saree is all credits to Tia Bhuva. The voluminous pleats of the saree give it a Ghaghra/lehenga look that is perfect for the festive season. (How to drape it.)
Long Shrug
Just like the cape, adding a long shrug to your saree ensures a stunning festive look! Also, if you wear a simple saree, this shifts focus from it and keeps the entire look highlighted.
Contemporary Saree Draping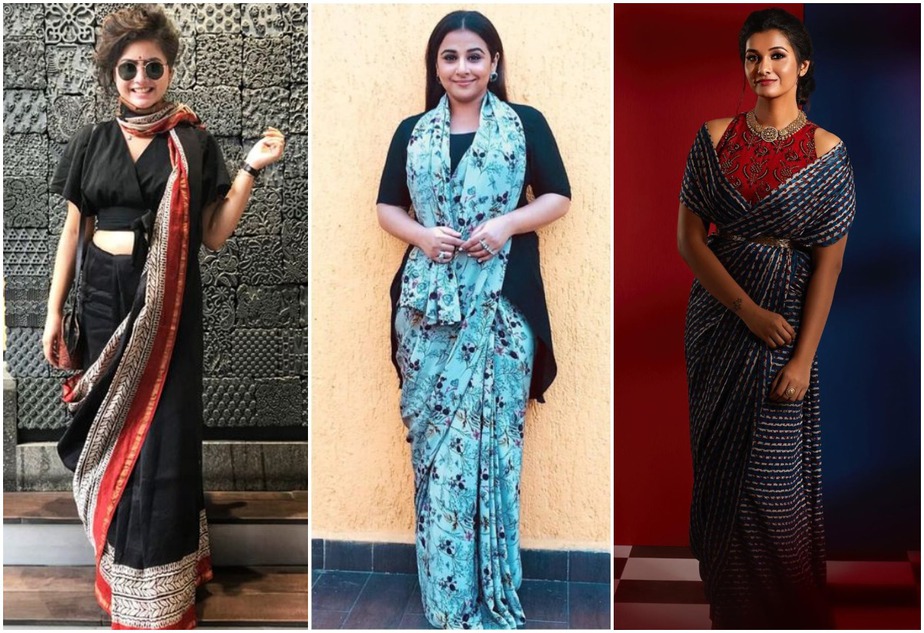 When it comes to chic and contemporary styling, sarees too can be fashionably draped! Draping the pallu around-the-neck, over-the-shoulders and also dupatta-style are some chic ways.
Tops/Tunics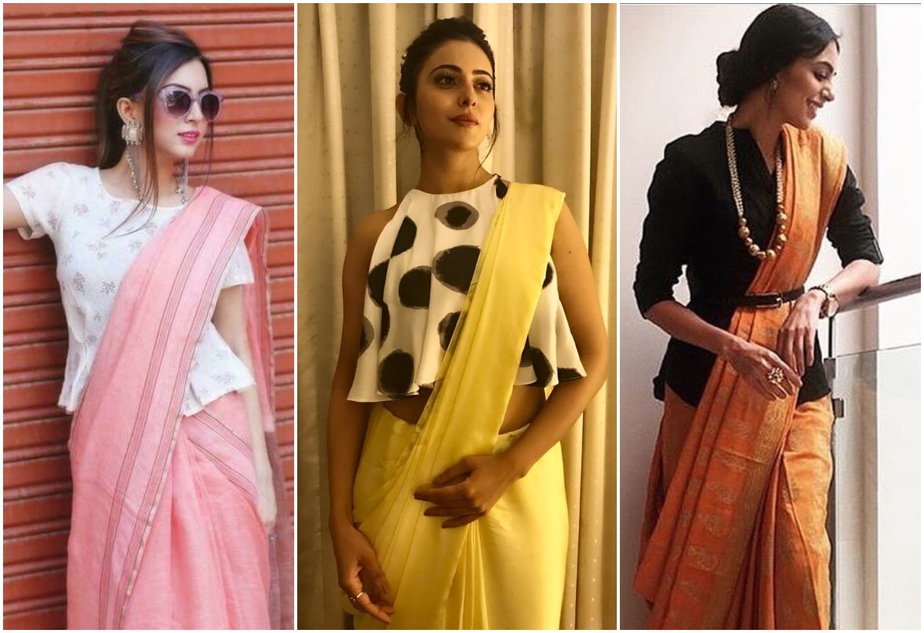 Replace your blouse with a trendy top and style your festive saree in a fun way! Crop tops, t-shirts, tunics or even peplum tops look great when styled with a saree. In fact, it adds a dash of modern touch to your traditional festive wear.
Jazz up this festive season 2019 with these draping styles and dazzle like a DIVA!