Trends come and go, but some trends leave a mark. Designers always strive to leave a mark of their amazing work with each of their collection. With so many fashion shows and new collections, there are always some designs that steal the show! This year at the Lakme Fashion Week Winter/Festive 2019, one such collection stood out! The collection consisted of stylish embroidered blouses for sarees and lehengas. It was a collection called Benaras & Beyond from Jayanti Reddy's collection. These stylish embroidered blouse designs were rich and regal with beautiful embellishments. And blouse patterns that were stunning, chic and ultra-modern! These stylish embroidered blouses 2019 for saree and lehenga are something worth checking out.
Here are some exclusive stylish embroidered blouses from Jayanti Reddy's Collection –
Front Neck Embroidery
The embroidery along the front neckline was exquisite and stunning! The blouses are stunningly made of rich raw silk fabric. And the color palette included a deeper shade of purple, along with hues of pink, red, and ivory.
The plunging front neck was a deep 'V' blouse pattern that branched into various shapes from deep round to deep 'U'. The embroidery is a mix of bold and intricate embroidery in ivory and silver zardosi.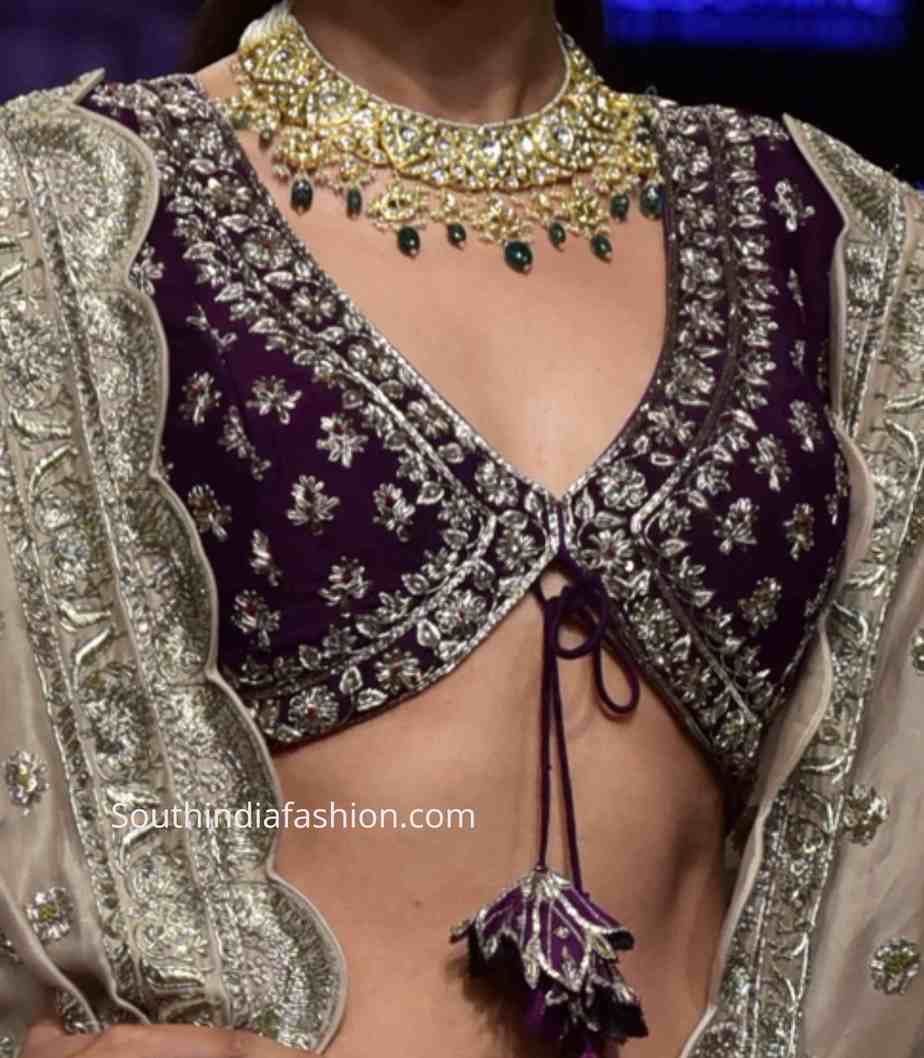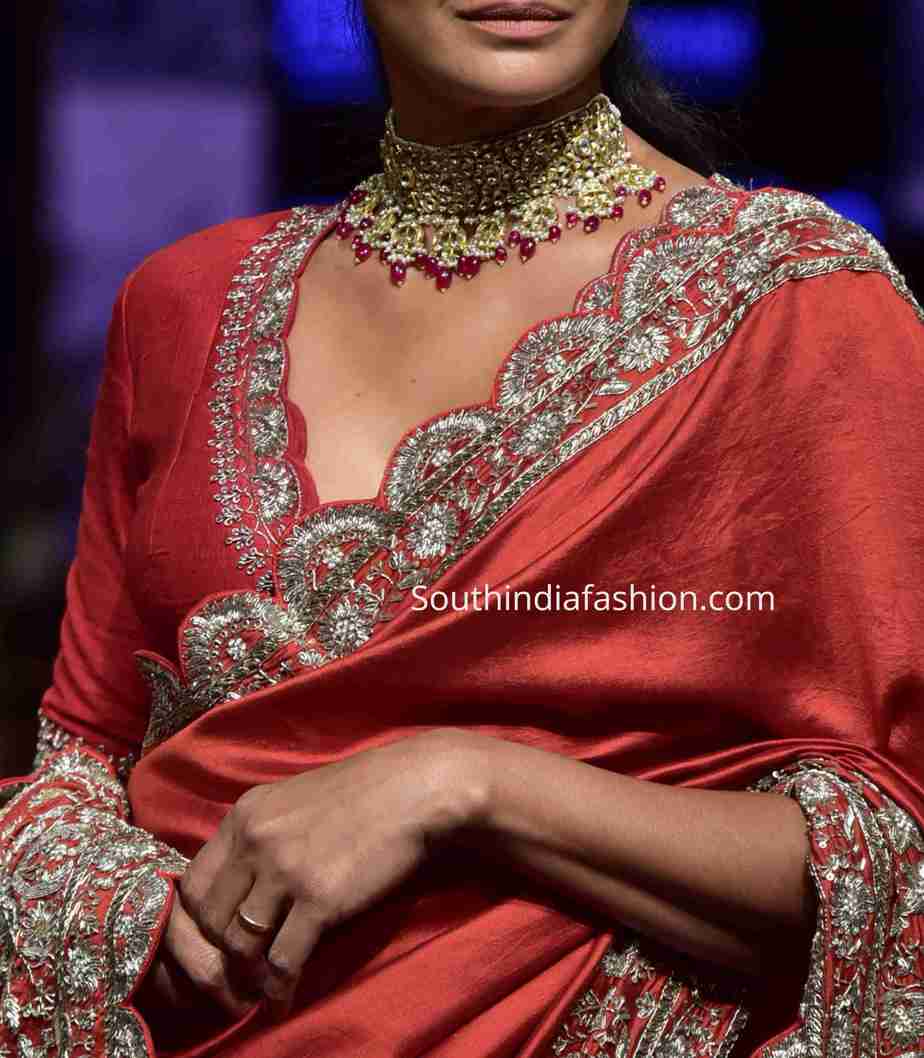 While being deep and plunging, the necklines have curved scalloped patterns all along. They have stylish embroidered designs that included motifs like leaves, flowers, and creepers.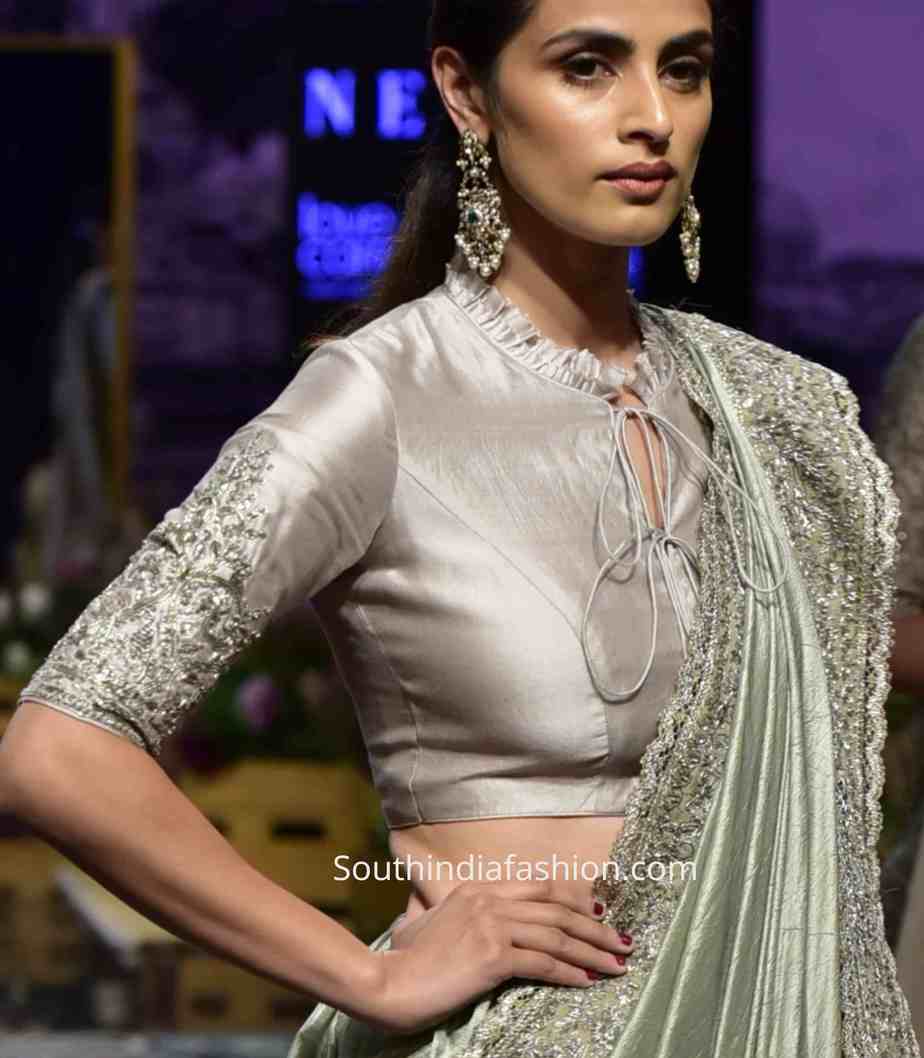 There were some choker blouse necklines too! They stood out with their rich embroidery all along the body and sleeves of the blouse. These closed neck blouses have intricate designs to enhance the sleeves and neckline.
Full Embroidered Blouses 2019
There are some exclusive rich blouses with all-over embroidery in this collection. These embroidered blouse designs have all-over zardosi work making it a designer blouse.
These peplum blouses are simply the cutest! They have embroidery all over it, they work great as stylish blouses for sarees and lehenga!
Pooja Hedge was the stunning showstopper of this gorgeous Jayanti Reddy collection. She wore a deep purple lehenga with plunging V-neck stylish embroidery blouse! The embroidered tassels match to the intricate detailing all over the stylish blouse.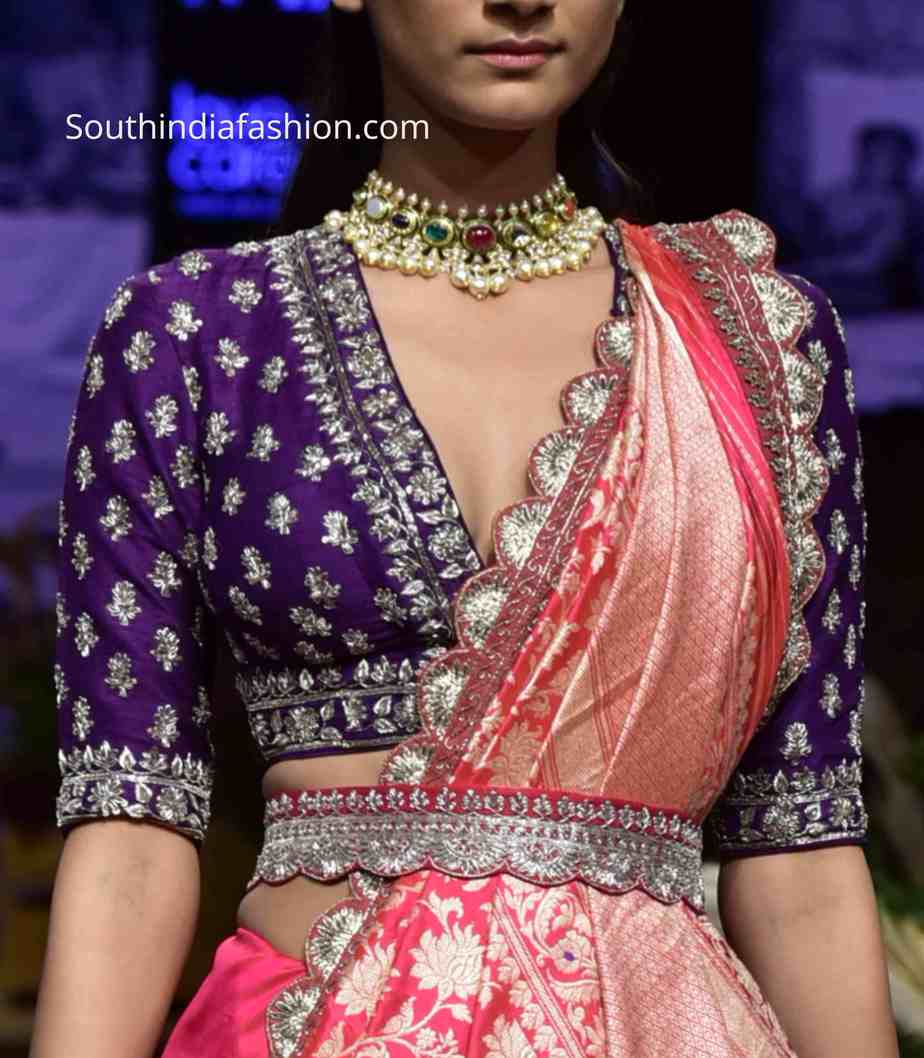 With bordered embroidery design along the neckline and sleeves adds to the richness. All along the sleeves, we find tiny embroidered floral motifs. These are definitely one of the stylish embroidery blouse designs for 2019!
Back Neck Embroidery Blouse Designs
While the front neck and sleeves had heavy embroidery, the back neck was stylish too! They were backless embroidery blouses with tassels adding oomph to the overall look. The backless blouses have Dori with embroidered tassels! These simply keep intact the richness of the embroidered blouses even as we turn our backs. The back neck of the blouse has scalloped patterns along the back neckline as well. These scalloped curves have intricate embellishments to keep up the glam factor.
Weren't these stylish embroidery blouse designs worth inspiration? Jayanti Reddy's blouse designs for sarees and lehengas are surely stunning!