Silk sarees are so enriched in themselves but the beauty is almost doubled when they are paired up with trendy pattu saree blouse designs. This is such an era when you can't ignore the importance of good blouse patterns and thus before choosing the blouse designs for silk sarees one should always go through the latest saree blouse patterns. Here we are sharing top 20 trending beautiful silk saree blouse designs so that you can choose the best one and get the amazing look for yourself: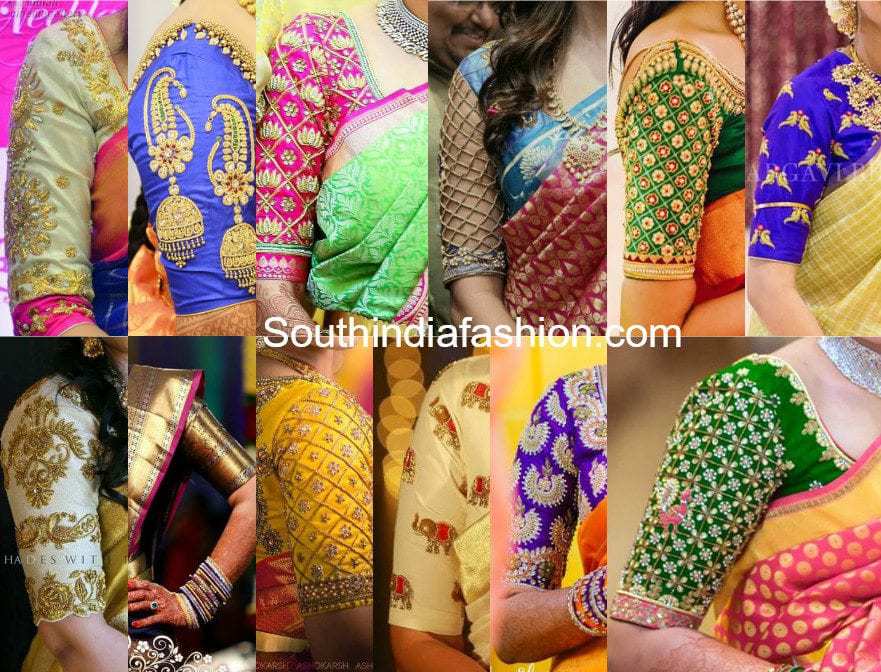 Top 20 Most Trending Blouse Designs For Silk Sarees
1. Big Border Plain Elbow Length Sleeves Pattu Blouse Design
The best thing about silk sarees is their lovely border which looks so rich in itself. To get that equally rich feel in the pattu blouse design, you can use the same plain border for stitching the blouse sleeves. Make the blouse look more elegant by choosing a big border plain elbow length sleeves.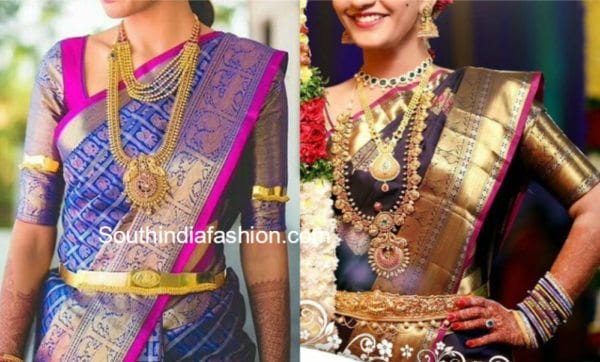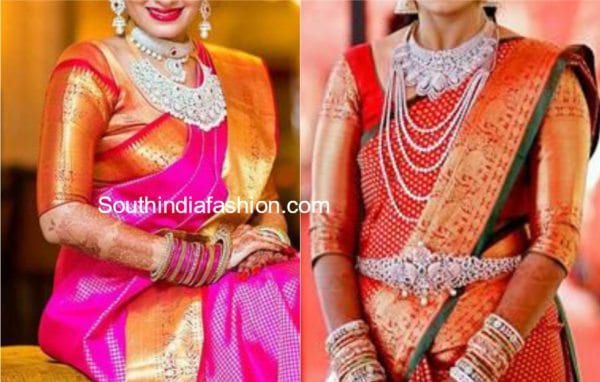 ALSO READ: Top 15 Silk Sarees Worn By Our Favorite Celebs In 2017
2. High Neck Silk Saree Blouse Designs
If you desire to get a sophisticated look in silk sarees then high neck pattu blouse designs are a must try. The collar style high neck silk blouse can be worn at official occasions whereas round neck design would be the best option for festive and wedding occasions.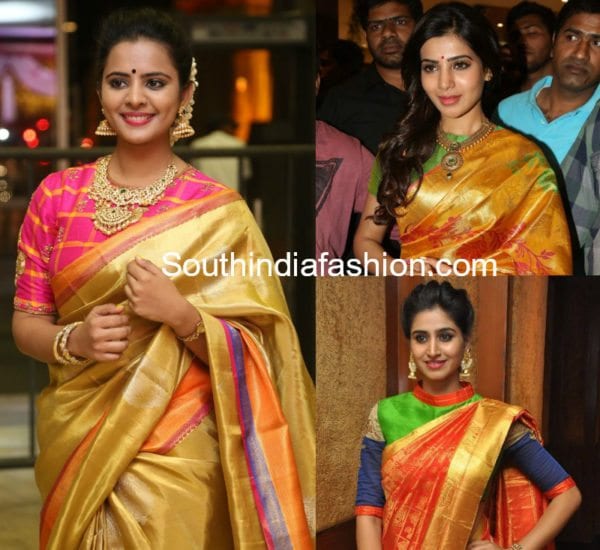 3. Cold Shoulder Blouse Designs for Kanjeevaram Silk Sarees
Usually in pattu blouse designs, the cold shoulder is decorated with jewels to give it a much richer feel. Cold shoulder sleeves are so much in trend these days that even in so many kanjeevaram blouse models you can see this sleeves cut style. Choose this style and give a contemporary fusion to the traditional kanjivaram saree.
4. Pattu Saree Blouse Designs with Cut Work Sleeves
If you want stylish sleeves in your silk blouse design then choose the cut work sleeves pattern as it looks so stunning with silk sarees.
5. Floral Zardosi Maggam Embroidered Blouse Designs for Silk Sarees
Everyone loves different types of floral patterns and these patterns will remain an evergreen design in Indian fashion. However the floral trend is on rise these days and the best way to flaunt this trending fashion is by getting beautiful floral maggam embroidered blouse designs for silk sarees.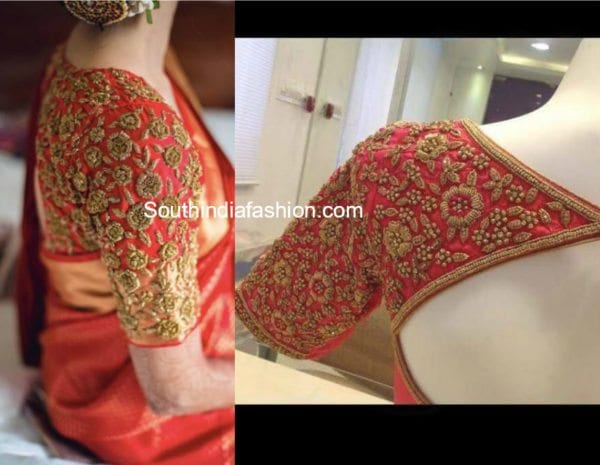 6. Silk Saree Blouse Design with Floral Motif Stone Work Elbow Length Sleeves
One of the most trending blouse designs for pattu sarees are floral and stone motif work blouses. This type of blouse is perfect for occasions like festival and weddings where the heavy saree look is required. The stone and motif work makes the blouse look quite royal and heavy.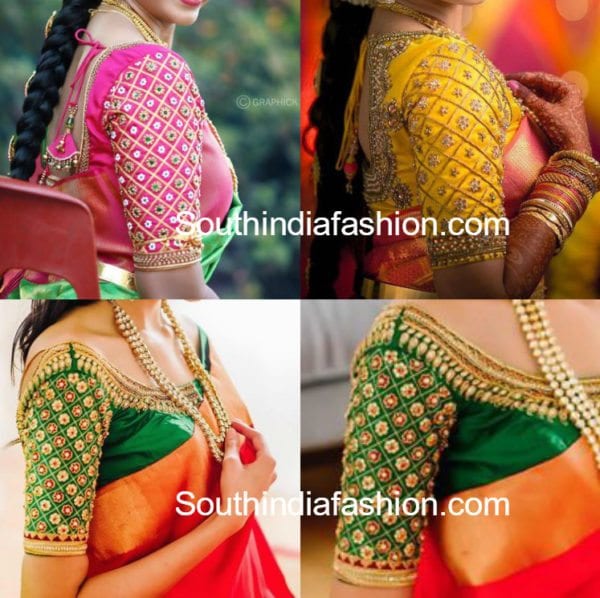 7. Kanjeevaram Blouse Designs with Embroidered Jhumki and Chandbali Motifs
This season chandbalis and jhumkis have become every girl's first love. How about reflecting this love in your outfits as well?? No we are not kidding!! Embroidered jhumki and chandbali motifs work kanjeevaram blouse designs have already become a huge fashion in the Indian market. Check out few lovely blouse patterns for pattu sarees for your reference: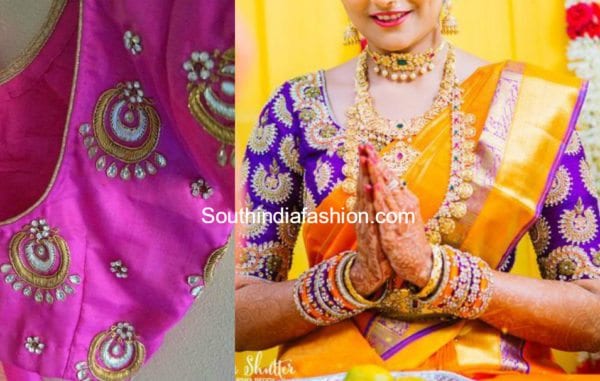 8. Elephant Motif Embroidered Blouse Designs for Wedding Silk Sarees
Be it a Sabyasachi bridal lehenga or any other Indian outfit, elephant designs can be seen everywhere this season. One of the coolest blouse designs for wedding silk sarees can be the embroidered elephant motifs all over the blouse.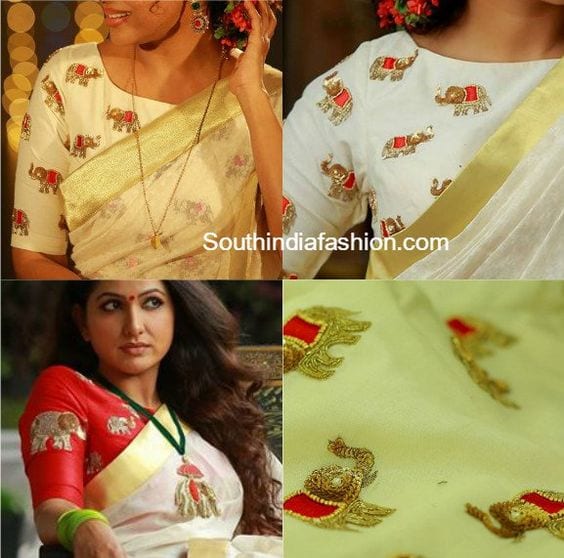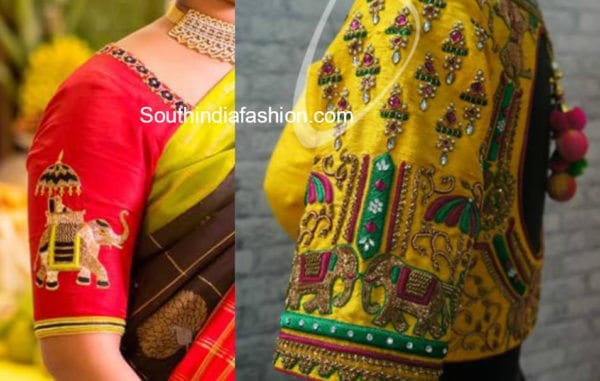 9. Boat Neck Silk Saree Blouse Designs
One of the simplest yet elegant blouse designs for silk sarees is the boat neck pattu blouse. No matter which body type you are, this blouse pattern will suit everyone of you. We can easily say that this is a universally flattering style and that's why it's trending all over.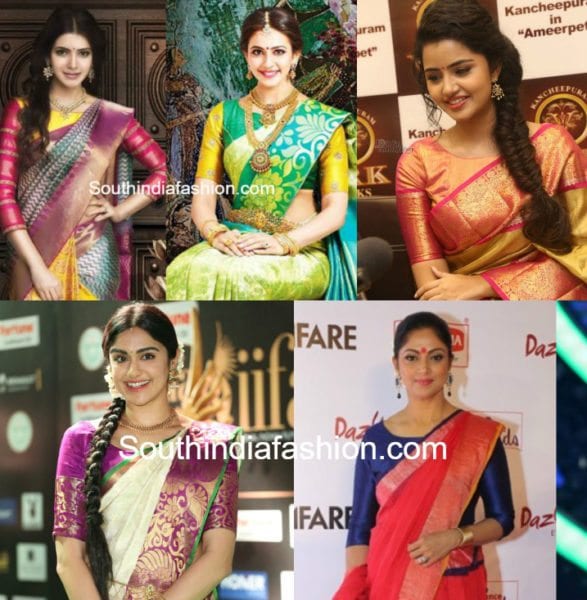 10. Plain and Printed Full Sleeves Pattu Saree Blouse Designs
As the silk sarees are so rich, sometimes even plain or printed sleeves looks like the best silk blouse designs. These traditional Indian sarees looks equally beautiful without any embellishments or heavy work on the blouse.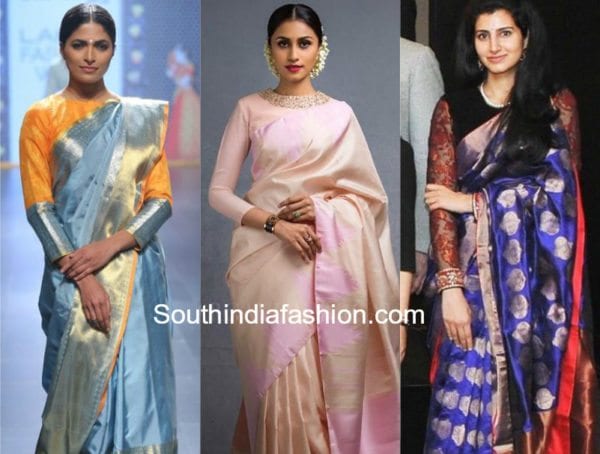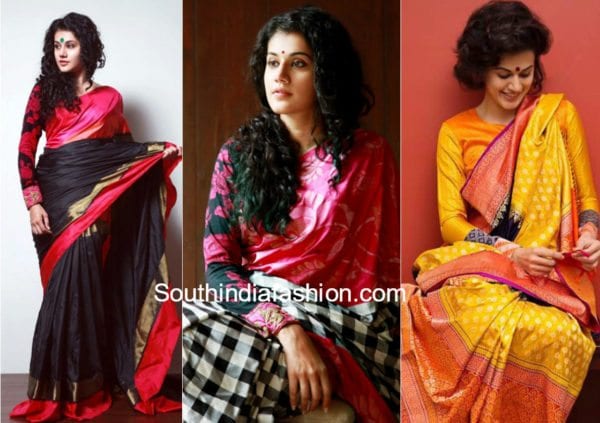 11. Embroidered Full Sleeves Blouse Designs For Kanjeevaram Sarees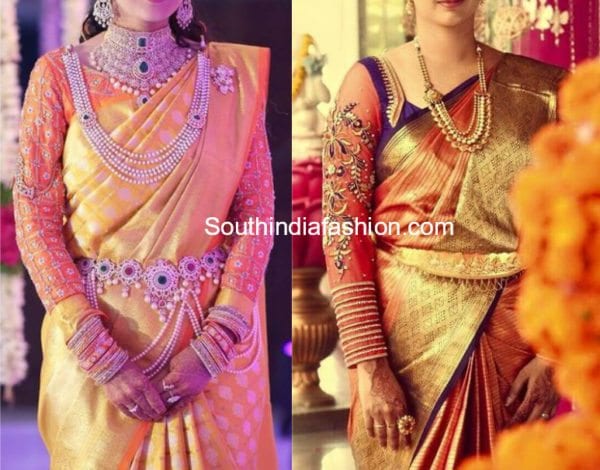 12. Parrot Embroidered Blouse Designs for Silk Sarees
What can be more exciting than beautiful chirpy bird design blouses for silk sarees? Pattu blouses having embroidered bird designs are really trending and looks so out of the box yet beautiful. To add a style statement you can also carry a clutch having the matching pattern of the blouse.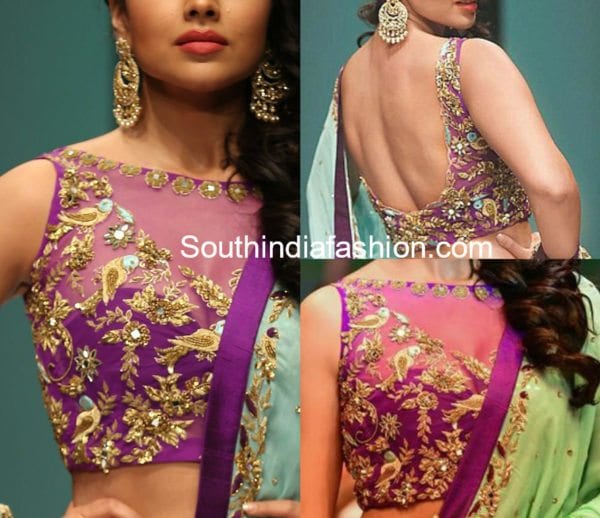 13. Peacock Embroidered Silk Saree Blouse Designs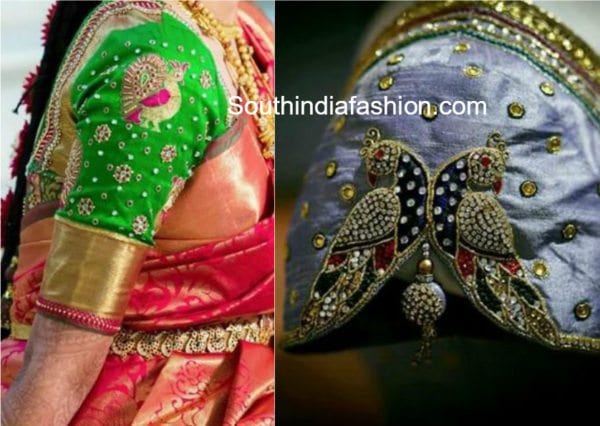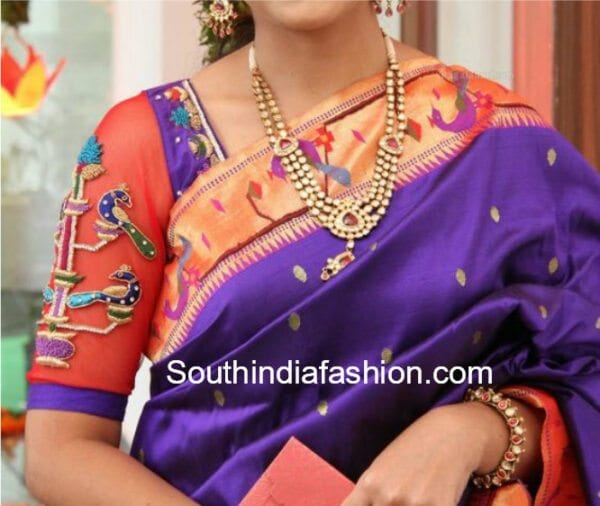 14. Off Shoulder Blouse Designs for Silk Sarees
Silk sarees are usually termed as traditional sarees but now one can break this illusion from everyone's head by pairing it up with an off shoulder blouse. It's time to glam up your kanjeevaram saree with this stunning style.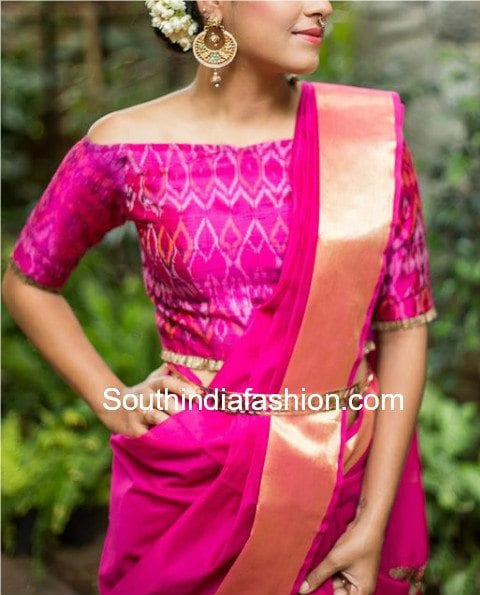 15. Muggu Work Blouse Designs for Silk Sarees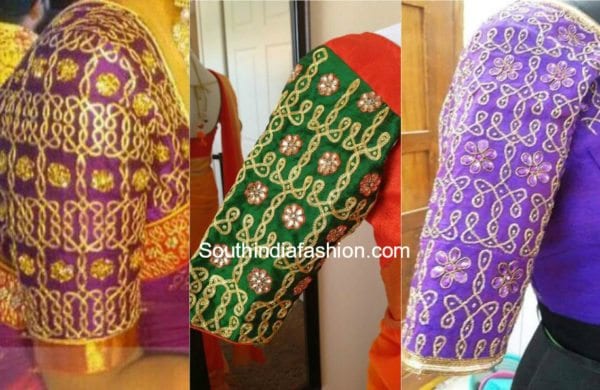 16. Floral Print Blouse For Silk Sarees
Everyone already knows what a fashion storm these floral print blouse for sarees have created globally. A nice and colorful floral blouse is all that you need to give a subtle look to your pattu saree.  
17. Heavy Kundan Work Elbow Length Sleeves Blouse
Kundan work is so much in vogue in Indian bridal trends these days. From jewellery to outfits, everywhere one can find the detailed work of kundan. One such beautiful kundan work pattu blouse design is mentioned below where the sleeves are heavily crafted with kundan and zari work.
18. Simple Elbow Length Sleeves Maggam Work Blouse
19. Lotus Design Blouse For Silk Sarees
Add more richness to your saree by teaming it up with lotus pattu blouse design for pattu saree. The most beautiful flower embroidered all over the blouse with the classy zardosi work is something that's really in trend and you must try it.
20. Off-White Zardosi Work Blouse For Silk Sarees
Zardosi work looks so rich in itself and when embroidered in a silk blouse, the beauty is just unmatched. Carry any color silk saree with a well crafted off white zardosi work pattu blouse and watch out for the number of compliments you receive.
All the above suggested blouse designs for silks sarees are really trending these days. Still there are few women who haven't tried these pattu saree blouses because they really don't have any ideas about the latest blouse trends!! But now after knowing it, do try these beautiful designs and let us know which one did you like the most.