Have you also noticed that Kalamkari has started picking up pace in the fashion industry these days? Well, this beautiful aesthetic kalamkari needs no introduction. It is a type of hand painted or block printed fabric used earlier to depict mythological figures, deities, scenes from epics, etc. However, kalamkari has established itself into the fashion industry as kurtas, sarees, dupatta, and blouses. For all those fashionistas who love experimenting and mixing and matching, kalamkari is what you should totally try out! In other words, Kalamkari blouses are so versatile that you can pair them and styled with literally any saree.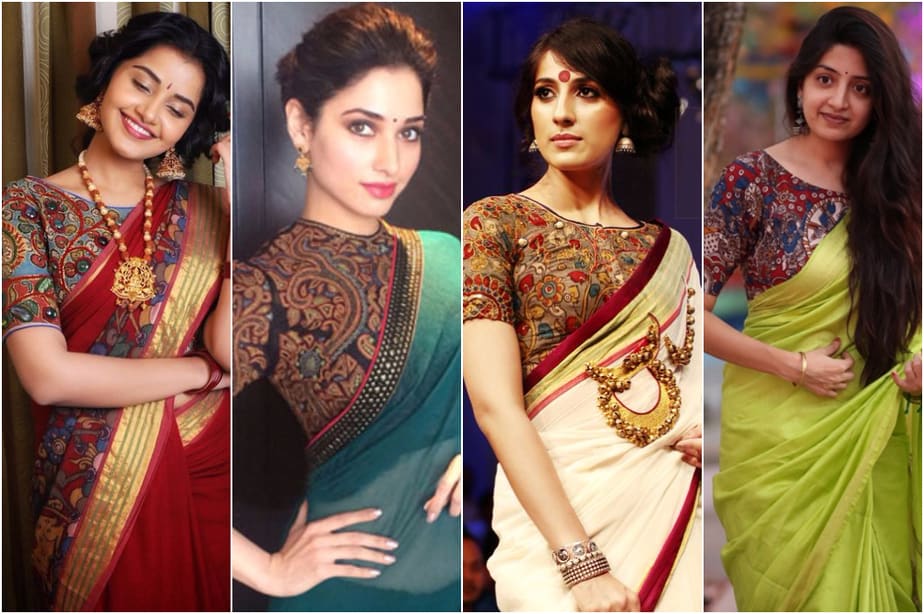 Therefore, let's check out all the gorgeous sarees that go well with a Kalamkari blouse –
With Plain Saree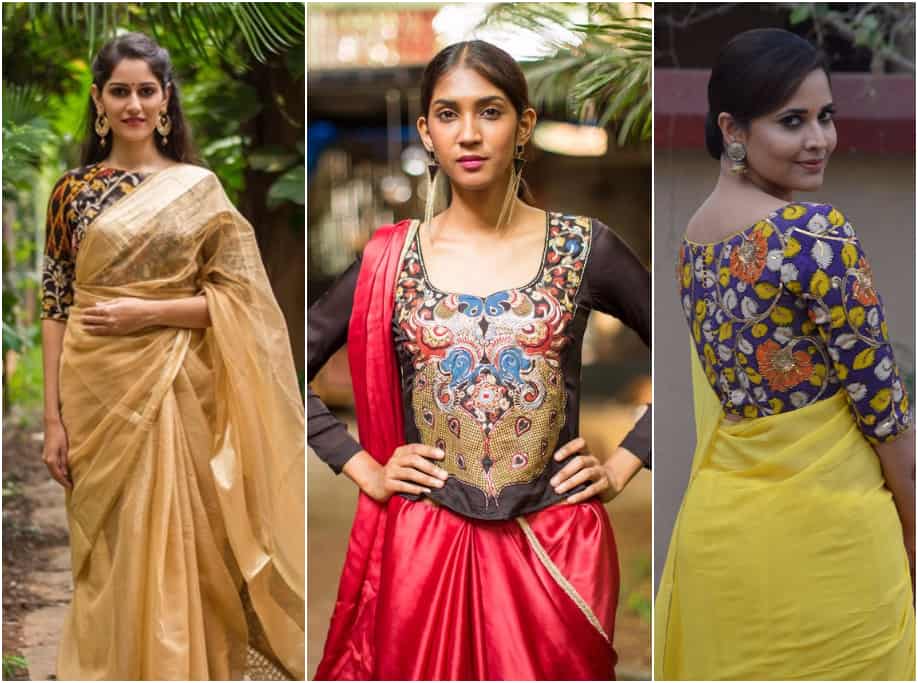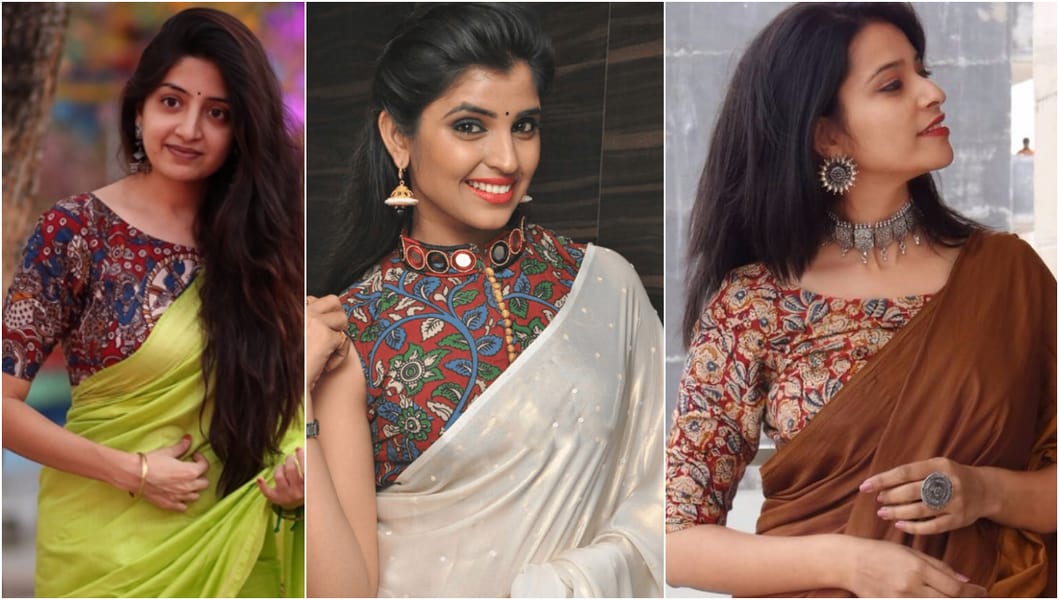 Styling a kalamkari blouse with a solid plain saree is the easiest! You can literally pick a plain saree of any color and style it with your kalamkari blouse. This blouse is versatile and usually has lots of colors in it that work great with any contrast or similar colored saree. Therefore, any plain saree paired this blouse, some contemporary jewellery and you are ready to effortlessly rock any occasion.
With Silk Saree
Silk sarees are the handlooms that are graceful even when we mix and match them with designer blouses. However, considering how versatile the Kalamkari blouses are, it won't be too difficult to pair them together! In addition, pick sarees with rather plain or light work on it. Avoid pairing heavy zari work with these blouses as it might dull down the look. In other words, remember that this look works great only if the blouse is also equally or heavily embellished.
With Designer Saree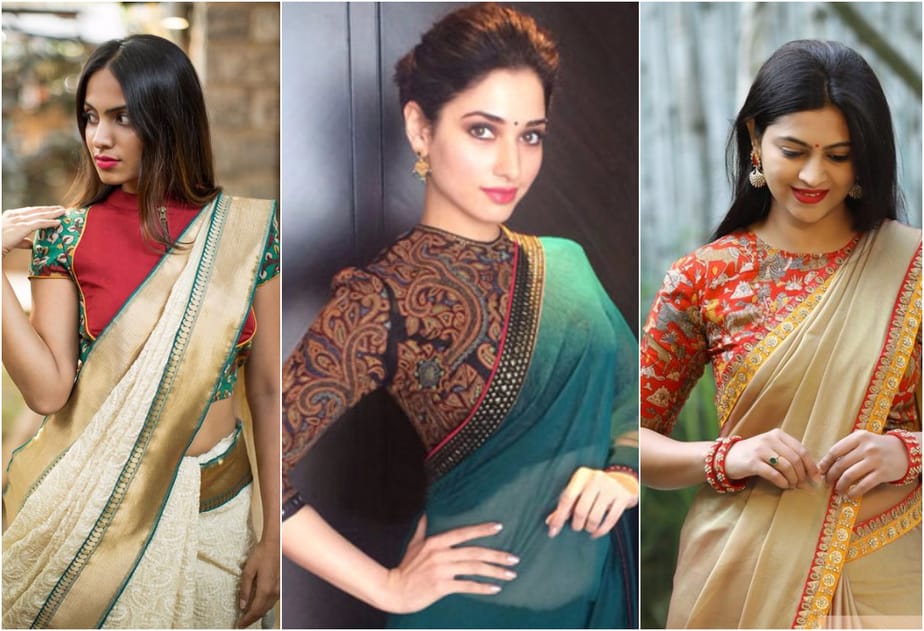 Simple sarees with attractive work on the border can brighten up your look when paired with a kalamkari blouse. A designer saree with tie and dye or mirror work looks great when worn with a contrast kalamkari blouse. Add a little bling to the blouse's neck or sleeves and its party ready!
With Cotton Saree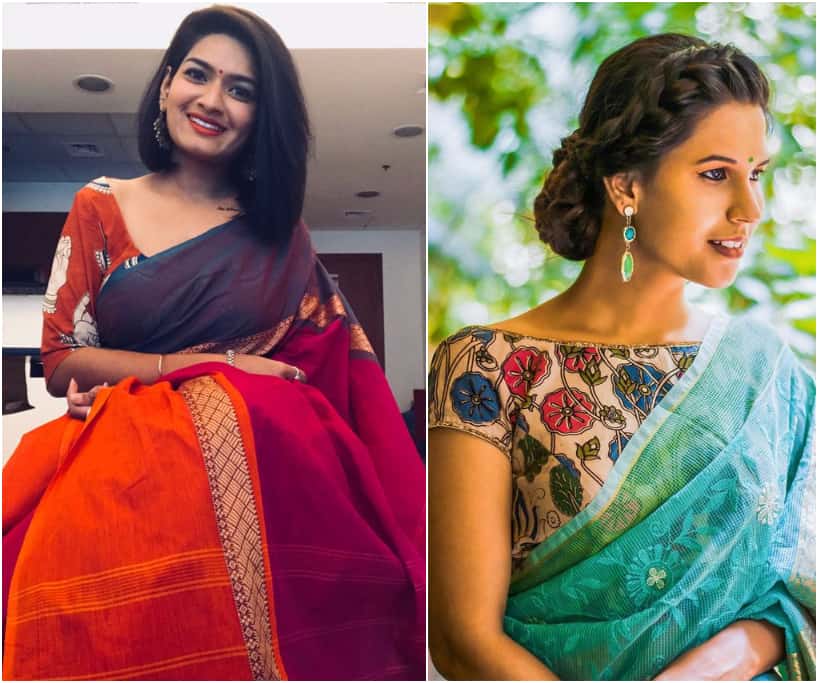 Cotton saree of any color can be literally elevated to look chic when you pair them with kalamkari prints. In other words, bright colored sarees look fabulous with a blouse that consists of the warmer tones of these colors. You can also work through the contrast game and pick multicolored blouses as options. With cotton sarees, kalamkari blouses look elegant and graceful.
With Kerala Saree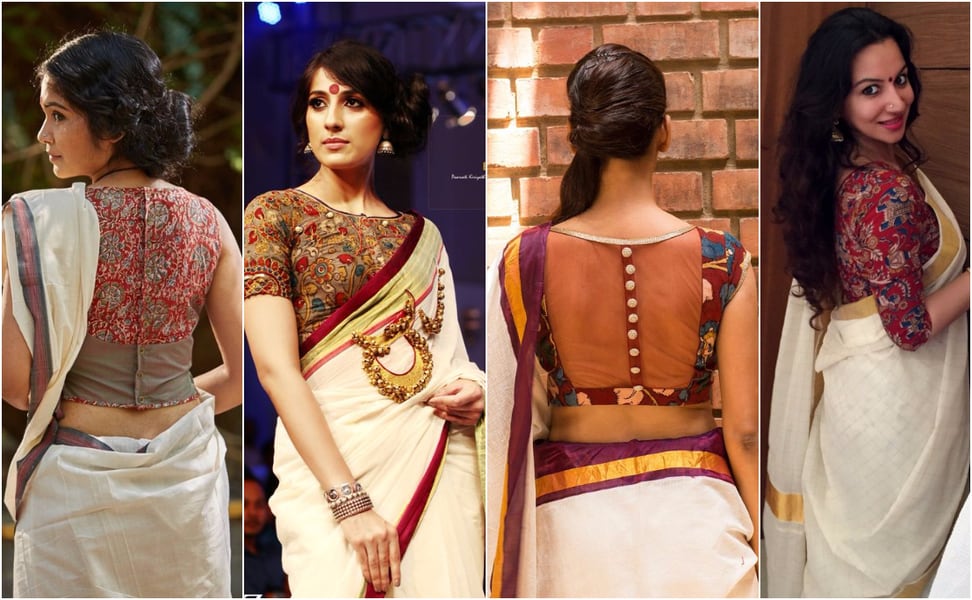 Who isn't a fan of one of the most versatile saree – Kerala 'Kasavu' Saree? Literally, anyone of any age can wear these sarees! In addition, the plus point of the saree is that you can throw on any blouse for it, and it would look perfect! However, a kalamkari blouse of any color, print or pattern would look ultra-stylish with this saree! Don't believe us? Give it a try and you won't regret! These prints are known for its deep hues to make a fantastic combination with white and off-white sarees!
In conclusion, Kalamkari blouses are a must-have! Take your creativity to new heights by wearing this with other sarees as well. We hope we have given you the inspiration and slight temptation to own one kalamkari blouse!