Kalamkari prints have been making waves these days. Kalamkari blouses are a wardrobe must have this summer for their comfort level and style. Kalamkari blouse designs are versatile and can be paired with plain sarees or subtle printed cotton sarees to make a contemporary statement. Featuring below eight beautiful ready made Kalamkari blouse designs by "House Of Blouse" that you can shop online. (shop here)
1. Orange khadi sleeveless boat neck blouse with green kalamkari yoke and V-shaped back neck.
2. Maroon khadi sleeveless blouse with Kalamkari detailing.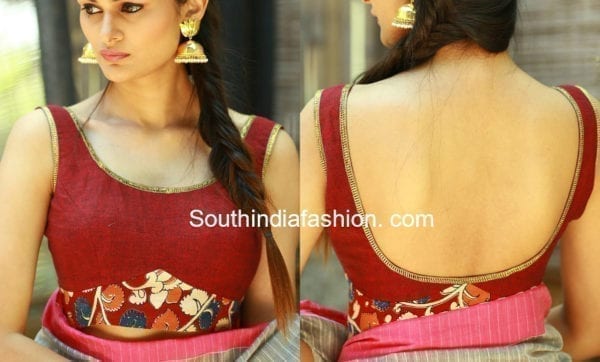 3. Maroon Kalamkari print blouse with sheer back.
4. Black kalamkari cotton boatneck sleeves blouse.
5. Maroon kalamkari cotton boat neck blouse with rose pink elbow length sleeves and cut out back neck.
6. Mustard and black kalamkari print blouse with frilled elbow length sleeves.
7. Cobalt blue kalamkari semi crepe blouse with vintage ruffle sleeves.
8. Orange criss cross semi crepe Kalamkari print blouse embellished with beads along the border.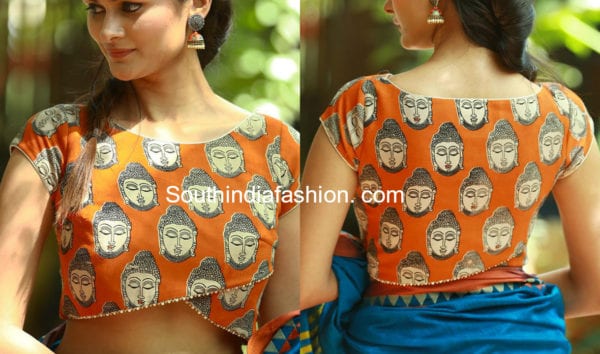 ALSO READ: Plain Saree With Kalamkari Blouse – A Must Try Look!
Tags: kalamkari blouse with saree, kalamkari blouse designs images, kalamkari blouses online, kalamkari blouse for kerala saree, plain saree with kalamkari blouse online shopping, Kalamkari blouse fabric