2015 has been a great year for fashion with plenty of new trends that have been introduced into the ramp and most of those being experimented off the ramps as well. Both desi and non-desi wear that was made by our designers have been utterly lovable with the fusion wear dominating the scenes. We've listed out five trends that were a hot favourite with our divas this year. How many of these have you tried out?
1. Cape
Adding a sheer, lace or embellished capes to your outfits, be it your sarees, anarakalis or even western wear has been a fashion statement that a whole lot of celebrities tried out this year on the ramp and the red carpet. Considering how cape adds a definite glamour quotient to your outfits, it won't be a suprise if this trend is to spread out into the streets by large, the coming year.
2. Salwar Palazzos
When it comes to traditional wear, the one trend that nearly all celebs have sported this year is the salwar-palazzo suits. They were gorgeously ethnic and very modernistic both at the same time. Yet another trend that we hope, gets carried into the next year as well.
3. Florals
Floral fever has spread by large, on the ramps as well as in the stores of the city this year. Floral sarees, anarkalis, palazzos and skirts have all been a massive hit with the public and the celebs alike. If you don't own a whole lot of florals already, you should definitely try them out before the trend dies down.
4. Crop Tops
Yet another favourite outfit trend with our divas has been the crop top and skirt. They've worn it over and over again in many different styles, sometimes going desi and sometimes going western. The trend has been a hit with the city folk who'd like to experiment as well.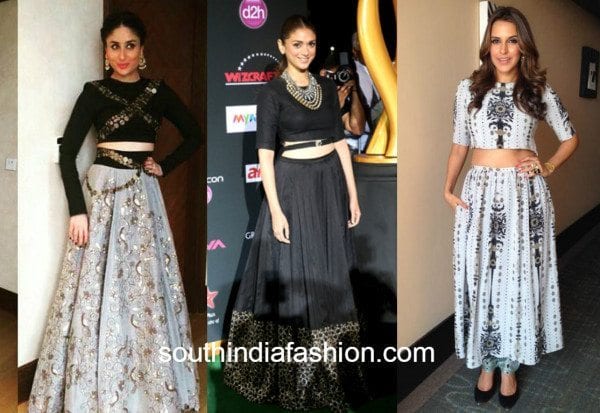 5. Slit Kurtis
Kurtis are one outfit that constantly stays in fashion with new twists addes to it each season. And this time around, it is the slit kurtis which were a big thing. These slit kurtis can be mixed and matched into many styles and can look desi as well as stylish. A must try, if you haven't already.
What was your favourite trend that was big in 2015? Do let us know!