The curly haired Maharashtrian Diva become a popular face on the internet in a couple of years. After her cup song went viral, there has been no looking back for this beautiful actress. Known for her role in web-series like Little Things & Girl in the City, Mithila Palkar has come a long way! With her quirky nature and enchanting on-screen appearances, she has charmed us! With this appealing charisma, she has paved her way into the Marathi and Hindi movies. She has some unique style that are turning heads and stealing hearts. Be it ethnic, western or fusion – she is setting some major fashion goals for the millennials.
Mithila Palkar's breezy taste of fashion is refreshing and fun. This style statement gives her the image of being a girl-next-door. Her cute smile and lustrous curls that she flaunts exquisitely adds up to her chic style statement.
Her profile seems to be no less than a style and fashion inspiration. Check out the style statements from her wardrobe that are setting fashion goals –
The charm of a Nath (Nose ring)
This typical Maharashtrian girl flaunts away her love for nose-ring in style! Therefore, when Mithila Palkar goes traditional, she goes all the way. She is often spotted with a gorgeous Nath when she dolls up in a saree.
Saree Mania
Mithila Palkar can rock a beautiful traditional handloom saree as if she is wearing it for years! Linen or Silk, her grace and elegance shine from within! She always keeps it's simple and basic to highlight nothing else but her saree. In conclusion, she manages to sweep us off each time!
Firstly, when it comes to quirky fashion and fun sarees, she doesn't hesitate to be her own self! She is not afraid to experiment with her quirky yet ethnic style. Even when she decides to be quirky, her style statement remains minimal! Understated, basic yet beautiful.
Modish Indo-Western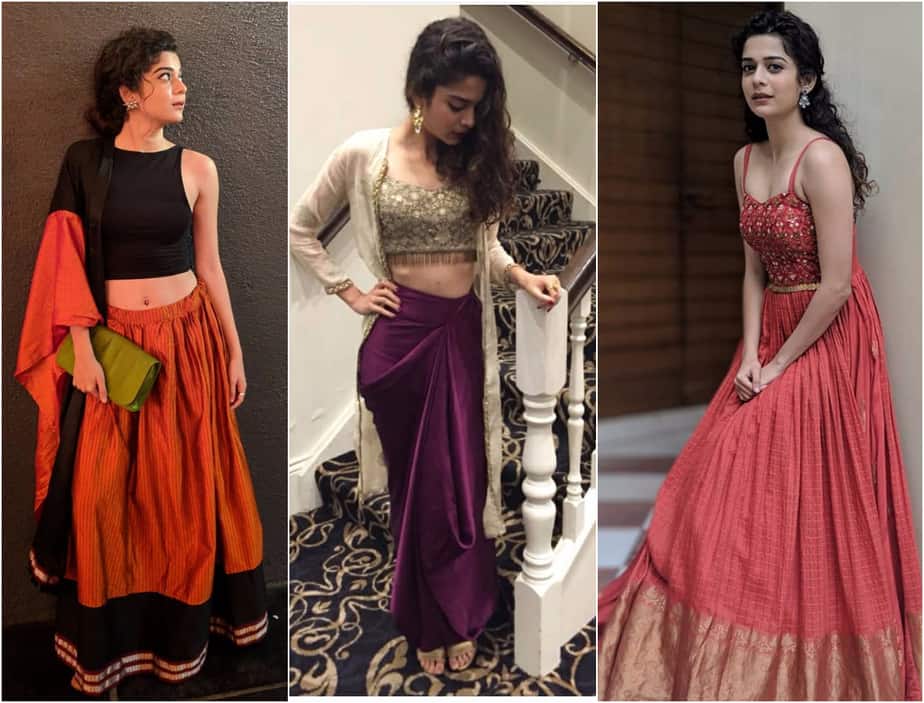 Mithila Palkar is often spotted in some outfits that you would want to steal away immediately! Ditching the usual trends, she picks some beautiful jaw-dropping indo-western outfits. A dhoti-skirt with a shrug or a corset with a long skirt – Mithila Palkar knows how to set fashion goals. In other words, Unique, chic and stylish!
Girl-Next-Door
Thanks to her quirky and fun vibe, Mithila Palkar instantly bagged the title of being a 'girl-next-door'. Her style statements replicate her personality and she pulls it off with ease. In addition, she keeps it cheerful and bubbly by playing around with silhouettes and patterns.
Be it floral or denim dress or a monochrome printed pant and crop-top; Mithila Palkar can style it effortlessly. Above all, her easy and casual style and choice of outfits are what makes the millennial look up to her style.
Chic Denim Pants
Mithila Palkar always takes it up a notch! Similarly, she has kept her fun quirky vibe ON even when it comes to styling a pair of jeans! For instance, Denim culottes, fringe-tassel jeans or skinny jeans – she puts her stylish foot forward!
It's clear that Mithila Palkar is not afraid to experiment with her fashion choices. And now that you've seen it for yourself, you know where to look for the next time you some style inspiration!