A set of Bangles holds a significant place in defined "Solah Shringaars" of a married woman. They are a prime ornament in Indian Culture. Trousseau of any Indian bride would be unfinished in absence of red bangles. Rightly matched ones, prove to be a perfect accessory with Sarees, Lehangas, and Salwar-Suits. It is inauspicious for girls and ladies to be bare hands.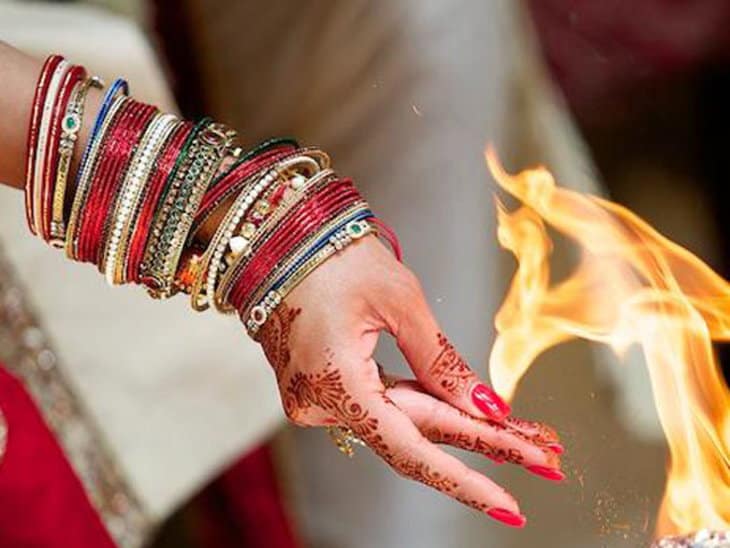 SouthIndiaFashion through this blog enlightens the significance of Bangles and what has made them such a superior ornament for married and unmarried women.
Various Types
According to Indian Culture "kaanch" aka glass bangles are most pious ones. There are also ivory, lac, metal, and plastic ones available. These are affordable as well. Then there are also Gold and Silver ones. Diamond stud bangles are the most expensive ones.
Several Shapes
Ideally, bangles are circle in shape from their origin. But these days simply to reform; four-sided and triangle ones are available as well. These multi-shaped set of bangles match well with western dresses.
Each Coloured Bangle Has A Meaning
Though just to match your Sarees, Lehangas and Salwar-Suits, you can now avail any matching colored set of the bangles. But there are few colors with specific meanings.
Blue bangles exhibit wisdom.
Golden ones clutch the prosperity for the family.
Greens are for married and it carries a blessing with them.
Orange bangles take accomplishment.
Red ones signify energy.
Silver shaded convey the strength.
A set of yellow bangles designates happiness.
The brides wear the red bangles in the form of "Chooda."
The Significance of Bangles
One size smaller set of bangle in the hands of a newlywed using a fragranced oil carries richness and adoration in the relationship. In some Indian states, brides are made to wear golden and green glass bangles in odd numbers. It is assumed that their combination would bring luxuriance and prosperity in the married life. In some other Indian states, the newly married is asked to wear a set of 1 or 2 dozens ivory bangles aka "chooda" up to 1¼ months. It signifies they are just married. People consider as the number of bangles a lady wears is the amount of richness the family holds.
A set of bangles in the hands of a lady signifies her being"suhagan". In India and according to the traditions and customs, wearing bangles is a must for married women.
For many Poojas and Rituals, people use them as 'Chadhawa'.
To Sum Up
Indian married women are incomplete in their looks without bangles. They are a part of her personality, rather than just a part of her clothing ensembles.