Maggam work has  been around since the Mughal era and it's still in trend to this day. This intricate embroidery technique is the choice of embellishment for most brides for their wedding day. And it doesn't come as a surprise as it gives a regal and opulent finish. Anjaz Haute Couture, a Chennai based Indian wear designer brand specialize in maggam work blouse designs among many others. Here's a compilation of some of their most unique maggam work pattu blouse designs..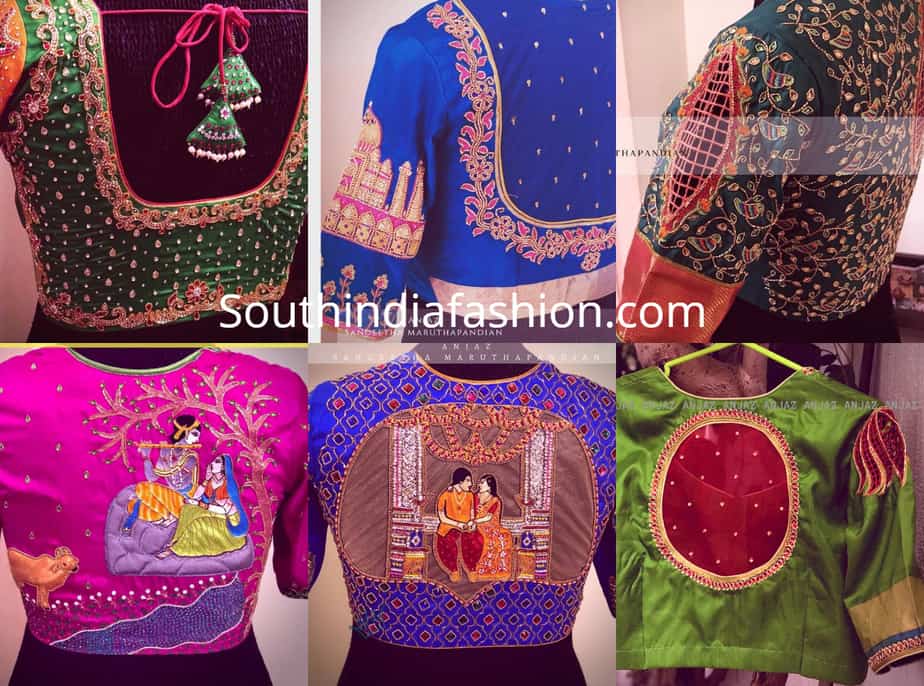 Green and red is a timeless color combination in Indian bridal wear. You can never go wrong with maggam blouses in this contrasting color combo. This pattern features a sheer, oval-shaped paneling at the back and lotus cut work at the top of the sleeves. Heavily embellished maggam blouses are not everyone's cup of tea so they can opt for something more subtle like this. Just one statement motif over a sheer panel at the back is a fine balance between minimal and ornate.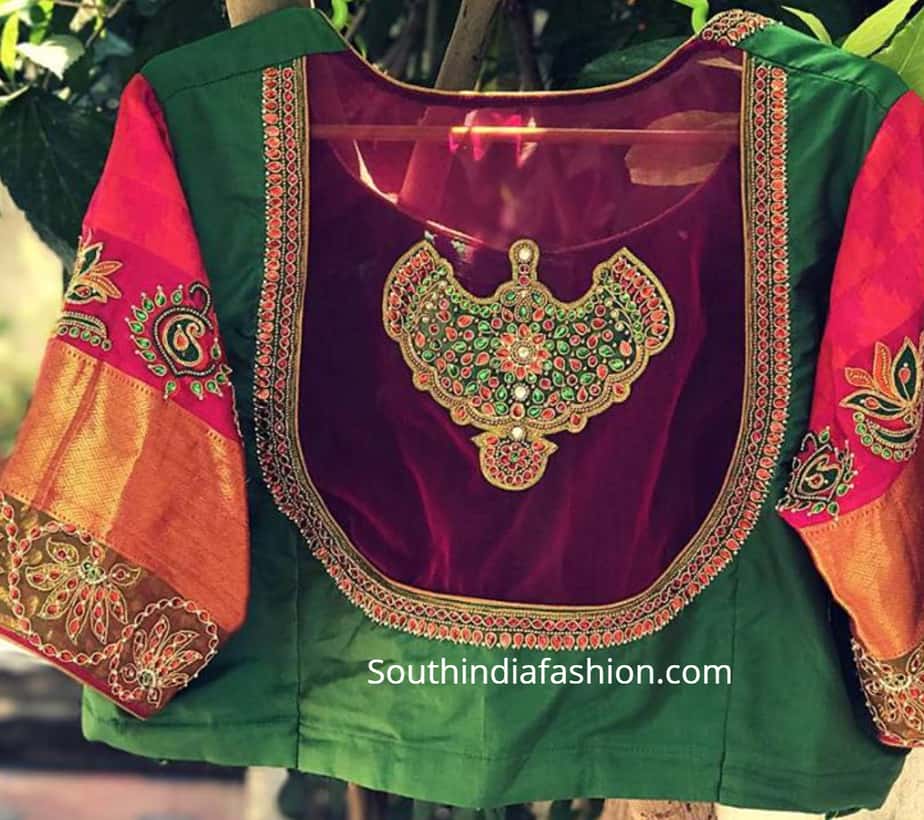 Here's yet another saree blouse design that shows simple maggam embroidery at it's best. Mirrors have been added to make the design more interesting.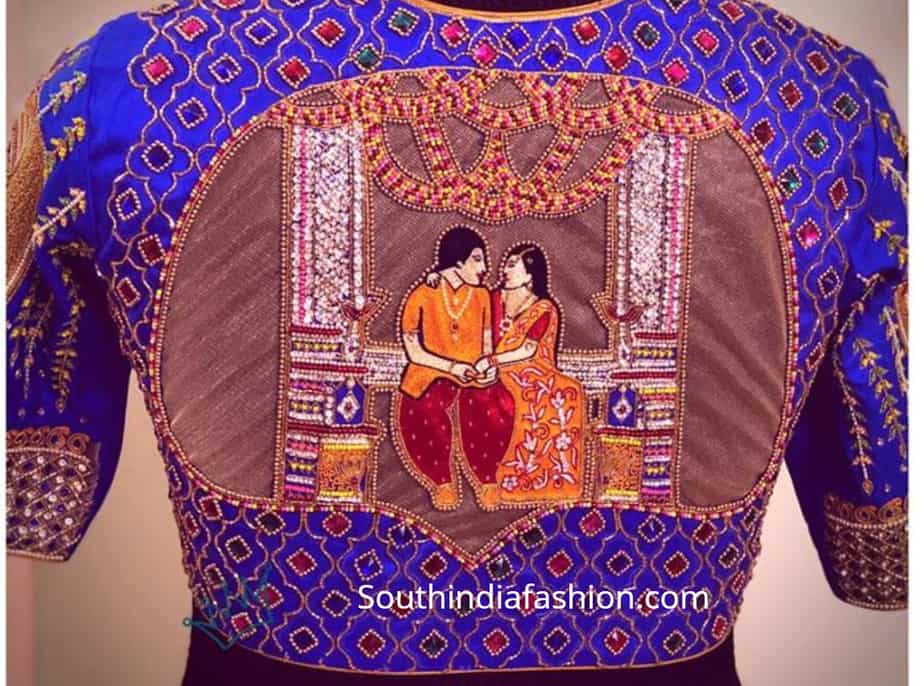 The workmanship involved in creating stunning maggam blouses is one of the things that make it stand out. And this particular design is living proof of that. It depicts the true beauty and happiness of a wedding through maggam work.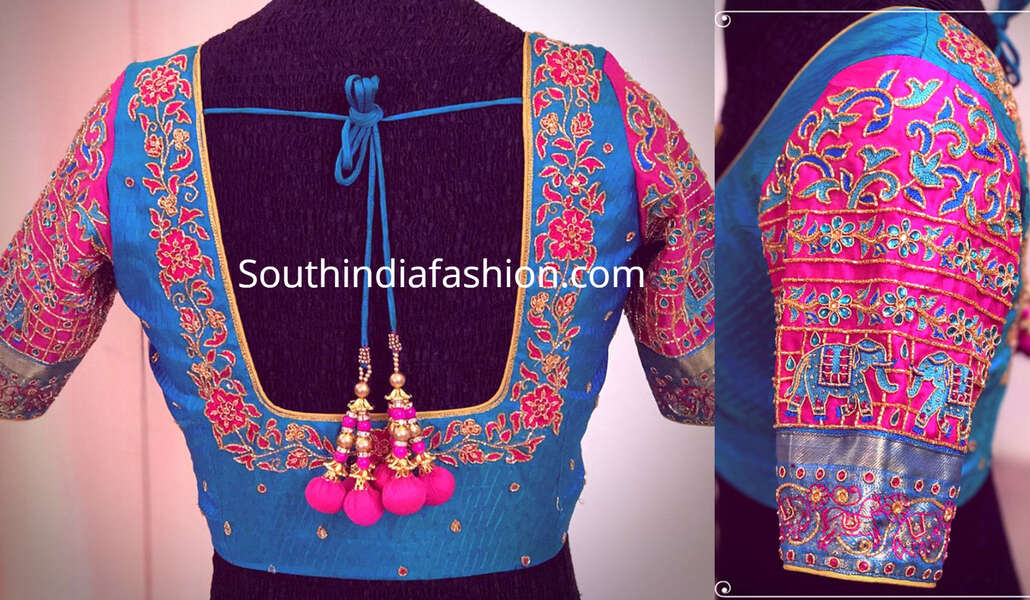 Open-back maggam blouses are popular as well as common. To make yourself standout in a crowd, you can choose unique motifs like elephants and foliage as shown in this design by Anjaz Haute Couture. 
This picturesque maggam embroidery blouse features embroidered parrots among creepers with laser cuts in a teardrop shape at the back and sleeve.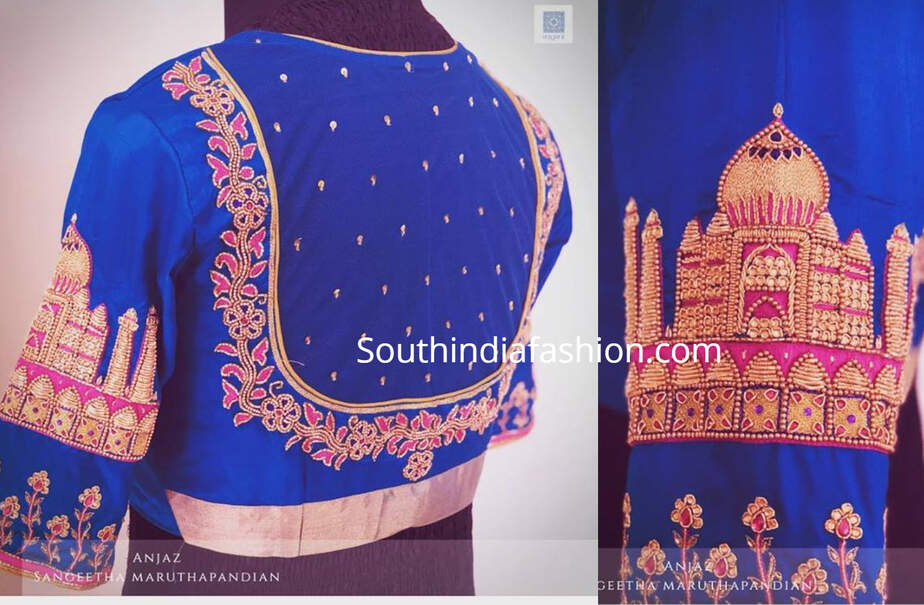 It's astonishing what can be achieved with just a needle and thread. This maggam work blouse pattern consists of the Taj Mahal in pink and gold against a bright cobalt blue. The back of the blouse and the hems of the sleeves have floral designs running through them.

This lotus inspired maggam work blouse pattern has an inverted lotus petal design across the back as well as the sleeves. You could also add your or your loved one's initial to the sleeve as shown in the picture to add a personal touch.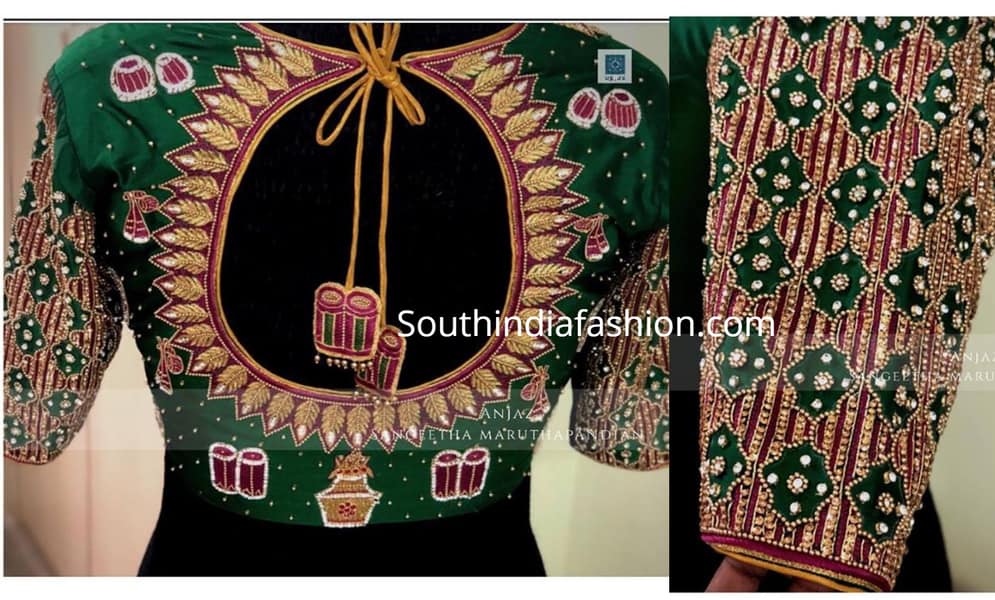 Opting for a themed blouse for your big day is a great idea and here's one such saree blouse design. It's based around traditional musical instruments, which have been embroidered using silver threads and beads.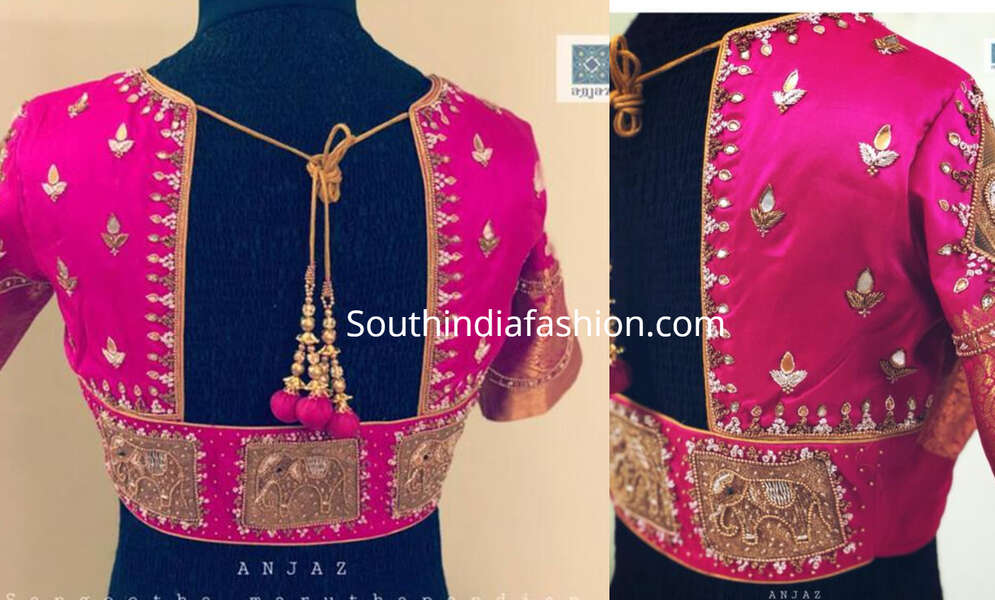 Square back opening + square embellishment makes this blouse extra chic. These types of maggam blouse designs are the perfect choice for a reception or engagement.
Adding kasu or coin embellishments and gold plated pendants to a maggam work blouse can elevate the entire look. And putting it against a rich color like red makes it pop even more.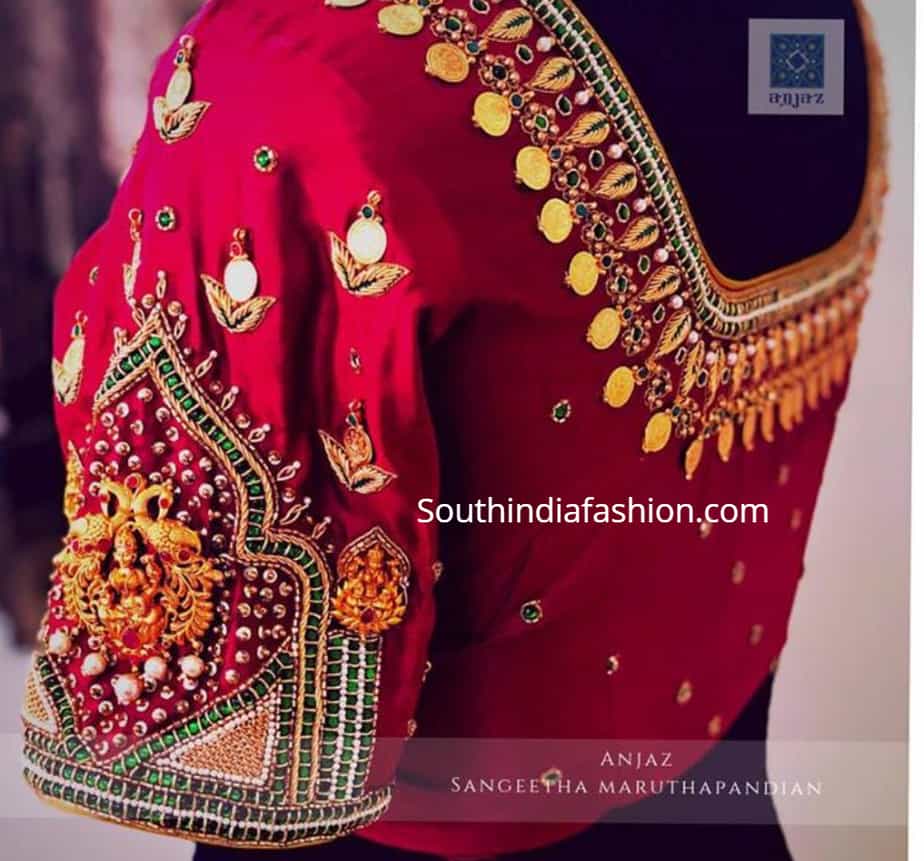 This maggam work blouse designed by Anjaz Haute Couture portrays prosperity and wealth with the use of kasu and goddess laxmi.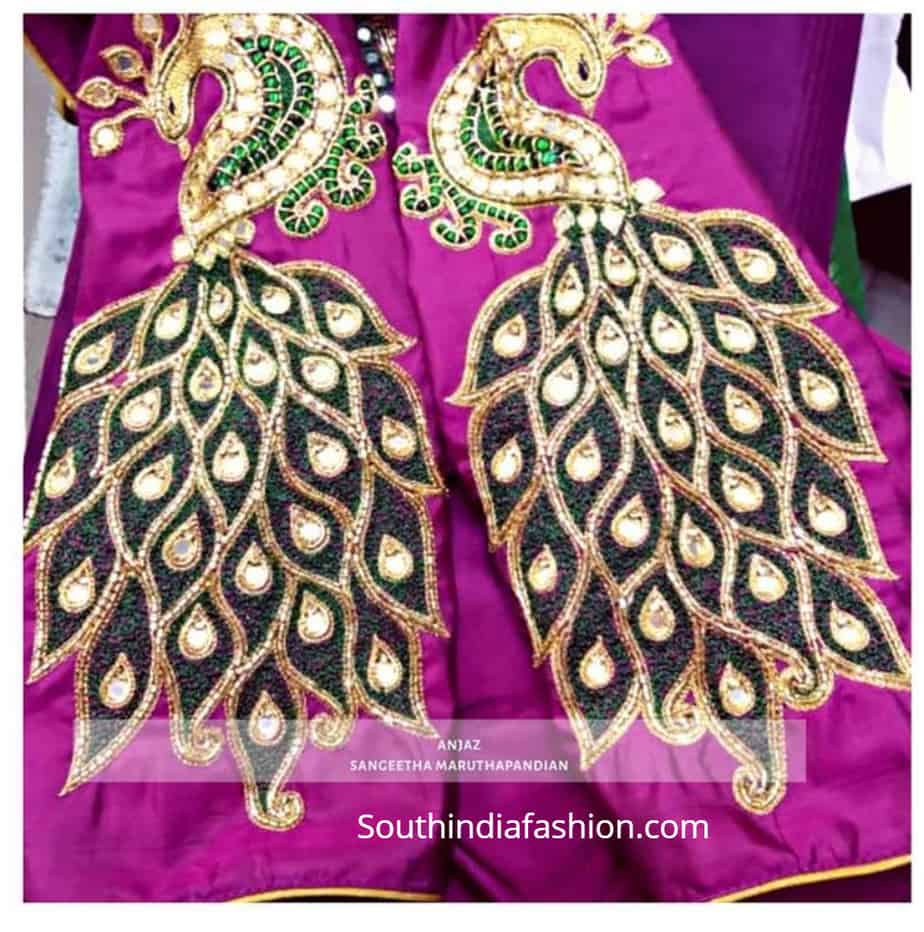 For those who like playing it safe, opt for a mirrorwork peacock maggam work blouse design. It's a classic, foolproof saree blouse pattern that one can never go wrong with.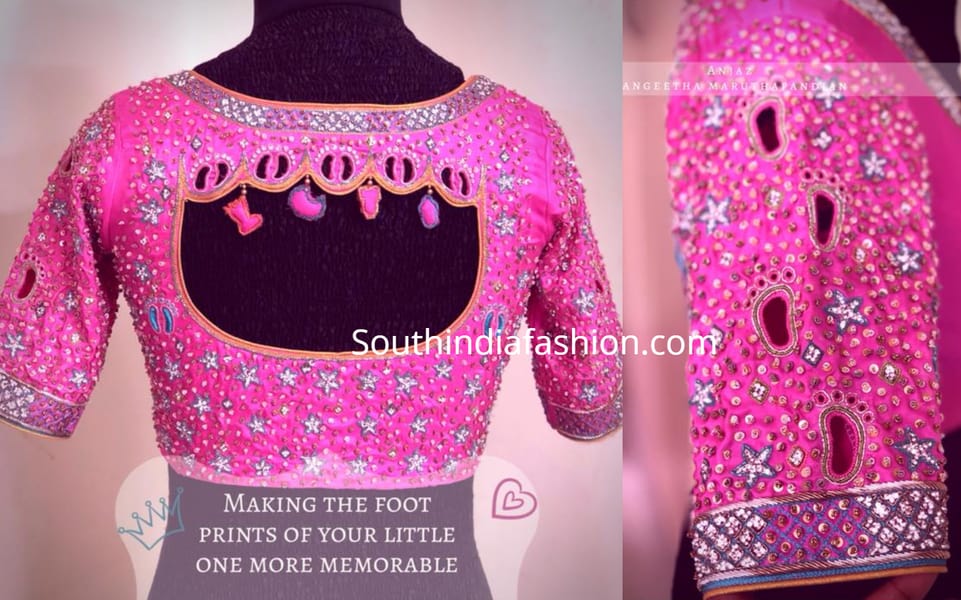 Themed blouses are extremely trendy currently and here's an example. This pink maggam work blouse designed for a baby shower features cutouts in the shape of footprints on the sleeves and baby-themed charms hanging at the back. 
Another great idea when it comes to maggam blouses is to focus on the sleeves alone. Highlight the sleeves of your blouse using traditional motifs such as animal, birds or a bride in a palanquin.

Here's another one of the statement sleeve maggam blouses by Anjaz Haute Couture. Having different embellishments on each sleeve adds a creative touch. This particular design features a match truly made in heaven – Tirupati Balaji and goddess Andal on either sleeves. It also has lotus shaped laser cuts at the end of the sleeves.

Anjaz Haute Couture really tell stories through their designs and this blouse is a testament to that. It has motifs of Krishna and Radha sitting under a tree while a cow grazes nearby. So much detail has gone into it, which is what maggam work is all about.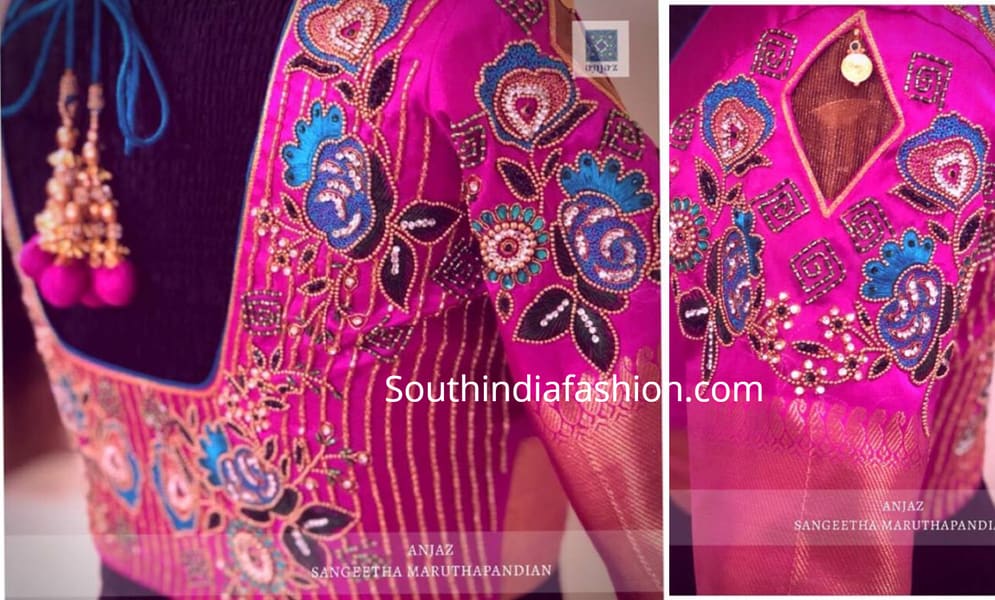 Simple maggam work blouses never go out of fashion. This pink blouse embodies femininity and elegance through the usage of floral patterns over vertical lines.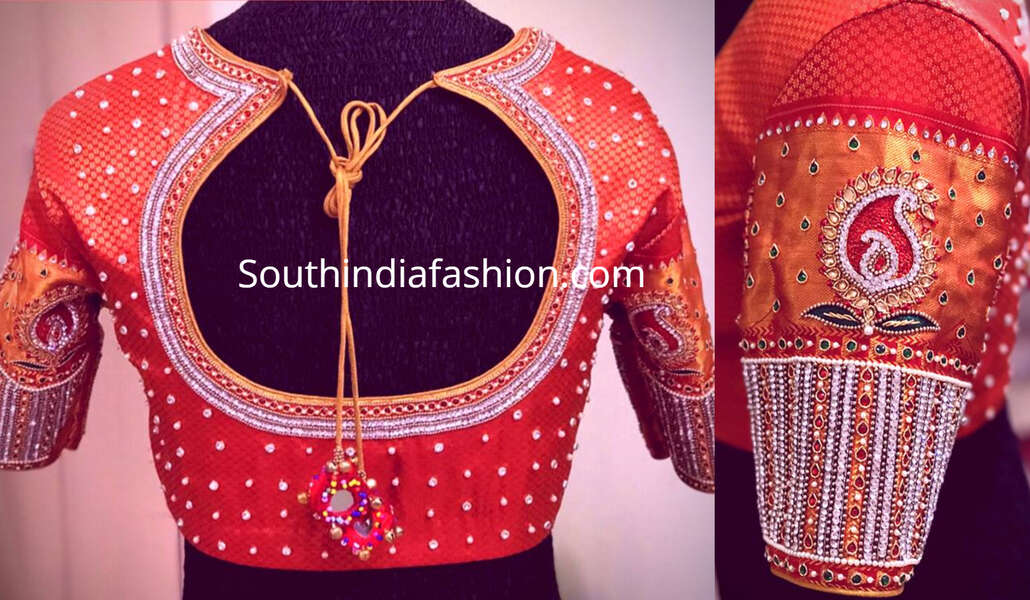 A combination of bold color and bold design makes for the ideal party wear blouse. From beads and mirrors to paisley motifs, this maggam work pattu blouse design features fine thread work and great attention to details.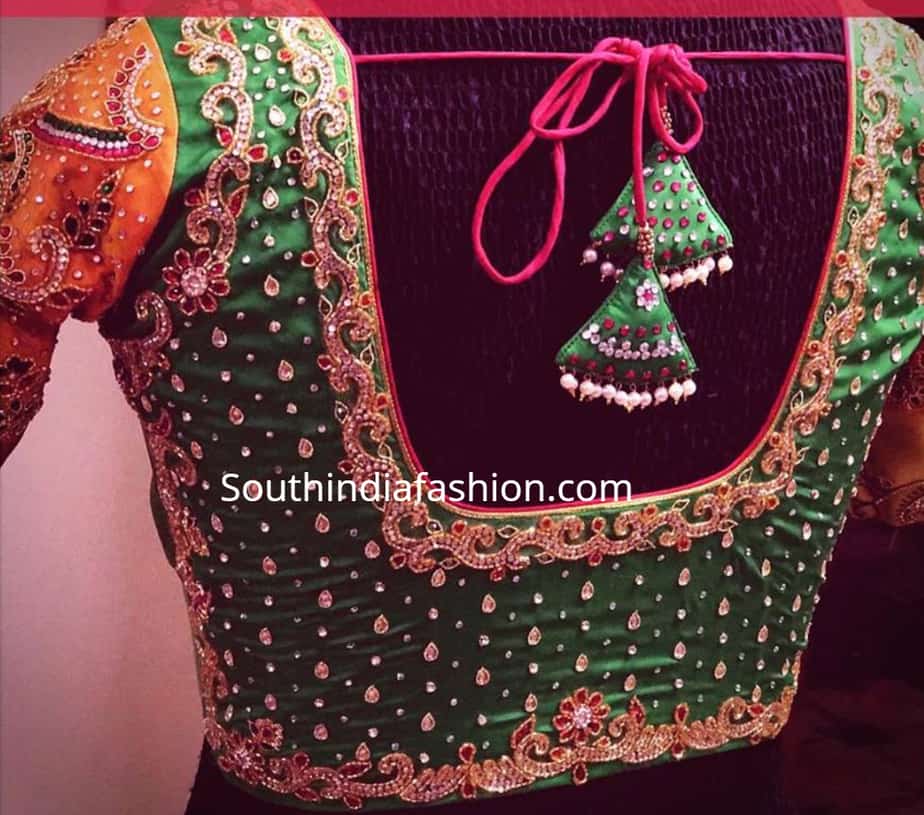 Here's a heavily embellished maggam work blouse by Anjaz Haute Couture that would be perfect for parties or even weddings. Versatile maggam work pattu blouse designs like these are a must-have in every woman's wardrobe.
Facebook: https://www.facebook.com/LabelSangeethaMaruthapandian/
For inquiries contact: +91 99404 35575