Soft silk sarees are a rage because they are super comfortable and look grand at the same time. They are easy to wear and walk around in. No wonder many women are opting for soft silk sarees for any kind of occasion. While the blouses for a kanchi saree are always heavy or too ethnic, you can surely experiment with a blouse that you pair with your soft silks.
Here are a few blouse ideas for your soft silk sarees –
Floral Blouse
A bright floral blouse goes well with any colored saree. It is a quirky touch to the ethnic soft silks. The floral blouse can be of any color, but it is good to opt for bright and lively colors like yellow, blue, green or pink. Wear some quirky handmade tassel earrings to go with the look.
Choker Neck Blouse
This is a fun blouse inspired by Keerthi Suresh's recent appearance. It is a plain black blouse boat neck blouse with choker neck. What is unique about the blouse is that it has a slit on one shoulder reaching up-to the center of the throat. Thus, it is a modern blouse that will add a touch of chicness to your traditional soft silk saree. If you are planning to wear your soft silk to any modern event, this blouse is just perfect.
Off Shoulder Elbow Length Blouse
Broad necked off shoulder blouses are common, but we do not see them with elbow length sleeves. Here we see Raashi Khanna wearing an off shoulder black blouse that has sleeves up-to the elbows. This is a blouse that has both modern and traditional vibes. This blouse is surely going to turn heads if you wear it with large jhumkas sans any neck piece along with a bright colored soft silk saree.
Plain Black 3/4th Sleeves Blouse
Probably the most simple and the best blouse that you can find in short notice that goes with any type of saree is a black blouse. A black 3/4th sleeved plain blouse is simple and dignified. It sets some serious vibes when you team it with metallic colored soft silk sarees. You can accessorize the look with silver jewellery.
Plain Satin Blouse
Satin blouses are glossy and attention seeking. If you ever have a bright saree and want to make it look even brighter, you can just wear a satin blouse of contrast color and the entire look will be just bang on. This idea can be used for sarees of color red, blue, yellow or green. Wear only contrast colors for blouses.
Sleeveless Blouse
For a royal red or pink colored soft silk, you can team it with a sleeveless blouse of the same color. It will be regal and appropriate for weddings and festivals. You can wear golden jewellery with this ensemble.
Shimmery Blouse
If it is a night event that you are going to, you can choose to wear a shimmery blouse that is sequined. It will add glitter to the evening event. A plain soft silk saree will look stunning along with a glittering blouse. If the sequin is silver in shade, go for silver accessories and if it is gold in color, golden jewels will look perfect with the blouse.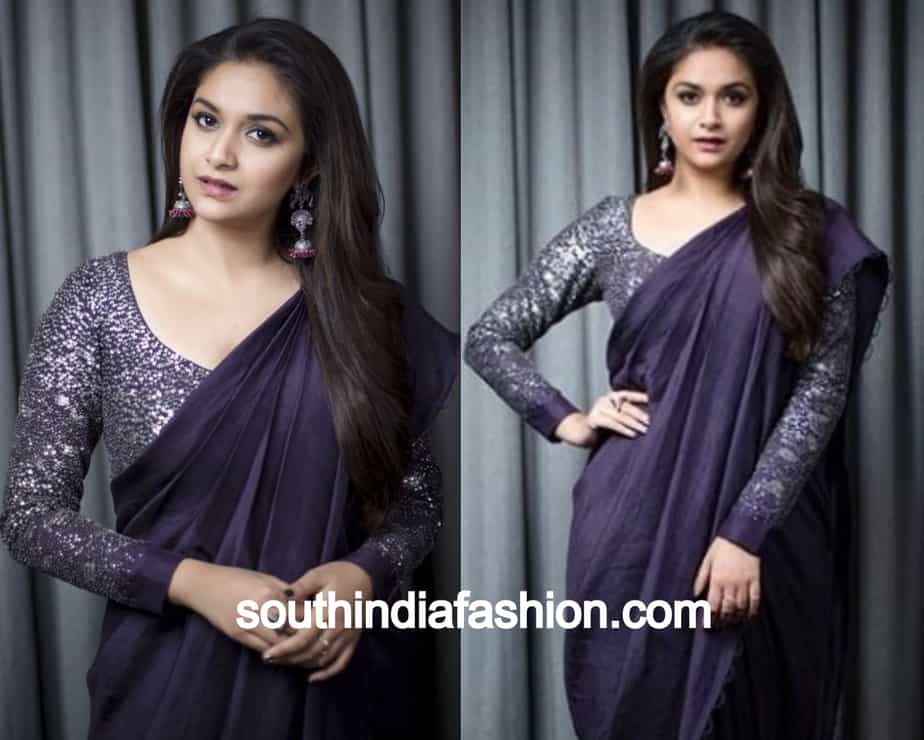 These are some of the blouses that you can match with your soft silk sarees.