Maggam work has been around since the Mughal period and it's undoubtedly one of India's most popular type of embroidery. The art of maggam involves intricate and detailed work using special needles. It gives a rich and elegant touch to any blouse that it's done on. Therefore, maggam work blouse designs are the perfect choice for weddings, parties and other such occasions. Take a look at some beautiful maggam work blouse designs by Nyshka Design Studio below for ideas.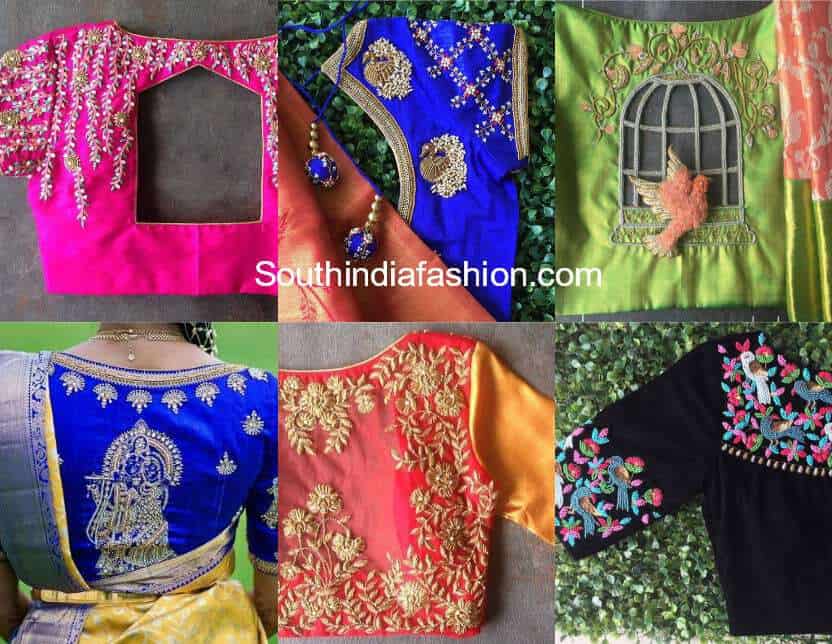 Latest Maggam Work Blouse Designs 2018 by Nyshka Design Studio
The term beauty is in simplicity is proved by this simple and subtle gold blouse with maggam and mirror work. This designer blouse is a great choice to pair with heavily embellished or grand silk sarees.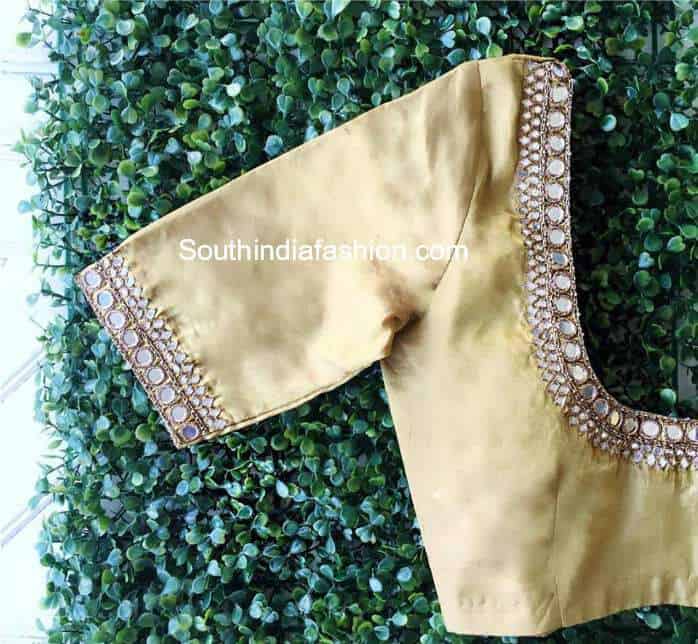 Color blocking is the trend of the season and what better way to don it than through your saree blouse? These colorful maggam work blouse designs have two contrasting panels with one of them being sheer. To amp it up, embellishments have been added along the neckline and sleeve.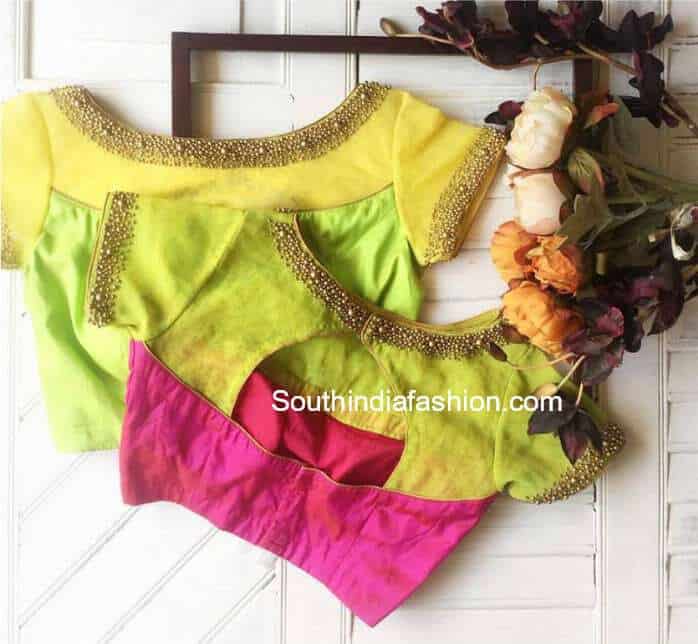 Cut-outs are the ultimate way to make a statement. And standard ones like circle, oval and teardrop shaped are way too common. So, opt for some unusual shapes such as a pentagon! This distinctive designer blouse is given a touch of eloquence with french knots and maggam embroidery.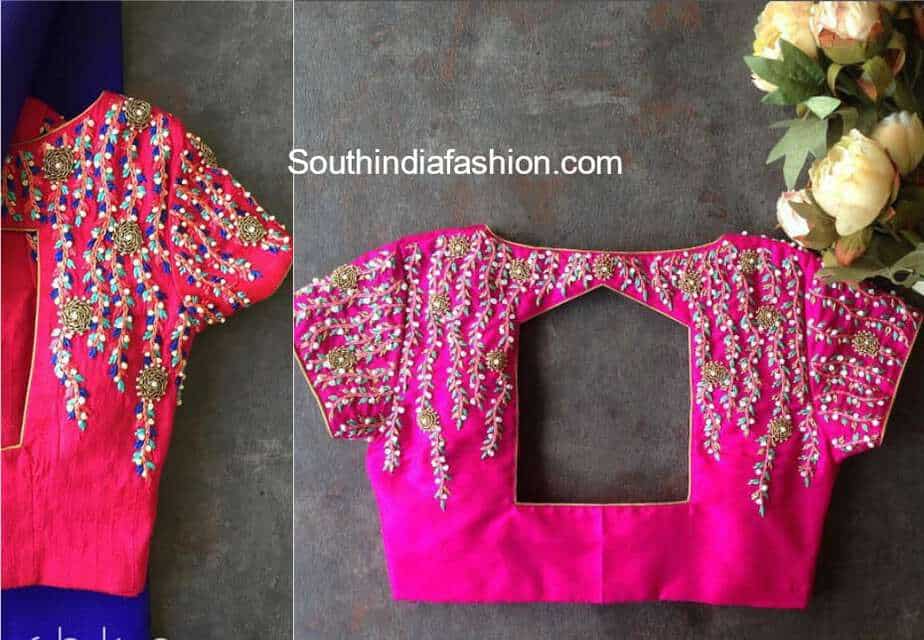 Asymmetric and geometric maggam work blouse designs are not very common and that's what makes them a unique choice to pair with your favorite pattu sarees. 
Even the simplest forms of maggam embroidery tends to look magnificent. These styles of understated maggam work blouse designs are ideal for women who prefer subtlety over extravagance.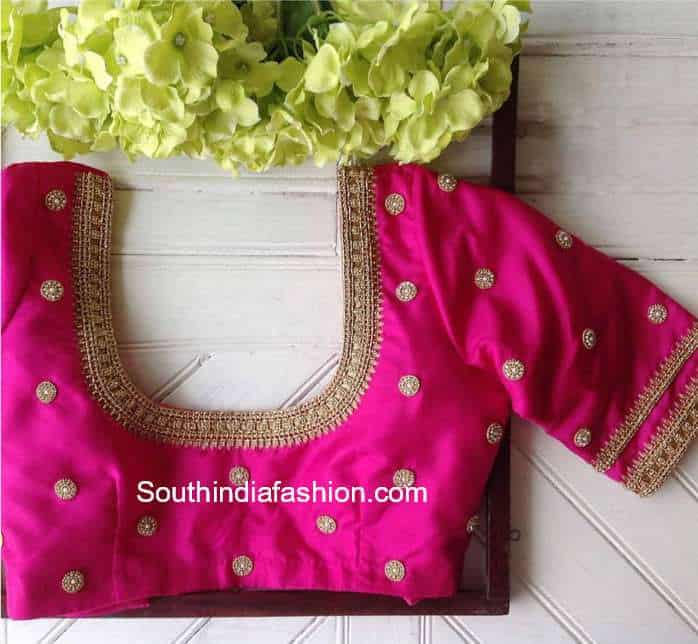 Make the sleeves of your blouse as the focus point with elaborate embellishment. These designer blouses are perfect to pair with pattu sarees.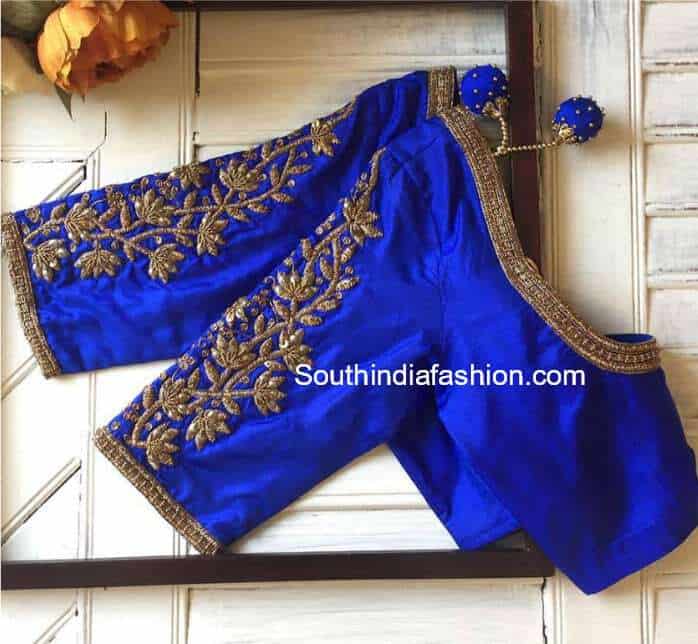 Here's another one of the gorgeous maggam work blouse designs from Nyshka design studio. Bold yet elegant, it features a cut-out and embroidered design of a bird and cage.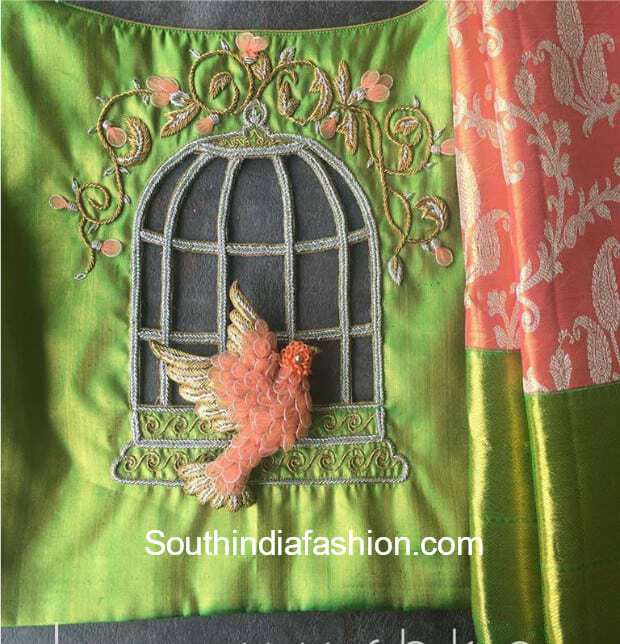 3/4th length sleeves are a timeless classic. They never go out of fashion. This designer blouse by Nyshka Design Studio has a circular opening at the back surrounded by scattered beads to give it a youthful look.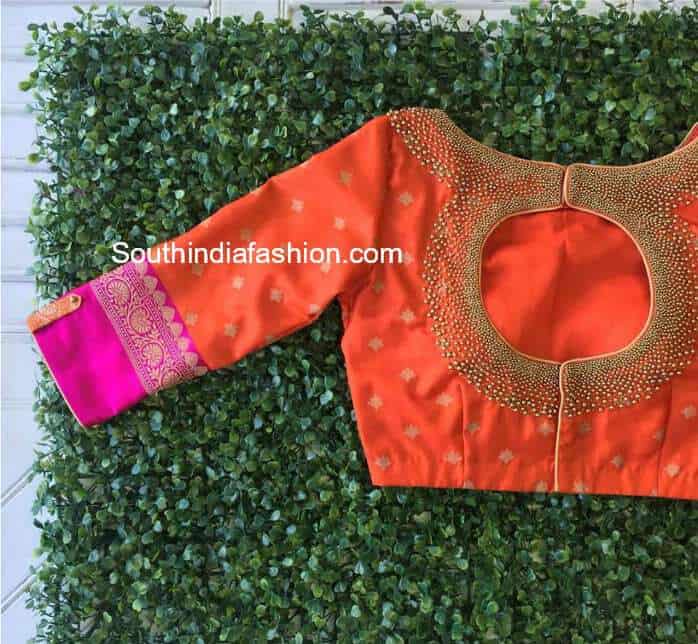 If you prefer simple maggam work blouses, ones with minimal embellishment like this are a good idea. Light embellishment on the hem of the sleeves and on the neckline make it the perfect option for lovers of simple yet unique bridal designer blouses.

This latest maggam work blouse design from Nyshka Design Studio combines the beauty of cutwork and the royal touch of maggam to give a classic and feminine look.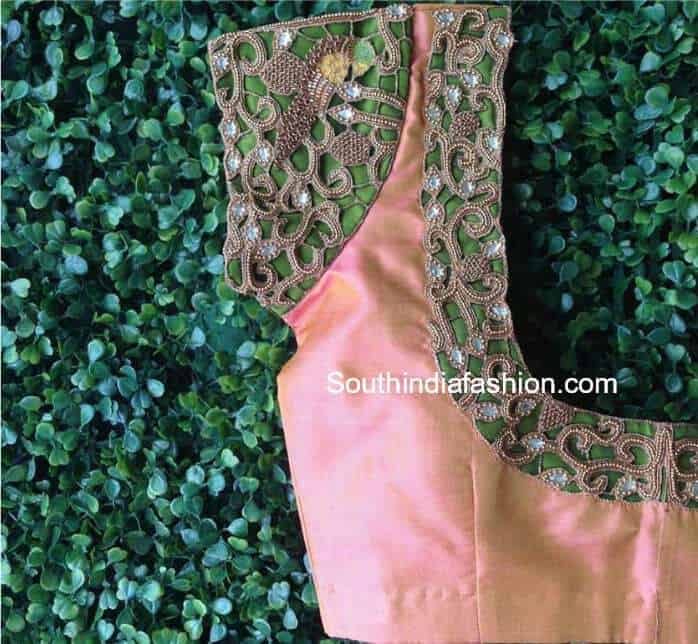 You can never go wrong with peacock motifs for traditional wear. They portray pride, beauty and confidence and those qualities  most definitely reflects on the wearer as well.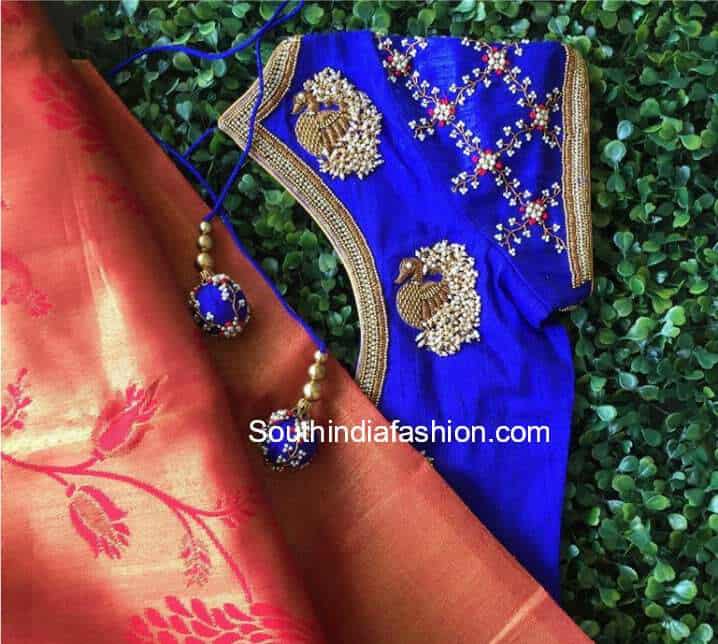 Maggam work is a varied art form so it can be used to show modern and contemporary motifs just as well as traditional ones. This latest designer blouse features a charming bird cage with flowers entwined on the bars. To complete the rustic charm of the blouse, birds in flight are embroidered on the sleeve. 
Radha and Krishna's legendary story depicted on a boat neck blouse through meticulous maggam embroidery. It's the go-to blouse to choose for a wedding or engagement.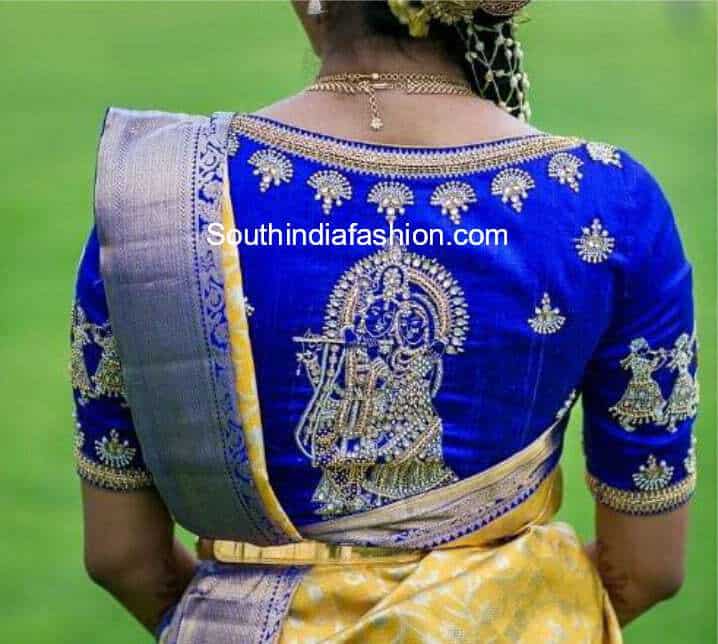 Ever wanted to look like you stepped right out of a picturesque fantasy garden? Now you can with this labyrynthine designer blouse with tiny leaves and flowers.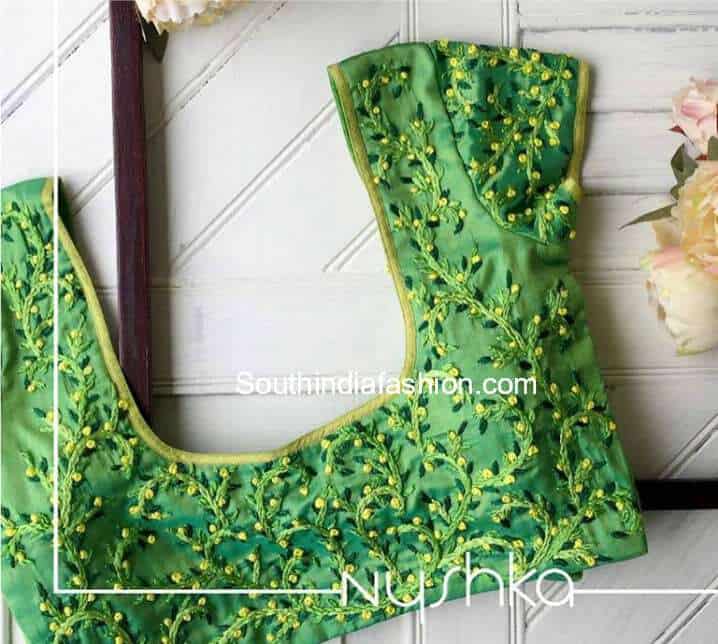 Sport the alluring colors of a sunset paired with regal floral maggam designs. This blouse is a great example how a basic and simple silhouette can be transformed into an opulent one with some embellishments. 
If you're looking for a one-of-a-kind cutwork embroidery blouse, here's one to take inspiration from. Miniscule heaxagon cutouts with an ornate elephant applique in the centre constitute this latest designer blouse.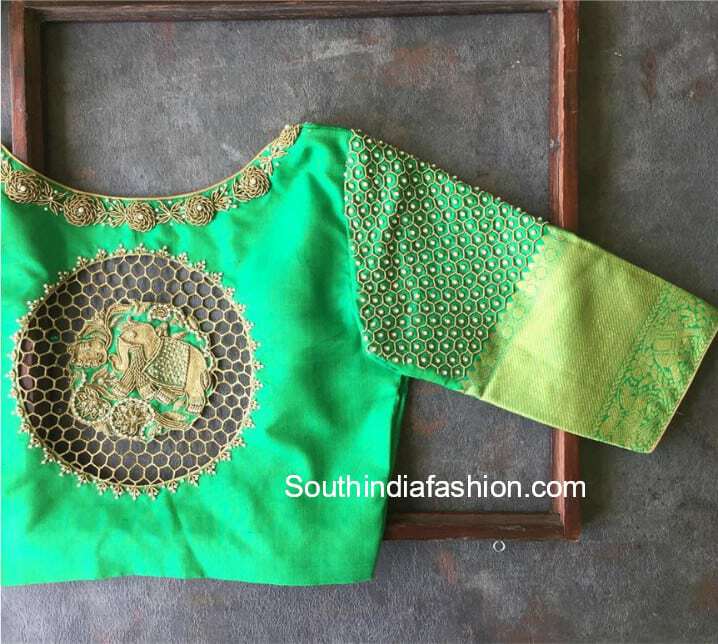 Black is a universally flattering color but it can look a bit dreary on its own. So, to up its style quotient, color birds and flowers have been embroidered onto it. And the best part is that you can wear this designer maggam blouse with any saree color of your choice and it's bound to look stunning.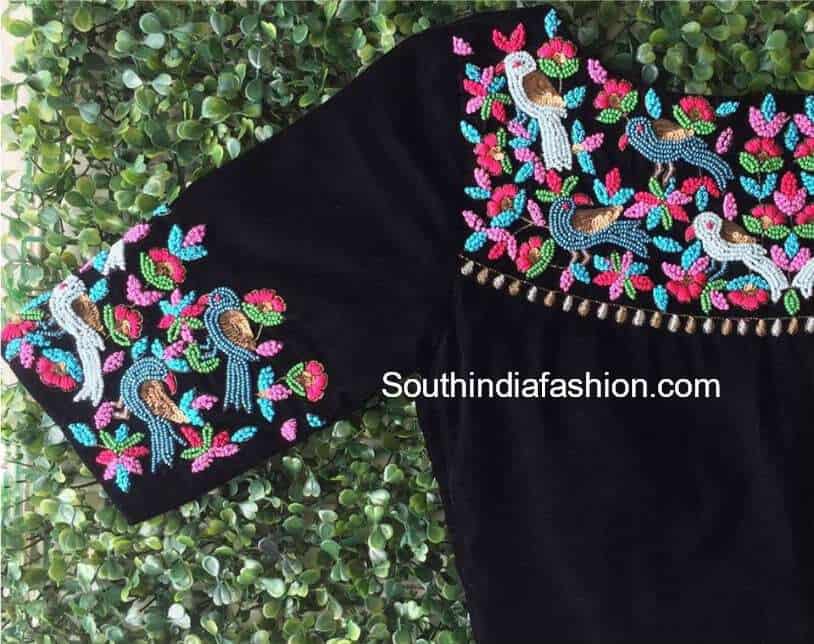 For inquiries contact:
Nyshka Design Studio
Facebook: https://www.facebook.com/nyshkadesignstudio/
Address: 21, Hindustan Avenue, Near Hindustan College of Arts and Science, Coimbatore, Tamil Nadu