Wearing a matching blouse with your saree is so old school. Gone are the days when you got your blouse stitched from the material provided along with the saree while you bought it. Today is the time for mix and match. Wearing random blouses that do not go with your saree is in fashion. In fact, women today are wearing western blouses, tops and t shirts on their sarees to create a chic and contemporary fusion saree look. So, we bring to you some exciting options that you can try out with your simple sarees to make them look just fabulous.
6 Trendy Indo Western Fusion Saree Blouse Ideas:
1. The Denim Blouse
We all have at least one denim top that we wear on a pair of trousers. Now you can change the rules and wear them on a saree to achieve fusion saree look. Actresses like Sonam Kapoor have showed that denim blouses look cool on sarees too. They go well with cotton and linen sarees.
2. The T-Shirt Blouse
Casual t-shirts are no longer seen as clothes that we wear at home while lounging around. They can now be worn on a handloom saree to look absolutely trendy. While black and white t-shirts go well with all colors of sarees, try and match the other colors with similar colored sarees.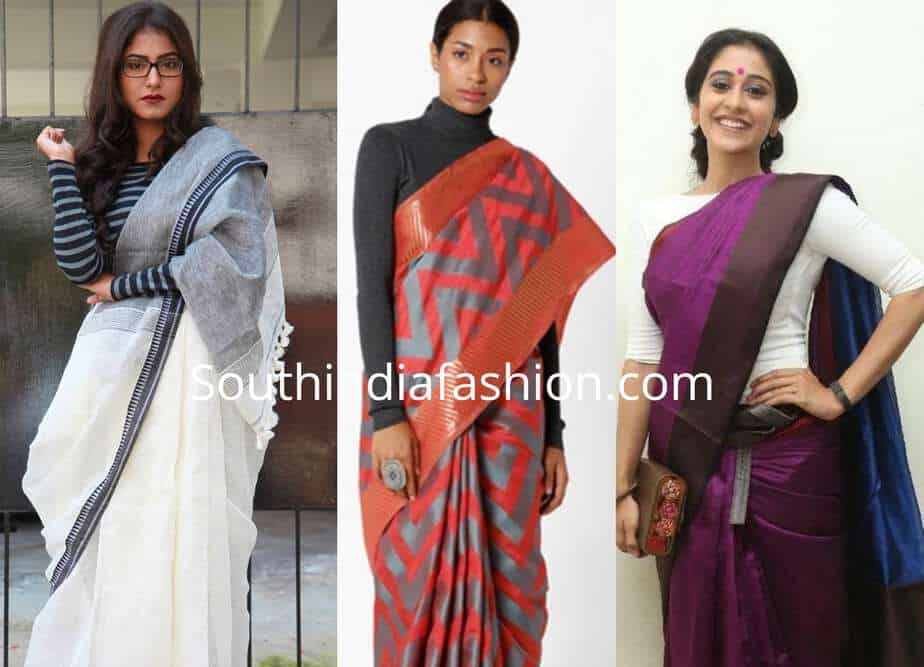 3. The Formal Shirt Blouse
Formal collared and button down shirts can also be worn on cotton or chiffon sarees to get the fusion saree look. Do not worry whether the colors match because mix and match is the key in such trendy outfits. Keep the hairstyle chic like a ponytail or a messy bun. Avoid complicated and traditional hairstyles.
4.  Saree With Long Top
A casual long top can be worn on georgette or linen sarees for a casual saree look. It will look absolutely fashionable and will be super comfortable to walk around too. The make up for such looks must be minimal because you are not choosing festive look or makeup with this trendy outfit.
5. The White Shirt Blouse
White shirts are one thing that will go well with any colour and form of saree. Be it a linen saree, a cotton saree or even a silk saree, white shirts can be worn with them to get a modern fusion saree look. If you want, you can choose to wear belt around your waist to up the glamour in the look.


6. The Off Shoulder Top
Off shoulder trendy tops that you wear on denims or skirts can work as a saviour if you are looking for a trendy blouse for your saree. The tops will look ultra-modern and sensuous when you pair them with a fancy or a chiffon saree. But just because your neck is empty, do not wear heavy jewellery. The idea is to keep the accessories minimal in this hip look.
These are some of the modern blouses that you can pair with your sarees.