If there is one thing that a woman gives more importance to in a saree look other than the saree it self, is the blouse. A blouse can change the entire look of the saree. A proper saree blouse design can make you look slimmer, taller or more attractive. It all goes down to how you design your blouse. Hence, one should pay attention while getting the blouse designed. Today we are featuring 15 new model saree blouse designs 2018 that are trending.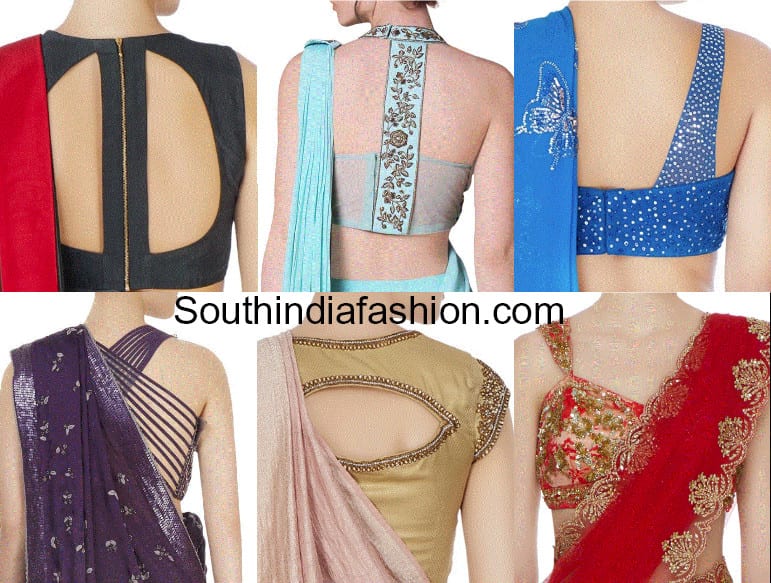 15 Stylish New Model Saree Blouse Designs 2018:
1. Sheer Embellished Blouse
The most sought after design in a blouse designs catalogue is a sheer embellished blouse. It is chic and fancy. This type of blouse suits any net, sheer or fancy saree that has embellishments on it. The sheer blouse as the name itself tells, is transparent and made of net material. To enhance its look, the blouse is embellished all over. It can be a sleeveless or a short sleeved blouse.
2. T – Back Neck Blouse
One of the most popular among saree blouse designs 2018 is the T back neck blouse. The back neck has a T shaped pattern that runs from the collar region till the small of the back. The T back neck blouse goes well with chiffon sarees and satin sarees that can easily show off the back.
3. High Neck Blouse With Triangular Cut Outs
The blouse neck design that you can use if you have a long, slender neck is the high neck blouse with triangular cut outs. The high neck blouse makes sure to go up until your neck and covers most of your neck. But, there are triangular openings at the front and the back to make the design stylish and provide space to breathe. This is a design you should go for if you love elegant blouses with chiffon, Georgette and linen sarees.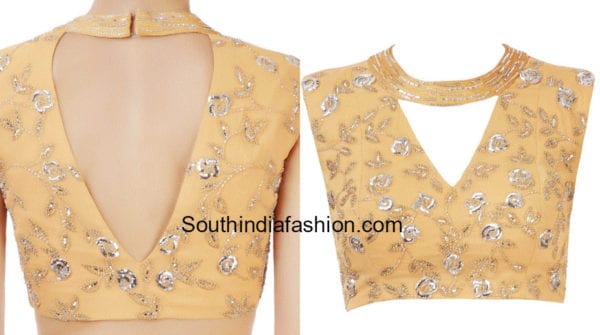 4. Bustier Blouse With Straps
Here is one of the perfect saree blouse designs for a trendy fancy saree that you want to wear for a cocktail party. If the saree is semi-transparent and light weight, you can wear it with a bustier blouse with straps. Your slender shoulders and arms will be seen along with your back too. So, opt for this one if you are comfortable with your body shape. This design is ideal for evening party sarees.
5. Strappy Back Neck Blouse
For any blouse, the blouse designs back side is important. It has to be stylish, yet comfortable. Here is one such design. The strappy back neck blouse consists of a back that is made out of straps of the cloth run across each other in a pattern. It can be any pattern that you ask for. This ultra-modern neck goes well with party wear sarees and modern sarees.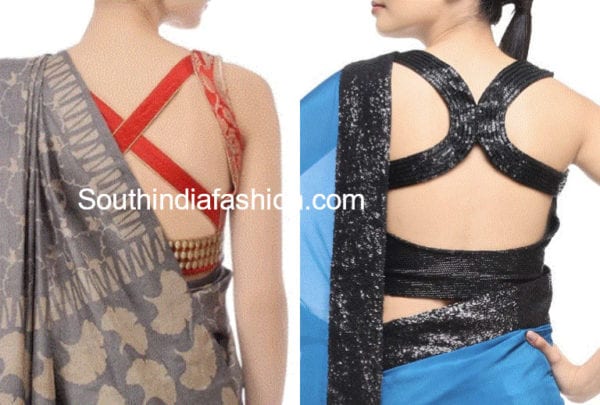 6. Sleeveless Blouse With Cut Outs at the Waist
This is one blouse designs cutting that you must try out the next time you are at a blouse shop. This design consists of a sleeveless blouse that is ordinary on the above. But, at the waist region, it has cut outs on both the sides. This shows of your waist and makes you look ultra-modern. A blouse suitable for party wear sarees, this is something you ought to try.
7. Cap Sleeve Blouse With Key Hole Cut Out
Among the blouse designs for pattu sarees, this one is the best. It goes well with all kinds of silk sarees. The blouse is simple, yet stylish. The blouse has cap sleeves and a key hole is cut out at the back. The key hole can be bordered with embellishments if you wish. This is gonna look lovely with flowing silk sarees.
8. Round Back Neck Blouse With Tie-Up Bow
The fanciest among all the blouse designs back side is the round back neck blouse with tie-up bow. The tie up bow can be of contrast color to the blosue to match with the saree so that it stands out. It is a contemporary style that gels well with handloom sarees, chiffon sarees, lace sarees and Georgette sarees.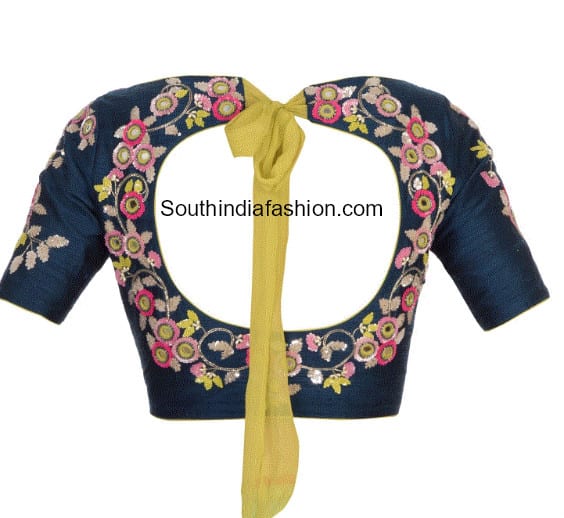 9. Halter Neck Blouse With Thin Straps On The Back
If you want to get a modish blouse for a saree you are planning to wear for a party, then you can go for this blouse neck design. The halter neck blouse with thin straps on the back is very impressing when worn by women with slender shoulders. This blouse suits a crepe saree, Georgette saree and chiffon sarees. Make sure to pin up the pleats so the intricate back design of the blouse is visible.
10. Blouse Back With Double Cut Outs
When you are planning to wear a simple saree, you need fancy blouse designs back side to make the look rock. So, if you are wearing a cotton saree or a linen saree, let this blouse steal all the attention. The back of the blouse has double cut outs that make it trendy. You can add in a zipper between the cut outs to make it more stylish.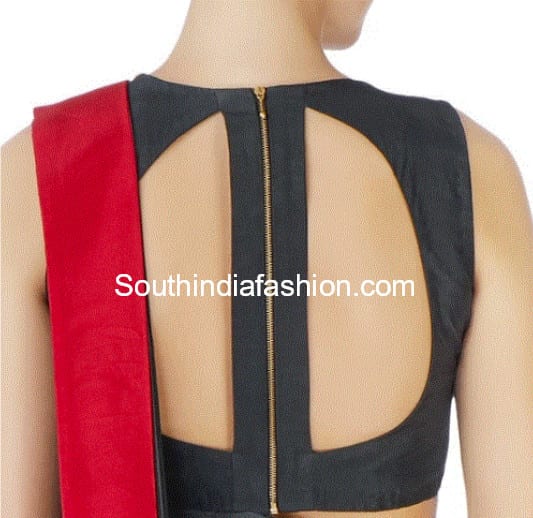 11. One Shouldered Blouse With Cut Out Back
For a beautiful fancy drape, you will have to go for a trendsetting blouse. Among the saree blouse designs 2018, the most sought after one is the one shouldered blouse with cut out back. It looks stylish and contemporary. So, for a evening party, choose this one shouldered blouse and wear it with any fancy saree to look drop dead gorgeous.
12. Off Shoulder Blouse With Balloon Sleeves
One of the trending saree blouse designs 2018 is the off shoulder blouse with balloon sleeves. This goes well even with silk sarees to attain a modern look. The off shoulder blouse has bulged sleeves that start from the region above the elbow and can run as long as you wish. This is a very new concept and is loved by youngsters.
13. Off Shoulder Blouse With Criss-Cross Back
If you want to go for a very sophisticated look, then you can opt for the most dapper look in the blouse designs catalogue. The off shoulder blouse with criss cross back will be suitable for any type of saree. Carry it with elegance and confidence to steal the show. The blouse will have off shoulder with a back that has criss-cross threads design. It is a very stylish blouse design to opt for.
14. Sleeveless Blouse With Ruffled Borders
Planning to wear a kanchi saree for a modern event? Do not fret. You can style it up with a sleeveless blouse with ruffled borders. The ruffle can be the color of the saree or its border. The sleeveless blouse will have enough ruffle all over to look puffy and beautiful.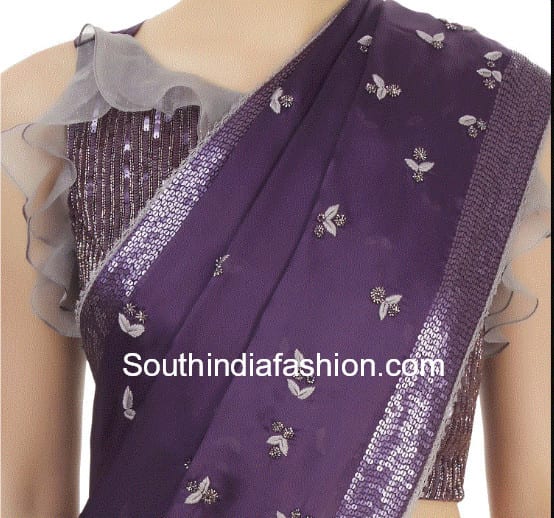 15. Layered Crop Top
Who said crop tops are only to wear on jeans? You can wear them on sarees to. A layered crop top can be mixed and matched along with a fancy saree to get a chic look. The color of the top can match with the saree or it can be completely contrast. This is a trendy idea for any party look.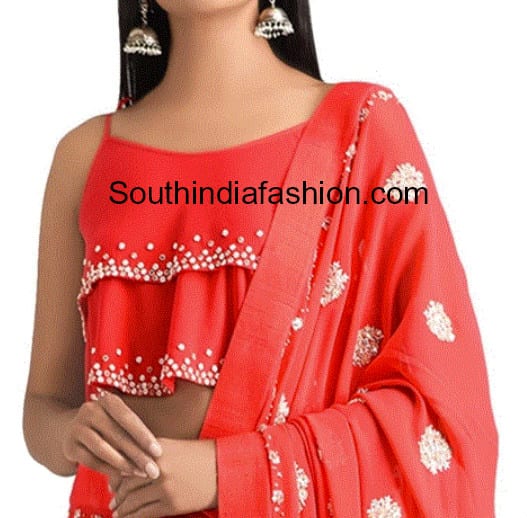 These are some of the modern saree blouse designs 2018 that you should try.