Raashi Khanna is one actress we watch out each time she steps out of her house for any event. Because she is a beautiful actress who knows how to dress well. Especially her saree looks are a talk of the town. Women admire the way she wears and carries a saree. We love her sarees, how she wears them, the accessories she uses with them and the hairstyles she chooses for her saree looks.
Here are some of the favorite saree looks of the gorgeous Raashi Khanna:
1. The Traditional With a Twist Look
In this orange and green saree, Raashi tries to mix up the traditional with the modern. The saree being a kanchi silk is already as traditional as it can get. So, Raashi wears it with a matching halter neck blouse giving it a touch of modernity. Large golden chandbalis, two large golden bangles, side parted pinned curls are all that accompany this look. We love how she keeps the makeup minimal and yet looks red carpet ready.
2. The Retro Traditional Look
While this pink and green saree is an ordinary silk saree, it is the hairstyle that takes this look of Raashi's a notch up. We love the retro three roses like hairstyle that finally goes into a braided bun. As the hairstyle takes all the attention, she kept the blouse simple – a sleeveless one. Antique gold jewelry complemented her look. Makeup is again kept simple.
3. The Cocktail Party Look
This bright yellow fancy saree with red border is best suited for a cocktail party with Indian theme. Raashi has matched it with a contrast red tie back sleeveless blouse. The interesting blouse is an attraction in the entire outfit. Side parted, braided low bun and large jhumkas set the tone of the look. She signs off with red nails and red lips. Isn't this look just wonderful?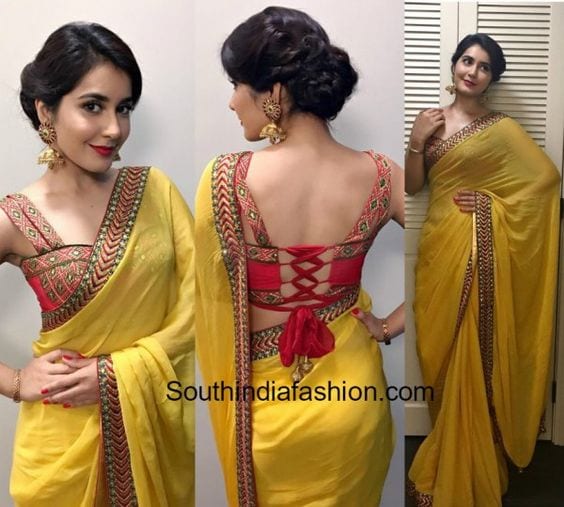 4. The Plain Saree Look
When you are in no mood to dress up, but still want to look good, take advice from this look of Raashi Khanna. She wears a plain, mint green saree with a contrast blouse. As the saree is all plain, she wears a full sleeved blouse that adds distinction to the look. Pinned up pleated pallu, just a pair of ear danglers, messy bun and minimal makeup are all that this look will need to make you look beautiful.
5. The Everyday Look
You can learn how to convert even a simple saree into something elegant by this look of Raashi Khanna. Here she wears a very ordinary white saree with yellow floral design. A yellow sleeveless blouse, silver antique neck piece and a matching large finger ring are all that she wears with the saree. She leaves her hair open in soft waves and uses minimal makeup. This is one look that you can wear at simple events.
6. The Wedding Look
If you are going to any traditional event like a wedding, you can imitate this look of Raashi Khanna. Here she wears a plain yellow silk saree with a contrast pink designer blouse. The elbow length sleeved blouse has closed neck and hence there is no need of a necklace. However, she wears a large bangle and large jhumkas to give the look a traditional touch. A hair bun with jasmine flowers tied around it adds a special touch to this look.
7. The Contemporary Look
Drape the pleated pallu of your fancy saree on the right, wear a midriff length blouse and flaunt your toned belly, keep the sleeves of the blouse off and add some silver jewelry. These are all the things you can do to nail the contemporary look of Raashi Khanna.
8. The Traditional Look
A grand kanchi saree calls for a traditional look. Here, Raashi wears a green and purple silk saree in the most traditional way. She wears a simple matching blouse, heavy temple jewelry and a traditional bun with jasmine flowers. Matching violet lips is the only visible makeup we can see. This look suits any wedding or traditional occasion.
9. The Party Look
A sheer saree is ideal for any party you want to attend in a saree. Sheer sarees are fun, attractive and show off your body. Here we see two looks of Raashi where she wears a sheer saree. In one, she keeps it ultra-modern in a sleeveless illusion blouse, wavy hair and glowy makeup. The other look is rather toned down with an elbow length sleeves blouse, choker and poker straight hair. The makeup is minimal in this look.
10. The Cotton Saree Look
All sarees are on one side and a cotton saree is on the other. You can't wear a cotton saree like any other saree. A cotton saree has to be pleated well and worn elegantly. We love the red cotton saree that Raashi Khanna is wearing here. We also love the maroon contrast blouse that matches the border of the saree. The design of the blouse is unique with collar tying neck and pockets on both the elbows. Side parted hair bun and contemporary jewelry complete this look.
These are some of the saree looks of Raashi Khanna that we love.