The wedding and party season is in full swing and we simply love to flaunt our stylish best looks. From trendy party outfits to traditional Indian clothing, if there is one outfit that can help anyone to steal the show is the classic saree. Like we always mention, any saree can be instantly dressed up or down depending on the blouse design that you choose to wear. Be it a formal night party, a traditional Indian wedding or a classic saree look, there is a blouse style for every occasion. In this article, we have rounded out 30 top trending blouse designs 2018 for sarees that are here to rule. From classic blouse styles to stylish and trendy patterns, we have it all here. Scroll down to checkout some must-have blouse design styles suitable to all ages and occasions.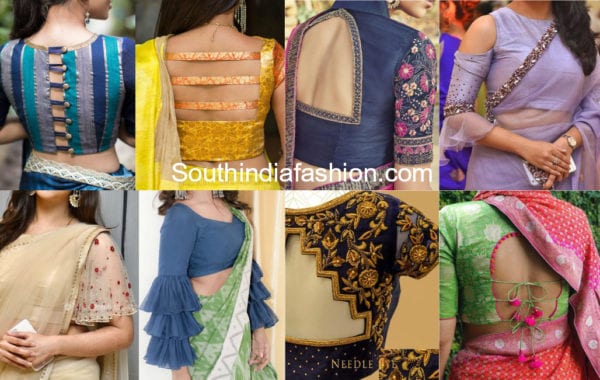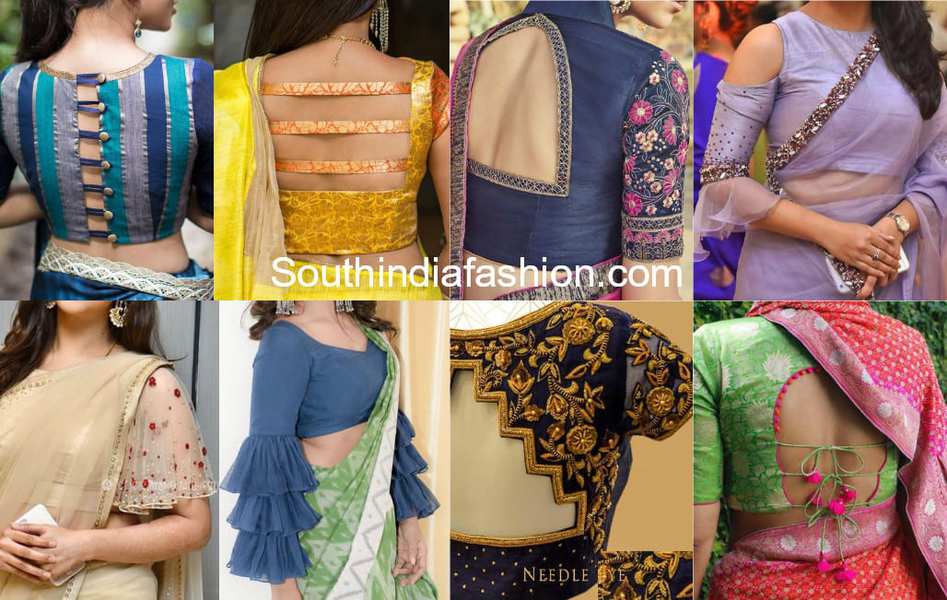 Classic Black Blouse
A classic black blouse is a definite must have for every saree lover and is a wonderful option for any woman to achieve a slimmer look. A timeless black blouse is very versatile, will match up with most of your sarees hence making it an ideal choice for party wear and many other occasions.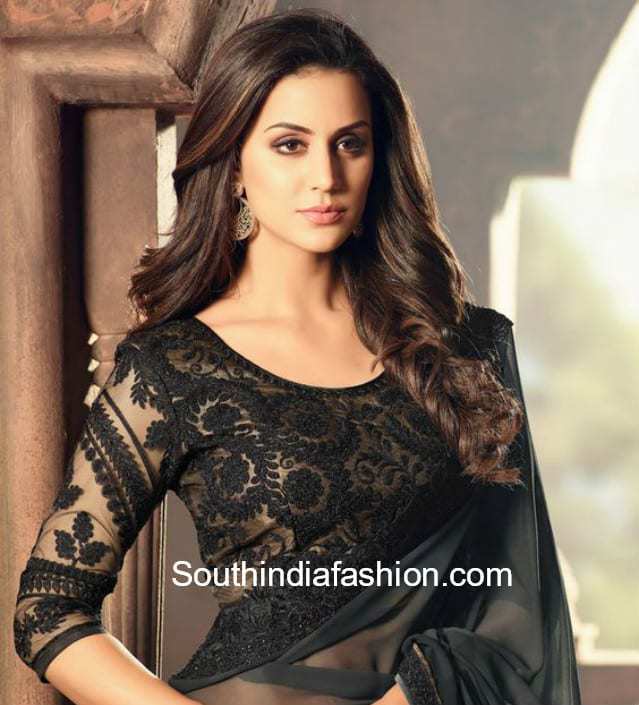 The Evergreen Golden Blouse
A golden saree blouse is one among our first choice when we choose to invest in a versatile blouse as most of our sarees have gold detailing and the neutral shade matches our jewelry too. Be it for a wedding or any party, a stylish gold blouse is another must-have blouse designs 2018 and will never let you down.
Invisible Blouse Design
The invisible or illusion or sheer blouse design with embroidery is sure to grab all the attention. The sheer is matched to your skin tone to create an invisible look and the embroidery enjoys the limelight. So if you want to flaunt an interesting blouse style then the invisible blouse design is for the win. It is one of the most trending blouse designs for party wear sarees.
Heavy Work Blouse For Weddings 
Heavy embroidery blouse designs are a must for any weddings or Indian occasion. Be it any kanjeevaram saree, designer saree or a simple plain saree, a heavily embroidered blouse redefines your saree look.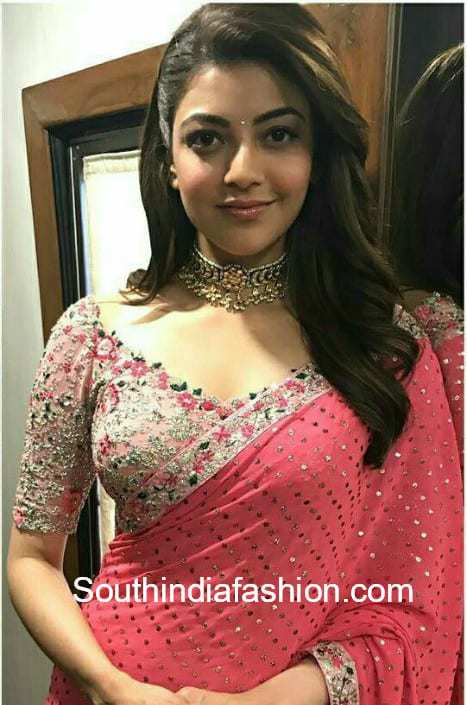 Floral Embroidery Traditional Blouse Designs for Weddings
Florals being the most versatile blouse embroidery designs are definitely here to rule this 2018 and longer. Floral embroidery blouse designs look elegant on anyone and are suitable to all the traditional and trendy Indian sarees.
Net Embellished Designer Blouse
A net embellished saree blouse is the new in-thing in the fashion world and one of the most trending blouse designs. With the pastel trend soaring higher, this pastel net blouse featuring floral creeper embroidery and a tied knot is extremely stylish and trendy.
Cold Shoulder Saree Blouse Design
The cold shoulder blouse design is here since quite sometime and we absolutely love how effortlessly stylish it looks. Team them up with your Indian traditional sarees or trendy designer sarees and instantly grab eyeballs.
Bow Back Saree Blouse Designs
Add some fun to the conventional blouse designs with a bow detailing on the back. This chic style not only looks cute but also adds a glam quotient to your ethnic look. Enhance your bow back saree blouses with cut-out sleeve detailing for an extra glam.
Back Open Tie Cord Blouse Design For Functions
If you want to make a bold statement with your saree blouse, this back open style with a border or lace on top and a tie-cord opening at the bottom looks very beautiful. The tie-cord ensures a good grip on your back and also looks very graceful.
Choker Style Blouse Design For Parties
The choker style halter blouse design is for the glamorous women who love to experiment with stylish different blouse styles. Checkout these designs for some major choker style blouse inspiration.
Banarasi / Brocade Blouse Design
If you want to add a modern touch to your blouse look, then style your banarasi/brocade blouses with stylish cut-out patterns. Take inspiration from this yellow and orange blouse that can be worn at weddings, festivities and almost all Indian occasions.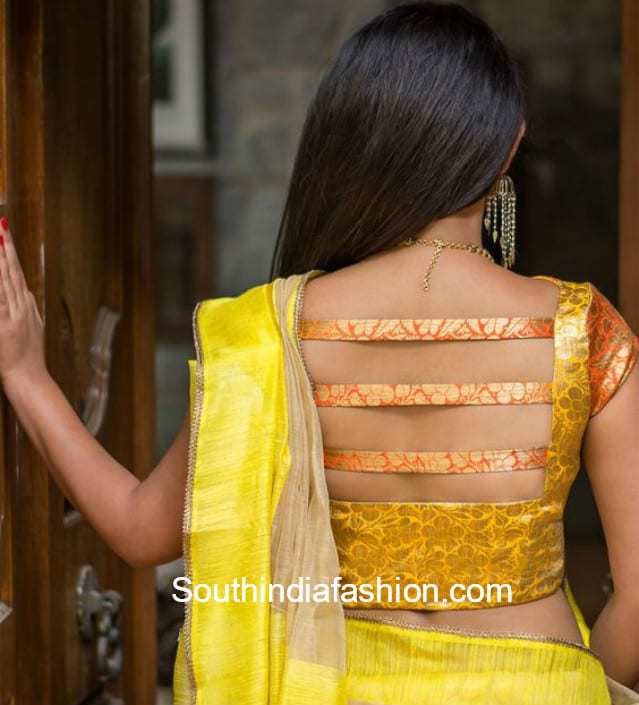 Cotton Blouse Design For Semi Formal Occasions
Who said cottons are not for party wear and formal occasions?! The trendy cotton blouses can be beautifully designed to create a dressy look. From borders, laces, tie-cords or even back buttons like the below blouse design will definitely not let you down.
One Shoulder Blouse Design
The one shoulder blouse design is definitely not an easy one to pull off but we all love to flaunt them as they instantly make heads turn. Our fashionistas Sonam Kapoor and Anita Hassanandani give us major inspiration to flaunt the one shoulder blouse designs with sarees.
Ruffled Sleeves Blouse Designs
With the ruffles and fringes trend soaring higher, how can not one try the trend in the saree blouses. Samantha Ruth Prabhu nailed the ruffled sleeve saree blouse trend and we simply cannot wait to try it out.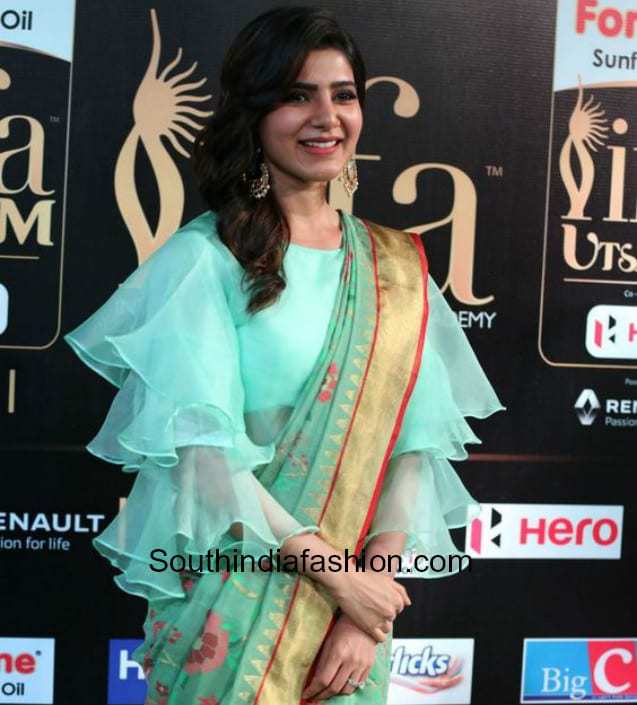 White Sheer Saree Blouse
With the pastels ruling the fashion world, a white sheer blouse is a definite essential to mix and match and team up your pastel sarees with. And not just the pastels, but even an all white saree look elements sheer elegance.
Halter Neck Collar Blouse
A high collar halter style sleeveless blouse is ideal for parties and we absolutely love how Rakul Preet Singh has rocked the style. This style looks very sophisticated, modest and stylish at the same time.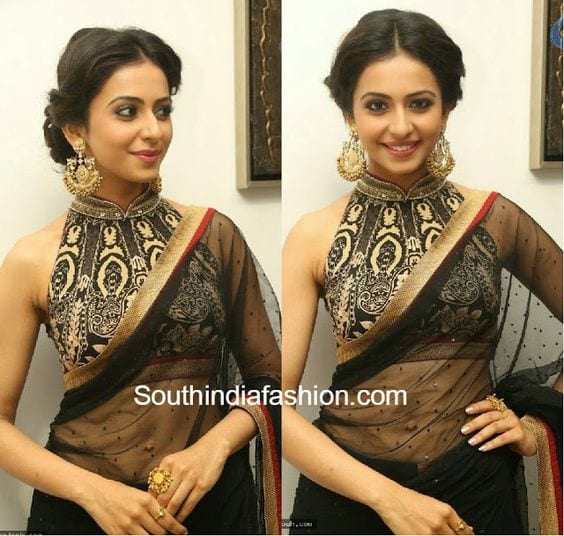 Statement Cape Blouse with Saree
If you want to acquire a vintage and graceful saree look, then the cape blouse design is the way to go. This style will not only enhance you saree look but will also make a bold statement to your saree style.
Border Cut-Out Blouse Design
Play with borders and laces on your saree blouses to create a lasting impression. Open back cut-outs with laces and borders are an instant head turner to your saree looks. This style looks beautiful on various Indian occasions like wedding receptions, mehendi functions and other parties.
Velvet Blouse Designs
Velvet is one of the top trending blouse fabrics and look very royal and elegant. These velvet embroidered blouse designs are perfect for weddings and party wear.
Full Sleeves Embroidery Blouse Designs
The full sleeves embroidery blouse designs are for those who want to make a bold statement with the blouse sleeves. Embellish them fully or flaunt a sheer full sleeves for a graceful touch.
Off Shoulder Blouse Designs
Flaunt your collar bones and show off your shoulders with the trendy off shoulder saree blouses. This style looks best when the rest of the look is kept simple and you let the style do all the talking. The off shoulder design also allows you to accessorize your saree look.
Racer Back Blouse Design
Using a contrast fabric or borders and laces, design your saree blouses with a racer back design. This style is high neck and very comfortable and stylish at the same time. Thus making it a perfect option for parties and wedding events.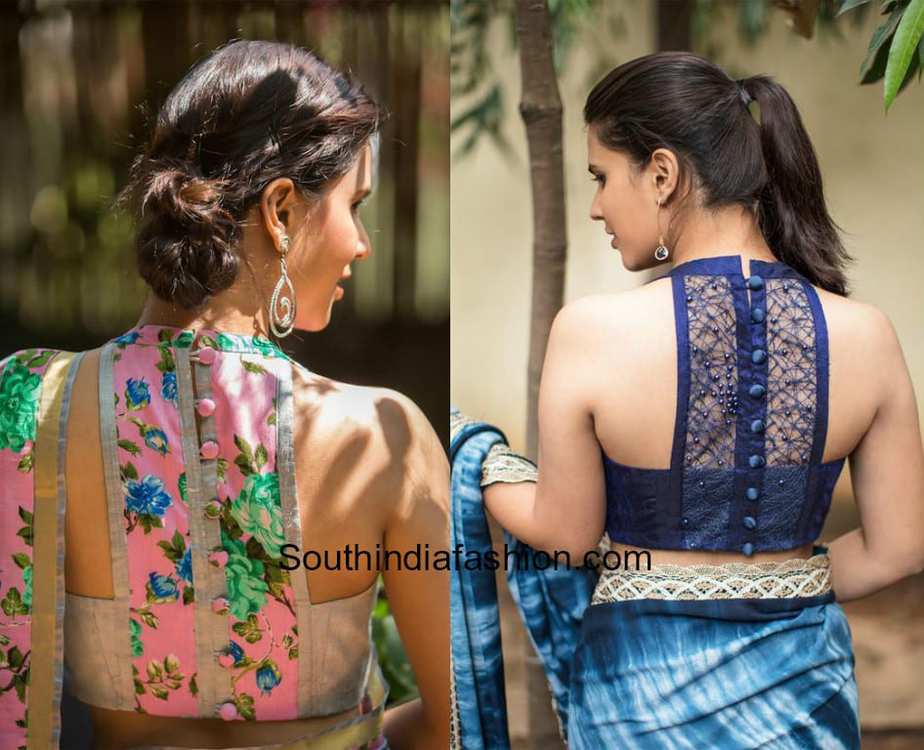 Boat Neck Saree Blouse Designs
The stylish boat necks give a crop top effect to your saree blouses and can also be mix and matched with your lehenga skirts. The boat neck designs can be enhanced with sheer detailing on the neckline and sleeves or with pretty embroidery.
High Neck Saree Blouse Designs 2018
The high neck or closed neck saree blouse designs can be flaunted by anyone and at any age. Enhance it with contrast patchwork, sleeves or highlight it with delicate embroidery. This sophisticated style can be effortlessly flaunted from day to night for all Indian occasions.
Collar Neck Blouse Designs 2018
Chinese collars or shirt collars look very smart and never go out of style. However, this style looks best when you pin up the pallu. So rock stylish modern saree looks with collar neck blouse designs.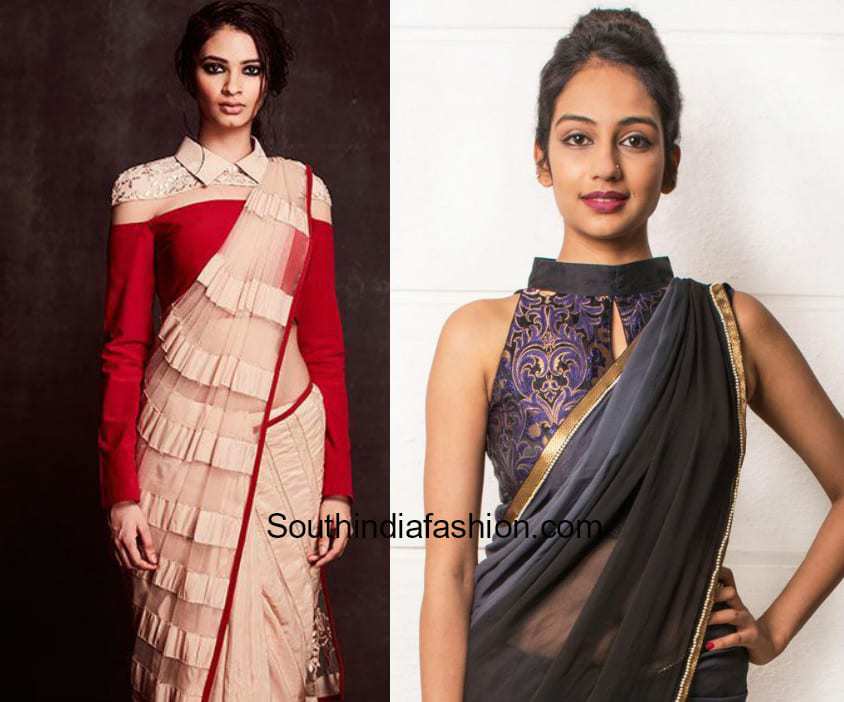 Back Knot Saree Blouses For Parties
Back knot blouses look super stylish and are a wonderful choice to flaunt at parties. This style is best suitable with your light weight designer sarees if you want to add some drama and make a statement with your blouse.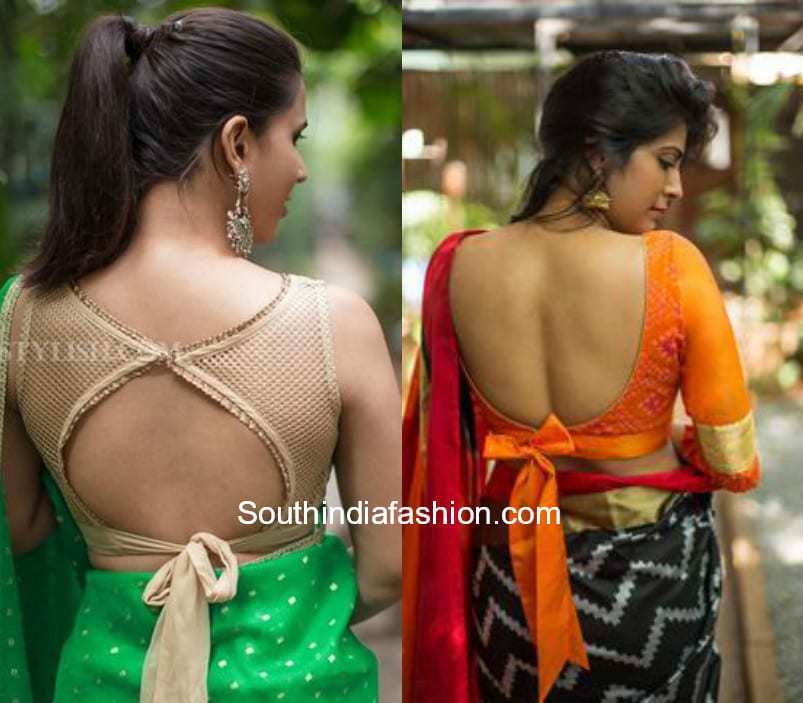 Halter Neck Blouse For Party Wear
Halter neck blouses are for the glamorous divas who want to look fashionable and make heads turn with their saree blouses. Sheer sarees look best or sarees that are light weight and flimsy look best with halter neck blouses.
Sequin Saree Blouse For Party Wear
The sequins have been in trend since quite some time and are ruling at every party. Be it party dresses, western tops, sarees, lehengas and what not, the sequins are ruling everywhere. The sequins blouses are super versatile and hence a wardrobe must-have.
Mirror Embroidery Blouses For Weddings & Parties
The mirror embroidery is back and is only here to stay. Embellish your saree blouses with trendy mirror work and rock the look at weddings, sangeet functions and parties. 
Fringe Detailing Off Shoulder Blouse
Make a bold statement with power sleeves and shoulder. Fringe or tassel details on your saree blouses are an instant head-turner. These details will effortlessly take your glamour quotient up by a notch.